Well here I am, late again.
This is becoming a habit. I think I need to work on that.
Anyhow, I'm super excited to share this newbie blogger with you today, because she's FABULOUS!
Meet Kristin (see, told you, FABULOUS!), who blogs at
A Vintage Fairy
!!
Kristin won my heart when she took a vintage map and mod-podged it onto a cute little side table.
I kid you not, as soon as I spotted this in
Debbiedoo's
Newbie Linky party, I flew to my email and told the girls I pick her, you can't have her, na-na-na-na-na!
I started looking through Kristin's blog and and came across tons of cool projects, like the amazing
foyer chandelier transformation
(you have to see it to believe it! No, really, go see it!!)
Kristin,
please feel free to grab the Newbie Spotlight of the Week Button and display it proudly!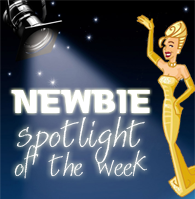 Follow Me on Pinterest