Hi everyone! Welcome to Wednesday and the Newbie Spotlight of the Week Feature!!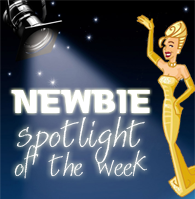 In addition to being cute as a stinkin' button, girl's got some serious talent.
I have been intrigued lately by wall maps, and I loved Kayli's take on it. She created a gallery wall out of a vintage map in her guest bedroom, being sure to leave room for photos of their travels. I thought it was such a brilliant idea and great use of space to use pieces of the map instead of displaying a large map which would take up the whole wall.
And the vintage luggage nightstand ~ swoon!
The postcard pillow is a fabulous touch as well.
Be sure to stop by Head Over Heels to say hello and check out the whole room, as well as some of Kayli's other posts, like her
rustic ranch wedding
(all I can say is WOW!).
Great job Kayli! Please feel free to grab the Newbie Spotlight of the Week Button at the top of this post. Everyone else, thanks for stopping by, and please visit my gal pals below to see who they've chosen to spotlight this week:
Follow Me on Pinterest