Hey friends! I am on VACATION!! While my family and I are enjoying ourselves at the Walt Disney World Resort in Orlanda Florida, showing our #disneyside, I am so grateful to have some fabulous friends sharing their some fantastic projects, recipes and round-ups with you!
Be sure to follow Yellow Bliss Road on Instagram to see lots of pics from our trip (#ybrindisneyworld). I'd love to have you "join" us!
I have a lovely friend to introduce you to today – Angelina from JoJo and Eloise! She is an absolute doll and I just love her!! Enjoy this little round up of projects she's created for Valentine's Day! Check out these adorable Valentine crafts and DIY projects.
++++++
Hello Yellow Bliss Road, Readers! This is Angelina from JoJo and Eloise. I am SERIOUSLY beyond thrilled to be here today. I actually had the Awesome opportunity to meet Kristin in person, on two separate occasions. And, let me tell you, she is seriously as SWEET as they come.
I don't know about you but, I LOVE everything about the month of February. Even though the 14th is Valentines day, it is the whole month that seems to be marked in LOVE!
Hearts, Candy, Flowers and trinkets are ever present. The color RED is everywhere and most of all LOVE is in the air!
I put together a small little, Valentines Day themed, Round up for you to enjoy. Not only are they Simple and Cute projects, but it will also give you a chance to find out what goes on at JoJo and Eloise.
I share everything from DIY, Crafting, Sewing and, also some Gluten Free recipes occasionally thrown into the mix.
So how about we get this Round Up tour started!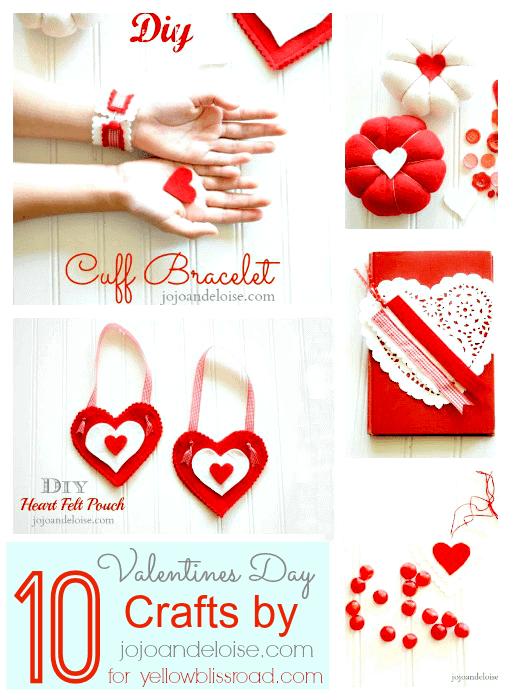 You can find these Diy Heart Felt Pouches, Here! They literally only take minutes to make and can be used for so many fun ways to give gifts or decorate your home with.
These Adorable,Valentine inspired Cuff Bracelets ,are so fun and easy to make. Wear them yourself or make them for your Kiddos. Total Cuteness for family and friends to enjoy!
This Flower Necklace, is one of my daughters favorites. She wears it through out the year and gets so many compliments on it. Mix and Match your colors and you'll have a Necklace for all Seasons.
One of my FAVORITE things to do, is taking things that were meant for the Trash Bin and making them into something fun and crafty. Take these Target Coupon Books, I turned them into a Valentines Heart Garland. So fun, Right!?!?
Being a Sewer and Even a Crafter, requires the usage of LOTS of pins. I am always needing something to stick those pins into. So I made a Sweet Valentine inspired Pin Cushion, I also made some Spring inspired one's as well. 🙂 I give a detailed step by step tutorial on my blog.
With lots of Readers in our family, means we are always needing LOTS of bookmarks. Here is a Sweet little tutorial for those Book Lovers or to even give as gifts to your Kiddos Teachers, this Valentines day.
Are you and Apron lover? Or, know someone who is! Then your going to want to check out this Gorgeous Heart Apron, I give a step by step Tutorial on how you can make one of your very own.
This little series has got to be one of my Favorites. I shared how to make Mock Suspenders, Mock Bow Ties and Mock Neck Ties.
They are Simple and Quick projects. They will make your little Mr. picture perfect, in a matter of minutes.
Do you need a fun way to present flowers? Or, need a quick gift packaging idea? These Valentine Cones are just what your needing. You can put them together in less than 5 minutes.
If your anything like me, you probably have a bucket full of Fabric Scraps.
Why not turn those scraps into, the Sweetest little gift tags.
I show you how to do that here.
I hope you enjoyed this fun little round up, as much as I did!
And, I am so glad to have been able to visit with you, here at Yellow Bliss Road.
I would LOVE for you to stop by JoJo and Eloise and say, Hi!
You can also find me hanging out on IG, Facebook, Twitter and Pinterest.
Hope to see you there!
Thank you so much Kristin for having me over, it's been fun!
++++++
Thanks Angelina! Isn't she talented you guys?
Click here for More Valentine's Day themed free printables, crafts, DIY and recipes