Looking for a Printable Christmas Planner for 2017? Find them HERE or click the image below to see the latest design!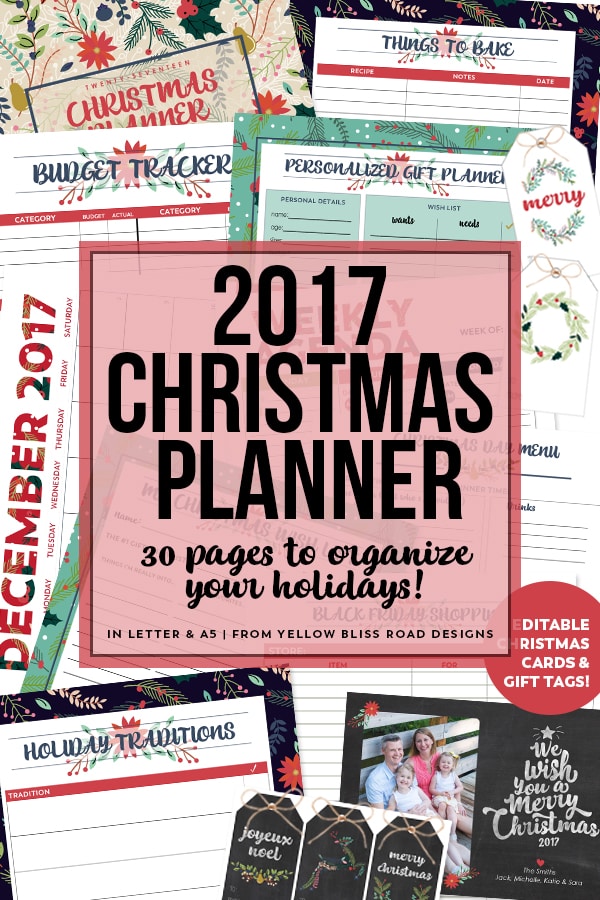 This 28-Page Christmas Planner will keep you organized for the holidays! There are calendars, a weekly agenda, financial and gift trackers, and so much more! This year I've even added an editable Christmas Card AND editable gift tags!!! This Christmas Planner would be a great addition to the 2017 Day Planners, which will be available soon in the YBR Designs Shop.
But the best part? You asked for it, so I made it happen – this year's planner is also available in an A5 planner size!!!
**** UPDATE – Win a FREE download of my Holiday Planner by going to THIS POST over on Facebook! ****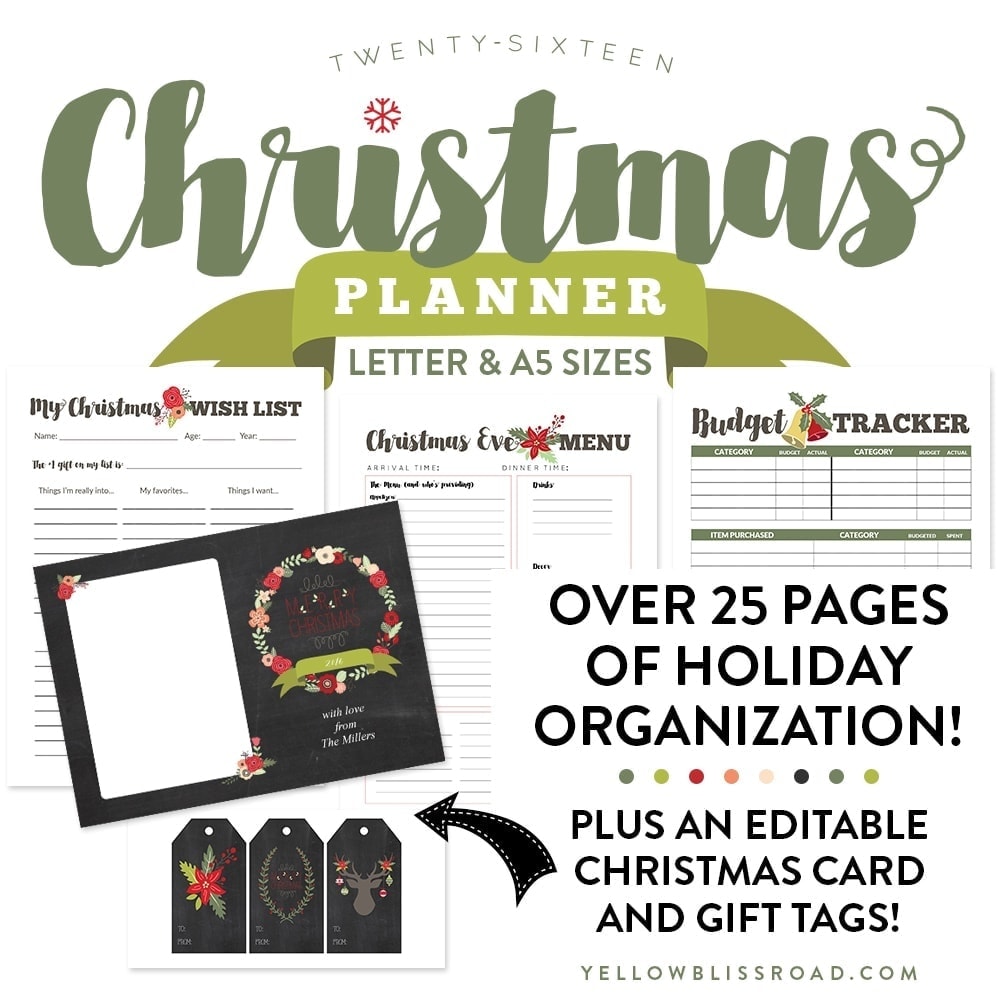 Is it fair that it's still September and we're already talking about Christmas? It is if you really want to get organized for the holidays! Now is the time to start!!
The holidays are such a busy time of year and it's hard to stay on track with budgets and events and gifts. I needed something that could keep me in check and this planner is just the tool. Each of the 28 pages included in the planner will help to keep you on track with your planning and spending, and will become a useful tool for the years to come.
WHAT'S INCLUDED 
Cover Page
November and December 2016 Calendars
Weekly Agenda (2-page spread)
To-Do List
Budget Tracker
Holiday Shopping List
Black Friday Shopping List
Cyber Monday Shopping List
Gift Ideas Chart (for planning)
Gift Giving (for purchases)
Christmas Wish List (for kids or adults)
Things to Make
Things to Bake
Things to Do
Holiday Traditions
Party Planning Tips
Event Meal Planning with shopping list
Christmas Eve & Christmas Day Event/Meal Planners
Grocery Shopping List (full page)
Recipe Cards
Notes & Sketches
Editable Christmas Card (2 versions)
Editable Christmas gift tags (2 versions)
HOW DO I USE THIS PLANNER?
You can print out all of the pages and put them together in a notebook, or simply print out the pages you need when you need them.
HOW DO THE EDITABLE CHRISTMAS CARD AND GIFT TAGS WORK?
You have a couple of options with the editable card and tags.
If you have Photoshop Elements or another version of PS, you can open the card and tags in that program and edit directly in the file. For the card, add your photo (vertical is best) and place that layer behind the card. Then print or save as a jpeg and print. The edited card could be emailed to friends and family or even uploaded to a blog or Facebook. (PLEASE do not upload the original files to any media program as they are provided under copyright and not to be shared – thank you!). These files are .psd and can only be opened in Photoshop.
If you do not have Photoshop, you can open the non-editable version (also included) in a program like Word or Publisher and add your own text. These files are .png and can be opened in any program that supports images. Use white text for the chalkboard version and a color of your choice for the white backgrounds. For the card, you can still add your image and move it behind the card using the editing tools in each program.
Keep in mind when you purchase that there are TWO sizes, Letter/binder size and A5 (5.5″x8.27″). The A5 size does require a small bit of trimming, so it's best if you have a small paper cutter like this one.
Here are some supplies that would be helpful when setting up your planner: (affiliate links)
These supplies can be found at most office supply stores, or at Target and Walmart.
Have more questions? Drop me a line at kristin@yellowblissroad.com or comment on this post. Happy Holiday planning!