This is Meg of Snap Happy Mom, and I'm so excited to share this tutorial for creating 3-D Photo Valentines! These cards are simple to make and way more fun than store bought cards. Plus, it's a good chance to take a cute photo of your child every year!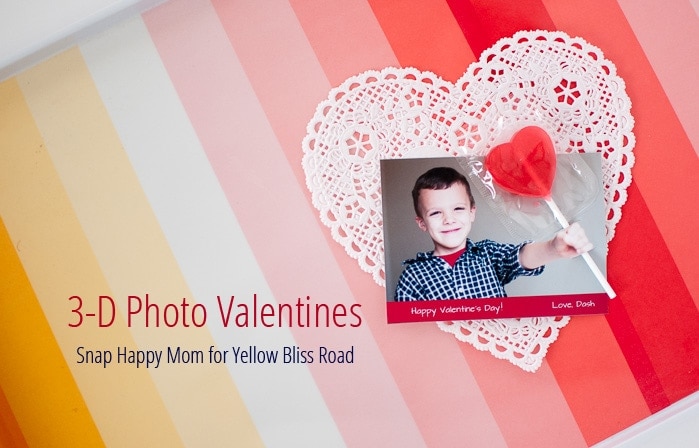 Ready for a quick and easy project? Here's how to create your own unique 3-D valentines:
1. Take Your Photo
Dress up your child in a cute shirt: think Valentine colors or something that will compliment them! I used a red t-shirt under a button down shirt to bring some extra color into the photo. Then find yourself a blank space of wall with good lighting.
---
Tips For How To Take a Photo For 3-D Valentine Cards
Have your child stand a few steps away from the wall. This picture works best taken horizontally, so give yourself a bit of room on the side if you can.
Ask your child to make their hand a fist and stretch it out towards you. You'll probably have to help them put it slightly to the side, away from their face and body. You don't want the lollipop in the way of their cute smile, but you don't the fist too close to the edge either!
Remember to focus on your child's face, not their hand! You want to see that sweet smile, and let their hand go a little blurry. You may want to adjust your aperture to add to this 3-D effect by opening your lens to the widest it can be (a low f-stop number).
---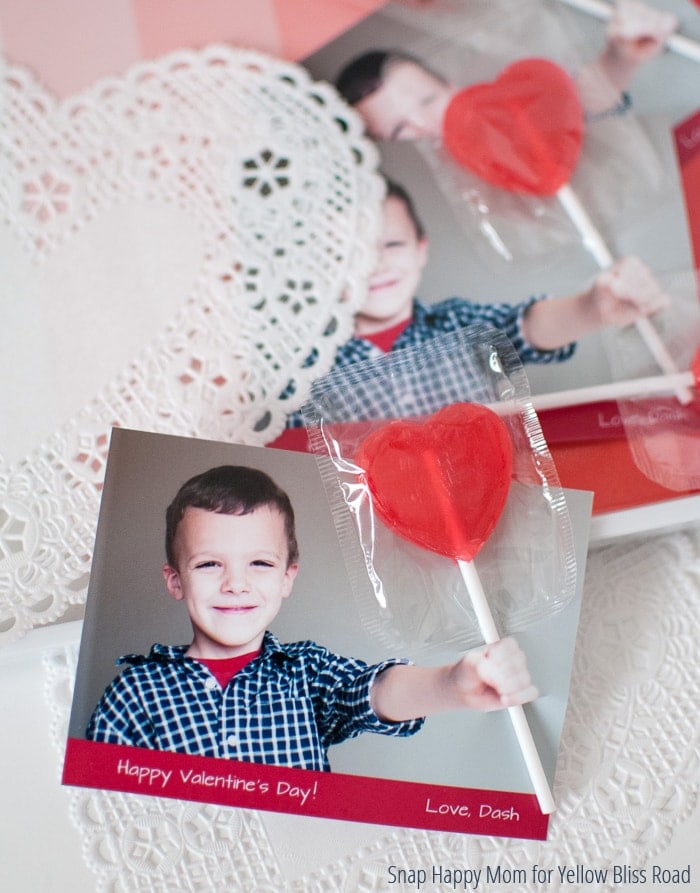 2. Print Your Photos
You will need to decide what size you want to print your photos. You can see the size of a regular 4×6 below, but I printed mine at smaller by placing two on a 4×6 photo and cutting it in half. The mini size is so cute with a small lollipop! But the 4×6 size will work with a regular size lollipop as well.
Add some cute borders or text that says Happy Valentine's Day to your photo. You can do this in Photoshop, Picmonkey, or even the software on the printing kiosk.
Then get your pictures printed – I'm a fan of Costco if I need pictures quickly. Make sure you print a few extra for experimenting!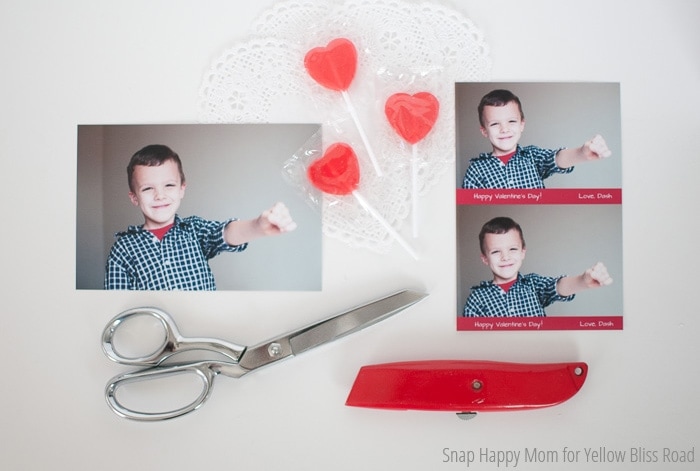 3. Assemble Your 3-D Valentines
Supplies:
Printed photos
Lollipops
Cutting blade
Tape
Use a blade to carefully cut a ½" slit above and below your child's hand. Don't place the cuts too close together or you're paper might rip!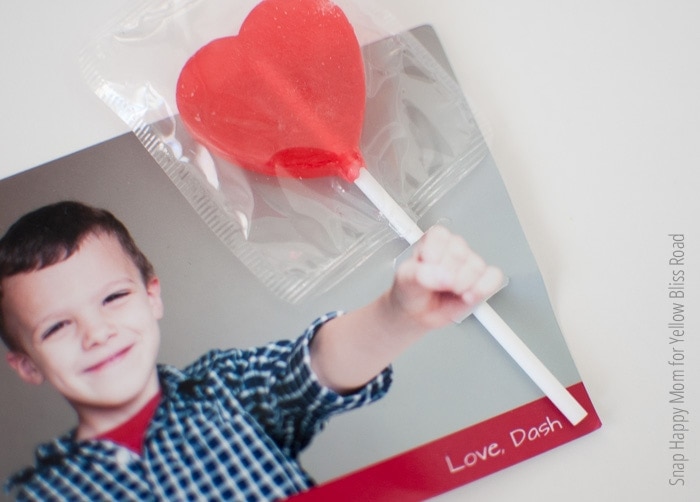 Carefully insert your lollipop from top to bottom, and add a piece of tape on the back to keep the lollipop in place.
Tada! You've made some super cute 3-D Photo Valentines! They are so easy and perfect for a memorable valentine for friends and family.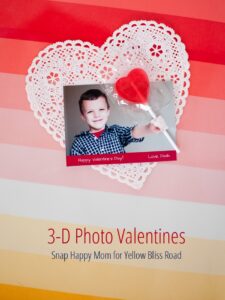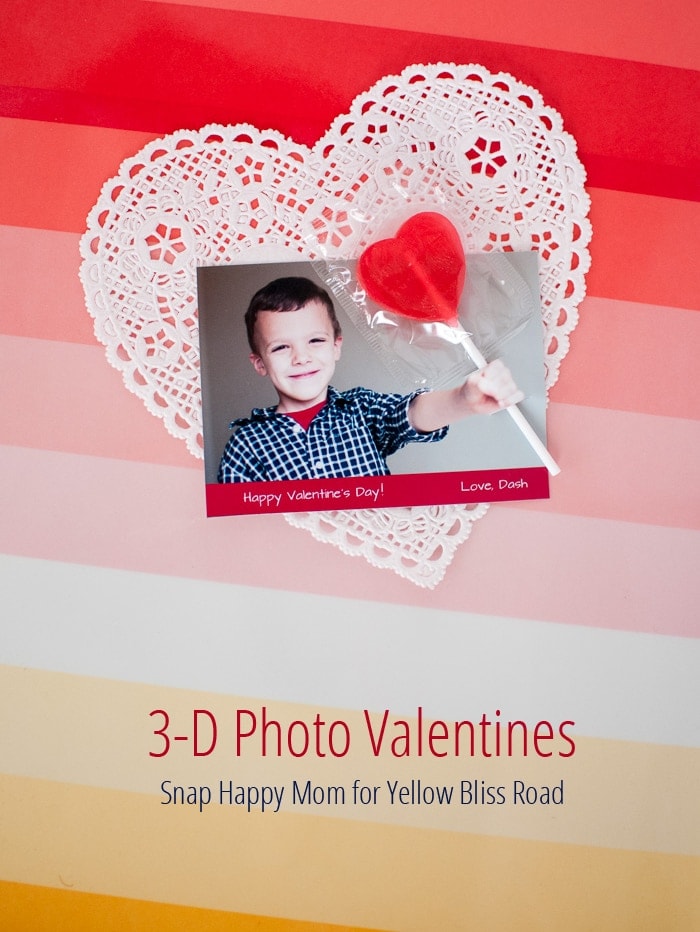 Like the 3-D look, but want to avoid the sweets? Try these pretty Pinwheel Photo Valentines instead!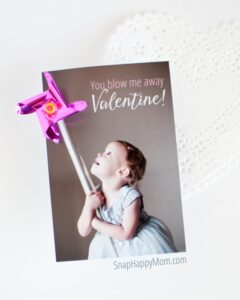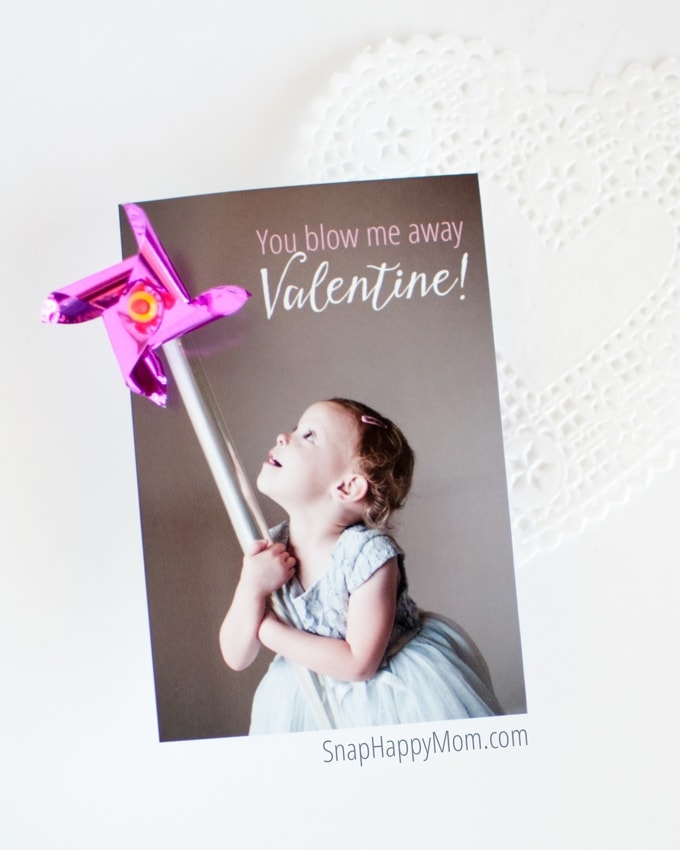 For more great Valentine's Day ideas, try these posts: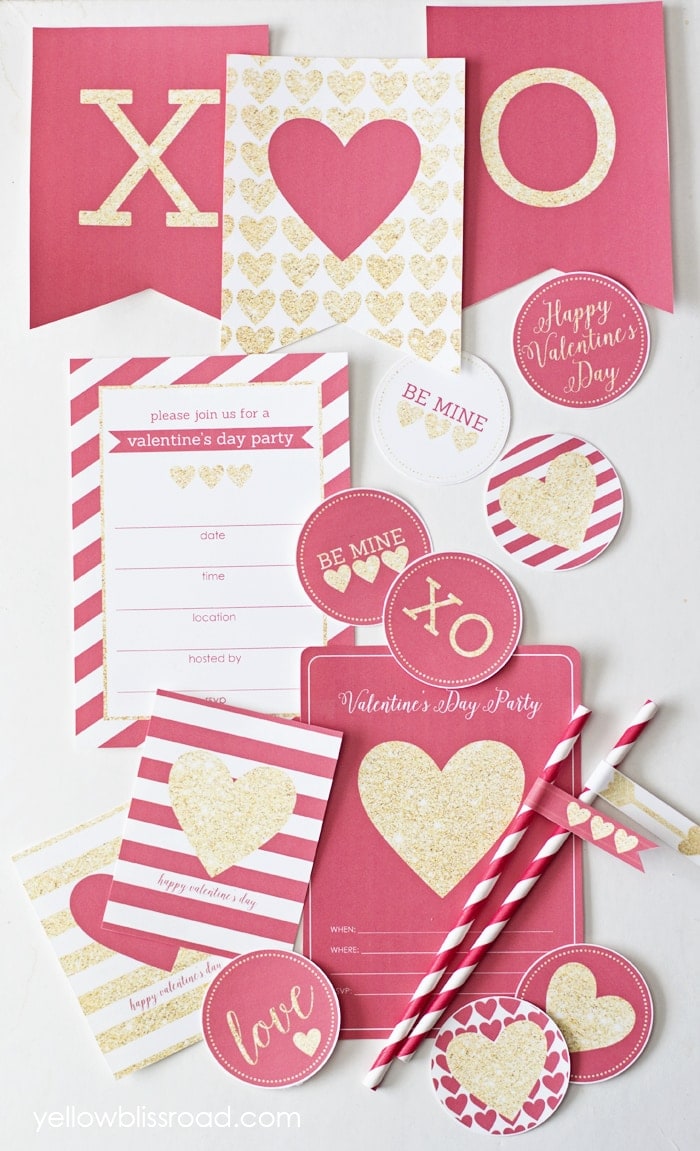 Printable Valentine Party Bundle (YBR Designs Shop)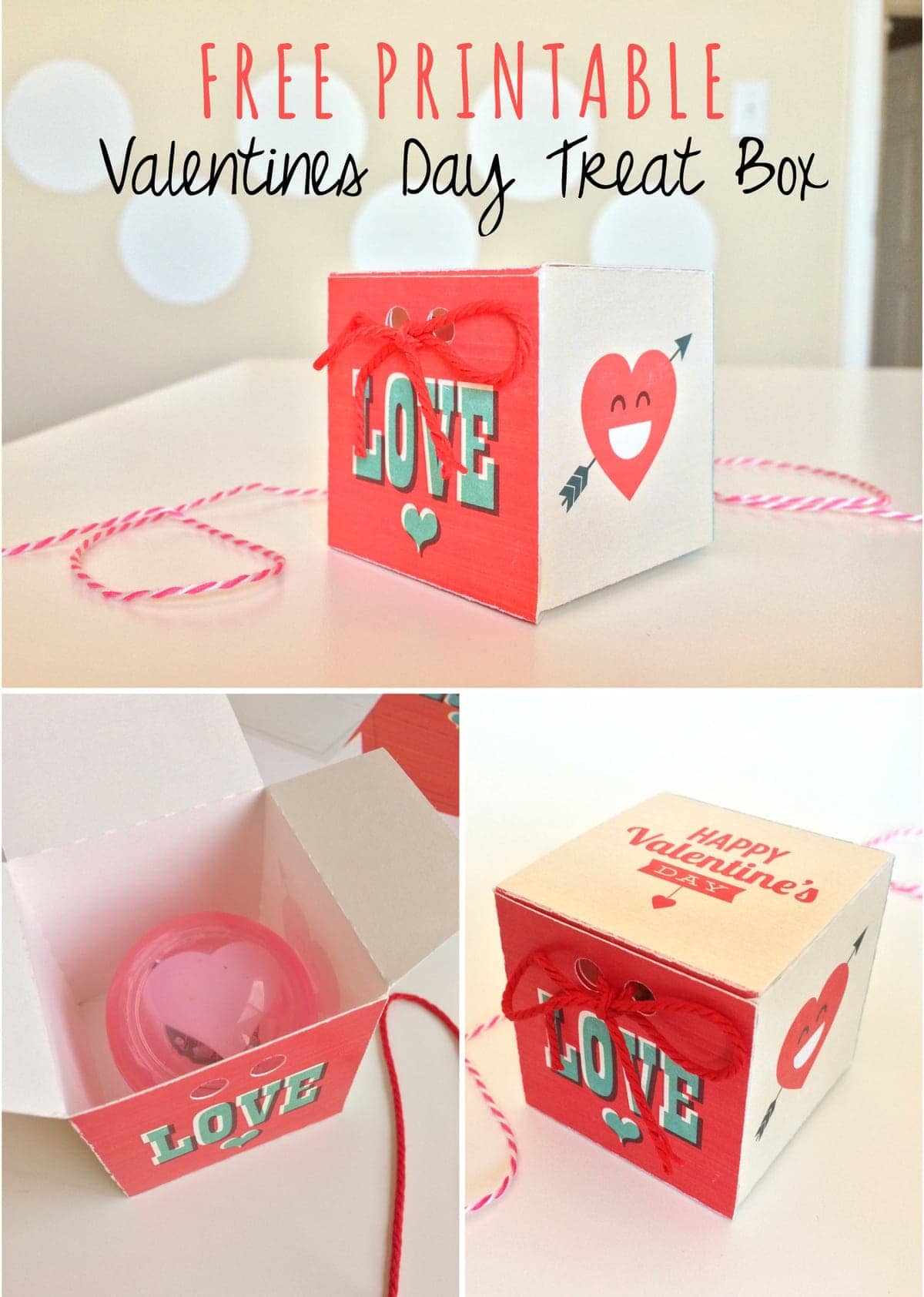 Printable Valentine Treat Boxes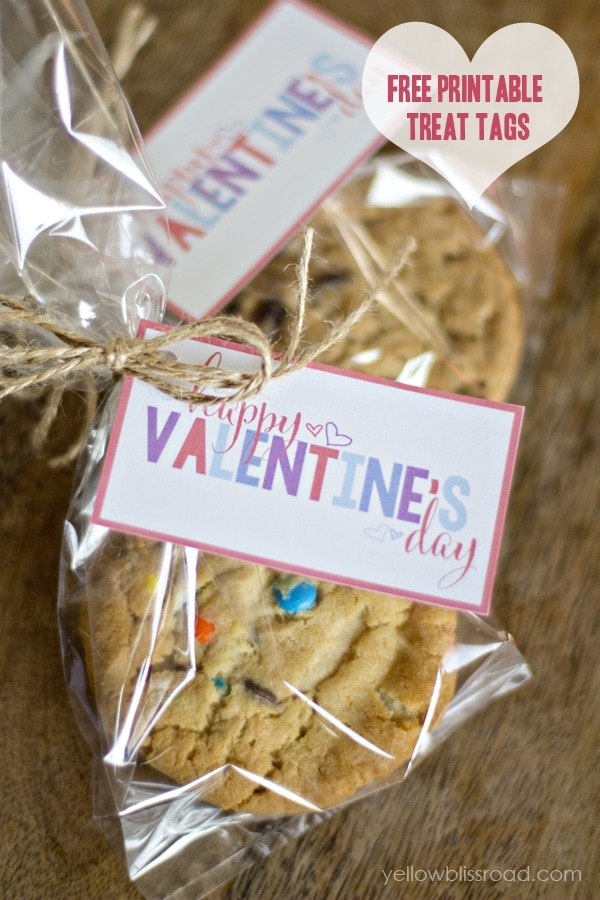 Free Printable Valentine Treat Tags