I made these Marshmallow Pumpkin Pops for my son's class last year, a they were a HIT!
Cake pops were all the rage last year, and they really haven't lost their momentum. I really wanted to make some, but there were just too many steps for me and I'm just too darn impatient. So, last year, I came up with my own "pop" for Halloween!
At Cooper's preschool, the parent's are asked to bring treats for their Halloween parties, and the children go to the different classroom doors "trick or treating." I decided on chocolate covered marshmallows, since this is one of MY favorite treats!
Here's what I came up with: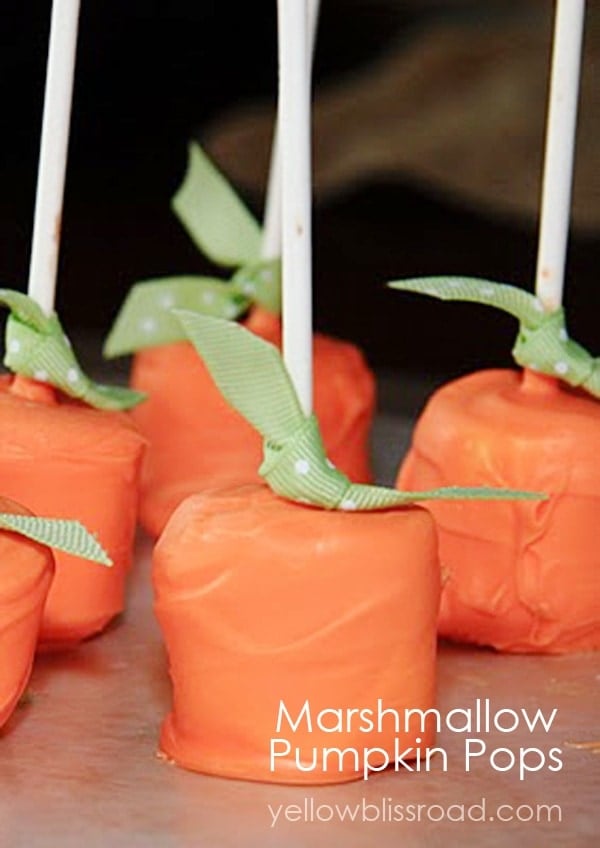 These are super simple to make, and always a huge hit.
What You Need
Large marshmallows (I usually buy the Jet Puffed brand – the store brand ones seem to stick together more)
Melting Chocolate in your desired color (chocolate chips work well too)
Lollipop sticks
Your decorations of choice (ie. sprinkles, ribbon, etc.)
1. Stick the lollipop sticks into as many of the marshmallows as you are using, and set out on wax paper. (I've seen some people dip the sticks in chocolate first, this isn't necessary unless you do it for the effect).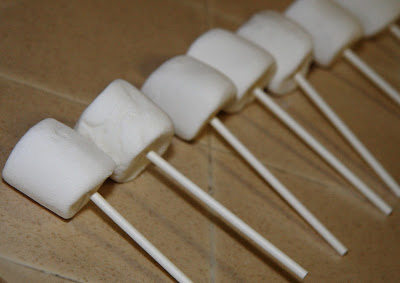 2. Melt your chocolate. You can use a double boiler on the stove, stirring constantly, or do it the easy way and use the microwave. Either way, the key is to stir, and not let it get too hot, as it will get thick and unmanagable. If microwaving, do so in 30 second intervals, sitrring every 30 seconds.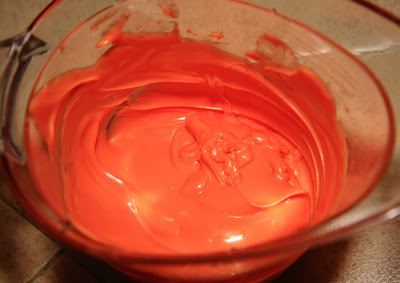 3. Dip your marshmallows in the chocolate, coating the marshmallow. Use a spoon to smooth, or run the sides along the side of your bowl to remove any excess.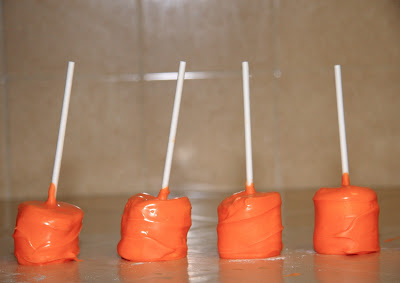 4. If desired add sprinkles after each dip, because the chocolate hardens fairly quickly (if using chocolate chips, it takes a little longer).
That's it!
 I added a green ribbon for the stem. I really like how they turned out, but I felt like they still needed something. I checked my pantry and came up with chocolate chips and toothpicks, melted the chocolate and added a cute Jack-O-Lantern face!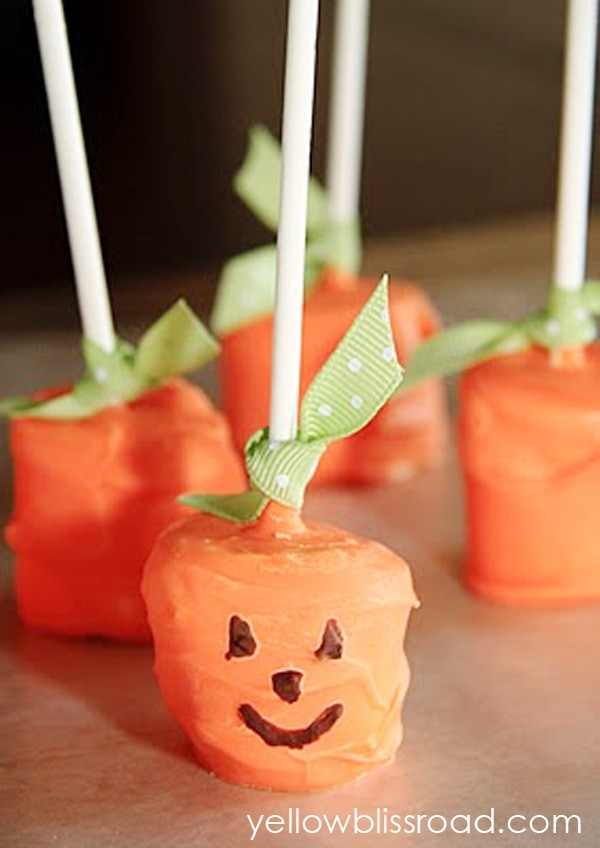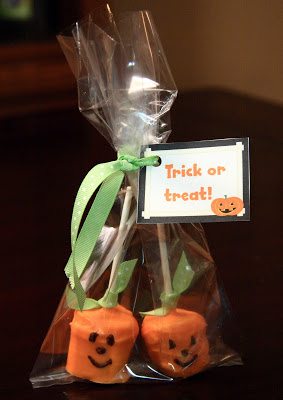 Happy (almost) Halloween!