50 Ideas for Fun Summer Activities with Kids
This is part one of two posts offering TONS of great ideas to keep your kids entertained during summer vacation! It's a huge list of kid friendly summer activities, most of which are FREE! Keep your kids occupied and entertained this summer with just a little planning.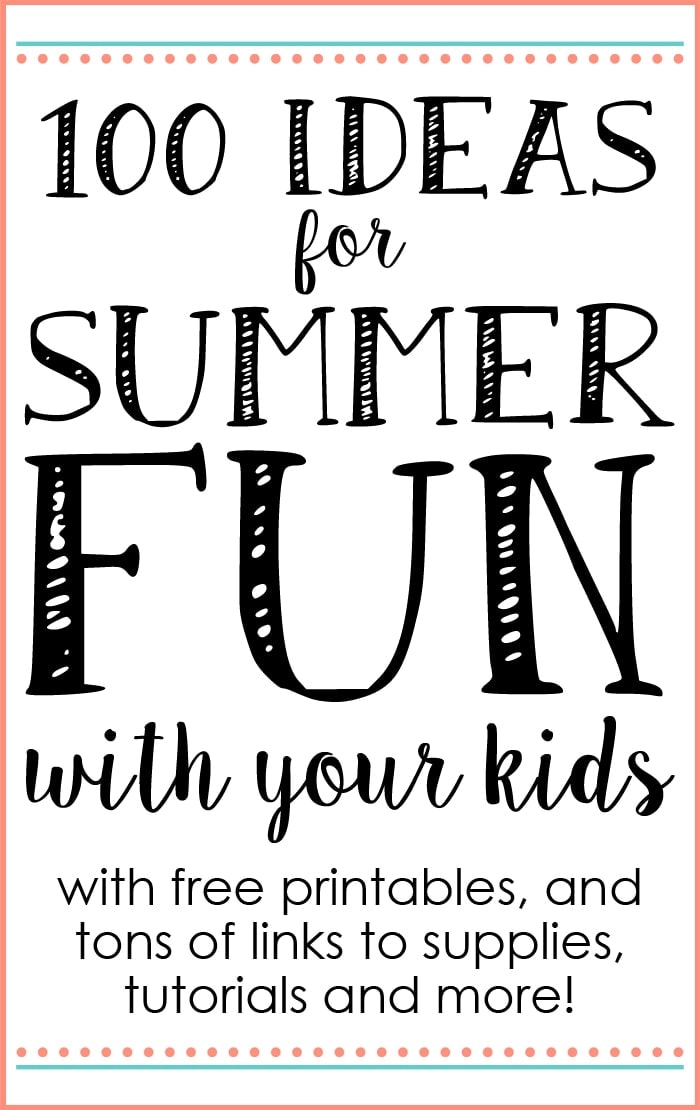 As much as I love being at home, and getting to spend a lot more time with my kids than I did when I was working full time, I'm kind of dreading the summer. I mean, I've never had to have both of my kids home all the time. All. The. Time. Since I do work from home, I decided that my children will be attending summer camp at their school two days a week so that I will have time to dedicate to the blog. But that leaves FIVE days that I have to keep them occupied each week. Five. Suffice it to say I'm getting a little anxious.
I started trying to come up with ideas for fun activities to do with them through the 99 long days of summer. The more I wrote, the more I was coming up with. If you're anything like me you might need a little inspiration so here are 50 activities you can do with your kids this summer. I'll expand on some of them; some are pretty self explanatory. Some cost money, some are totally free. I figure you don't have to do them all but can hopefully use this list as a nice jumping off point to start planning your summer activities.
Sidenote – as I typed those two paragraphs up there I thought of about ten more things that didn't make the first list, so I'm thinking there may be another!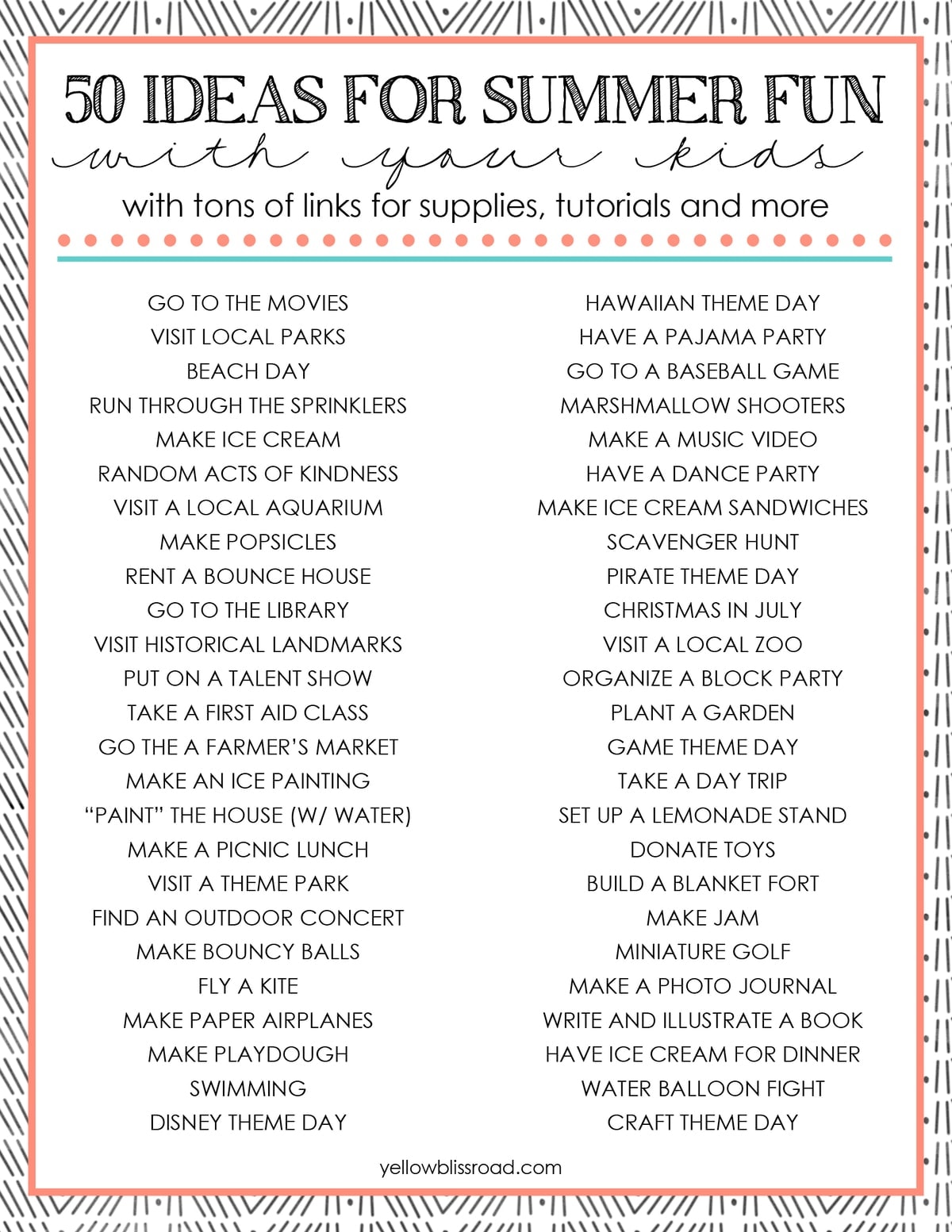 Print this list out by clicking on the image, then right click and save to your computer.
GO TO THE MOVIES – Often times local theaters have dollar movie days over the summer. Ours has recent movies playing each Tuesdays for ten weeks. Check your local theaters for more details, or click these inks —> Regal Theater, Cinemark, Harkins, Summer Movies Freebie List
VISIT LOCAL PARKS – Grab a city or county map and locate the parks; ones you've been to and one's that you haven't. Spend one day a week visiting a new park.
BEACH DAY (or lake/river)
RUN THROUGH THE SPRINKLERS
MAKE ICE CREAM (We love this one)
RANDOM ACTS OF KINDNESS – take cookies t a fire station, sweep a neighbor's driveway or take them some homemade cupcakes)
VISIT A LOCAL AQUARIUM
MAKE POPSICLES – Oreo Pudding Pops, Strawberry Greek Yogurt Popsicles, Pineapple Orange Banana Popsicles.
RENT A BOUNCE HOUSE – Now before you say this is too expensive, make it a party! Invite a few friends over and split the cost. It can be as little as $10 per family for hours and hours of bouncy fun! It's often cheaper during the week when there is less of a demand.
GO TO THE LIBRARY – Local libraries usually have summer reading programs, and they're free! There are also story times. Check your local library for details.
VISIT HISTORICAL LANDMARKS
PUT ON A TALENT SHOW
TAKE A FIRST AID CLASS – The Red Cross offers Babysitter's Training courses for students as young as 11 years old. There are also classes specifically designed for teenagers to help prepare for emergencies. Or if your children are younger, consider having a first aid safety day where you teach your kids the basics.
GO THE A FARMER'S MARKET
MAKE AN ICE PAINTING
"PAINT" THE HOUSE (W/ WATER) – Purchase some inexpensive paintbrushes and give your kids buckets of water and let them "paint" the house. This is a perfect way to cool off on a hot summer day!
MAKE A PICNIC LUNCH
VISIT A THEME PARK
FIND AN OUTDOOR CONCERT
MAKE YOUR OWN BOUNCY BALLS
FLY A KITE
MAKE PAPER AIRPLANES
MAKE PLAYDOUGH
GO SWIMMING
DISNEY THEME DAY – Watch Disney movie, eat Mickey Mouse Pancakes or other character related foods. Have "Frozen" inspired treats, like the ones we had at our FROZEN party. Play Disney games or act out scenes from your favorite Disney movies or shows. Even dress like your favorite character!
HAWAIIAN THEME DAY – Have a luau in the backyard (check out our birthday party luau), eat pineapple, make flower leis, dance to Hawaiian music.
HAVE A PAJAMA PARTY – Same premise as the above two themes. Eat breakfast foods at every meal, stay in your pjs all day.
GO TO A BASEBALL GAME – It doesn't have to be MLB – find a local team to cheer on!
MAKE MARSHMALLOW SHOOTERS
MAKE A MUSIC VIDEO
HAVE A DANCE PARTY
MAKE ICE CREAM SANDWICHES – Use my printables and party ideas.
SCAVENGER HUNT
PIRATE THEME DAY – Dress like a pirate, talk like a pirate, eat with your hands, drink out of big mugs, watch pirate movies.
CHRISTMAS IN JULY – Make and wrap "presents" (or toys you already have and may not have played with in a while), bake cookies, watch Christmas movies, sing carols, make garland.
VISIT A LOCAL ZOO
ORGANIZE A BLOCK PARTY – this would be a fun time to rent a bounce house
PLANT A GARDEN
GAME THEME DAY – Indoors or outdoors, a game day is a ton of fun! Play boards games and card games inside, then head outside for some baseball, basketball or anything your family enjoys. Maybe even have some family relay races.
TAKE A DAY TRIP – Take a drive at least an hour away and visit a new town or even someplace you've been before. Sometimes it's just fun to get out and explore a new place.
SET UP A LEMONADE STAND – Use my free printable lemonade stand set!
DONATE TOYS
BUILD A BLANKET FORT
MAKE JAM
MINIATURE GOLF
MAKE A PHOTO JOURNAL – Have a bunch of your photos from the past year, or even your children's lives, printed and let them make a book to tell their story.
WRITE AND ILLUSTRATE A BOOK – Give your kids paper and pencils/crayons and have them design their own book. Be sure to include a cover page and date and help them create a story.
HAVE ICE CREAM FOR DINNER
WATER BALLOON FIGHT
CRAFT THEME DAY – Gather up a bunch of supplies you have around the house and lay it all out for your kids to make their own projects. Or purchase a few craft kits at Oriental Trading Company.
Whew, that was a lot! I'm pretty excited for summer now, and I hope you are too!
How do you keep your kids entertained over the summer? Do you have ideas that aren't on this list? Leave them in the comments, and if I gather up enough maybe I'll have to write a second list!
UPDATE – Be sure to visit 50 MORE Ideas for Summer Fun!
You may also enjoy these: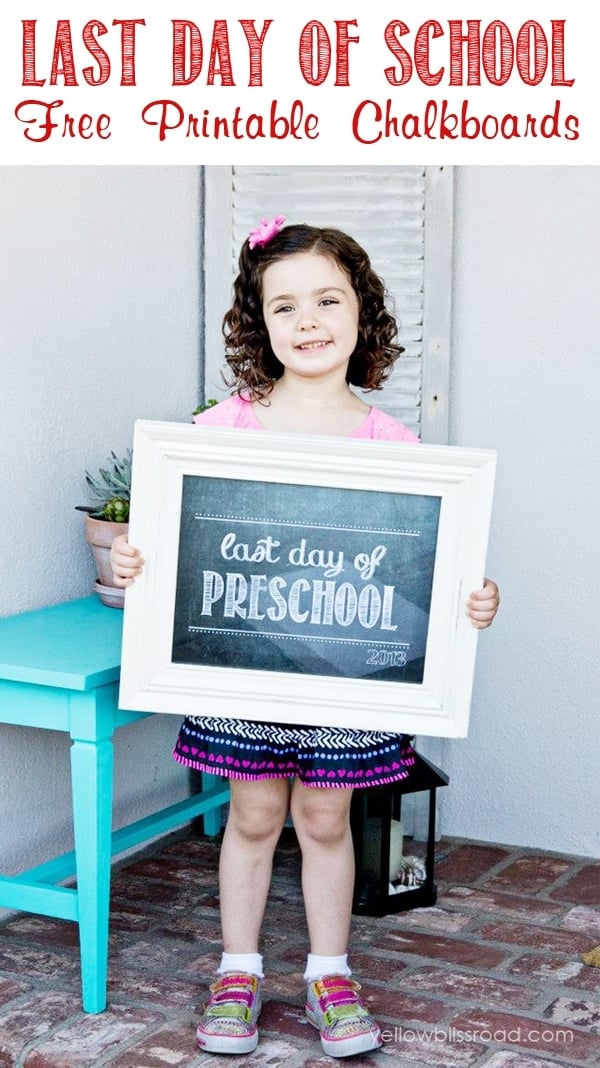 Last Day of School Free Printables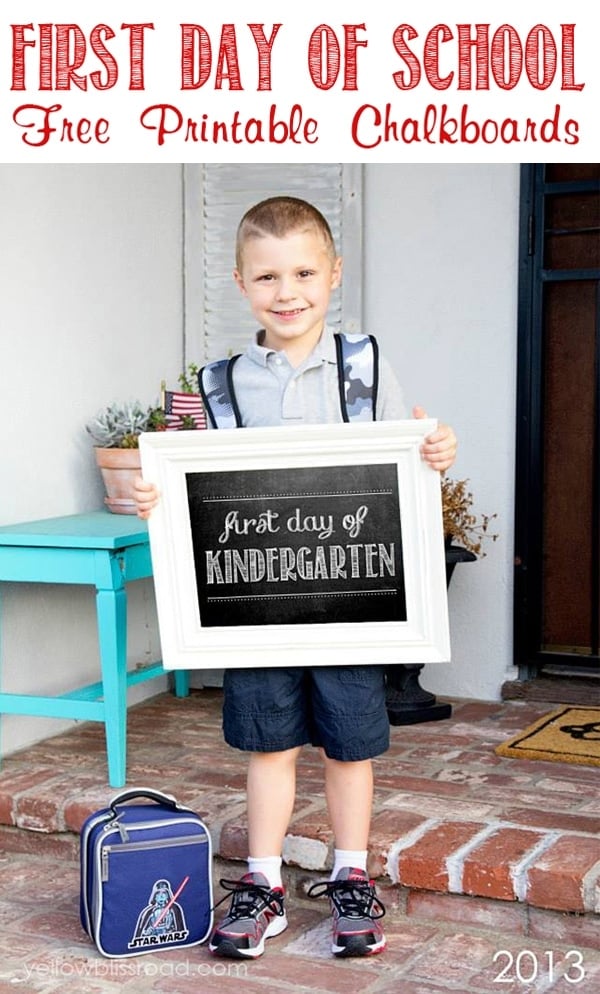 First Day of School Free Printables