A Welcome Autumn Breakfast with Free Printable Mini Chalkboard Banners
Some of the decor shared in this post was provided by World Market. All opinions and my profound love for all things World Market, are my very own.
Despite the near hundred degree temps and high humidity we have been having in Southern California, fall is upon us. Pumpkins and cinnamon and apples and lattes ~ the best flavors of fall!
I thought what better way to celebrate than with a beautiful "Welcome Autumn" breakfast! It's fairly simple to put together and is sure to be a hit with the whole family.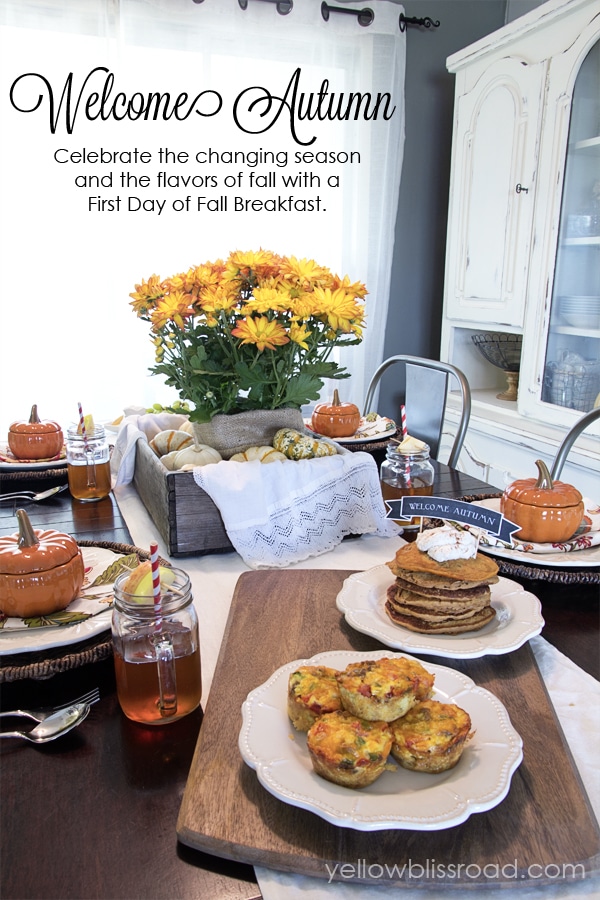 Start out with a pretty display of your favorite signs of fall ~ pumpkins, apples, cinnamon sticks, wheat stalks, etc. Ella Claire shared a gorgeous
autumn table display
if you need some more ideas.
I chose to go with a simple centerpiece: a rustic wooden soda crate layered with my favorite white linen and lace runner, some colorful pumpkins and a pot of mums from my local grocery store.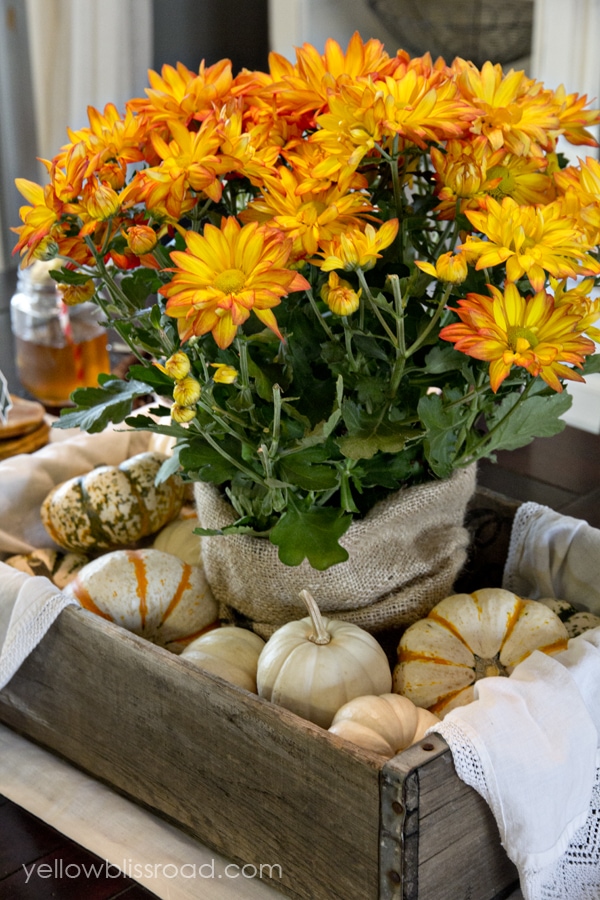 Next choose a menu. I went with simple things that I know my children would enjoy but don't get everyday.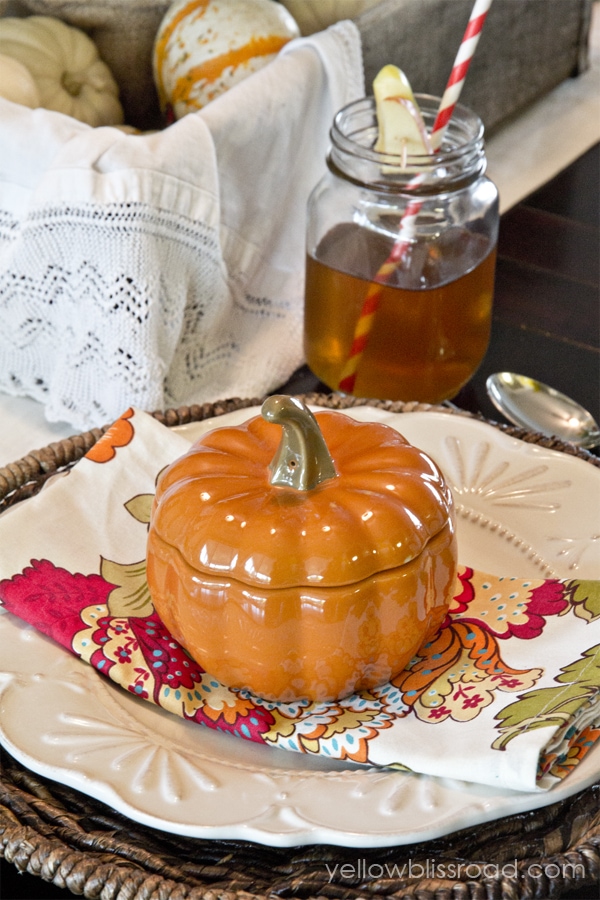 Oatmeal in cute little pumpkin ramekins from World Market. You could even bake some yummy oatmeal in these!
I love these easy
Omelet and Potato Bites
from Ella Claire. They were incredibly easy to make and they freeze well, so you can just pop them into the microwave during the week for a quick, hot breakfast.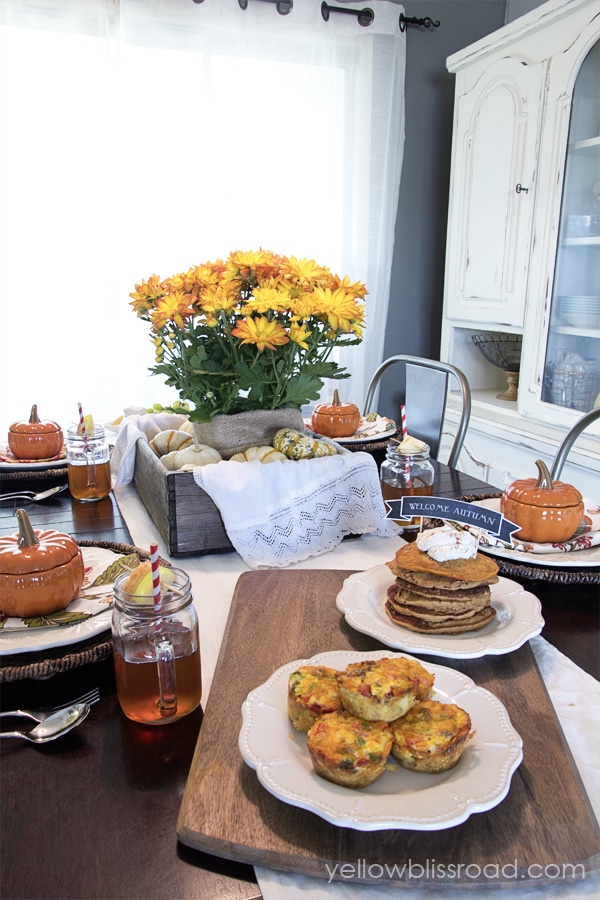 Of course you have to have pancakes.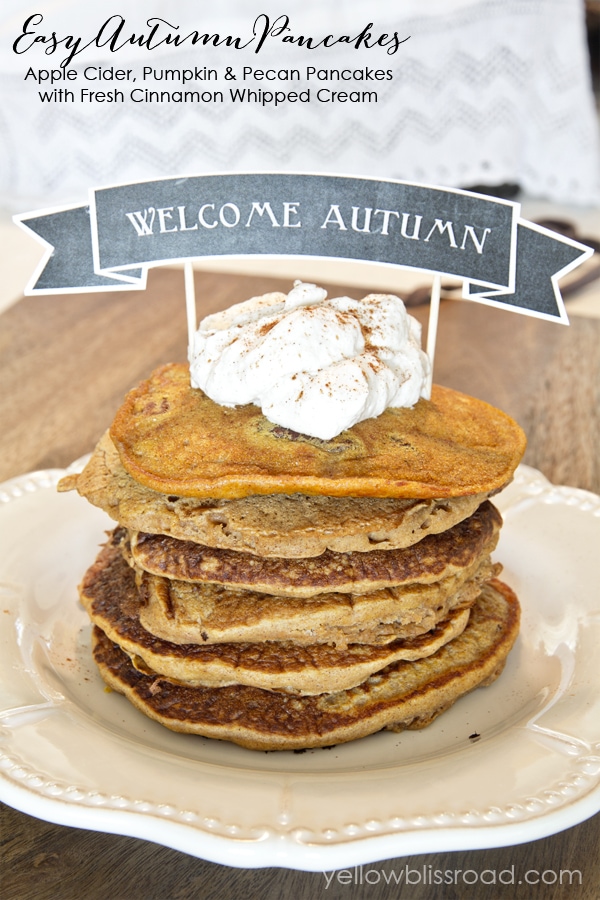 My Perfect Autumn Pancakes, made with apple cider, pumpkin and pecans are a definite crowd pleaser.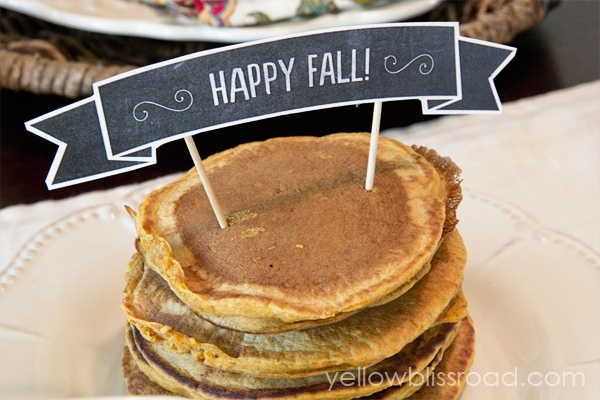 Of course, I have a nut free version for my allergic son.
(Like the mini banners? You'll be able to download those later in the post!)
Finish the meal off with some fresh fruit and a special drink. I simply bought bottled apple cider which I poured into these fun Country Jar Glasses from World Market, and garnished it with apple slices and a cute paper straw. You could serve cold cider or even hot chocolate!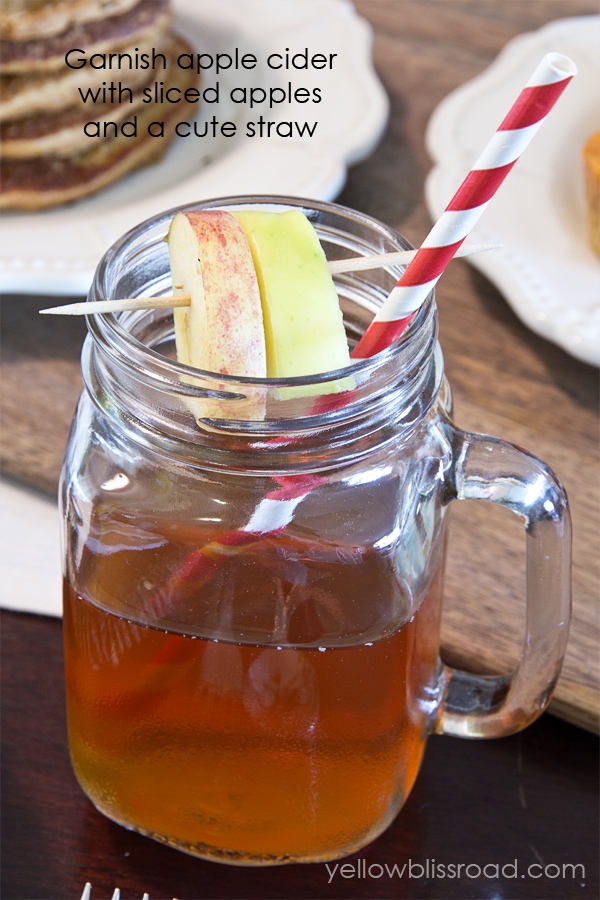 My kids love any food they get to eat with a toothpick!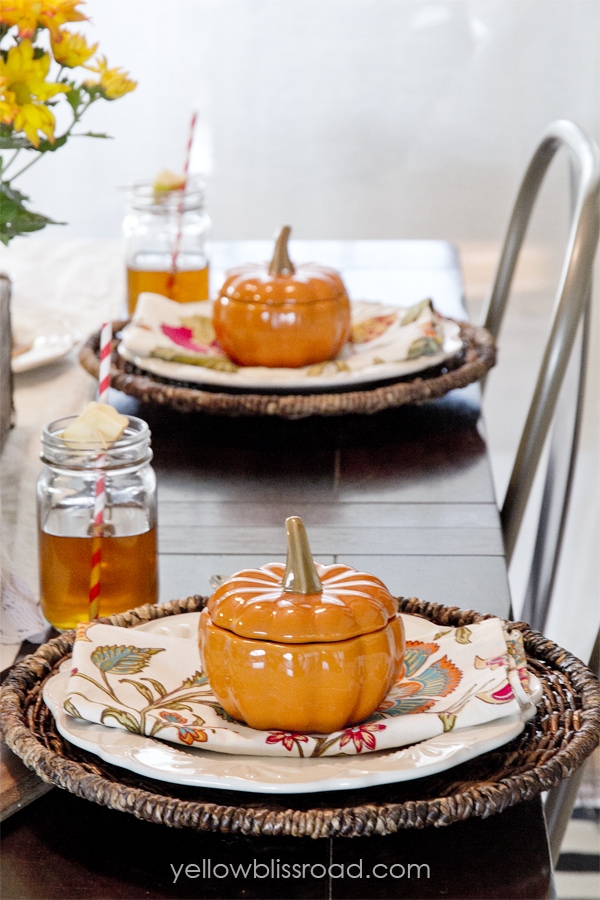 Be sure to set the table with special linens and dishes – you want this to feel different than your everyday breakfast, so break out the good dishes and the pretty linens.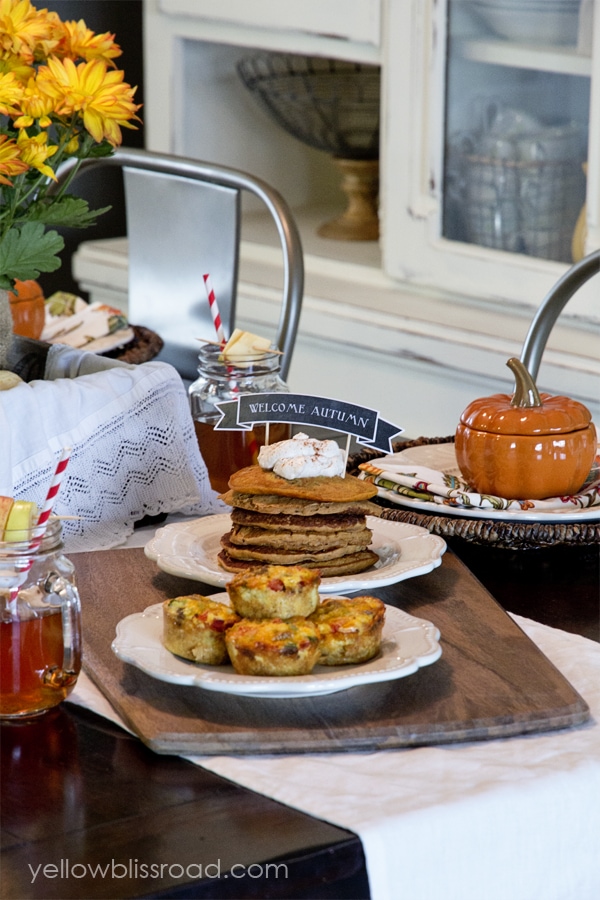 Make the meal feel even more special by adding my pretty mini chalkboard banners. Just print on cardstock, cut them out, and attach toothpicks to the back. They are perfect for cakes, pies, and even yummy stacks of pancakes!
I've created mini banners to cover the whole autumn season, from general fall, to Halloween and Thanksgiving. Enjoy!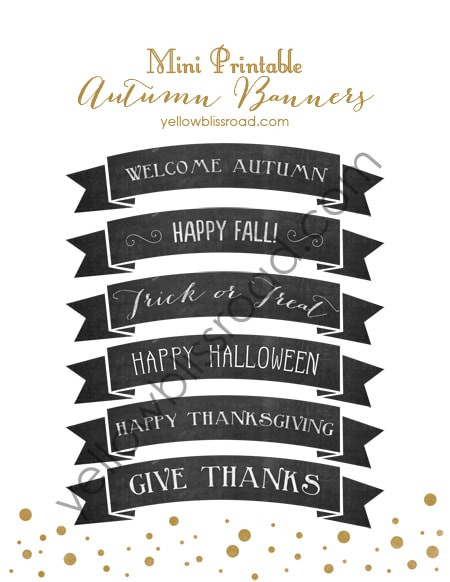 Download the Mini Autumn Chalkboard Banners here. (Please don't try to save the image above. It won't print right and then you'll just be mad at me. Click on the link to be directed to the download page.)
DISCLOSURE: As with all of my downloads, I strive to bring free quality content – but I need your help. Please share these by sending people to this post and asking them to download here. If you'd like to feature these on your blog, please use the image at the top of this post in full, or request a watermarked version of the print you'd like. This helps me keep the great free stuff coming!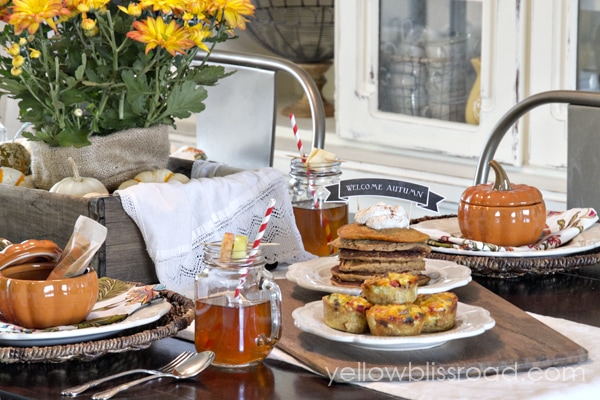 I hope that I've given you some great ideas to help plan your own little seasonal celebration! It's amazing how the little things can help make an ordinary day, and the people you love, feel just a little more special.
For even more great autumn inspiration, check out the rest of this series –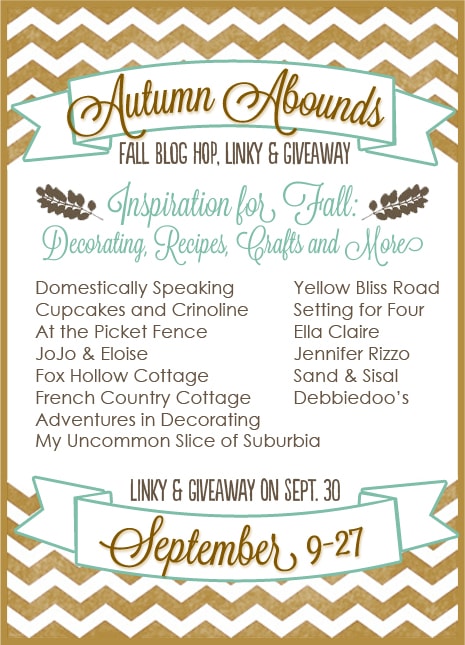 In case you missed any of the amazing posts my friends shared:
Heather @ At the Picket Fence
Vanessa @ At the Picket Fence
And then it's your turn! On Monday, September 30 we'll have having an Autumn Linky Party for you to share your fall goodies plus a HUGE giveaway!
So much good stuff going on around here, so stay tuned – you don't want to miss out!