This dresser has been sitting in my office for a few years now, housing papers and files of information. Before this life it belonged to my grandparents.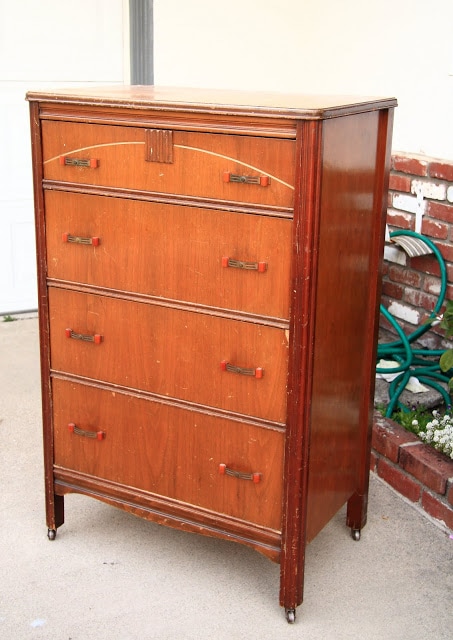 In 1955, they, along with my mother and uncle (who were 3 and 7, respectively), made the long journey from a small town in Southern Germany to sunny California, in search of a better life. Read more about their journey here.
The small apartment they were set up with by the Lutheran church that sponsored them was furnished with items that were donated by church members, including this dresser. It was one of the first things they owned as new citizens of the United States, and it has remained a treasured piece.
I've been wanting to show this dresser some love by painting it for a couple of years now, but my mother wouldn't let me (she planned on taking it when she had the space). Now that my daughter is moving into her own bedroom, she needed her own dresser. I begged politely requested again that I paint it, and after seeing the shape it was in (being 60+ years old –  not so good) she reluctantly agreed to let me paint it, happy that it would be used and knowing that my grandmother would be pleased that it was going to my daughter.
I was so excited that I (almost) immediately dragged it out into the driveway, removed the hardware and started sanding.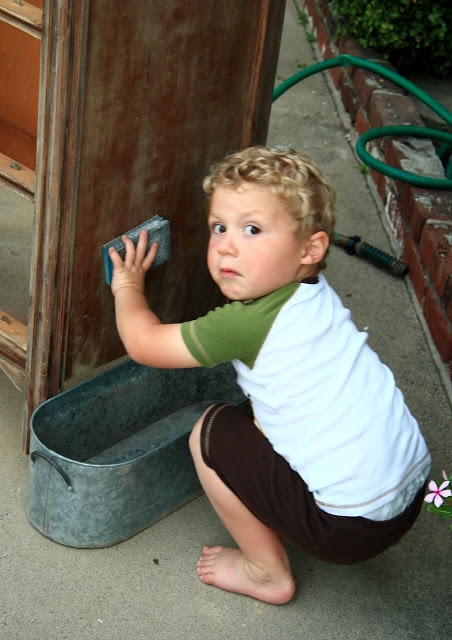 Lucky for me, I had a helper.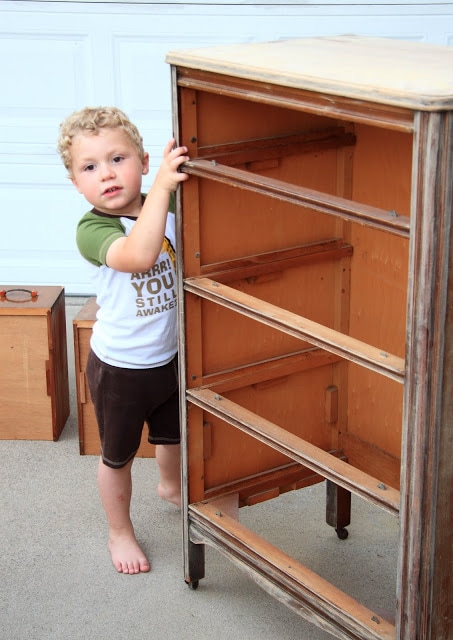 After it was good and sanded, and my helper was in bed, I hauled the piece back in the house where I proceeded to paint the main piece white. I decided I wanted to do something a little different with this one, and since my color palette for the room is gray and aqua with hints of pink, I decided on painting the drawers aqua. I had a small amount of the bright turquoise sample I bought for the playroom wall and filled the jar up with white paint. It came out a lovely shade of aqua that I dry-brushed over the front of the drawers.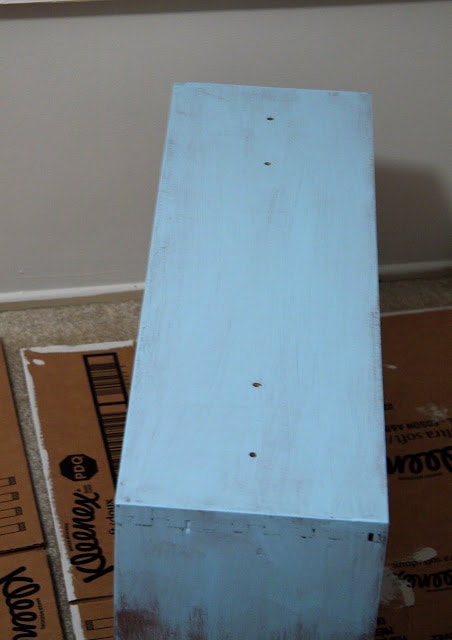 Once the paint was dry I placed the drawers back in the dresser and tried to figure out what to do about handles.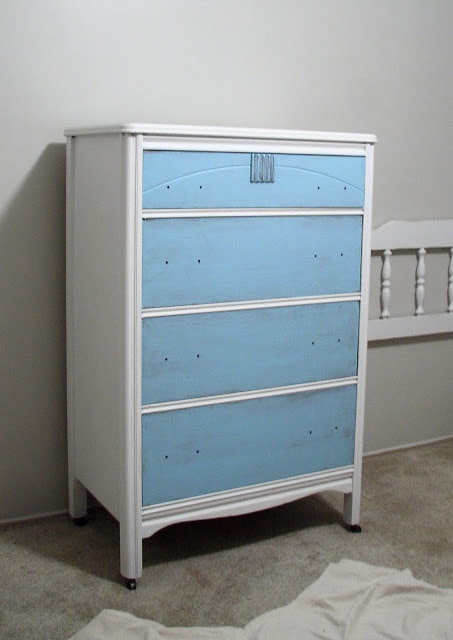 (catch a glimpse of the headboard I painted?)
I searched the internet, but with a unique size of 3.25″, everything I found was expensive! So, I found a piece of fabric I'd bought to recover my bench that I didn't used and ripped it into strips, then tied the strips to the drawer fronts.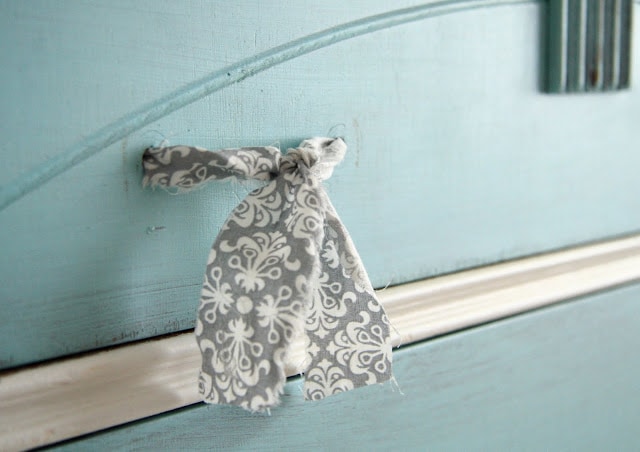 The color of the fabric goes perfectly with the room. I was beyond excited and stayed up until nearly 1 am finishing this dresser!!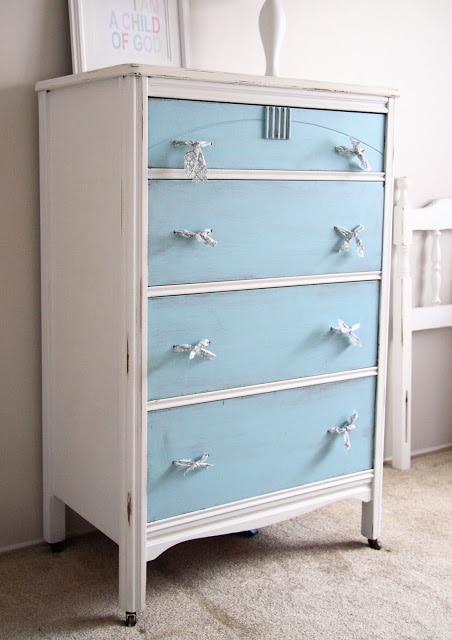 Love.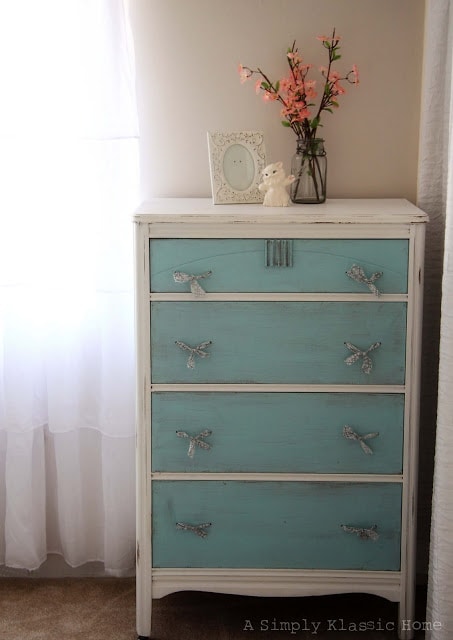 I cut a wider strip of the fabric and turned an ordinary lamp from Target into this: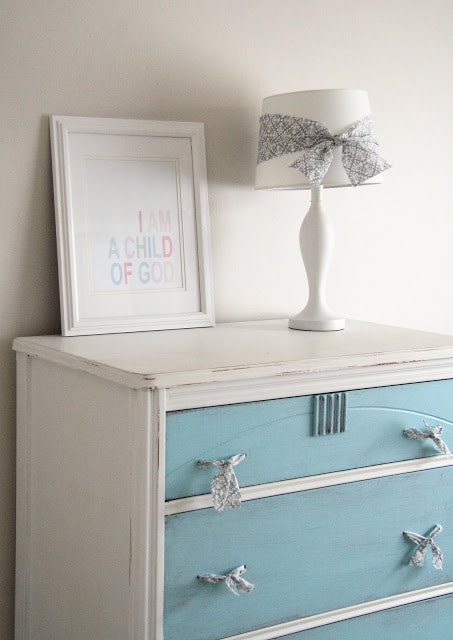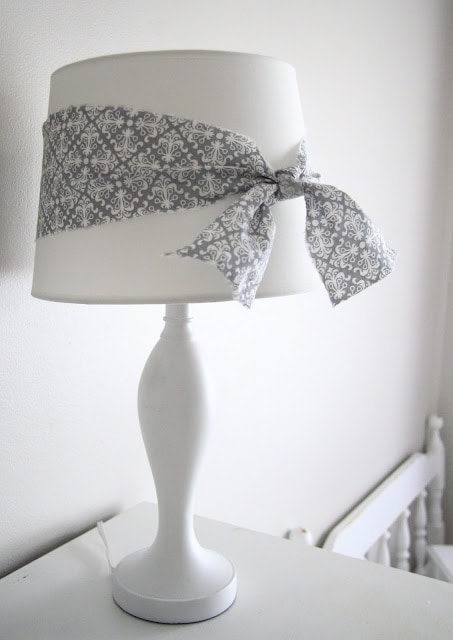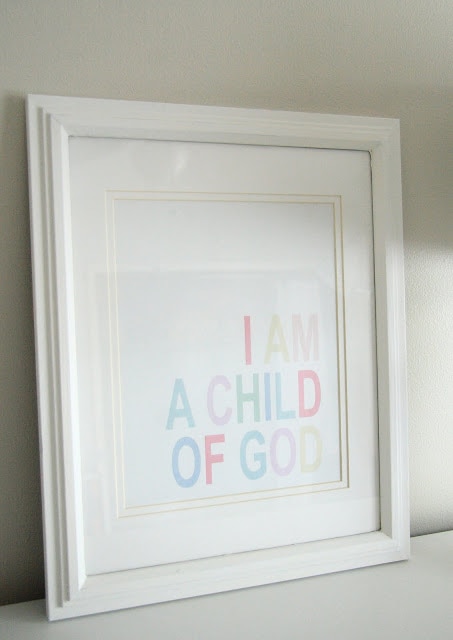 The print is from my Etsy shop, and is available in a variety of colors, both solid and multi-colored.
I'm still working on putting the whole room together, but I have everything I need! Hoping to be able to showcase the whole room by next week.
***UPDATE: Riley's Room is finished!!! Check it out HERE.***