As promised, here are the photos and details of last weekend's celebration for Riley's baptism and pending adoption…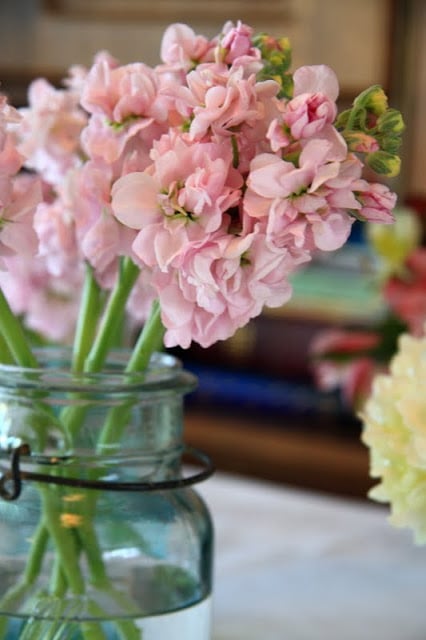 The color scheme for the party was aqua and pink, same as Riley's bedroom. I wanted something simple, vintage inspired, and pretty. I think I accomplished all three – let me know what you think!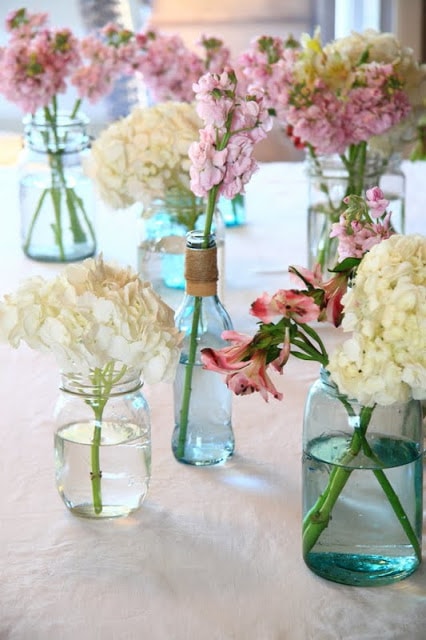 I picked up five bunches of flowers at Trader Joe's. I had a $30 budget and only spent $25. I placed blooms in several pretty jars around the house and on the tables.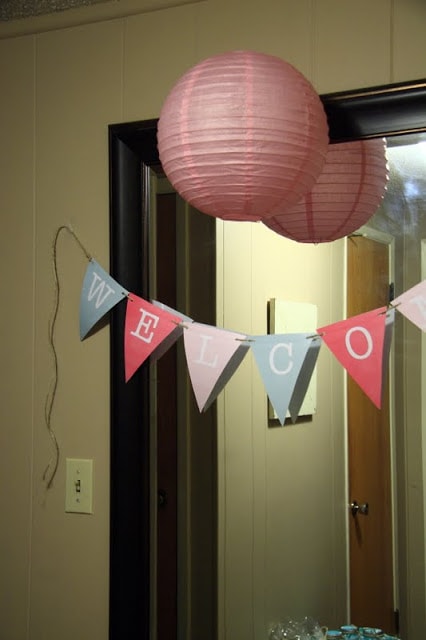 I hung a simple welcome banner as a greeting.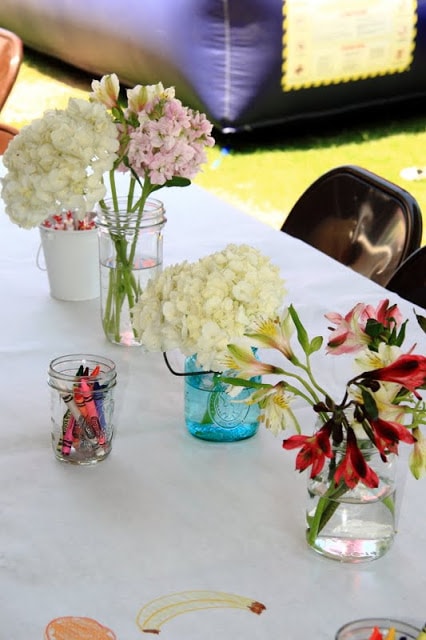 The outdoor dining tables were covered with white butcher paper and set with crayons to keep guests, both young and old, occupied. I also had picked up a few white pails from Target's Dollar Spot that I filled with candy.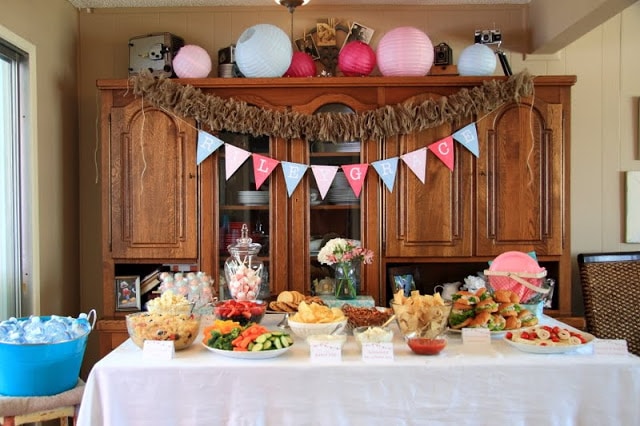 I prefer to forego the traditional "formal" dessert table, so I usually just present all of the food on one table. I made the burlap garland and created the simple pennant banner in photoshop. The lanterns were a very inexpensive touch that packed a big punch, and were purchased from The Paper Lantern Store. (Ideally I wanted to hang them, but time was running short, so I just threw them up there..quite literally, actually!).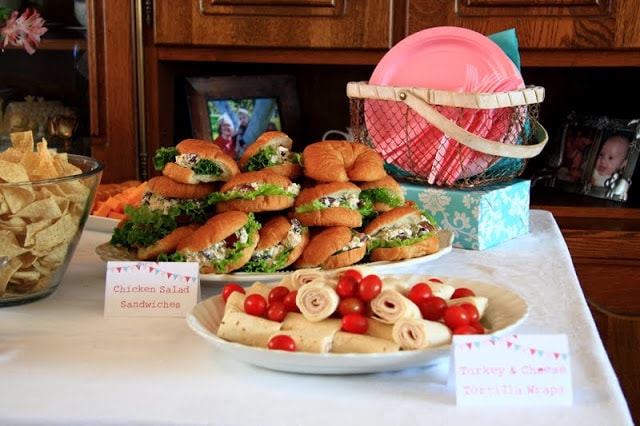 The table was covered with a vintage tablecloth that belonged to my grandmother.
My mom made the chicken salad sandwiches, using a recipe from The Pioneer Woman, which were quite the hit. There were also Turkey & Cream Cheese Wraps for the kids.
The tent card labels were made in Photoshop.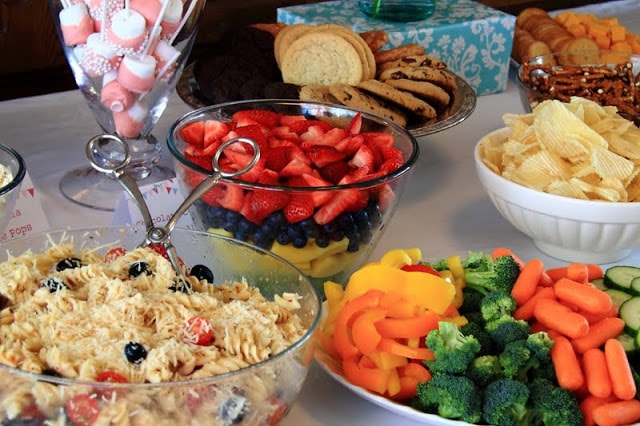 I included traditional party fare such as veggies, pretzels, chips and dips. I didn't get a picture, but I got THE BEST dip at Costco – Jalapeno Artichoke Dip – YUM!!!
I also made my staple Italian Pasta Salad (recipe coming soon).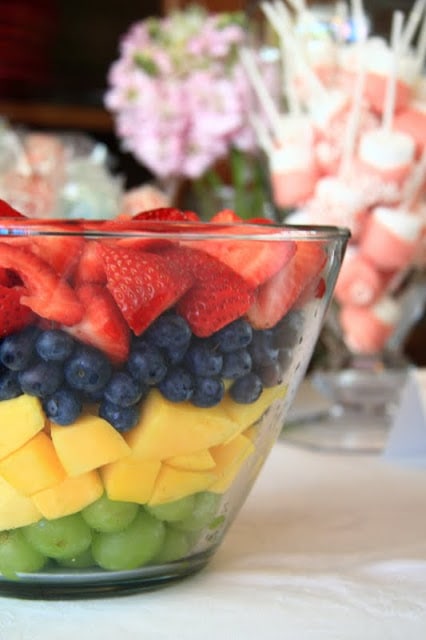 I got some beautiful fruit and displayed it in the glass bowl. It was so pretty it deserved it's own photo!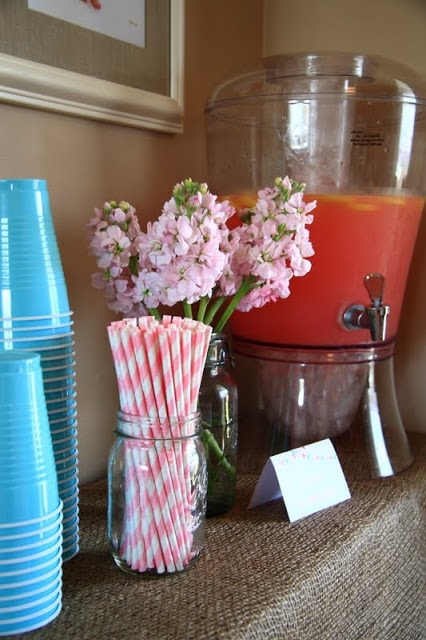 The Drink Station offered pink lemonade. Everyone loved the adorable straws purchased on Etsy, especially my son who tried using four at once and just about choked.
I also offered several sweet treat options: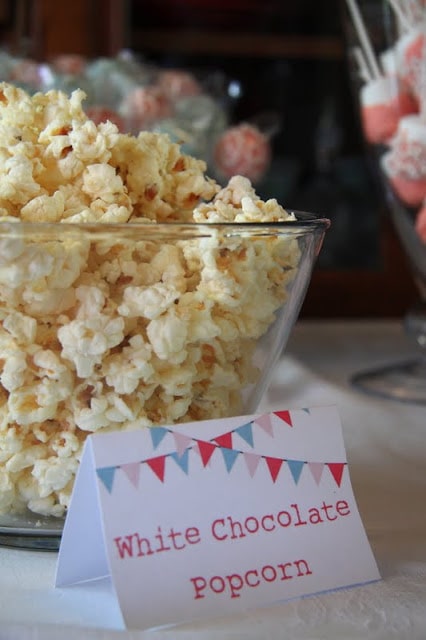 I popped some Kettle Corn and drizzled it with melted white chocolate chips. So good.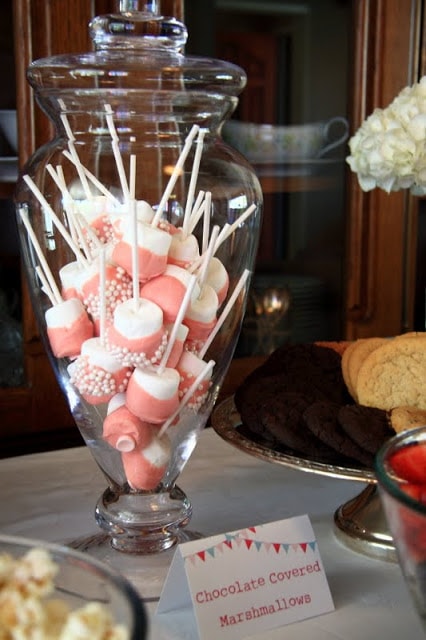 Dipped Marshmallows and bakery cookies.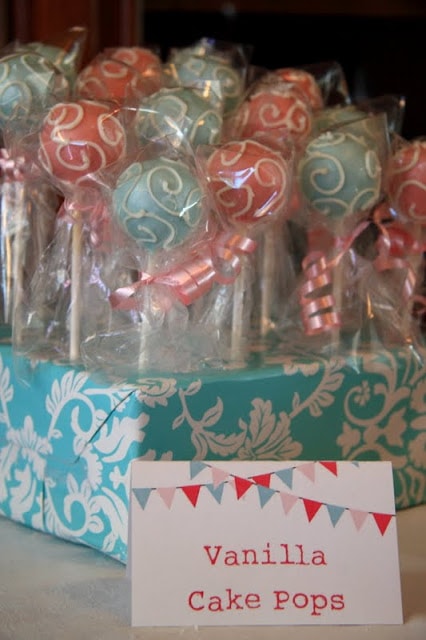 Cake Pops were made by my good friend Vanessa of Rockin' the Cake Pop (website coming soon). For the display I wrapped foam blocks in this gorgeous paper from Party City.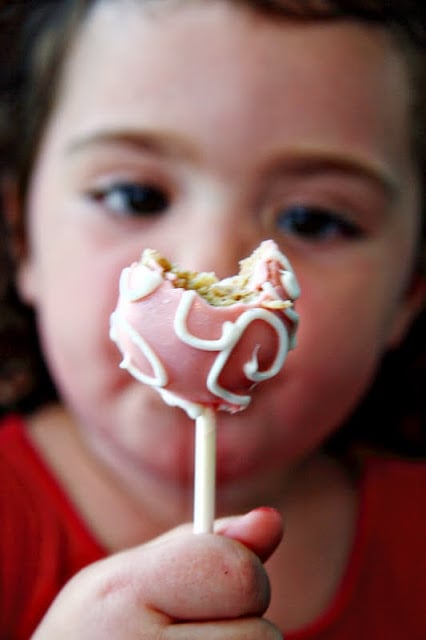 This photo was pure luck.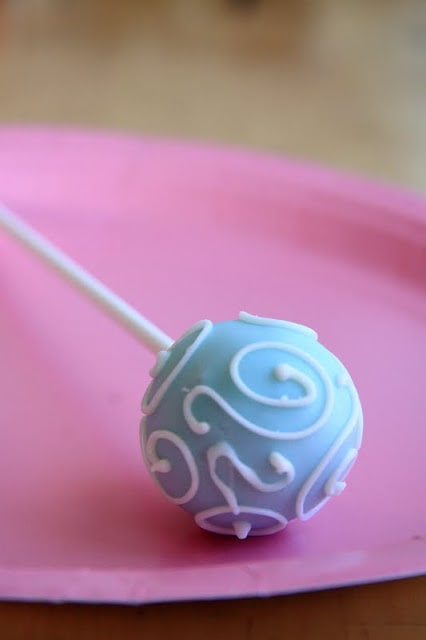 I promised her I would post lots of pictures.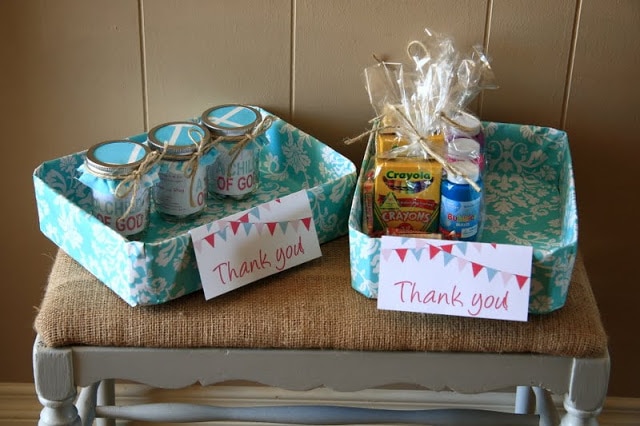 I cannot believe that I forgot to take a picture of the party favors display all set up! Here's what was leftover, sigh, but it sure looked cute! I shared my mason jar party favors here, and for the kids I purchased crayons on sale at Target, a package of bubbles from Party City and a few pieced of candy.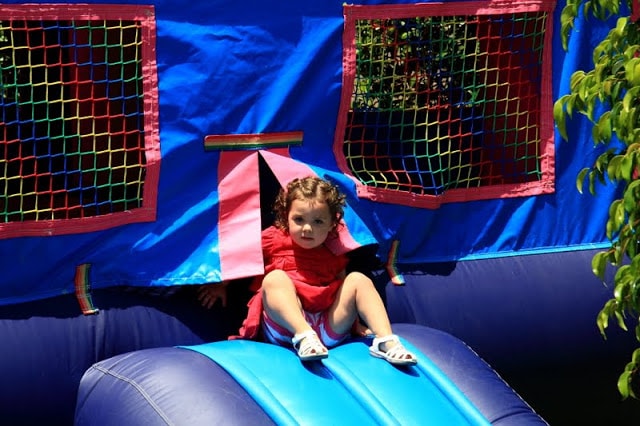 The bouncy house was the biggest hit of the party. Riley even fell asleep that night crying "My bouncy house, my bouncy house!" Maybe Santa will bring them one of their own! (But I kind of doubt it).
I hope you enjoyed all the little details that made this party special for my sweet girl. Even the hubbys were complimenting the decor! This party was a huge success and I was exhausted by the end of it. What an amazing day it was!!
Now the countdown to Cooper's BUG party begins…T-minus 53 days and counting…
Linking to:
My Uncommon Slice of Suburbia 
Seven Thirty Three 
Someday Crafts 
Be Different Act Normal 
The Shabby Creek Cottage 
House of Hepworths 
Chic on a Shoestring
The Shabby Nest
Fingerprints on the Fridge