Hi Everyone! It's Jennifer from Town and Country Living here to share another yummy recipe with you. Although I'm a vegetarian, I'm always on the hunt for meat dishes that my hubby will love. Casseroles are always a great choice for him because he can eat leftovers for lunch at work.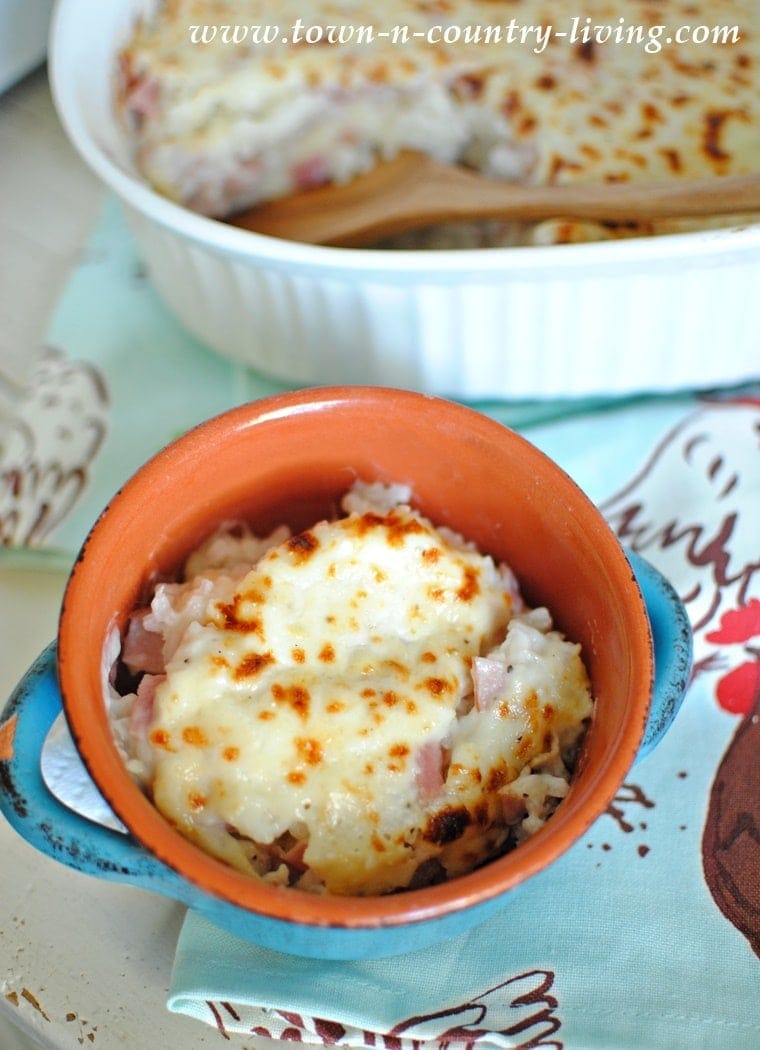 I would definitely list this casserole as comfort food since it's infused with a wonderful bechamel sauce. Two cheeses are used … fresh mozzarella and parmigiano reggiano cheese. Be forewarned; parmigiano-reggiano is an expensive cheese but it's worth every penny!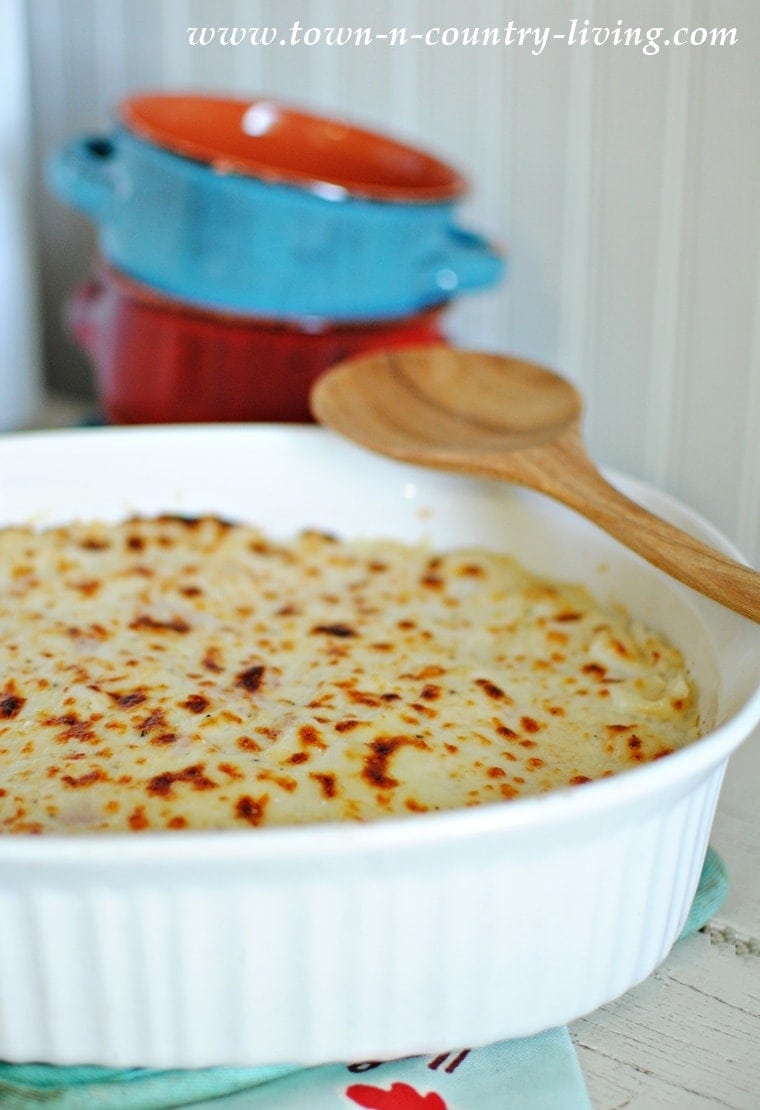 One time I sent my hubby to the grocery store for some parmigiano-reggiano cheese and told him not to look at the price … just bring me the cheese! For whatever reason, after seeing the price tag he decided Parmesan cheese would do the trick. Wrong! Don't make the same mistake he did. The right cheese does make a difference!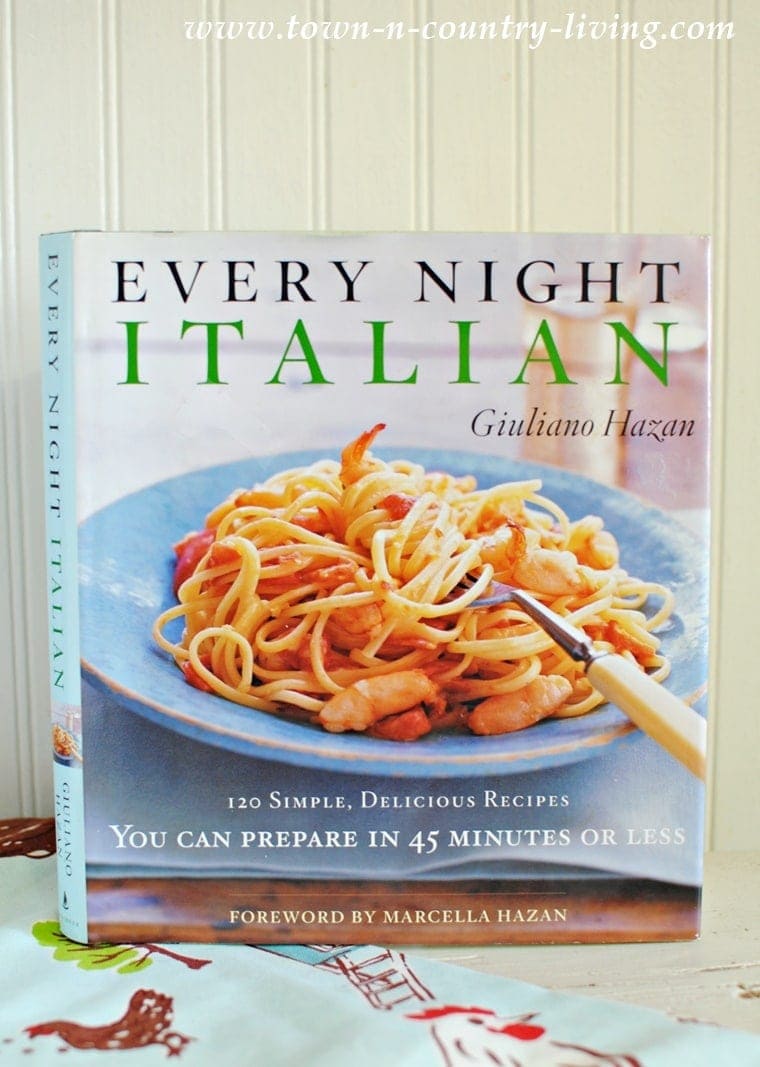 I found the recipe for Baked Ham and Cheese Rice Casserole in the Every Night Italian cookbook. I found this treasure at the Good Will store for just $2. I love it because most of the recipes are easy, yet tasty.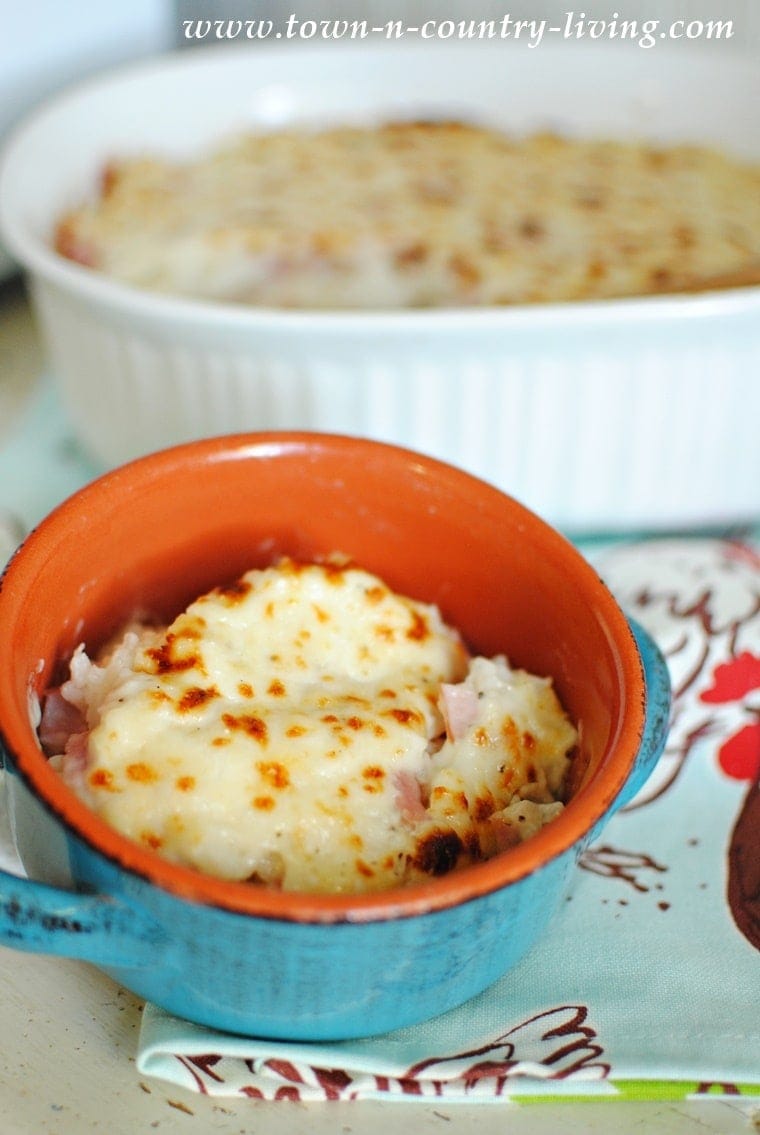 Baked Ham and Cheese Rice Casserole passed the hubby's taste test! He ate it while enjoying Sunday afternoon football game.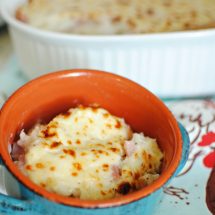 Ingredients
1 1/2 cups Arborio rice
4 tablespoons butter
2 cups whole milk
1/2 cup all-purpose flour
6 ounces boiled ham sliced thin and chopped
3/4 cup freshly grated Parmigiano=Reggiano cheese
6 ounces fresh mozzarella grated
Salt and Pepper to taste
Instructions
Preheat oven to 400 degrees

Fill a pot with 3 quarts water and bring to boil, Add 2 teaspoons salt and the rice and stir. Cover and simmer for 15 minutes, stirring occasionally. Drain and transfer to a mixing bowl. Toss rice with a bit of butter to keep it from sticking together.

While rice is cooking, make the bechamel sauce. Heat milk until hot, but do not boil. Melt 4 tablespoons in heavy saucepan over medium-low heat. Add flour and whisk until smooth. Add hot milk a few tablespoons at a time, whisking until mixture is smooth before adding more milk. Keep adding milk gradually until all milk is added. Sauce will be thin but will thicken the longer it cooks. Season with salt and pepper to taste before removing from heat.

Pour all but a few spoonfuls of bechamel sauce over rice and mix well. Add ham and all but 2 tablespoons parmigiano-reggiano cheese. Salt and pepper to taste.

Spray casserole dish with cooking spray. Spread half of rice mixture in bottom of casserole. Sprinkle layer with mozzarella cheese, and then spread remaining half of rice mixture over the cheese. Carefully pour remaining bechamel sauce over the top and spread evenly. Sprinkle with remaining parmigianno-reggiano cheese. Place in oven to cook for 15 minutes. If cheese doesn't turn golden brown, place under broiler for a few minutes until cheese starts to brown.

Remove from oven and let sit 5 minutes before serving.
You Might Also Enjoy …