When I decided that our office was to become my daughter's room, I was excited, and nervous since I really didn't have a lot of furniture, and I would basically be starting from scratch. She had a bed, and…that was it!
I had a budget of $200 to work with, and wouldn't you know it, I was able to stick to it!
First thing I did, of course, was search for inspiration. I found it at The MomTog Diaries.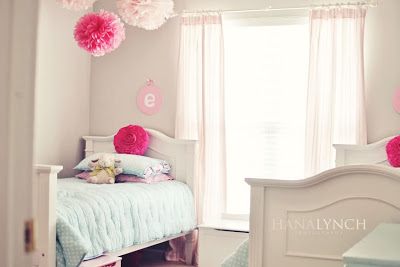 I first fell in love with the beautiful Pottery Barn Kids quilt, and when I read that Hana found her quilt on Ebay, I rushed over and actually found the same one! AND it was only $69! I may or may not have squealed and done the happy dance. I promptly listed the old Pottery Barn Kids bedding on Ebay, and ahem, sold it for more than the cost of the new bedding. Score.
~~THE BED~~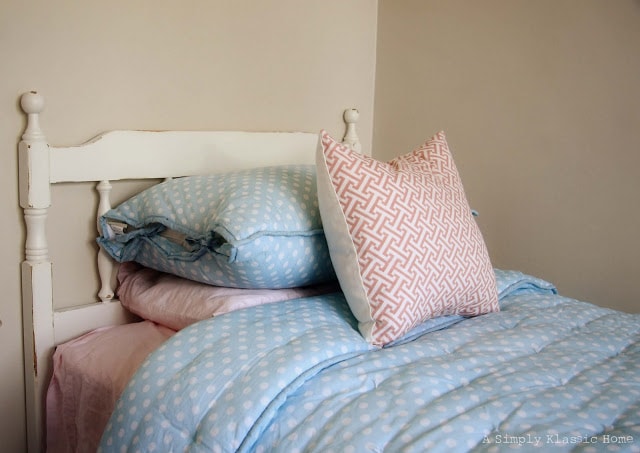 The headboard I purchased from my cousin. It was a cottage white and I painted it white and distressed. Sorry, no before photo! Pillow came from DIY Pillows on Etsy. They have a ton of different fabrics and the best part is the covers are only $12.99 and include shipping!! If you don't see something you want, just convo Lisa and she will find it for you, or as in my case, will offer a suggestion!
The Breakdown:
Quilt and Sham: $69 on Ebay
Pillow: $13 (with free shipping) at DIY Pillows on Etsy
Sheet Set: $22 at Marshalls
Headboard: $20 from my cousin
I had on hand the bed, pillows and pillow insert.
Minus the old bedding which sold on Ebay for $110 (quilt, sham, and sheets)…
Total cost for bed: $14. BAM!
~~THE FURNITURE~~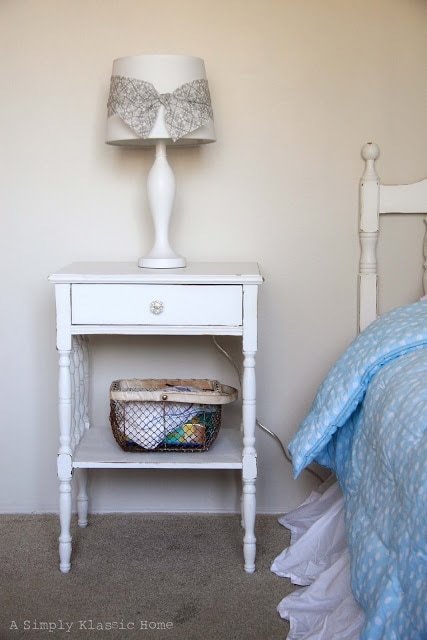 After purchasing the headboad I was on a mission to find a nightstand to match. My first stop was the Salvation Army, and what to my wondering eyes did appear? Sitting on the sidewalk, literally right in front of the space where I parked, was this beauty.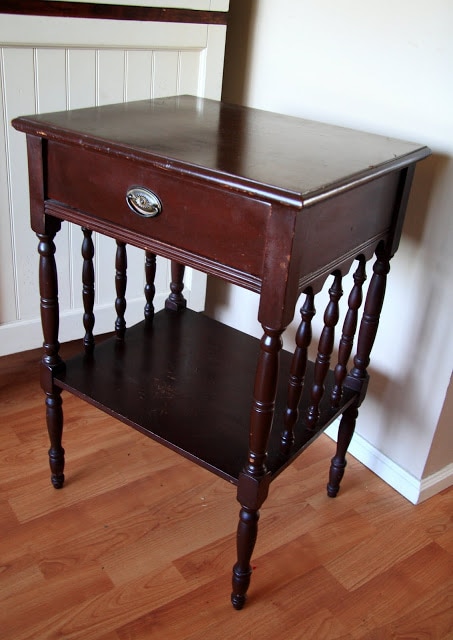 It was one of those moments when angels sang and light radiated from the sky. The spindles on the legs were a perfect match for the headboard! I grabbed it, walked into the store (I may have ran, a little), paid for it and was driving away less than five minutes after I'd pulled up.
Gave it a good sanding, painted it a bright white, and added a glass knob that I'd removed from my own nightstands (gave them back their original hardware), and voila!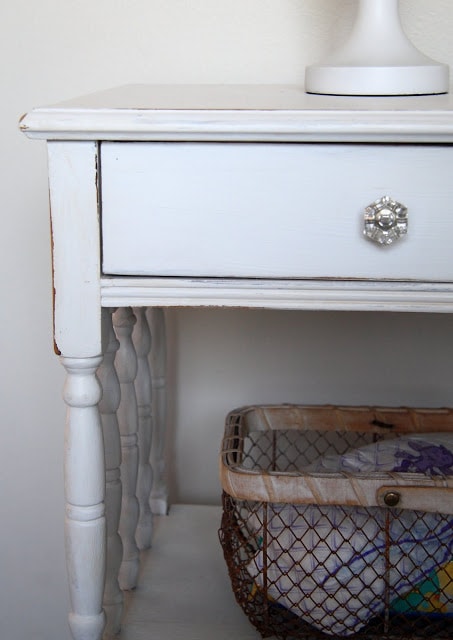 The dresser is seriously my favorite feature in the room, and probably my favorite project to date. See that makeover here.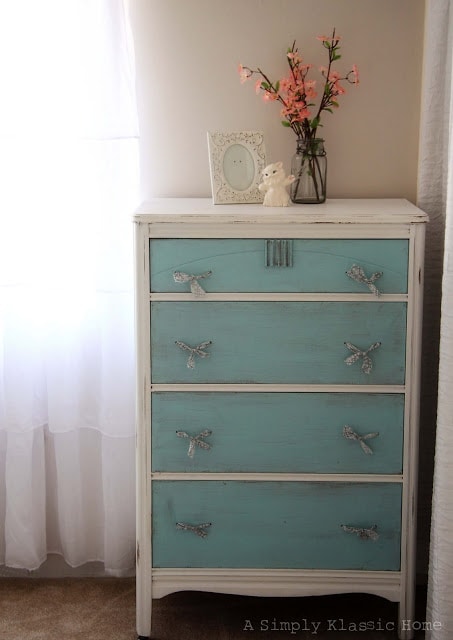 The white wicker chair came from another thrift store and was another one of those heavenly finds.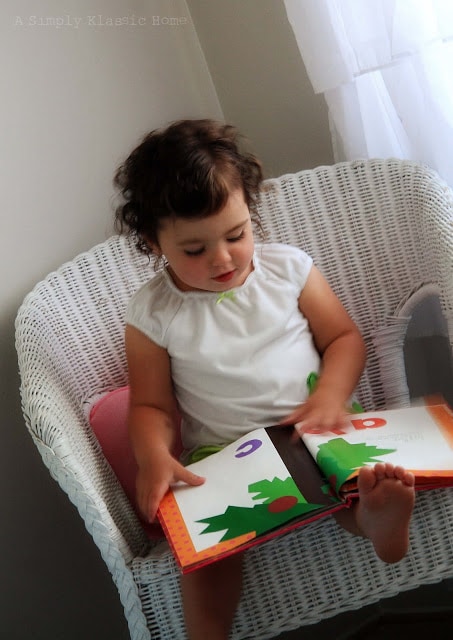 The Breakdown
Nightstand: $25 at Salvation Army
Chair: $25 at Thrift Store
Everything else I had on hand.
Total cost for furniture: $50
Did you miss a post?
Big Girl Room Reveal, Part 1 (The Pictures)
Big Girl Room Reveal, Part 2 (Accessories)