This is part three of Riley's Big Girl Room Reveal. See the full reveal here, and the furniture and bedding breakdown, here.
I didn't have a lot to spend on accessories for the room. I shopped the house and purchased a few things like curtains and artwork.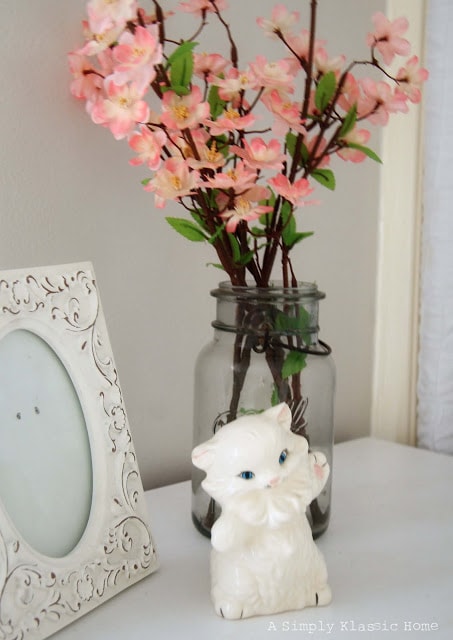 Faux cherry blossoms I had on hand; part of a bunch I'd purchased for my master bedroom makeover; in a Ball jar. Picture frame I had stashed in storage (once my printer is hooked up again I'll print something to put IN the frame) and the ceramic kitty was given to me by my grandmother when I was little. (*sidenote: I totally just typed "young" but realized that would mean that I am now OLD, which is clearly NOT the case!!).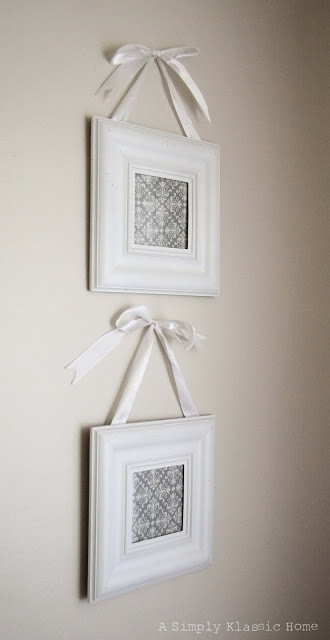 Dollar Store frames (on hand) filled with leftover fabric from the dresser pulls. My original idea was to place the letters "R-E-A-D" here in the little book corner, but I ran out of budget. So this is called, use what you have!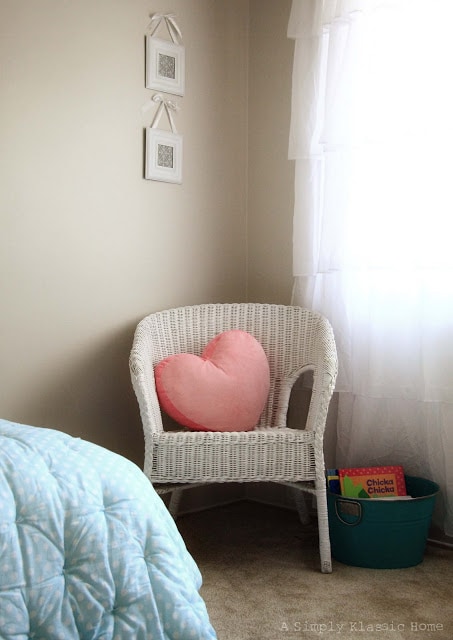 Heart pillow came from Target for $12.99. Bucket was $10 from Walmart and will serve as an ice bucket for drinks at Riley's baptism & adoption party next month.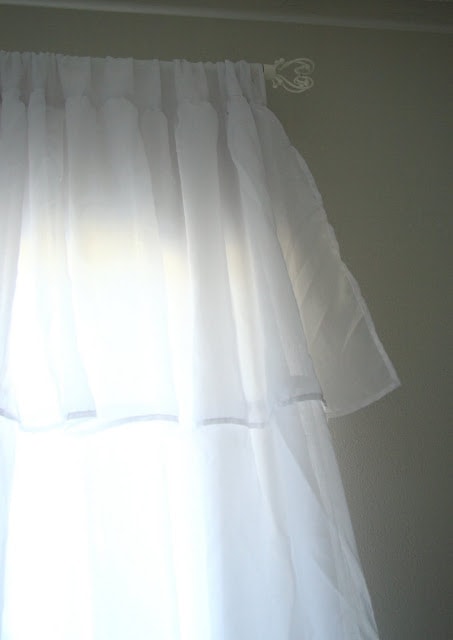 The curtains…I fell in love with these curtains when I saw them at Target, and let me tell you they were not easy to get! I first saw them in the store, but there was only one panel left. Of course this wouldn't do, so I went home and checked online and they are NO LONGER AVAILABLE!! It said online that two other local stores had a couple each in stock so I crossed my fingers and ran over to he first one. No luck. Second store: Jackpot! They are so gorgeous and soft and ruffly (without being TOO ruffly). They were $19.99 per panel and the curtain rod was $21.99.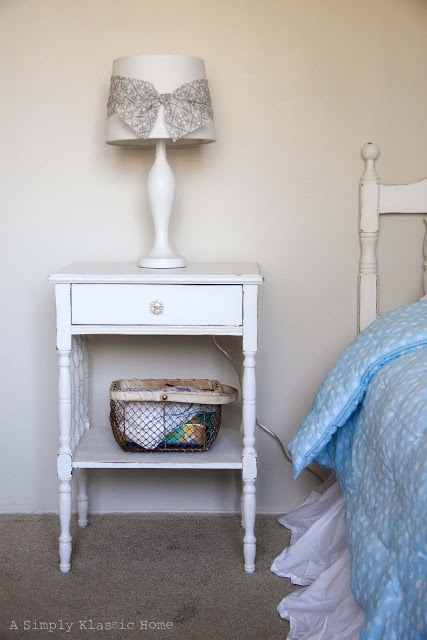 Both the lamp and the shade were on on sale and I knew I could do something to make it pretty. I simply tied another piece of leftover fabric around the shade. The thrift store basket (on hand) holds a few diapers and wipes (which, praise God we're transitioning OUT OF!).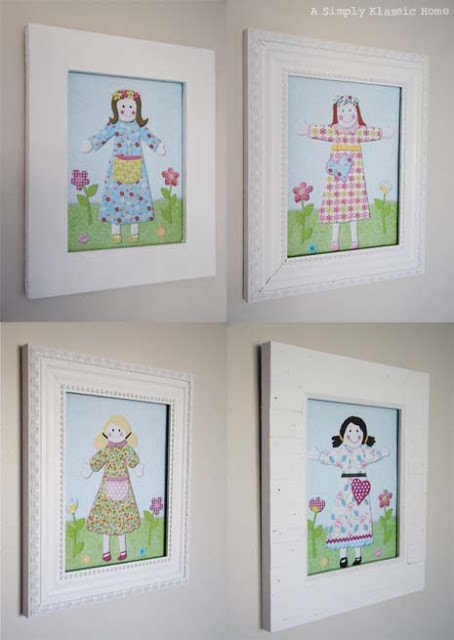 A couple of you have asked about the artwork. When Cooper was a baby, I had purchased Pottery Barn Kids bedding and really wanted the art to match. Unfortunately, it was waaaay too expensive, as often PBK is. I did a search online for PBK art and found Tiddliwinks Designs. The dolls were my third purchase. She even designed art for me for Cooper's room last spring. A set of four prints on cardstock is $20 with free shipping. The frames I had on hand; all were a dark wood and I painted them white.
Aside from the dresser, my second favorite project was this set of hooks, that doubles as wall art.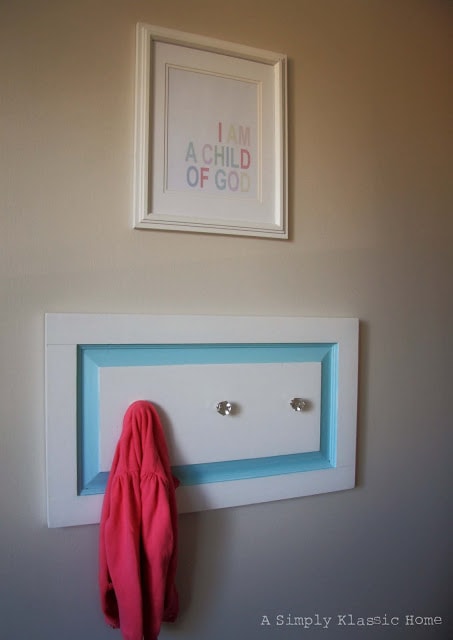 In it's previous life, it was a table built by my uncle for his high school woodworking class.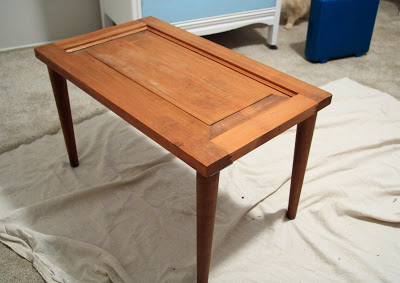 I simply removed the legs, sanded and painted it, and drilled holes for the knobs. Added a couple of pictures hangers and it's the perfect addition to the large, empty space on the wall!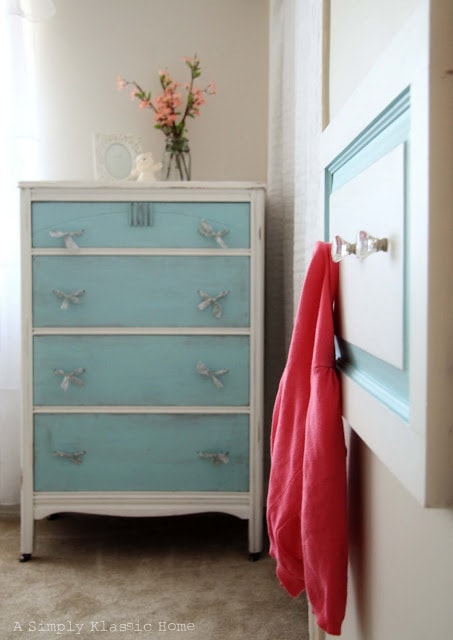 So here's the final breakdown:
| | |
| --- | --- |
| Lamp | $14 |
| Headboard | $20 |
| Nightstand | $25 |
| Bedding | $70 |
| Sheets | $22 |
| Pillow | $13 |
| Chair | $25 |
| Heart Pillow | $13 |
| Curtains | $40 |
| Rod | $22 |
| Paint | $30 |
| Doll Pics | $20 |
| Bucket | $10 |
| Sold Bedding  | -$110 |
| TOTAL | $214 |
Not bad if I do say so myself. I have to admit it's my favorite project, ever. The more brave I become with paint, the more I seem to get done, so be watching for bigger and better projects in the coming months!!
Thanks for stopping by and for all of the sweet comments on Riley's room. If you have any questions, please feel free to contact me.
Miss a Post?
Big Girl Room Reveal
Big Girl Room Reveal, Part 2 (Furniture & Bedding)