Hi everyone, it's Kristen from Down Home Inspiration and I'm glad to be back again to share another project! This month I am showing you how to build a DIY aged arrow growth chart. A chart that can move around from room to room or house to house and you'll never have to pull up door casing when you move! And the best part is that it costs less than $5 to make!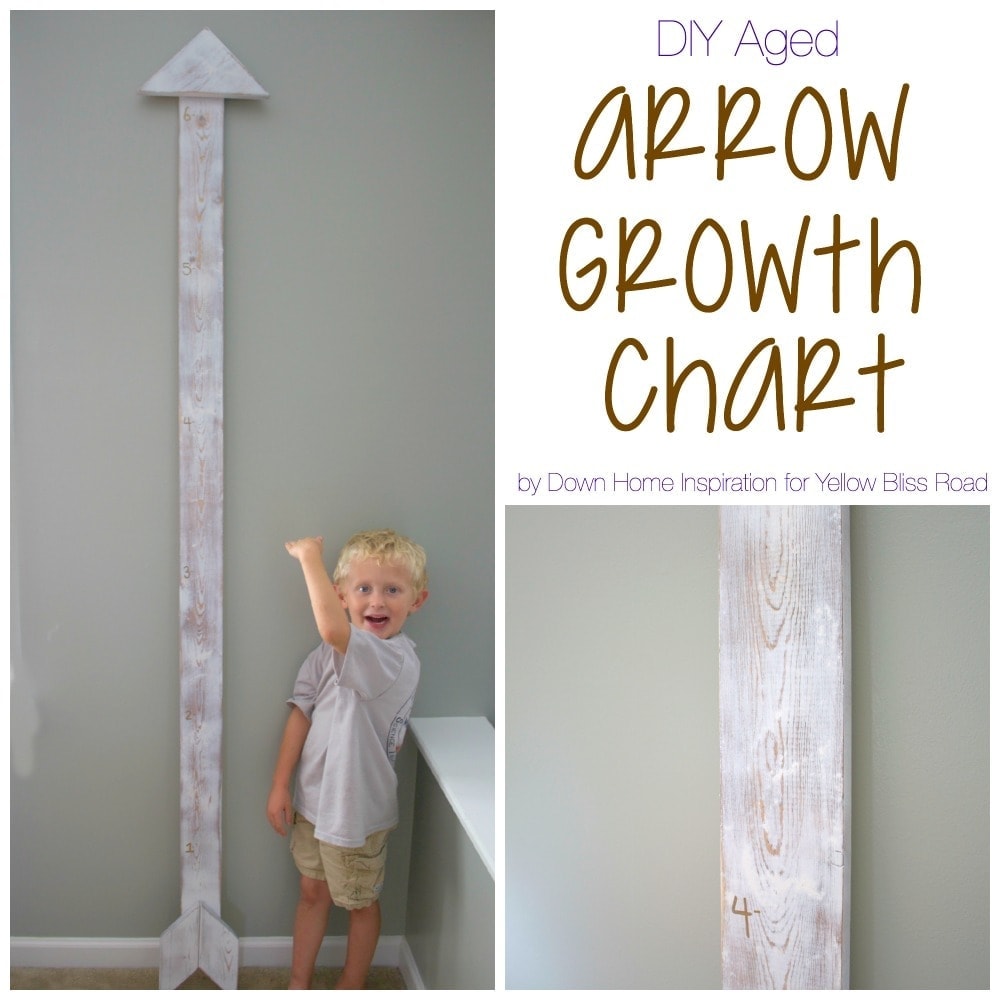 Being a military wife, I've had three children who were born in three different states (and we no longer live in any of those states). It has been important for me to have a steady way to measure the growth and milestones for my kids, but it has always needed to be portable. Years ago I had made the well known ruler growth chart, but I am fickle. It was time for me to change up my chart. Don't worry, I have my ruler growth chart safely stored away and I will now mark the kid's height on both of them so that I can go back and forth as the mood strikes me. Arrows are super "in" right now, which was perfect for me as it requires very few cuts and only a handful of screws to make. With some basic supplies on hand, you can complete this aged arrow growth chart for under $5.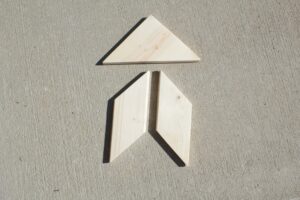 Supply List:
(1) 8 foot 1 x 4″
8″ of 1 x 8″ (perfect for scrap wood)
miter saw
sandpaper
stain
spray paint
drill and screws
Cut List:
(1) 1 x 4″ cut to 6′
(2) 1 x 4″ cut at a parallel 45 degree angle measuring 6″ from tip to tip (on the same side)
(1) 1 x 8″ cut at a 45 degree angle from the straight edge to form a triangle
After cutting all of the pieces, be sure to sand them down well before staining with color of choice. Take this opportunity to attach the tip and fletching on your arrow. Set your 1 x 6′ board on top of the arrow tip, center and screw in. I highly suggest drilling pilot holes first. I chose to be lazy and my wood split. Learn from my mistakes, people!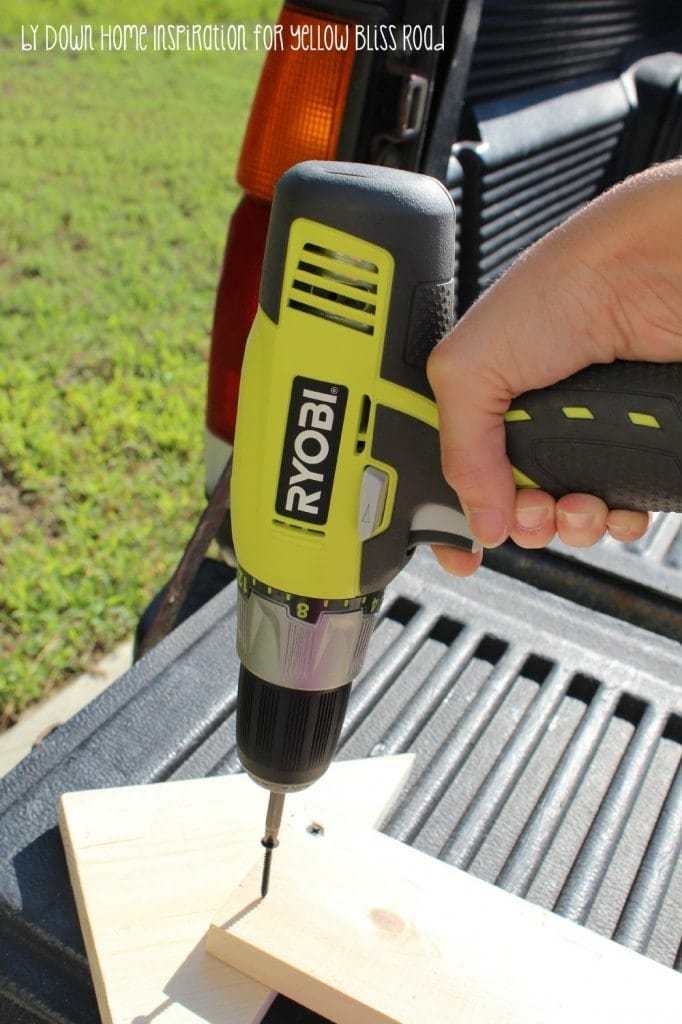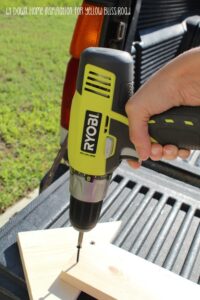 Add a couple screws to secure the point and then do the same with the fletching. I used a clamp to make sure that my two pieces were butting up correctly and keep them centered while I screwed them in.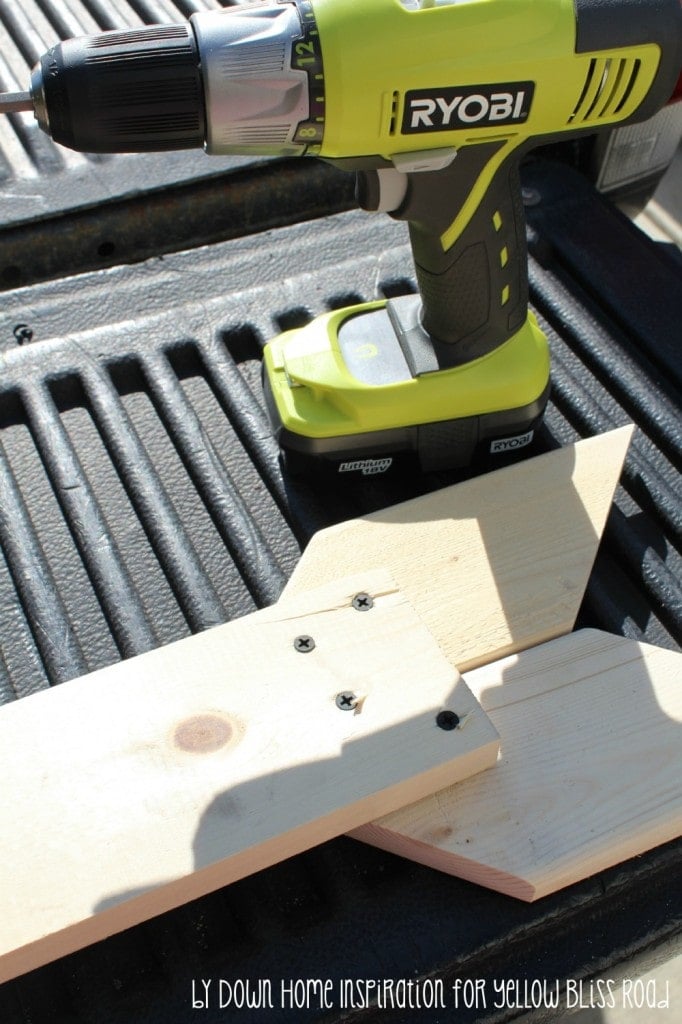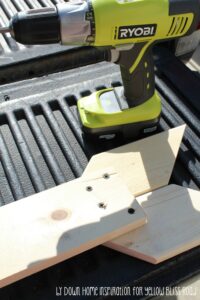 And the evidence of the necessity for pilot holes: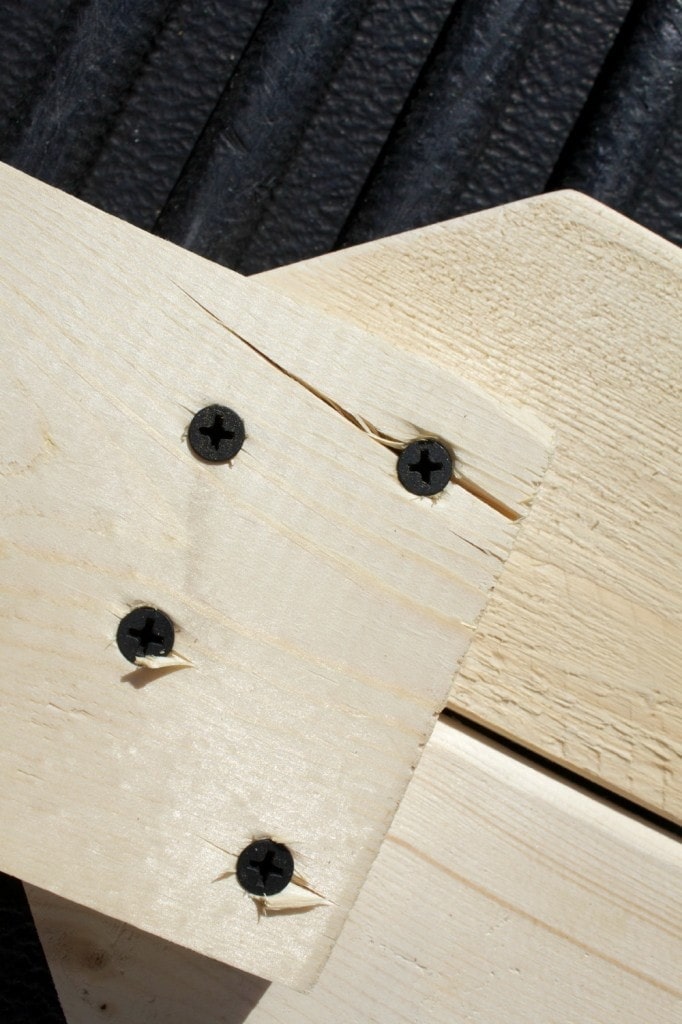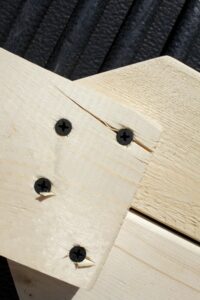 Stain the arrow with your color of choice. Once the stain is dry, quickly apply a light coat of cream spray paint and allow to dry fully. Make sure that the spray paint is truly dry before beginning to sand, otherwise it could become a gummy mess. Sand to distress.
Here is my arrow growth chart after staining, which is also a great look if you want to save yourself the extra work!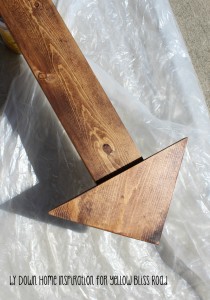 Now it is time to add the numbers. I chose simplicity this go around and used a gold Sharpie to mark every foot. I knew that I would be hanging my growth chart 6″ above the floor,  so I made sure to take that into account when adding my numbers. I grabbed my yard stick and free hand drew numbers 1 through 6.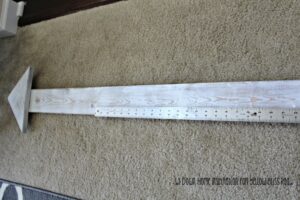 And that's it! In less than a couple of hours for very little moola I've got an adorable way to mark the ever changing height of my growing kiddos.
Here is my guy trying his best to measure himself: