Hello friends! These past few months have been quite the whirlwind for me and my family. We took an awesome vacation to Walt Disney World, I came back and quit my job a couple of weeks later and my kids now have a stay at home blogger-mom! My daughter still goes to preschool a couple of days a week but loves staying home with me and helping out with some of my recipe creations, like the lemonade floats we whipped up last week.
Not only did I quit my job, but I opened up shop as a graphic designer again, and added virtual assistant to the list of services. It's been so much fun connecting with new bloggers and getting to work with some friends on a different level. It's been a crazy few weeks and I've been much busier than I thought I would so I decided its time to start thinking about taking on a few contributors here at Yellow Bliss Road.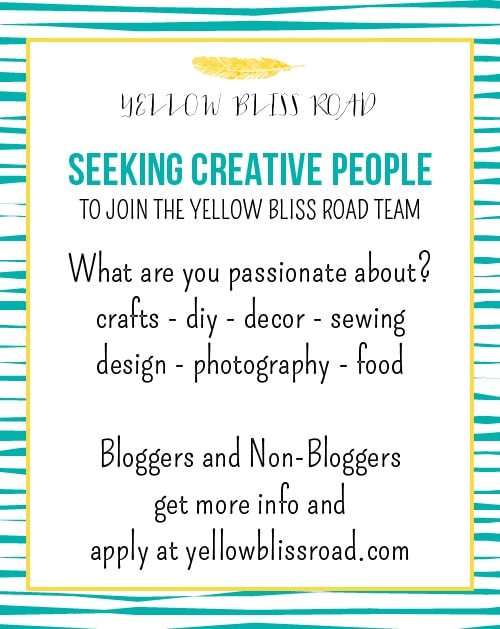 For me, a large part of the blogging experience is the opportunity to connect with, help, advise and become friends with other bloggers. I'm excited to be able to offer this opportunity to bloggers and non-bloggers alike who would love to share their creativity with the Yellow Bliss Road community.
WHAT I'M LOOKING FOR:
I'm interested in having a variety of topics represented on Yellow Bliss Road, so I'm especially looking creative people who specialize in:
Crafts
Tips & Tricks
DIY
Home Decor
Kid Friendly
Organization
Gift ideas
Disney
Round Ups
What is your specialty? What is your passion? Don't feel limited by this list  – if you have another idea, I'd love to hear it!
You don't have to be a blogger to apply. That's right! I'd love for you to know the ins and outs of running and creating content for a blog, but if you're a non-blogger who is interested in trying it out, let's chat! This could be the perfect way to get your feet wet. 🙂
THE PERKS:
$$! Yes! You will receive a small compensation for each post that appears on my site!
Your projects pinned on Pinterest and shared on Facebook, Instagram and Google Plus!
Your photo and bio at the end of each post and on my contributors page, with links to your blog and social media.
Tips and advice from me on blogging, graphic design and more.
WHAT'S EXPECTED:
One post per month. I only ask that you wait 60 days before reposting to your own site.
Share your post on your own social media.
Quality content and photos.
Above all, I want this to be a mutually beneficial experience. If there's anything you need help with, let me know!
Think you're a good fit?
Send me an email to [email protected] with the following information:
Your name
Your blog name and address
A little bit about yourself and why you'd like to be a contributor at Yellow Bliss Road.
Links to your three favorite projects.
I'm really looking forward to seeing what awesomeness you have to share!!
***DEADLINE – APRIL 6***