This is Meg at Snap Happy Mom, and I love helping moms take better pictures!
I want to give you some suggestions about what essentials should be in your camera bag as a mom. I'm a firm believer that you don't need lots of extra equipment to take good photos. These are the bare-minimum things – nothing fancy or professional here. So, these are the things that I have in my bag on a regular basis.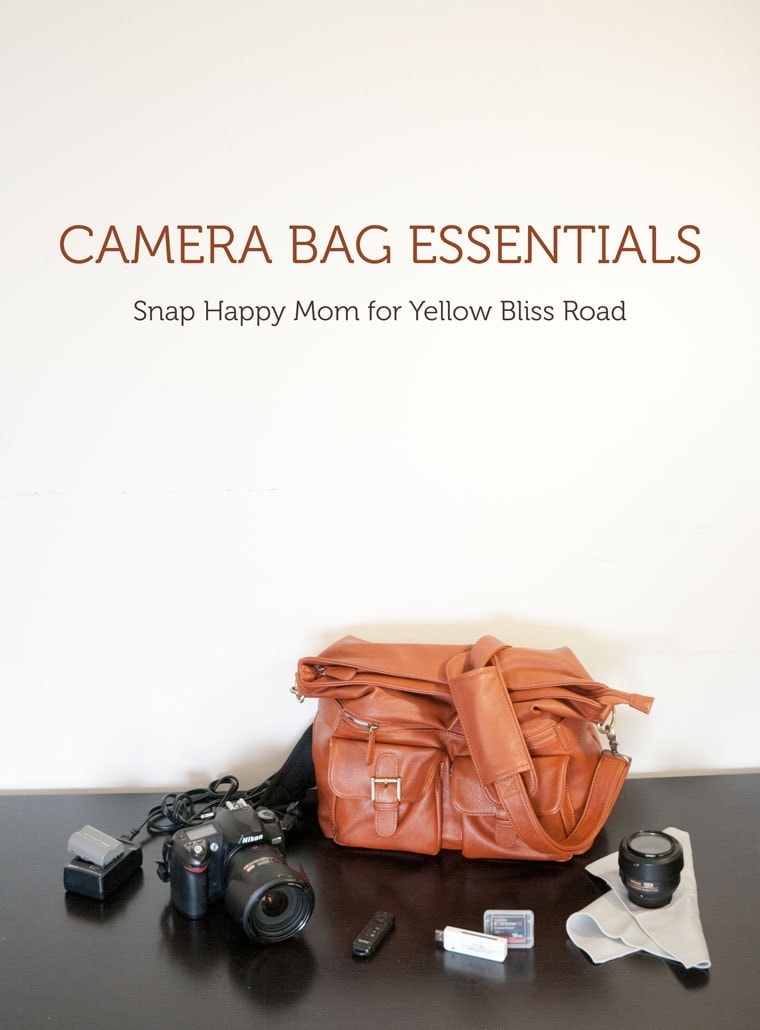 CAMERA BAG ESSENTIALS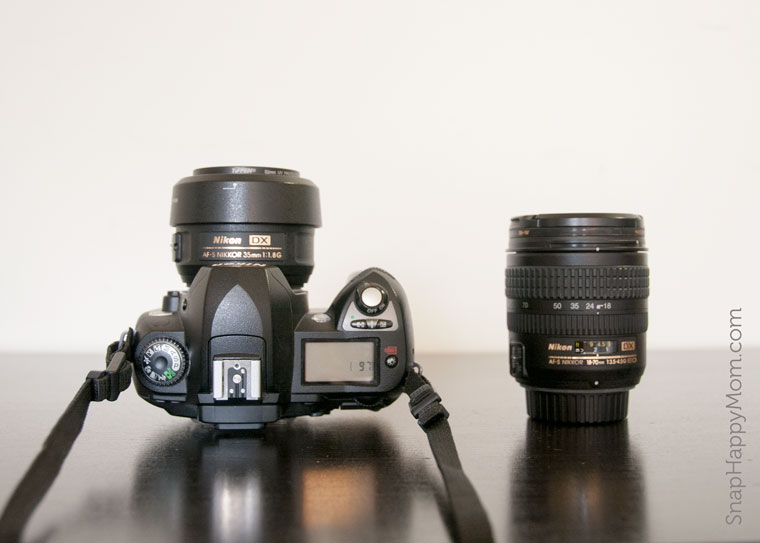 Camera Body
First, your camera body is pretty essential to taking pictures, so it should definitely be in your camera bag! I personally use a Nikon d300, but I recommend the Nikon D3200 or Canon T3i to beginners. If you don't have a camera, I have suggestions here for what type of camera to buy, according to your budget and photography aspirations. It's a pretty detailed post, so head over there if you're interested!
An Additional Lens
One of the most useful things camera bag essentials is a fast prime lens. It's my very first piece of advice for moms who buy a DSLR to take indoor photos!
A fast prime is a lens that doesn't zoom at all, but it can let in at least 4x times the amount of light as the "kit lens" that came with your camera. Basically, if you're frustrated with taking picture indoors, or your flash pops up when you wish it wouldn't – then investing in a fast prime will change your life photography-wise!
You can read about the lenses I recommend for moms about halfway through this post; both are under $200 and a very worthwhile investment.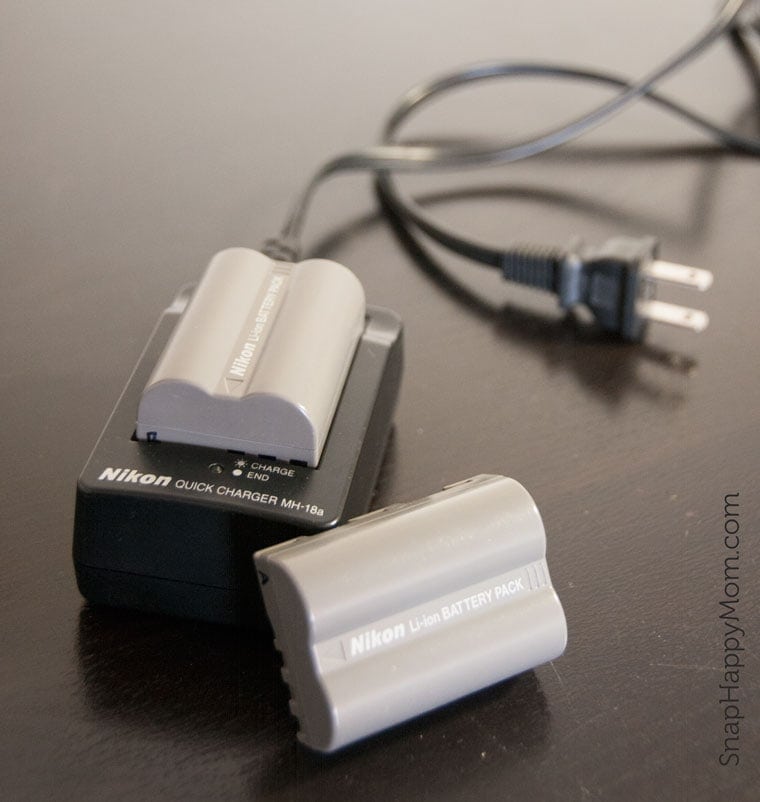 Spare Batteries and Charger
I don't go anywhere without a spare, charged battery! It's surprising how fast you can lose battery juice, and it's never at a convenient time. If you only have one battery from your DSLR, do yourself a favor and go buy another one (I'd stick to the name brand if I were you!)
If I'm gone for more than a day, I usually throw in my battery charger as well – I'm a better-safe-than-sorry person when it comes to gear!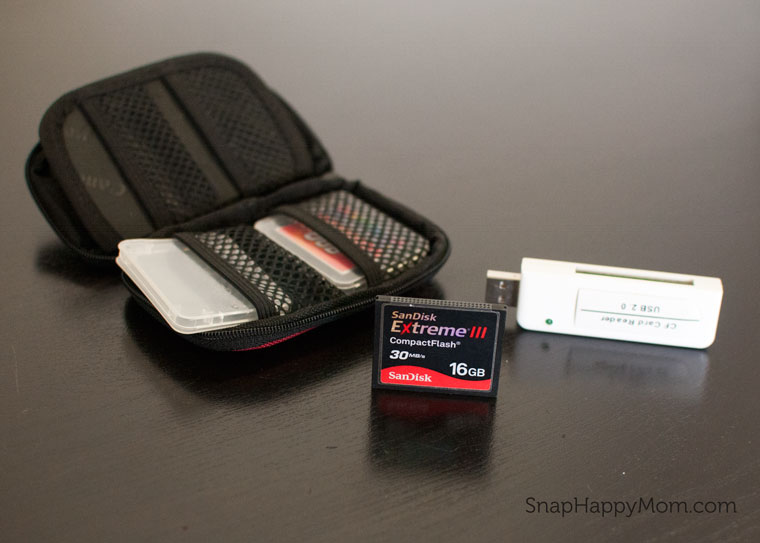 Memory Card and Reader
Running out of memory space right in the middle of an event is a huge bummer – but you don't have to feel that way! I always have a few extra memory cards in my camera bag, since they are small and inexpensive. Having ample memory space allows you to over-shoot without worrying, and shoot in raw for more flexible editing.
Helpful hint: use the little plastic cases that come with your cards to protect them from the elements , and then buy yourself a card holder protect against losing them. Loose memory cards are easily misplaced, so it helps if they have a "home" in your bag.
Also, I consider a memory card reader a camera bag essential. I have one that lives at my computer desk, but it's nice to have one available for easy file transfer.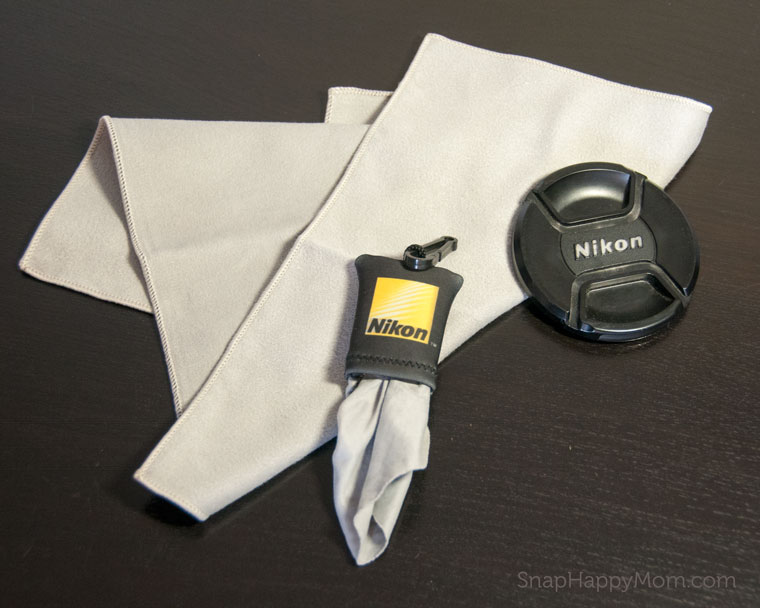 A Lens Cloth and Spare Lens Cover
A lens cloth is a super soft cloth for cleaning off the delicate front glass on your lens. If you're like me, that front piece of glass attracts all sorts of dust, water droplets, and even fingerprints! Don't use your t-shirt to clean it off – you could scratch that lens! Use a lens cloth specifically for camera lenses – they often come with new camera/lens purchases or buy an extra.
I also have a spare lens cover for my favorite lens – just in case one gets lost or  dropped in the sand. A dirty lens cap isn't goign to protect your glass!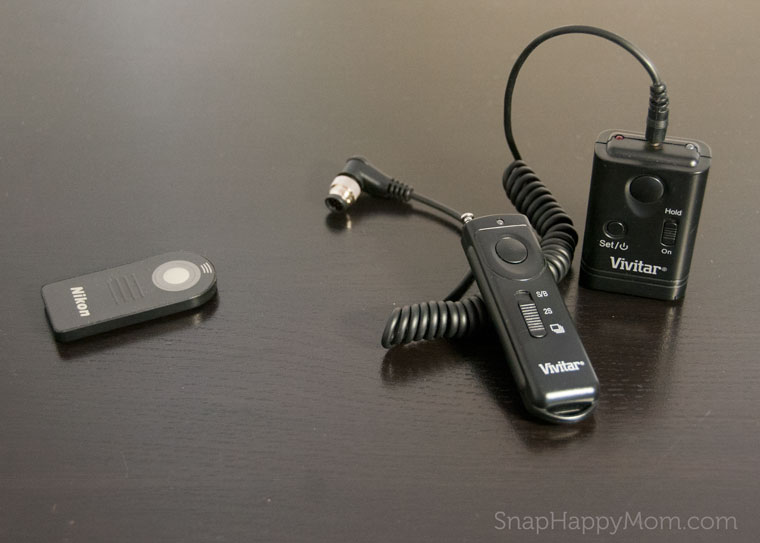 Remote or Shutter Release
The last thing I have in my bag is a remote shutter release. I'm a big proponent of getting in the pictures with my family, which means I need to be able to step away from the camera. A timer can work in a pinch, but I prefer a wireless shutter release for getting several versions of the same shot. You'll want to look for a remote that works with your camera; most entry level cameras use a one-button branded remote (pictured on left), while most mid-level cameras use a third-party shutter release with several options (pictured on right).
Don't have a remote yet? Check out the Canon Remote Guide and Nikon Remote Guide.
The Bag
I've found I'm much more likely to bring my big camera with me to events if I have a cute camera bag! There are plenty of boring black camera bags out there – but I prefer something more feminine that still keeps my gear safe. You can read about my current camera bag from JoTotes here– it's served me really well in the last two years, at a good price. Plus, it comes in a lot of fun colors!
Well, those are the things I consider essential in my camera bag. Anything else "essential" in your bag?
You might also be interested in:
New Camera? Start Here for Tips
Gear Guides for Moms: Remotes (Nikon version)
Gear Guides for Moms: Remotes (Canon version)