Canning Jar Ring Snowman Ornament
Canning jar rings, Epsom Salt and a few other supplies is all you need to create this adorable, whimsical snowman to add to your Christmas decor!
I recently agreed to be a part of a blogger friends handmade holidays series. Then I was like…whaaaat am I going to do??? I'm not THAT crafty, it's usually by luck that I come up with something creative. But remember when I put together that little post with
10 handmade ornaments in under an hour
? Well, This little cutie was number 11.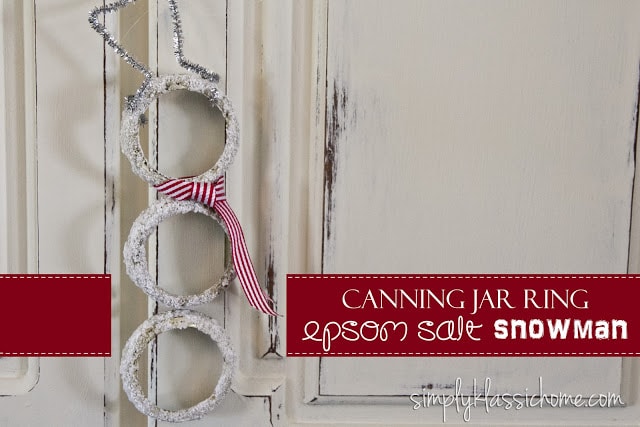 I think he's pretty cute. I had to give him a hat because my kids didn't believe me that he was a snowman.
It's super simple to make too!
All you need are three canning jar rings, fishing twine, mod podge, epsom salt, silver or black pipe cleaner and a ribbon for his scarf.
Apply a light coat of mod podge to a canning jar ring, then dip it into a plate or epsom salt. Allow to dry completely.
Tie the rings together with fishing twine.
Form the hat with pipe cleaner and just bend it around the jar to attach. You could totally hot glue it if you want to, but I was too lazy, and it hasn't fallen off yet!
Tie a scarf (ribbon) around his neck, and tie fishing line through the top ring for hanging.
It was so easy I'm going to have my kids make more for Christmas gifts and I think I'll put their little faces in the top circle.