Hello friends! I'm excited to share a super yummy (and easy, and healthy) Chicken and Vegetable Stir Fry with you! One pot meals are usually my go-to for busy weeknights, and I definitely add this one into my meal rotation at least a couple times a month.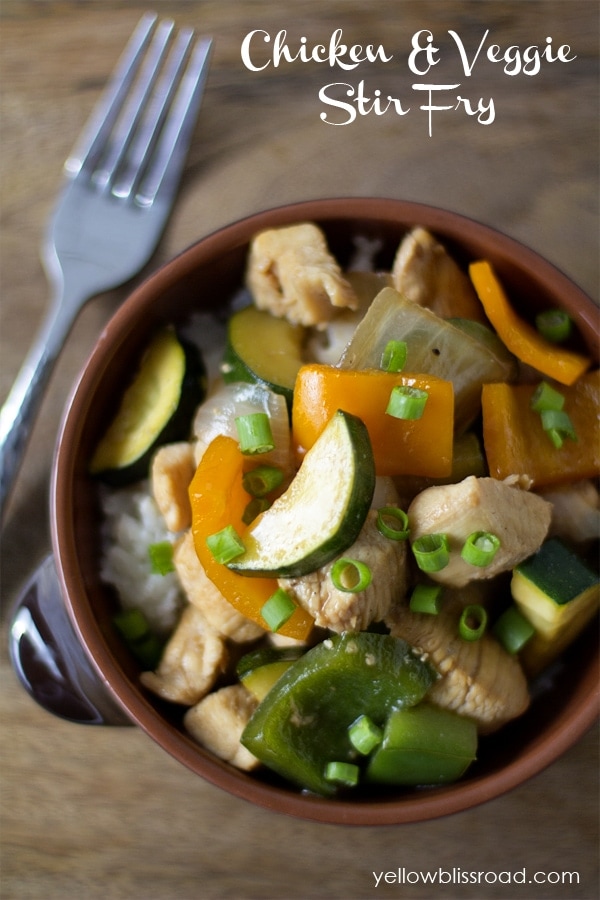 This dish has lots of crisp, colorful veggies, and a nice light sauce. You can choose your favorite veggies to add – I love zucchini, orange and red bell peppers, and onions – but you can also add sugar snap peas, broccoli, carrots or mushrooms. It is delicious over white or brown rice, or noodles. Or if you're being carb conscious, it's fabulous just on it's own!
Very few ingredients are required; in fact you probably have all of them in your kitchen right now! You'll need a couple of chicken breasts, your favorite veggies cut into nice big chunks, chicken broth, soy sauce, cornstarch and a little ginger and garlic. I like to chop my veggies nice and big and the colors are just so fabulous together. It just makes me happy!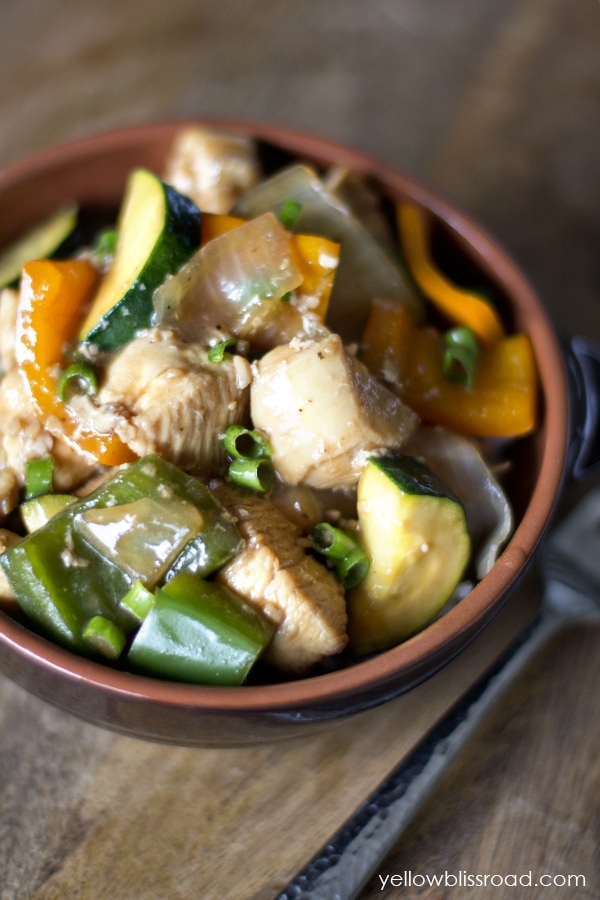 I usually serve this with my kids' favorite "sticky rice" but it's a great meal all on it's own. And it reheats perfectly for lunch the next day. (If you manage to save any leftovers…we rarely do!)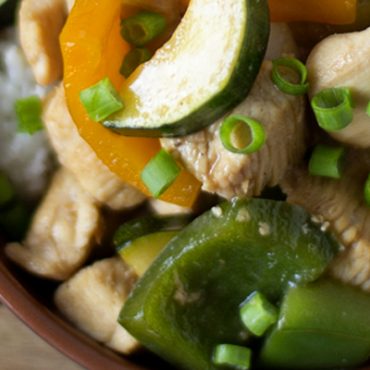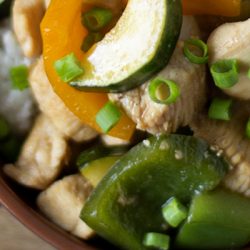 Chicken and Vegetable Stir Fry
Ingredients
2 Tbsp cornstarch
1 3/4 cups low sodium chicken both
2 Tbsp low sodium soy sauce
2 Tbsp honey
1 Tbsp vegetable oil
2 chicken breasts cut into one inch chunks
5 cups roughly chopped vegetables broccoli, bell peppers, zucchini, mushrooms, carrots, celery, onions
1/4 tsp ground ginger
1 Tbsp minced garlic
Green onion diced, for garnish
Instructions
In a small bowl, whisk the cornstarch, chicken broth and soy sauce until smooth and the cornstarch is completely dissolved.

Add oil to a 12 inch skillet and heat over medium-high heat. Add the chicken and stir-fry until browned (chicken does not need to be completely cooked through at this point). Transfer the chicken to a plate.

Add the vegetables, ginger and garlic to the skillet. Stir-fry until the vegetables are tender, but still crisp to the bite. Stir in the sauce. Bring the mixture to a boil and allow to thicken. Add the chicken and cook until the chicken is cooked through.

Serve over rice or noodles, or enjoy on it's own.
For more delicious one pot meals, try these: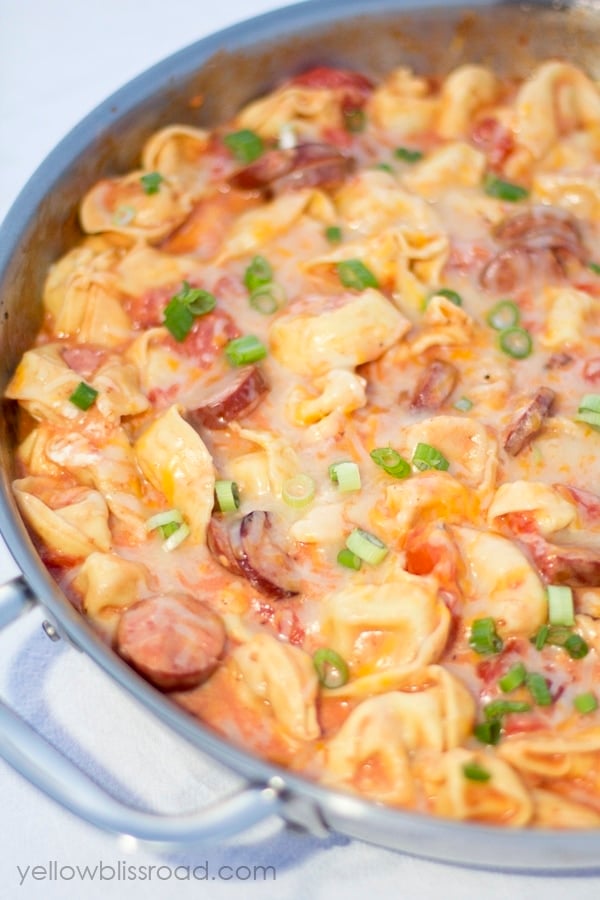 Tortellini and Sausage Skillet