Christmas Mantel & Tree {Holiday 2012}
It's the moment you've all been waiting for ~
I'm sharing my Christmas mantel today!!!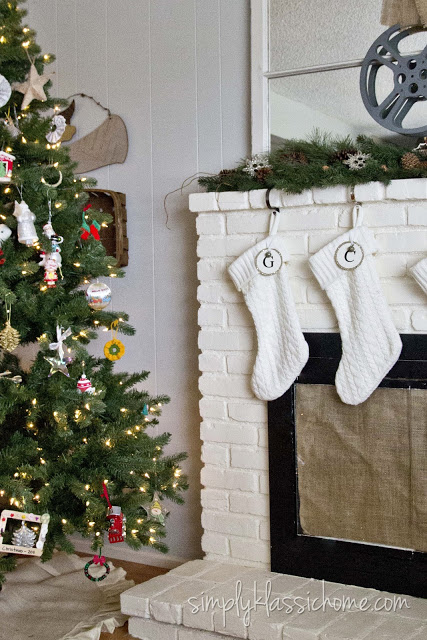 Like the rest of my Christmas decor, it's simple and minimal, a little bit rustic, with a tiny bit of glam.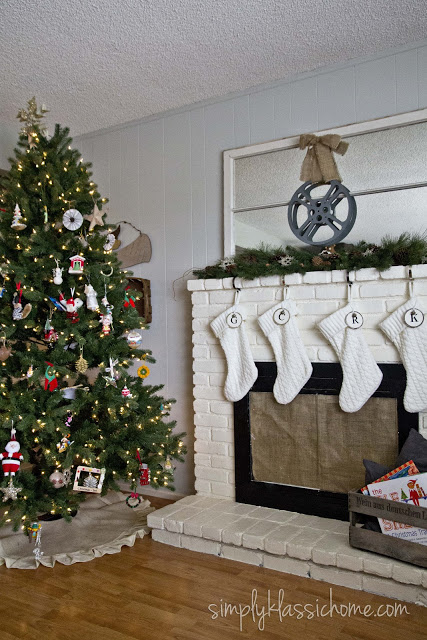 Like I shared in my "Christmas Traditions" post, my kids decorated the tree all on their own for the most part. The higher placed ornaments are the ones they asked me to place. It may not look "perfect" but they love looking at "their" tree!
I want my home to look like children actually do live there! 🙂
We usually only have one tree in our home, but this year I put one up in the kitchen too! (I'll share that little cutie later in the week).The lovely Carolyn from Sweet Tea & Linen made my gorgeous new tree skirt.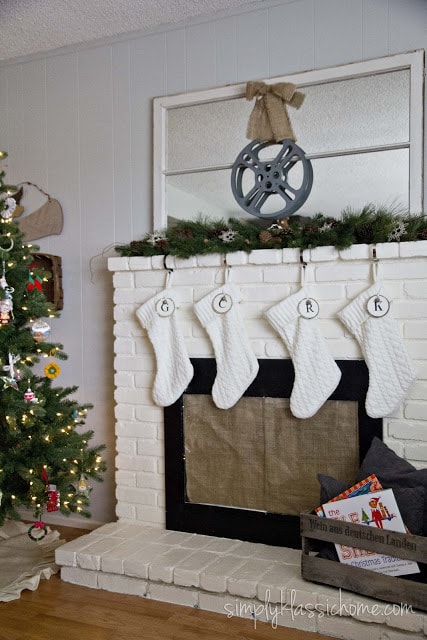 I lucked out when I found the off-white chunky cable knit stockings at Target just the other day. I was lamenting that I didn't like my red ones with this mantel but couldn't bring myself to spend $39.50 per stocking on the Pottery Barn ones.
These were only $13 at
Target
!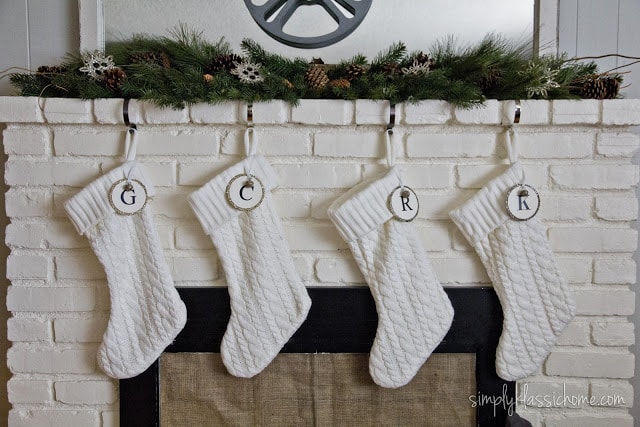 I splurged on the monogram tags a few years ago at Pottery Barn. They were on clearance for $1.99 a piece.
The beautiful wine crate was a steal at Country Roads. It's perfectly weathered, and I love the German text on the front (translated: "Wine from Germany").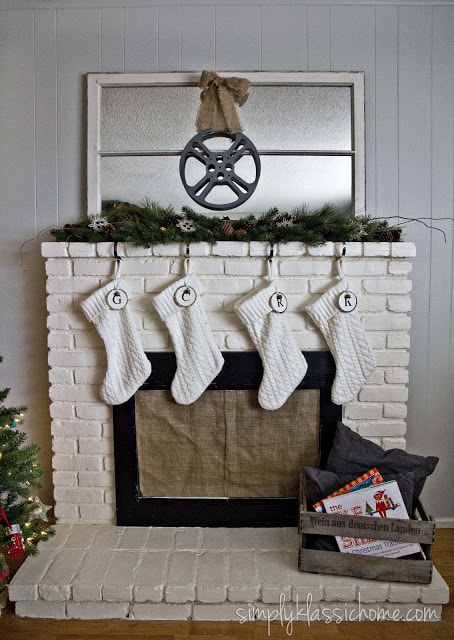 We keep a couple of our favorite Christmas books close by.
My industrial style 
film reel wreath
was a hit with some…not so much with others. But hey, my style isn't for everybody, and I'm ok with that.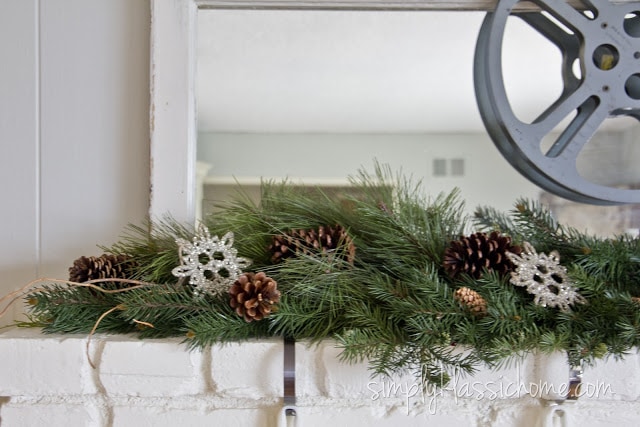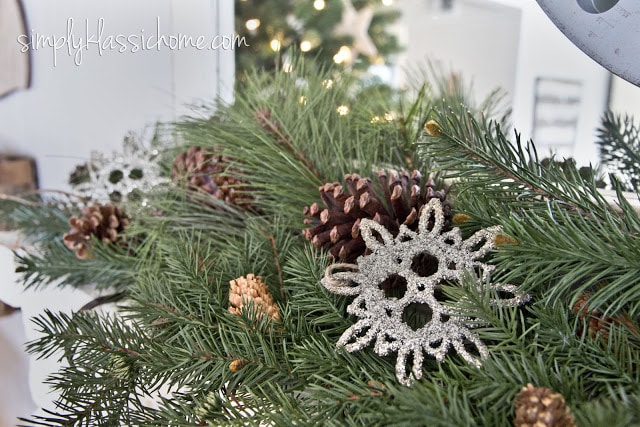 For the mantel greens, I just picked up some new faux branches from Michaels, and tucked in a few old ones from Ikea.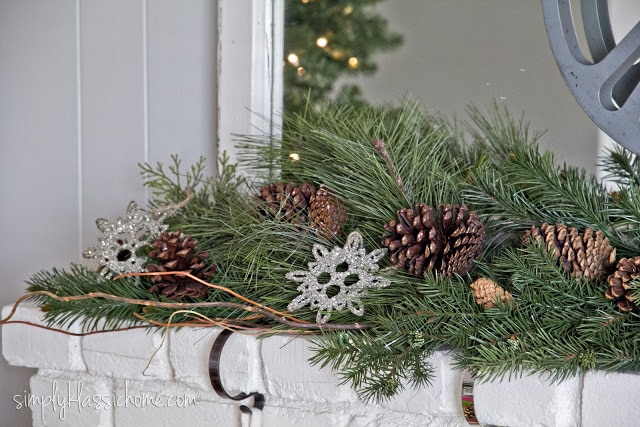 A few pinecones, some curly willow branches and some glitzy snowflake ornaments (also Pottery Barn clearance) round out the simple mantel decor.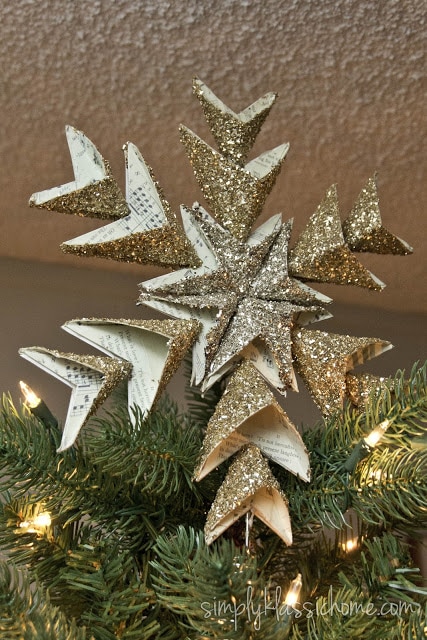 The star atop the tree is also from Pottery Barn.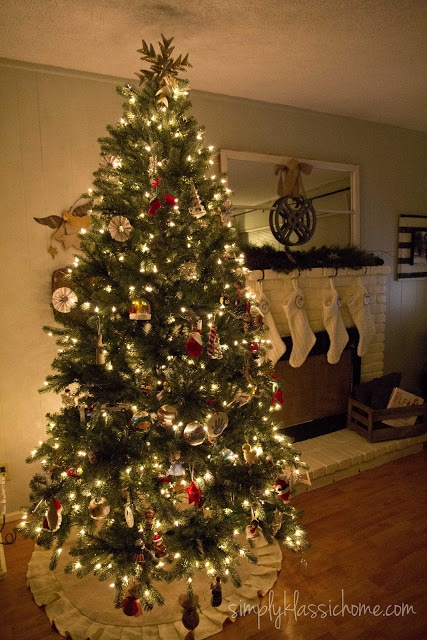 I love the warm glow of the Christmas lights at night. So cozy.
Later this week I will be sharing a little bit about the Christmas party I hosted last weekend, and I'm hoping to finish putting together my house tour!
For more 2012 holiday posts, click
here
.
Have a great week everyone!