This Christmas Potpourri Recipe and free printable tag make a great gift for neighbors and friends, or anyone you want to share the smells of the season with!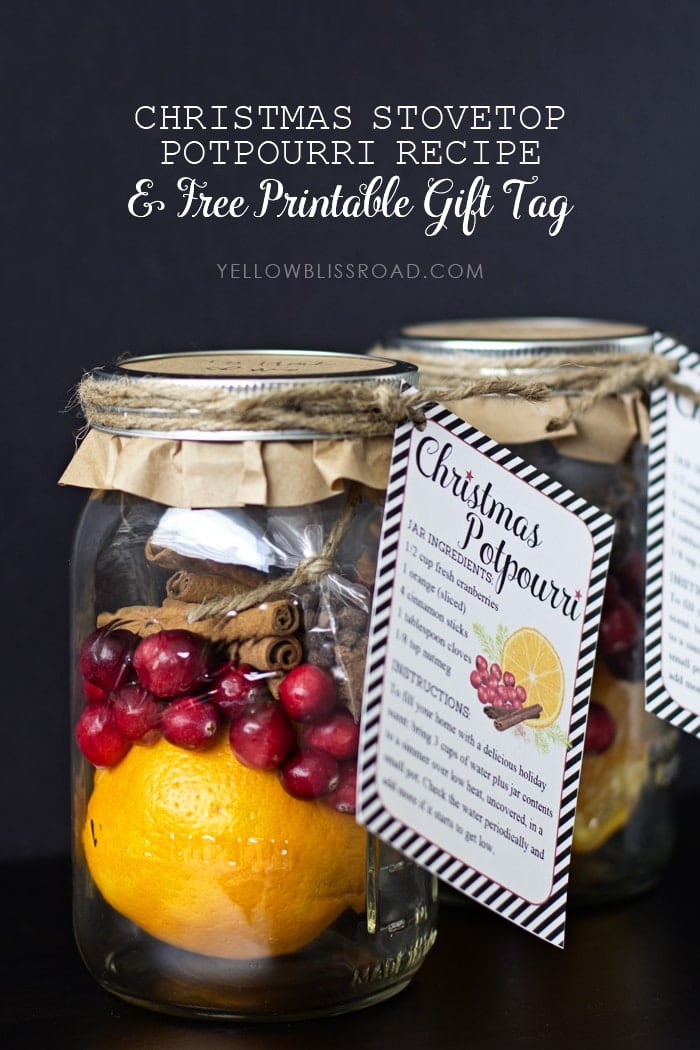 A couple of weeks ago I shared this unique and beautiful DIY Christmas gift over at The Crafting Chicks. In case you missed it, I thought I'd share it with you today. I'm really excited about this one, because 1) it's a great non-food gift that I can give to my kids' teachers (I mean, they get tons of candy and cookies already!), and 2) I LOVE how the free printable tag turned out!
I love to fill my home with amazing scents during the holidays, and there's no better combination than citrus and cranberry mixed with cinnamon and spices. This is a simple recipe that you can simmer on your stovetop or in a crockpot to help fill your home with these delicious scents. All of these ingredients are combined in a small pot on the stove.
Since I thought this would be a great gift idea, I created a fun printable tag to go with it. Just right click on the image above to save it to your computer, then print as many as you need.
Just place the ingredients in a quart size jar or gift bag. I'll be honest, it wasn't easy getting that orange (it was what I had on hand) in there so I'd suggest choosing a small oranges, like Clementines, or slicing it and placing it in a ziploc bag before adding it to your jar. You also want to place the spices in a small bag so they dont just fall to the bottom. I simply cut the corner of a ziploc bag, poured the spices into that corner piece, then tied it with a small piece of twine.
NOTE – some readers have mentioned that I use Allspice in the photo. At the time, I thought I had cloves in my pantry but come photo time I realized I was out so I substituted Allspice. You really can go either way, but the cloves are a more Christmas-y scent.
For the top, I just cut a circle out of a brown paper lunch bag and placed it under the ring of the mason jar. I then added a "To" and "From" just in my own handwriting. I attached the tag with some twine.
This Christmas Potpourri in a Jar comes with a free printable and is crazy easy to put together. It looks stunning, and it's not just another food gift. I mean, we all get enough cookies around the holidays right?
For more fun and fresh ideas for Christmas, check these out:

How to Host the  Holidays Like a Pro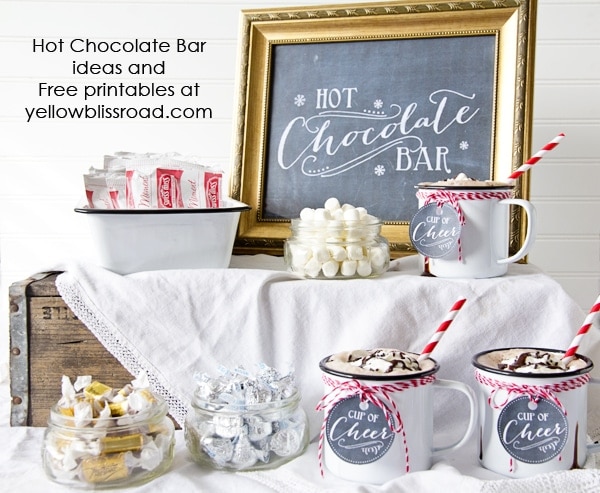 Holiday Hot Chocolate Bar with free printables
Planning a Christmas Movie Night with Free Printables