These Coconut Chocolate Chip Muffins are tender, moist and delicious! With just 260 calories and 5 grams of protein per muffin, it's completely acceptable to enjoy one for breakfast!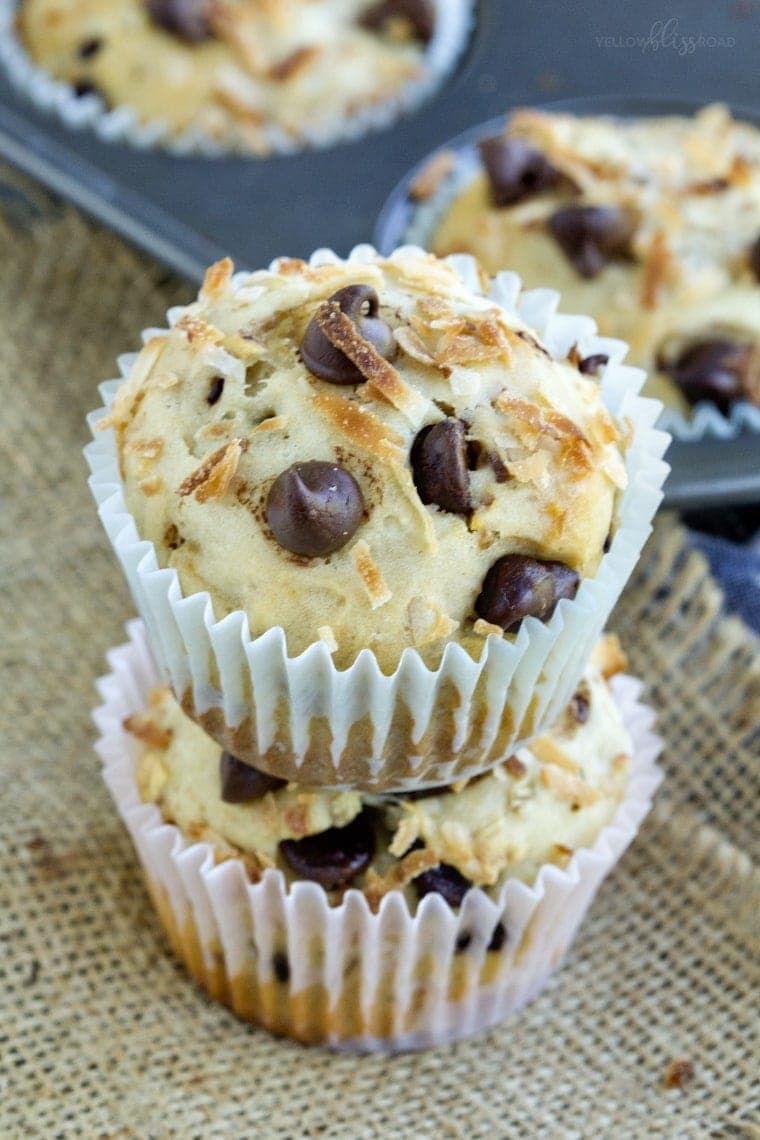 I love keeping muffins on hand for snacks and breakfast. They satisfy my sweet tooth, and when they have healthy ingredients like Greek yogurt and oatmeal, they fill you up, too. Keep these Coconut Chocolate Chip Muffins in the freezer so they are on hand and ready any time for a quick and easy breakfast or snack.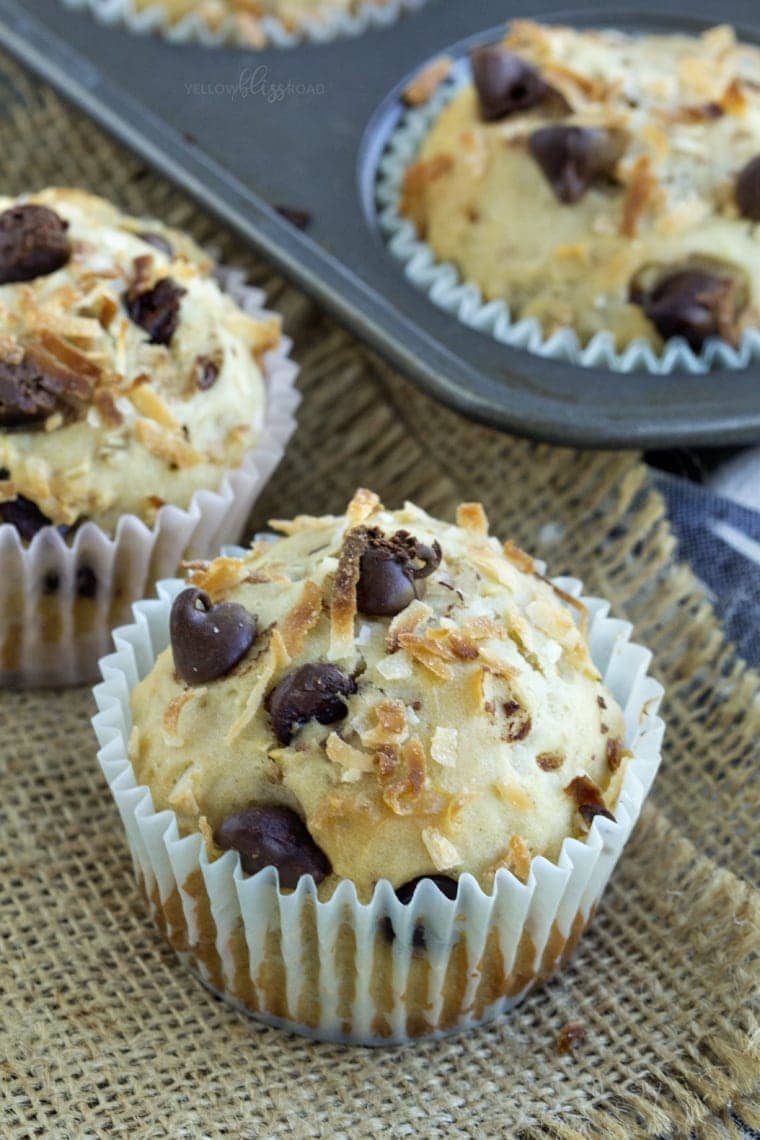 I also happen to have a little obsession with toasted coconut. I'm not a big fan of coconut, but toasting just gives it this smoky flavor that I absolutely love. I made a lot more than the recipe called for just so I could have some for snacking!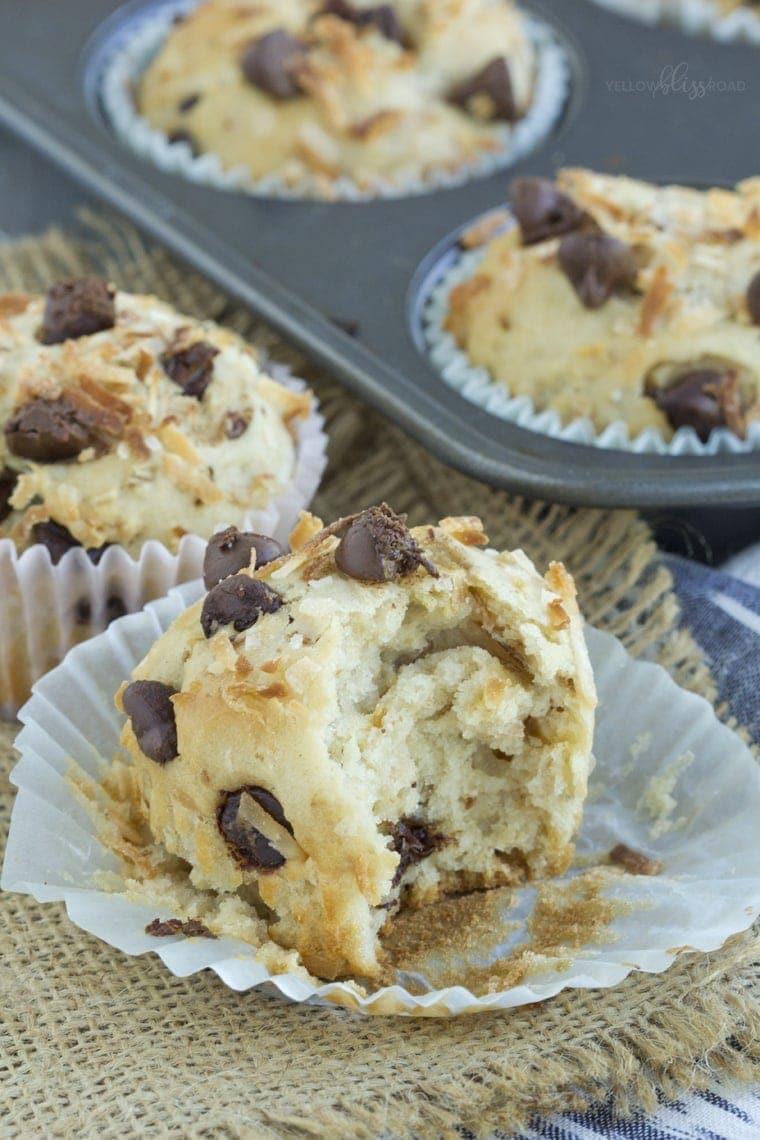 Want to make them even healthier? Substitute applesauce for the canola oil to make them even lower fat! I hope you love these Coconut Chocolate Chip Muffins  as much as we do!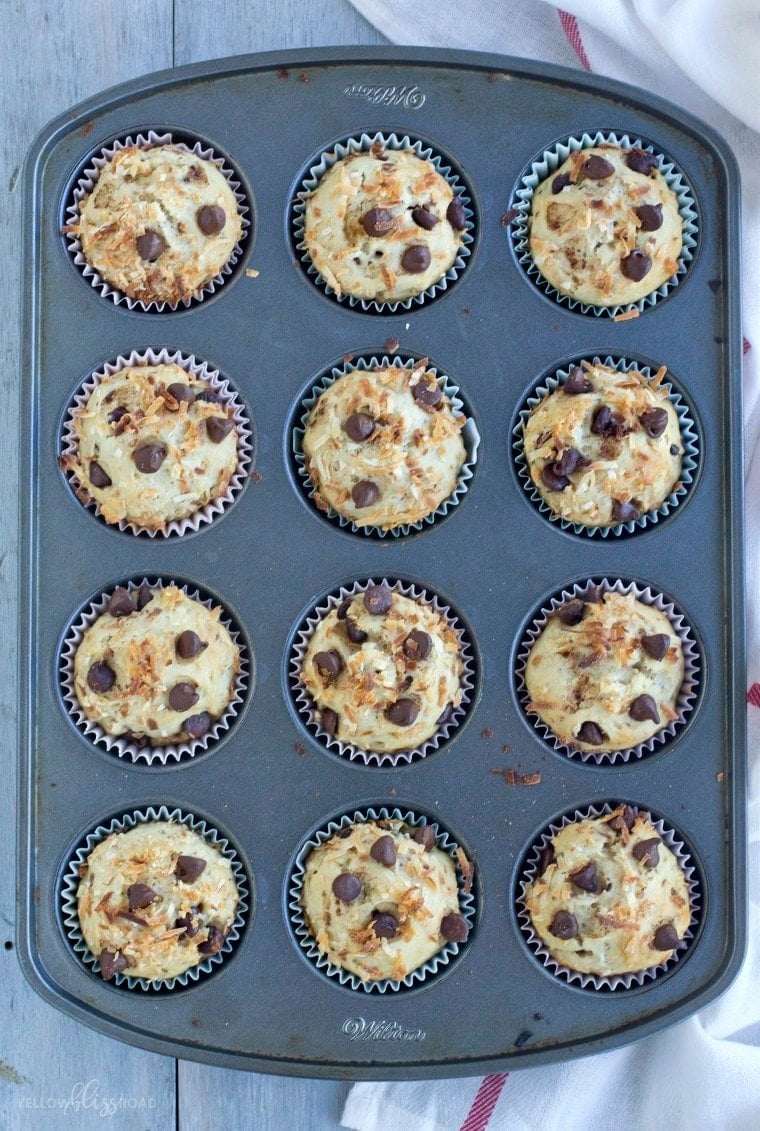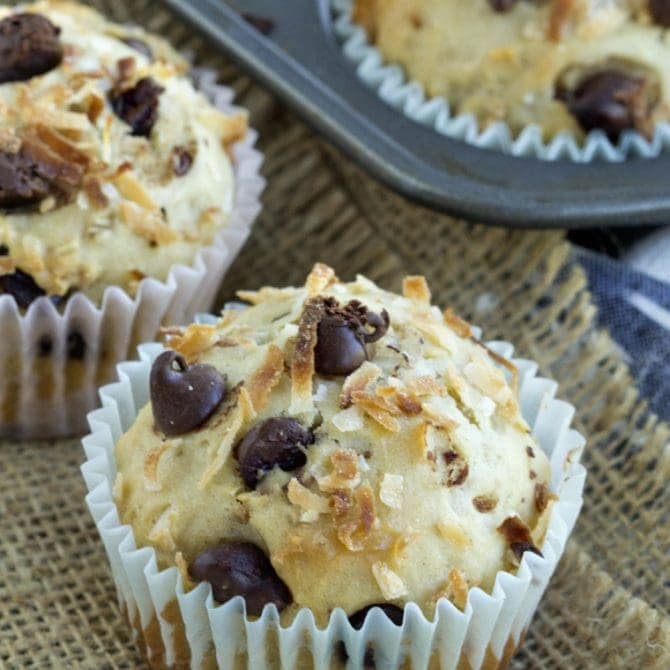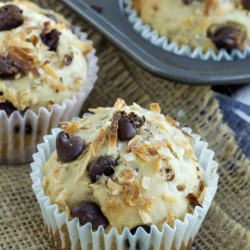 Coconut Chocolate Chip Oatmeal Muffins
Ingredients
2 cups flour
1/2 teaspoon baking soda
1/2 teaspoon salt
1/2 cup rolled oats
3/4 cup unsweeted flaked coconut
1 cup plain Greek yogurt
1/2 cup brown sugar
1/3 cup canola oil
1/2 cup water
1 teaspoon vanilla
1/2 cup semi-sweet chocolate chips
Instructions
Spread coconut on a baking sheet and place under the low heat broiler for a few minutes or until golden brown. Watch closely so it doesn't burn. Set aside.

Set oven to 375 degrees F. Spray 12-muffin pan with cooking spray or fill with paper liners.

In a medium mixing bowl, whisk together flour, baking soda, salt, rolled oats and 1/2 cup of toasted coconut. Set aside.

In a large mixing bowl, stir together brown sugar, water, yogurt, canola oil and vanilla.

Add the dry ingredients to the wet, stirring until just combined.

Fold in chocolate chips.

Divide the batter into the prepared muffin pan. Top with remaining toasted coconut and extra chocolate chip (optional - be sure to press into the batter if using).

Bake for 20 minutes in the preheated 375 degree oven.

Cool in the pan for 10 minutes before transferring to a wire rack to cool completely.
For more muffin recipes, try these: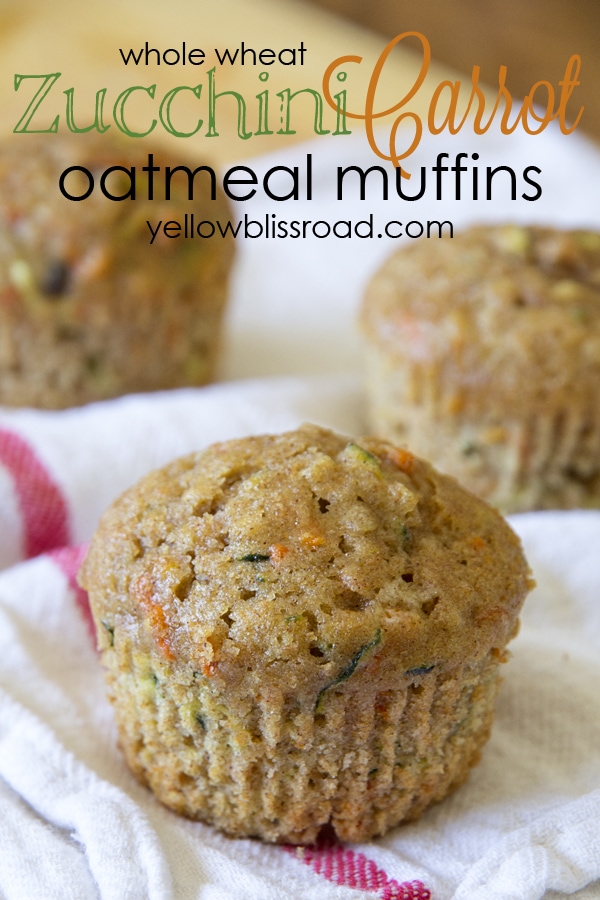 Zucchini Carrot Oatmeal Muffins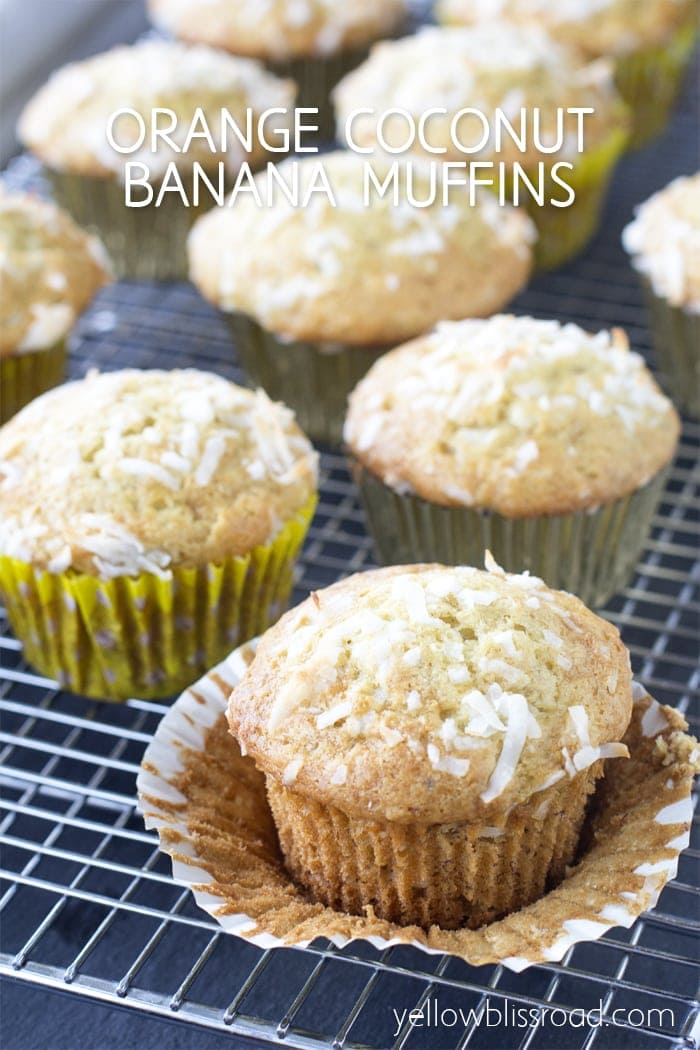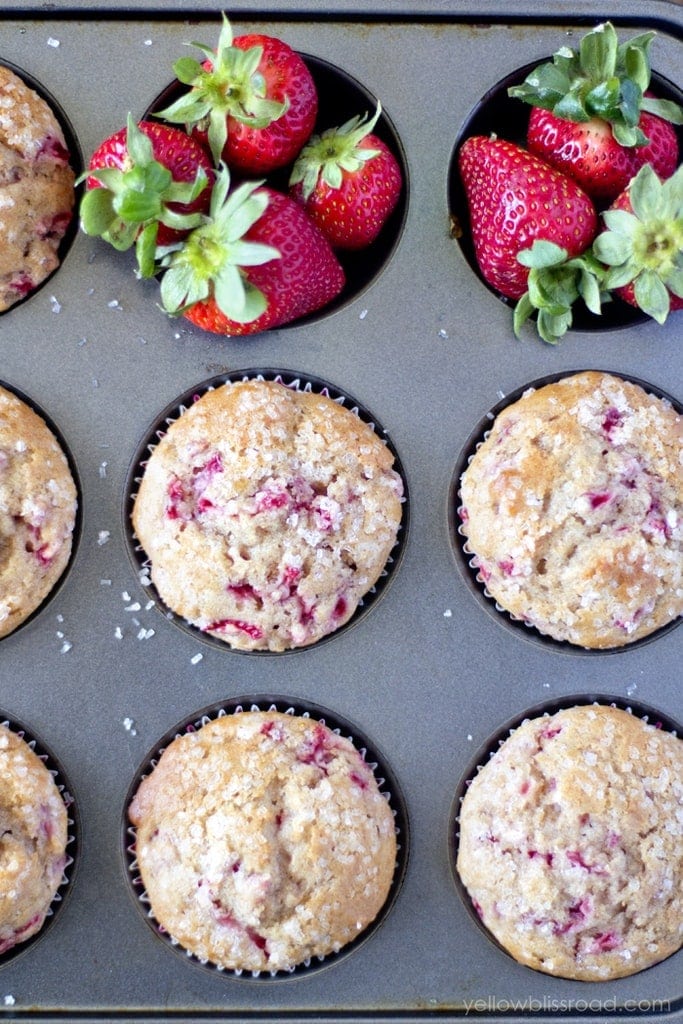 Whole Wheat Strawberry Muffins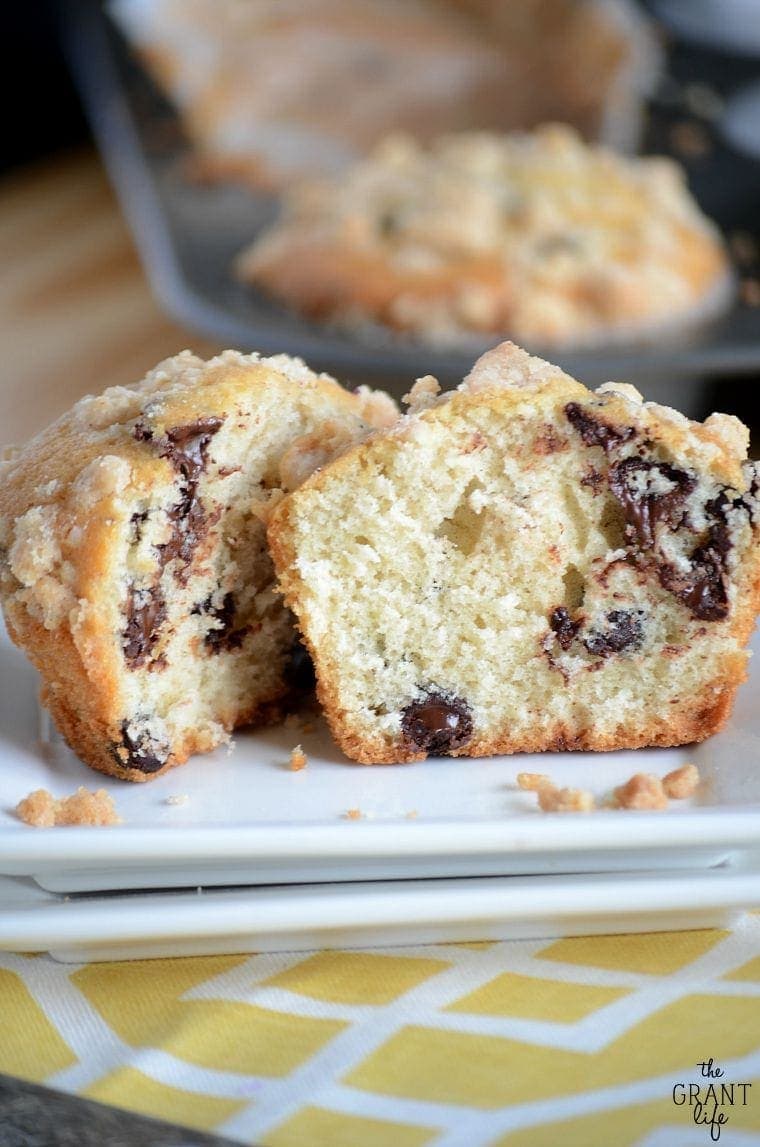 Bakery Style Chocolate Chip Muffins
For all breakfast recipes go HERE and for all recipes go HERE.