Coffee Filter Spiderweb Garland
Hello lovelies! It's Chandra from HashtagBlessed popping in to share this super fun coffee filter spiderweb garland for Halloween!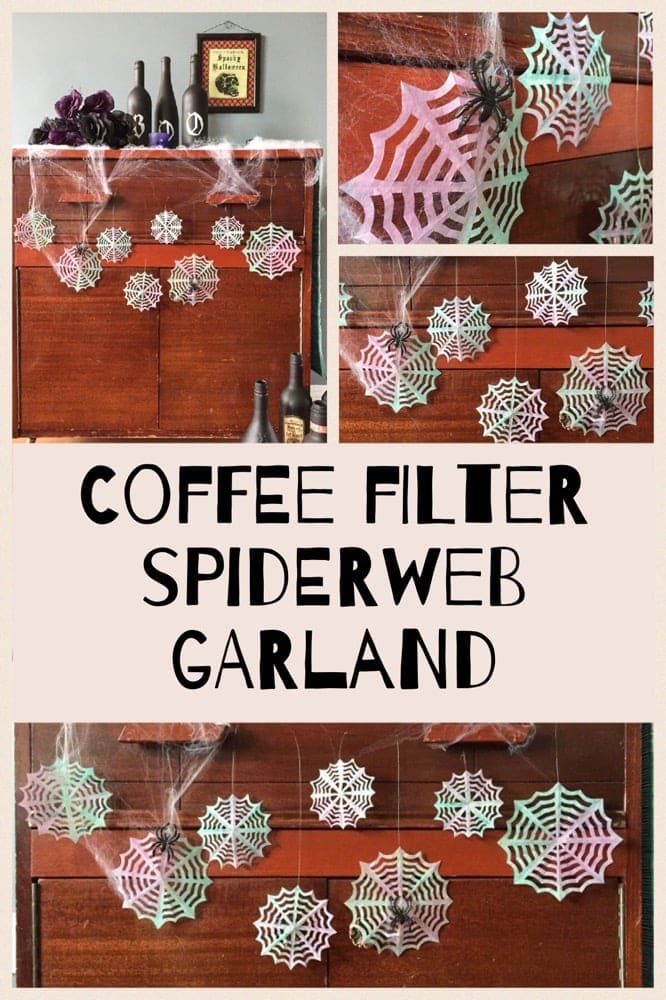 Halloween is such a fun time of year & we love decorating for it around the house. Some of the simplest decorations can be made with common household items. A couple of years back, I dyed some coffee filters to make a wreath for Valentines Day so I figured why not do the same to make some spiderwebs!
All you need for this project is:
round coffee filters – size does not matter as you will be cutting them down
food coloring, fabric dye, or India Ink
water
fishing line
hot glue
I've got a bit of a photo step by step going on as its sometimes easier to see what to do rather than explain!
You'll want to start with dyeing your coffee filters in your water and color mixture. Your best bet for a deep black would be to use India Ink.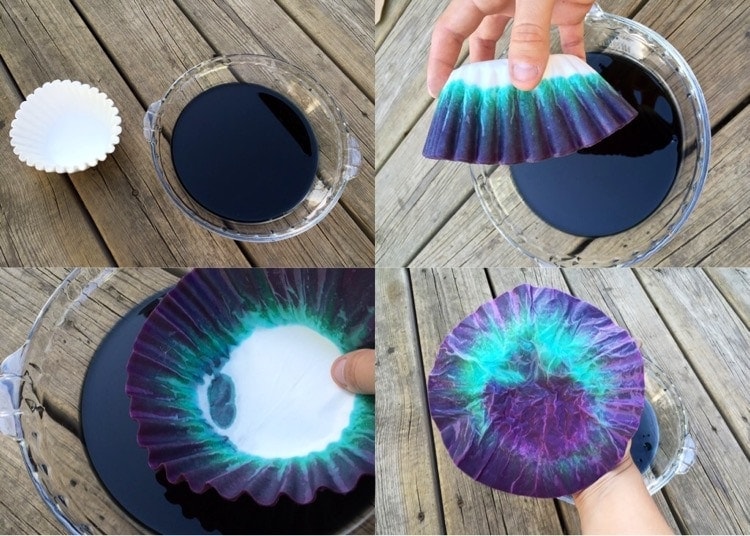 You'll want to make sure your filters are dry before you move on. To speed up the dry time, throw the filters in the dryer at 5 minute increments until dried.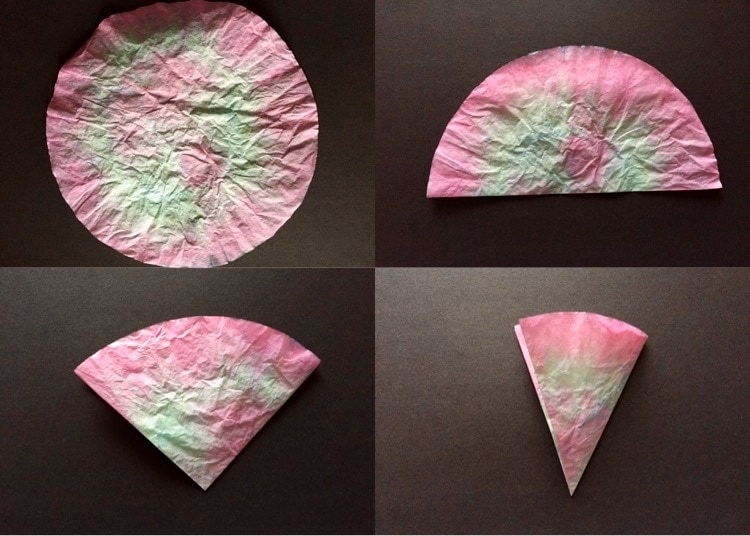 Once dried, lay your filter out flat then fold it in half, then again in half three more times.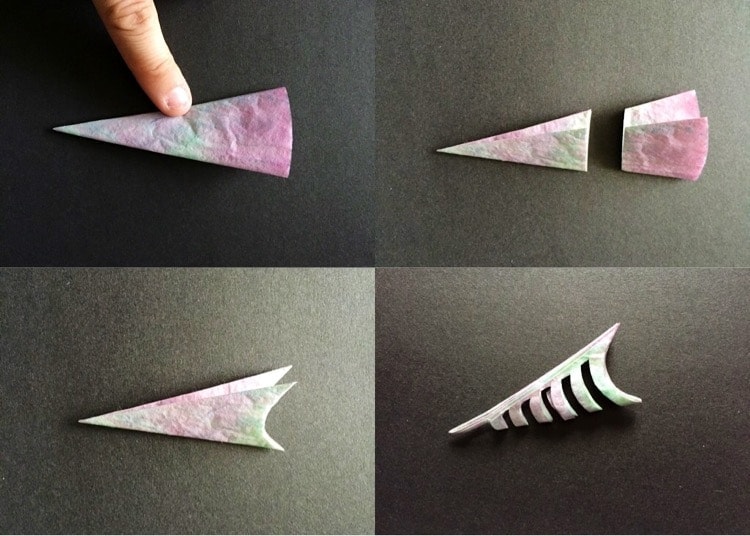 Now, depending on the size of the spiderweb you want will determine where you cut it. If you want a web the full size of the filter then leave it as is. I cut about ⅓ – ½ off the top of mine. Once you trim it down, cut a u-shape from corner to corner. Then cut all the way down the folded filter following your u-shaped cut line. Make sure to  leave a bit on the edge. Cut the end between two lines near your edge, skipping every second cut & open up the finished web. Repeat these steps to complete as many webs as you are wanting. I made 8 for my garland.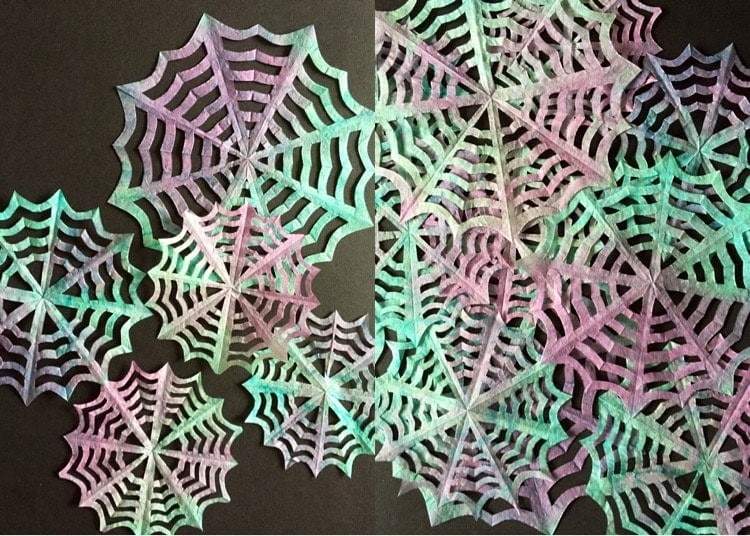 Using a low setting on your clothes iron, iron out the finished webs so that they sat nice and flat. Cut your fishing line in various lengths and with a hot glue gun attach one to the back of each web. Cut another length of fishing line how ever long you are wanting your garland to hang & tie your webs in varying lengths along it until you run out of webs.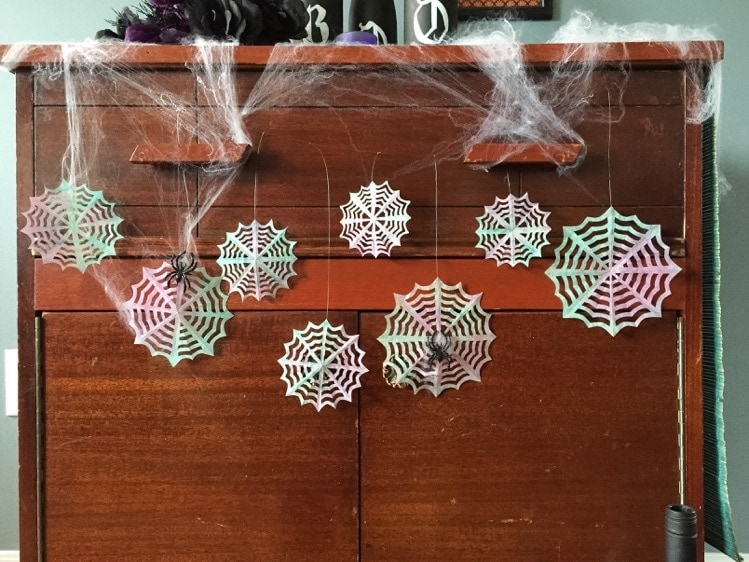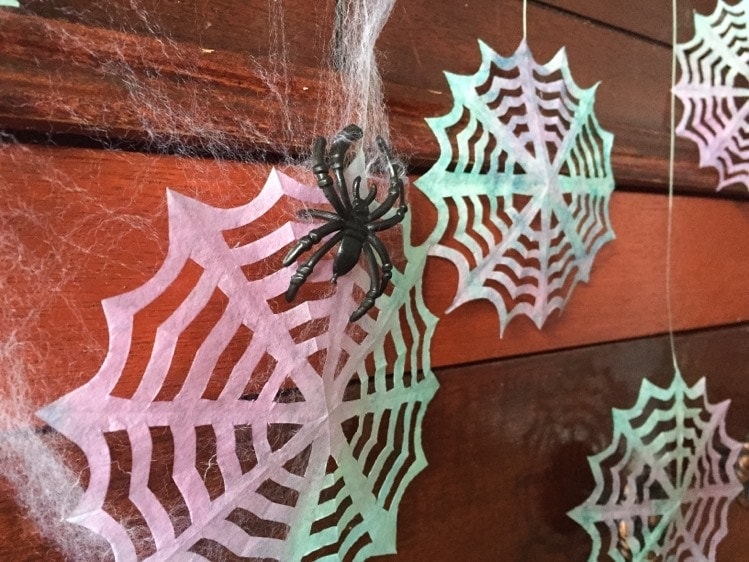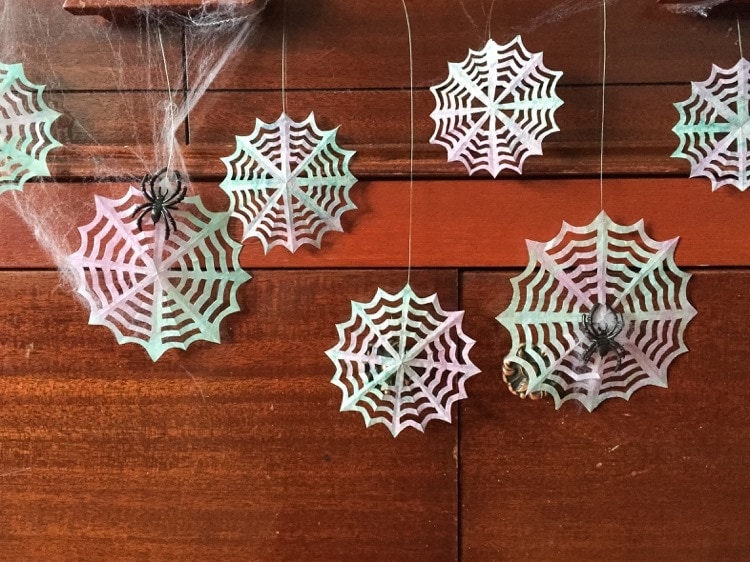 I found some cheap little spider rings in our Halloween bin, so I stuck them of a couple of the webs and they completed the look! They were super fun to make and the kids will have a blast helping out!
For more fun Halloween decorating ideas, try these:
Trick or Treat Chalkboard Printable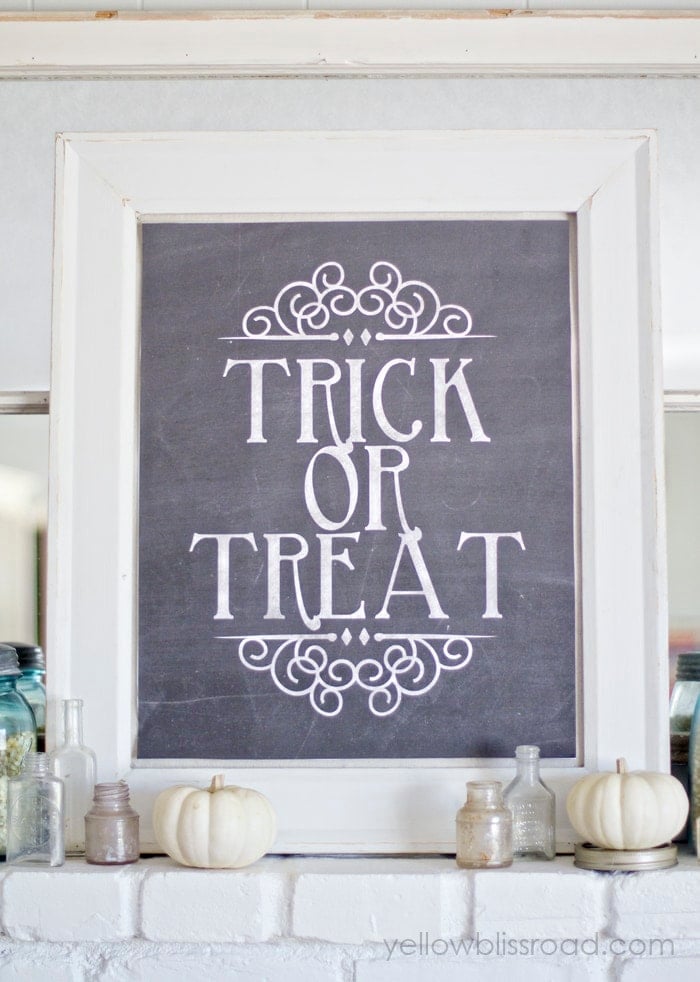 Gold Foil Halloween Printables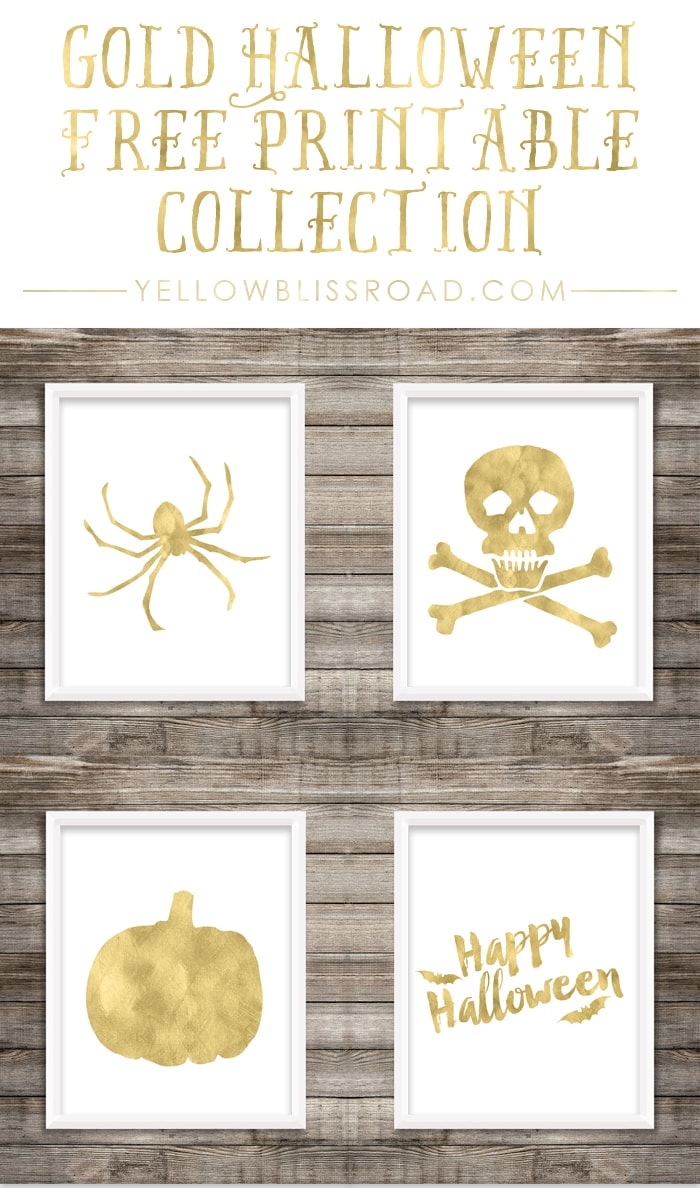 Free Printable Halloween Monster Masks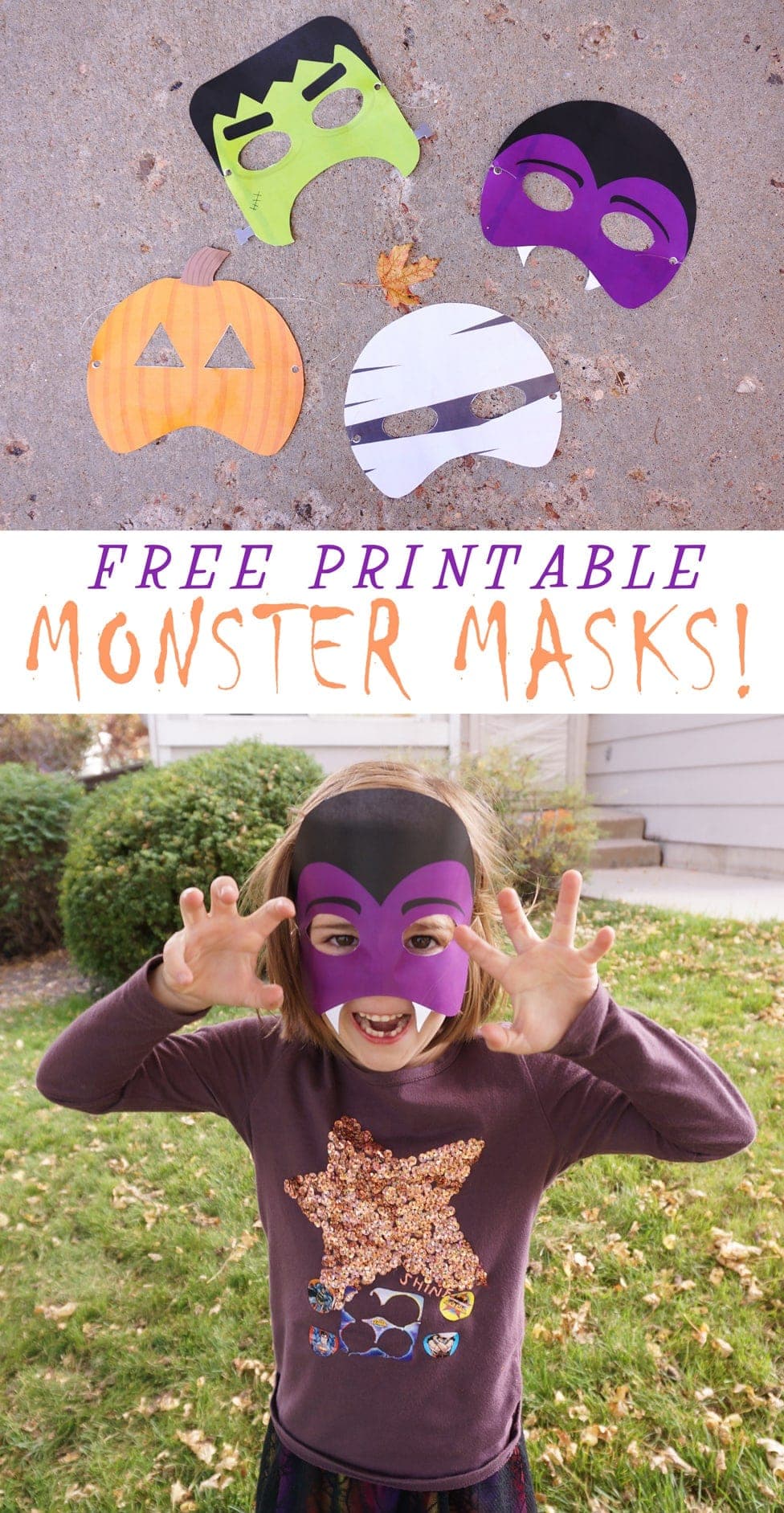 For all Halloween go HERE.