The weekend of Cooper's birthday passed as quickly as it came.
For his actual birthday, we celebrated with dinner at Goofy's Kitchen at the Disneyland Hotel. If you haven't been to a Character Dining Experience at either Disney Resort, you should! It's amazing, the kids thoroughly enjoyed themselves, and, while a little on the expensive side, it's well worth it. More of our family party in my next post.
Today is all about the big CARNIVAL PARTY!
Using inspiration from Adriana at and baby makes three as my jumping point, I planned and prepared for nearly four months, and I'm happy to say that the party went off without a hitch!!
Enjoy the pictures! (I will include a list of resources at the end).
STEP RIGHT UP, COME ON IN…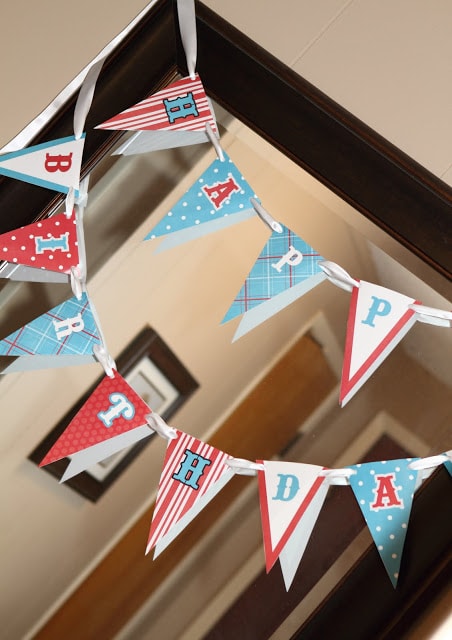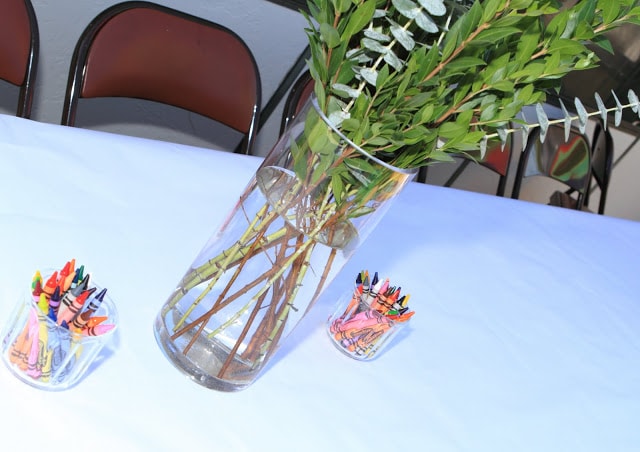 The tables were covered with yellow tablecloths and topped with white butcher paper. Centerpieces were just some simple greens in a vase tied with balloons. I set out crayons for a little creative expression.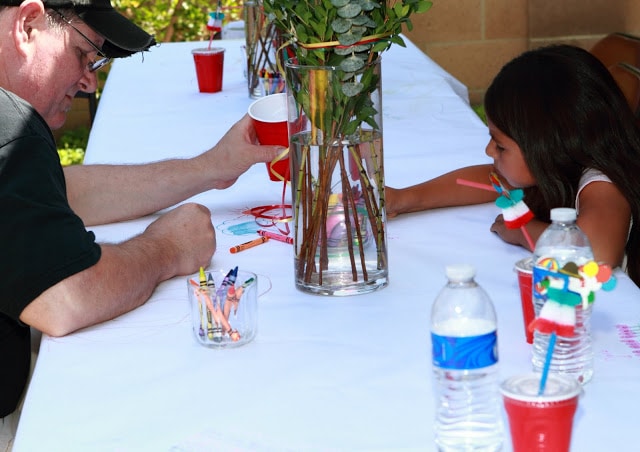 Even the grown-ups enjoyed the coloring.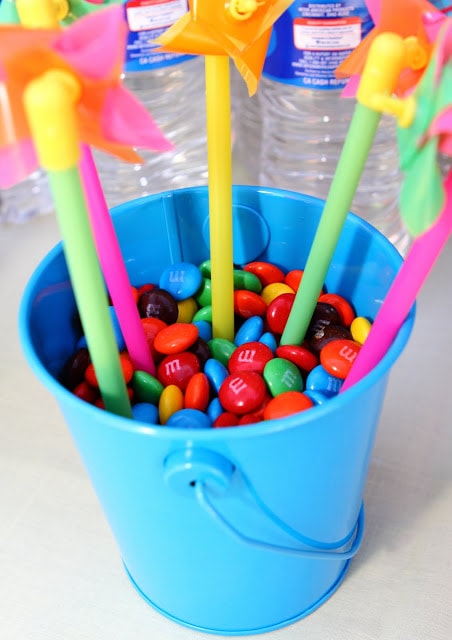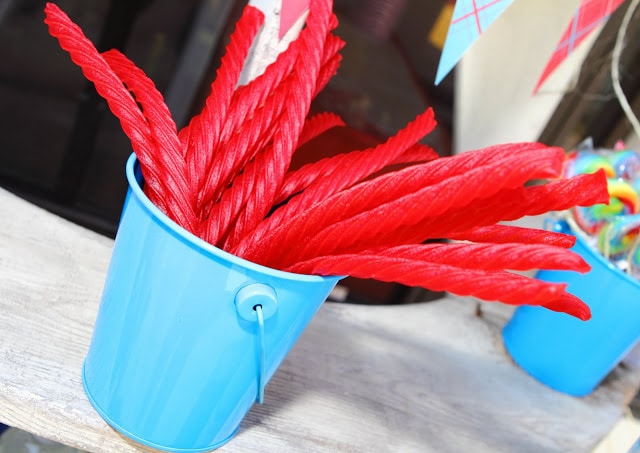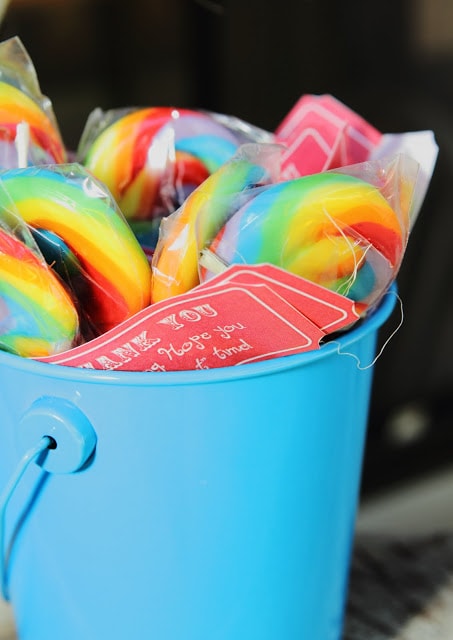 I placed some bright blue pails around the treat table, filled with candy. (the tags on the lollipops say "Thank you for coming. Hope you had a sweet time!").
The Menu: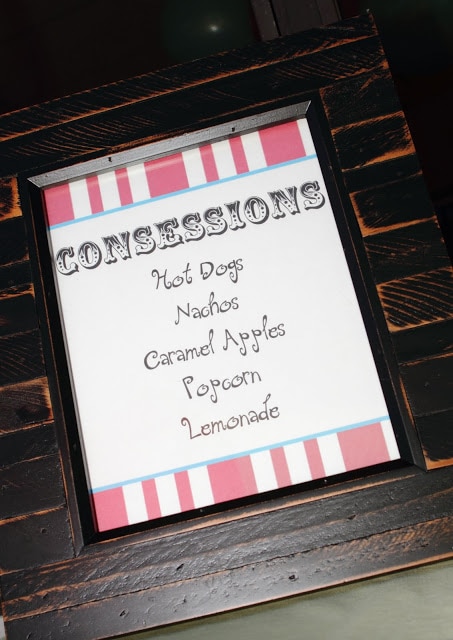 The food was a hit! We cooked the hot dogs beforehand and wrapped them in foil to keep them warm. I also made a pasta salad for the adults (I'll be sharing that recipe soon – it's my favorite go-to for potlucks). Caramel apples were sliced apples with caramel dip.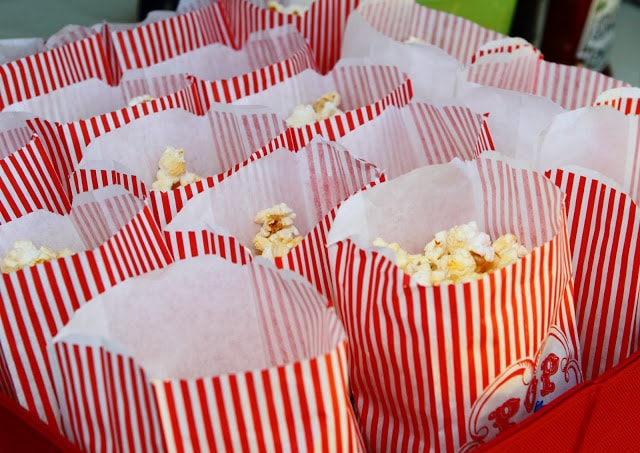 Of course no carnival is complete without fresh popped popcorn! We filled retro popcorn bags with microwaved popcorn for our guests to munch on.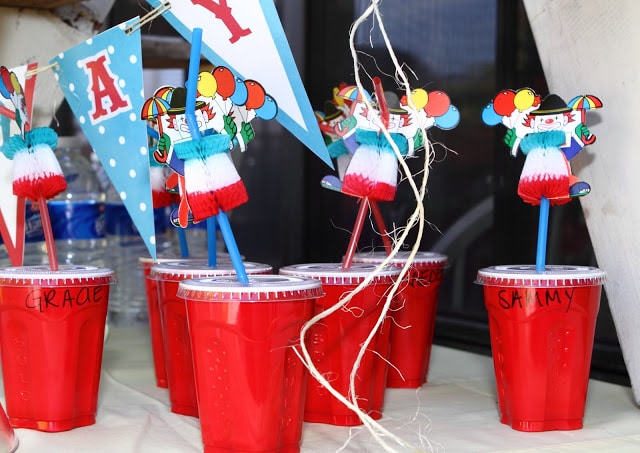 I found these red cups at Target, that came with lids and straws (not the ones pictured). $2.99 for 15! They were perfect for the cute clown straws I had purchased.
For the cupcakes I borrowed this three tiered stand from a friend, who found it at a local flea market.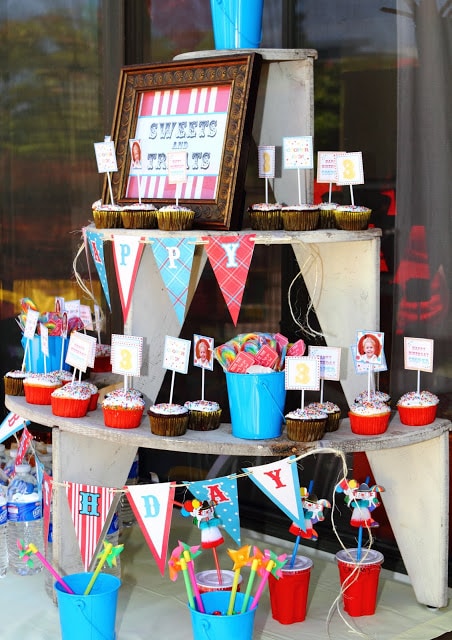 It was perfect for displaying Mama's Homemade Cupcakes.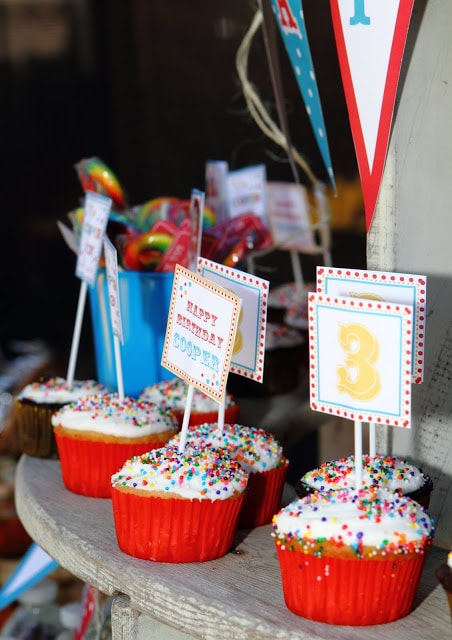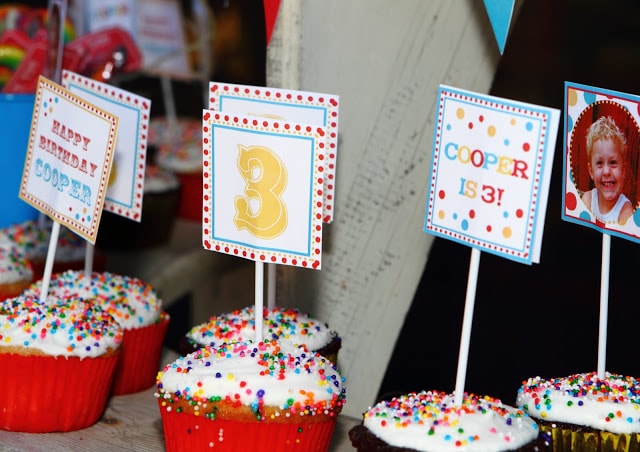 I made the cupcake toppers in Publisher. I printed them on cardstock, cut the two inch squares and attached them to coffee stir sticks with double sided tape.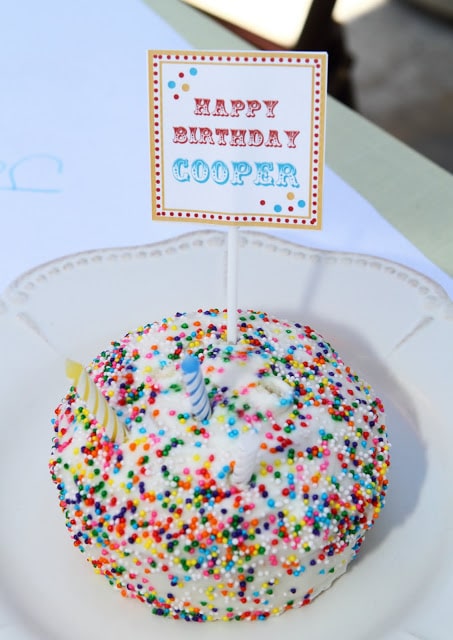 I still wanted Cooper to have his own special cake, so I purchased a giant, plain cupcake at my local grocery store and iced it like a cake.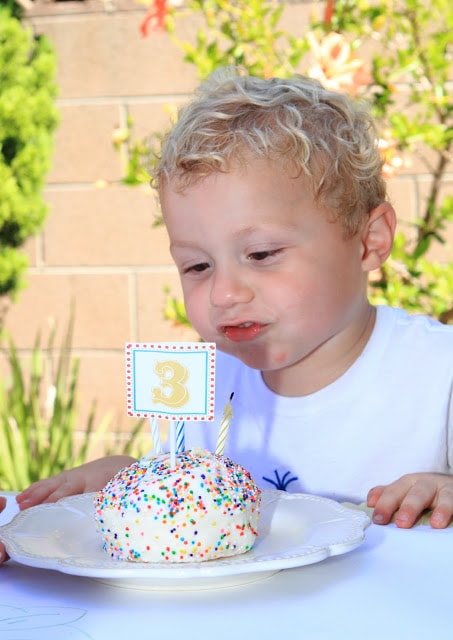 Cooper thought it was pretty cool.
My friend Vanessa is multi-talented. Since she loves my Cooper too, she offered to provide face painting for his birthday party. She did an amazing job and we were so grateful!
 Cooper's Snake.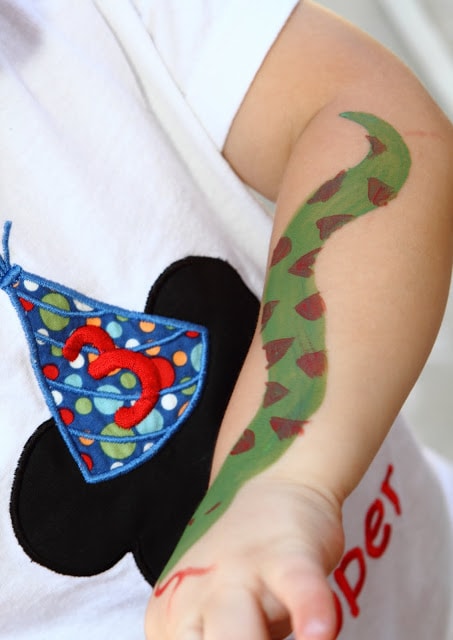 We also had a jumper to help balance out some of the quieter activities!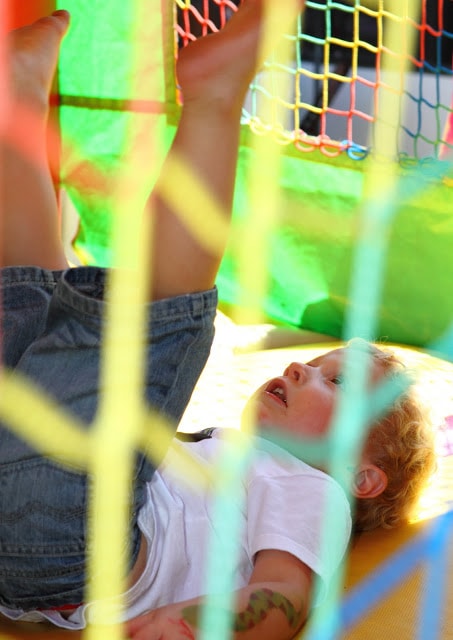 Even some of the mommies got in on the action…in dresses no less!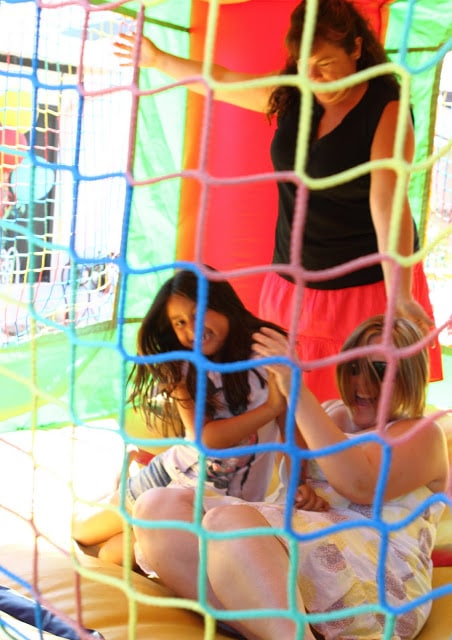 Yes, that's me, getting knocked down by a seven year with way better balance!
Now, for my favorite part of the party, we also had a Photo Booth! I saw a few of these around blogland and thought, "I can do this!" But, I didn't want to spend the money for fabric for the background that I would probably never use again. Then I remembered that Grandma has a cute polka dot blanket, and voila! Instant background!
Everyone really enjoyed the photo booth, but I'll let the pictures speak for themselves!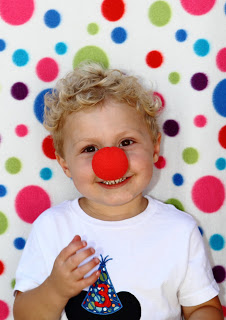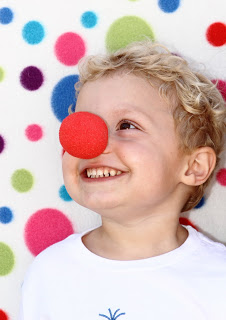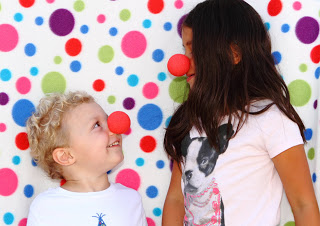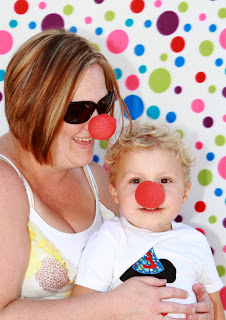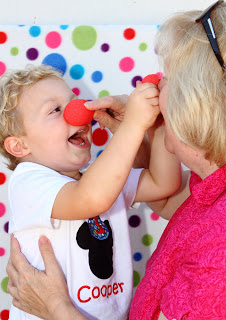 I even kept Cooper's big birthday present to the "Carnival" theme: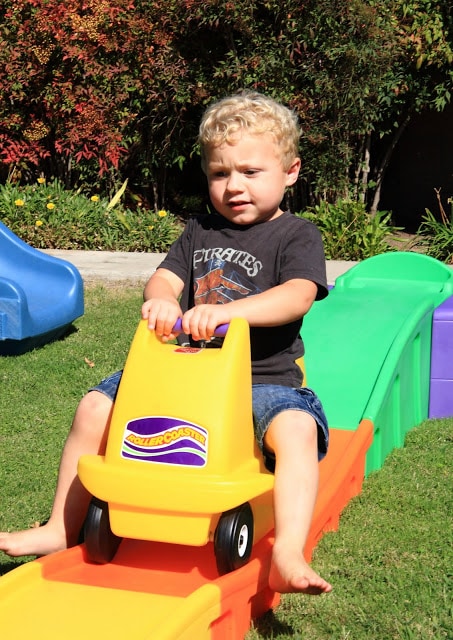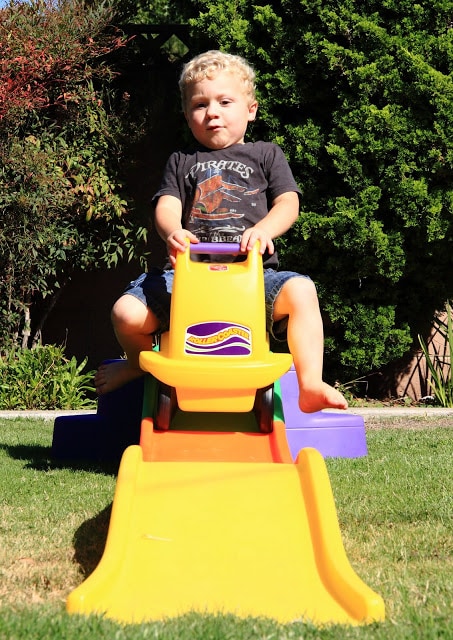 Seriously, this Roller Coaster by Step2 is one of the coolest toys ever! The kids all had a great time taking turns on it.
To end the day, everyone got a party favor bag filled with carnival prizes to take home.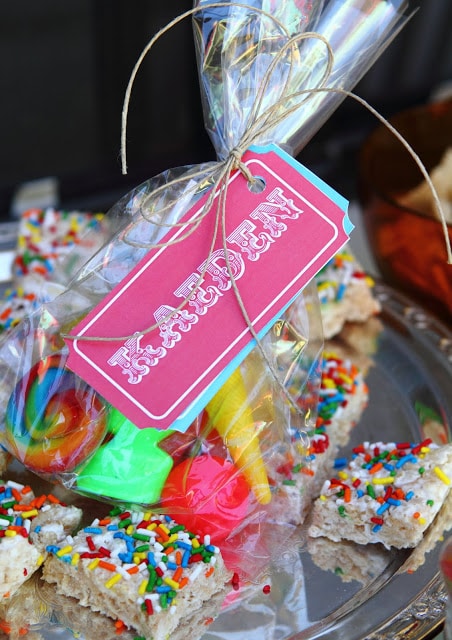 Cute Rice Krispie Treats courtesy of Grandma.
This party was probably the most detailed I've ever put on, and everyone had a great time! Cooper especially enjoyed himself – I don't think the smile left his face all day. I hope you enjoyed the pictures!!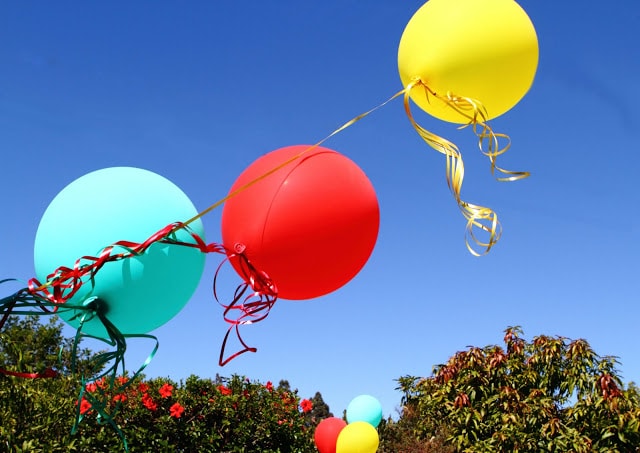 Resources:
Digital Party Pack (used for the party favor tags and Happy Birthday signs):
Framed Signs: Made in Publisher by me, using backgrounds from the digital party pack
Blue Buckets: Target (dollar aisle)
Party Favors/Prizes:
Clown Straws, Bird Whistles, Retro Popcorn Bags:
Hey Yo Yo
on Etsy
Ice Cream Shooters, Super Balls, Lollipops, Sticky Hands, Mini Pinwheels:
SmallToys