Get dinner on the table quick with my Crispy Garlic Parmesan Baked Chicken! It's crunchy and packed with flavor and it's perfect for satisfying your pickiest critics on busy weeknights.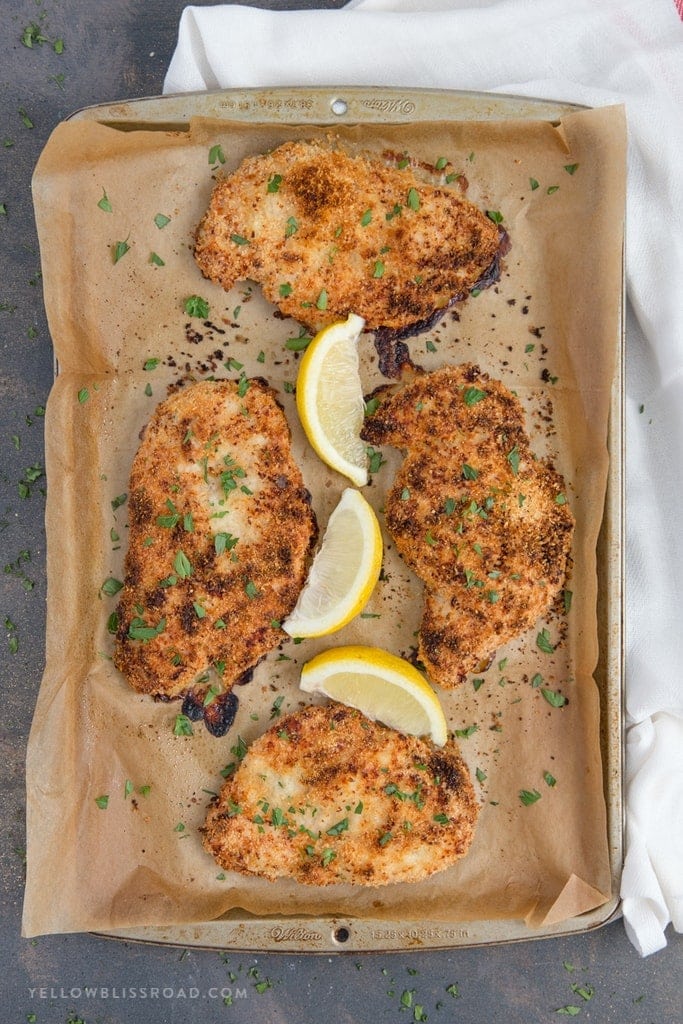 I grew up on fried chicken. My grandma always loved it – she liked quite a few things breaded and fried, but especially chicken. It's always been a favorite of mine too. She prepared it in the classic fashion, flour dip, then eggs, then breadcrumbs.
That's my preferred method too, but I like to add some extra flavor, like with this Crispy Garlic Parmesan Baked Chicken. Plus, it's baked in the oven and not fried, eliminating all of that unhealthy grease. Instead of just plain breadcrumbs, they are mixed with fresh and finely shredded Parmesan cheese (lots of it!) and garlic powder. The sharpness and saltiness from the cheese and the pungent garlic give this baked chicken just the extra flavor punch it needs.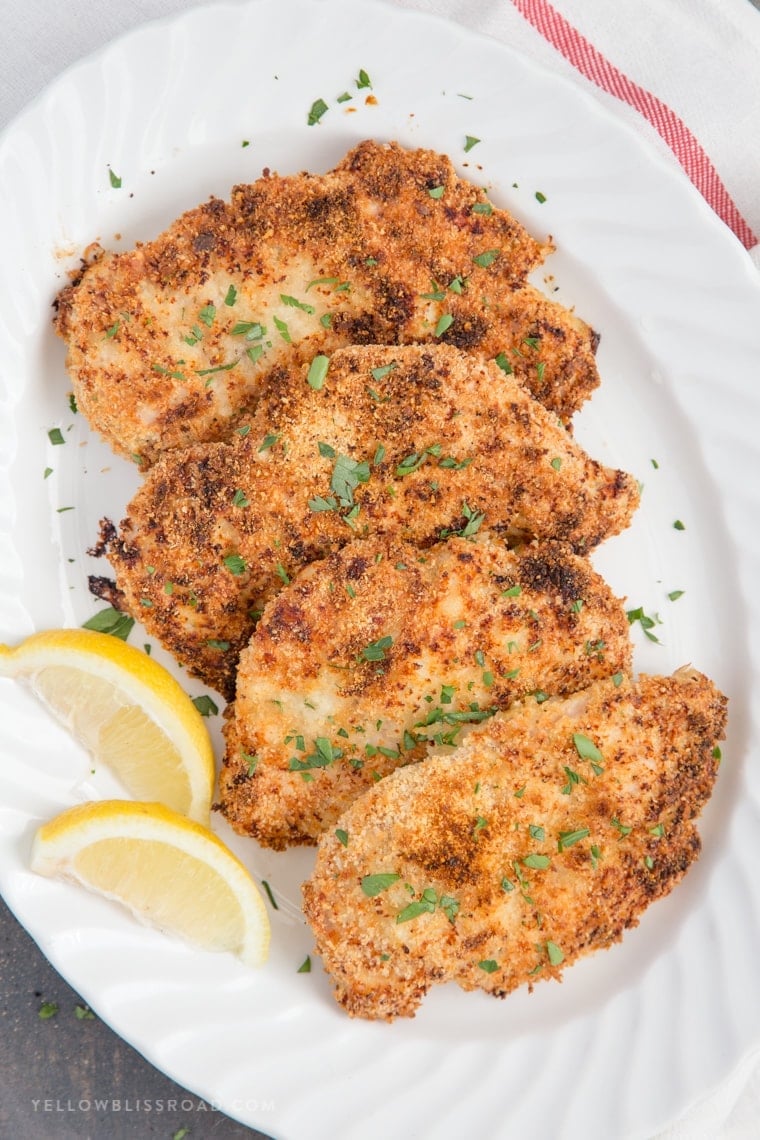 A little tip when oven frying chicken like this, spray the tops with nonstick cooking spray to give them that nice golden color. You can also broil them during the last several minutes. I actually do both! And if you're looking to make it just a little bit lighter, here's a great tip for you: only bread one side of the chicken! It's how I lightened up my favorite Chicken Parmesan recipe, and I use it any time I want to cut back a few calories. You'll never even know the difference.
My entire family gobbled this chicken down in minutes. I served them with some lemon wedges which really add brightness to this dish.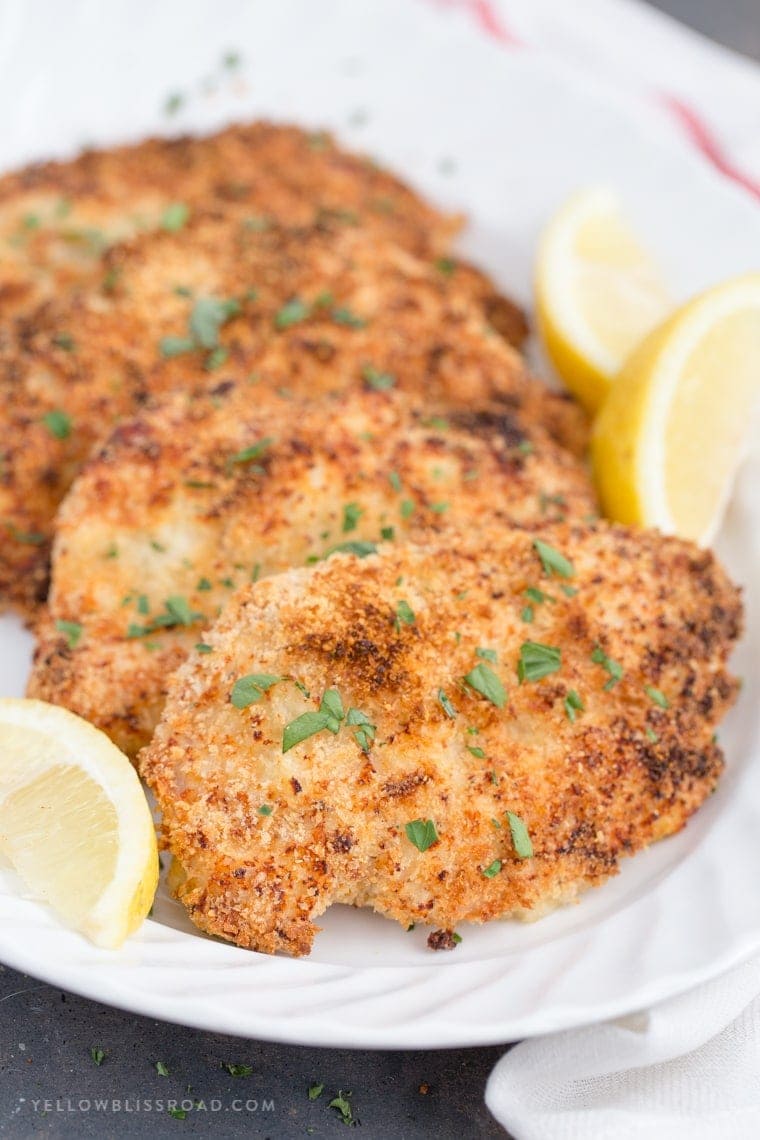 Crispy Garlic Parmesan Baked Chicken: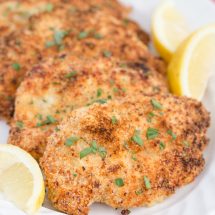 Crispy Garlic Parmesan Baked Chicken
Get dinner on the table is a jiffy with my Crispy Garlic Parmesan Baked Chicken! It's crunchy and packed with flavor and it's perfect for satisfying your pickiest critics on busy weeknights. 
Print
Pin
Rate
Prep Time: 15 minutes
Cook Time: 40 minutes
Total Time: 55 minutes
Servings: 4 servings
Ingredients
4 chicken cutlets or two large breasts cut in half
¼ cup all-purpose flour
2 teaspoons garlic powder
1 teaspoon dried Italian seasoning
¼ teaspoon black pepper
1 teaspoon kosher salt
2 eggs + 2 tablespoons milk
1 cup Panko breadcrumbs
3/4 cup grated Parmesan cheese
Instructions
 Preheat oven to 375 degrees. Cover a baking sheet with foil or parchment paper.

In a shallow dish, combine flour, black pepper, salt, garlic powder and Italian seasoning.

In another shallow dish, whisk together eggs and milk.

In a third shallow dish, combine panko breadcrumbs and Parmesan cheese.

Pat chicken dry with a paper towel.

Set up assembly line to coat chicken in this order: flour, eggs, panko. First dredge chicken in the flour mixture, then in the eggs and then coat with the panko/Parmesan mixture. Once coated, arrange on the prepared baking sheet.

Spray tops of chicken with nonstick cooking spray.

Bake for 35-40 minutes or until crispy and golden brown and cooked through. If the tops aren't brown enough for your taste, flip on the broiler for a few minutes; careful not to let them burn.

Garnish with fresh chopped parsley and serve with lemon wedges.
Notes
To fry: In a large heavy-bottomed skillet, heat a high-temperature oil like canola or corn oil over medium heat. Place chicken in the hot oil and fry until golden; about 4 minutes per side. Careful not to keep the oil too hot or the chicken will burn. Chicken is done when juices run clear or it reaches an internal temperature of 165 degrees F.
Here's another great baked chicken recipe to try that's an all-time favorite on the site. Super tender and juicy!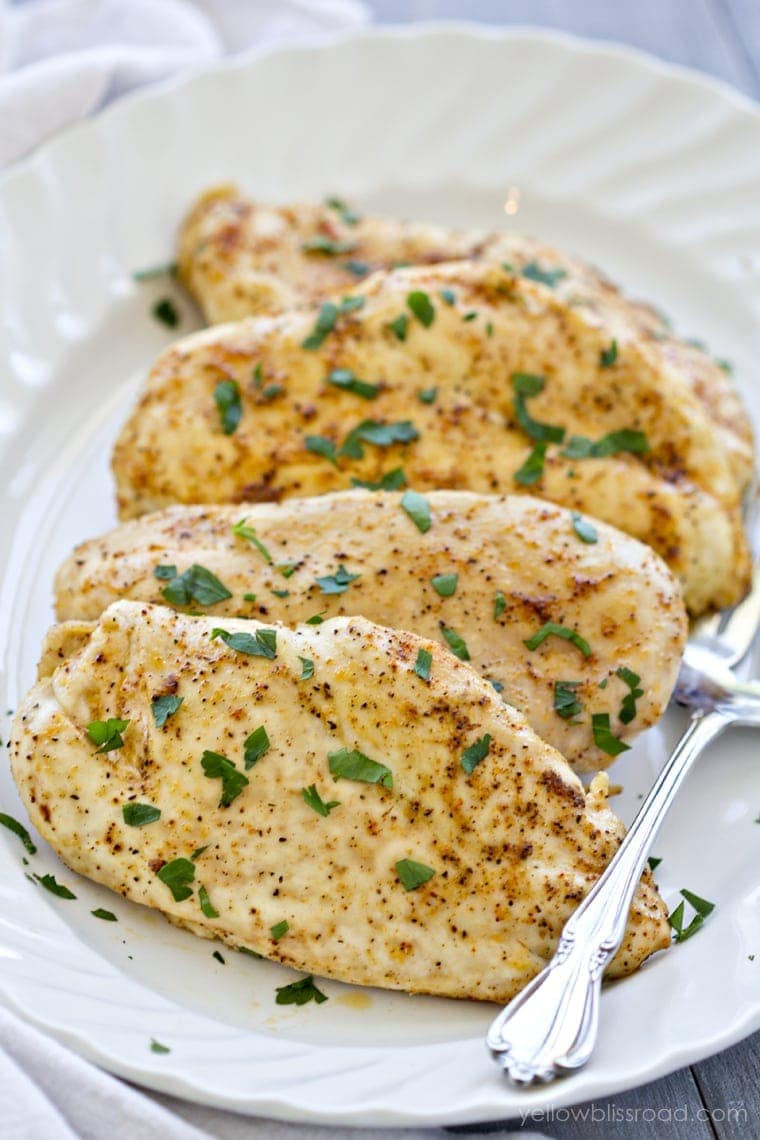 Here are some more favorite chicken recipes to try:

Hi! I'm Kristin, the creative mind behind Yellow Bliss Road where you will be inspired by tons of easy to follow recipes, lots of free printables, and a little sprinkling of life thrown in for good measure.