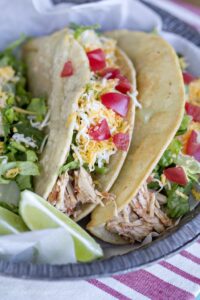 Crock Pot Chicken Tacos
Ingredients
3 boneless, skinless chicken breasts (about 1.5 - 2 pounds)
1 container of your favorite salsa (14-16 oz)
1 cup low sodium chicken broth
salt, pepper and garlic powder to taste
Taco shells and toppings
Instructions
Season chicken breasts well with salt, pepper and garlic powder on both sides and place in the bottom of a crock pot.
Pour salsa and chicken broth over chicken.
Cover and cook on high for 3-4 hours.
Shred chicken in the crock pot and cook on low for about 30 minutes.
Serve in taco shells or tortillas with your favorite taco toppings.
Recipe by Yellow Bliss Road at https://www.yellowblissroad.com/crock-pot-chicken-tacos/