14 Tips for a Magical Disney Cruise
Last summer we had the absolute pleasure of taking a magical cruise on the Disney Wonder to Alaska. It was my second cruise and my children's first. Of course we are die-hard Disney fans, so this cruise was just perfect for us.
There are so many things that make Disney, "Disney," and a Disney Cruise is no different. There are special magical touches everywhere you look. There are also tons of ways to make your vacation even more special that you may not know about. Even though our cruise went to Alaska, these tips are relevant for any Disney Cruise. Here are 14 tips for making the most of your Disney Cruise.

1. Stay a night or two in your port city.
Unless the port where your ship docks is close to home, consider adding a couple of days either before or after your cruise to explore the port city. We stayed in Vancouver two nights before and two nights after our cruise. It's a fun way to extend your trip and view some sites you may not have seen otherwise.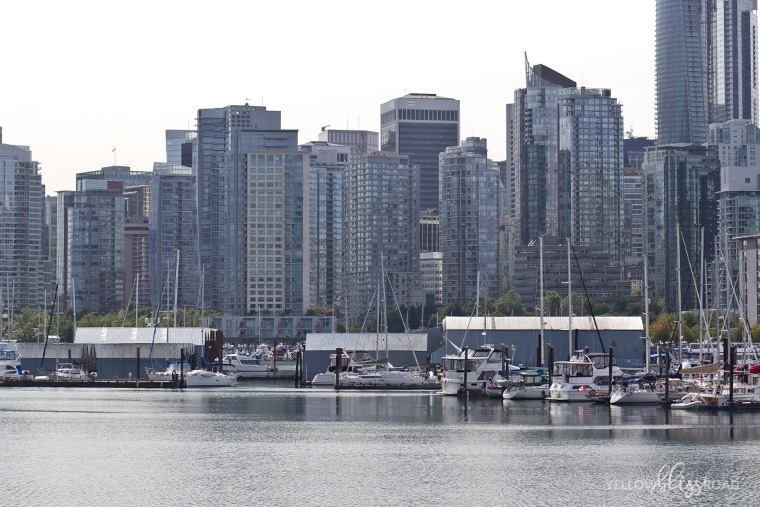 Plus, it keeps you from having to run to or from the ship to the airport, which can be difficult if you're traveling with  young kids and a bunch of luggage, especially if your flight is delayed. Flights get delayed but the ship typically can't wait.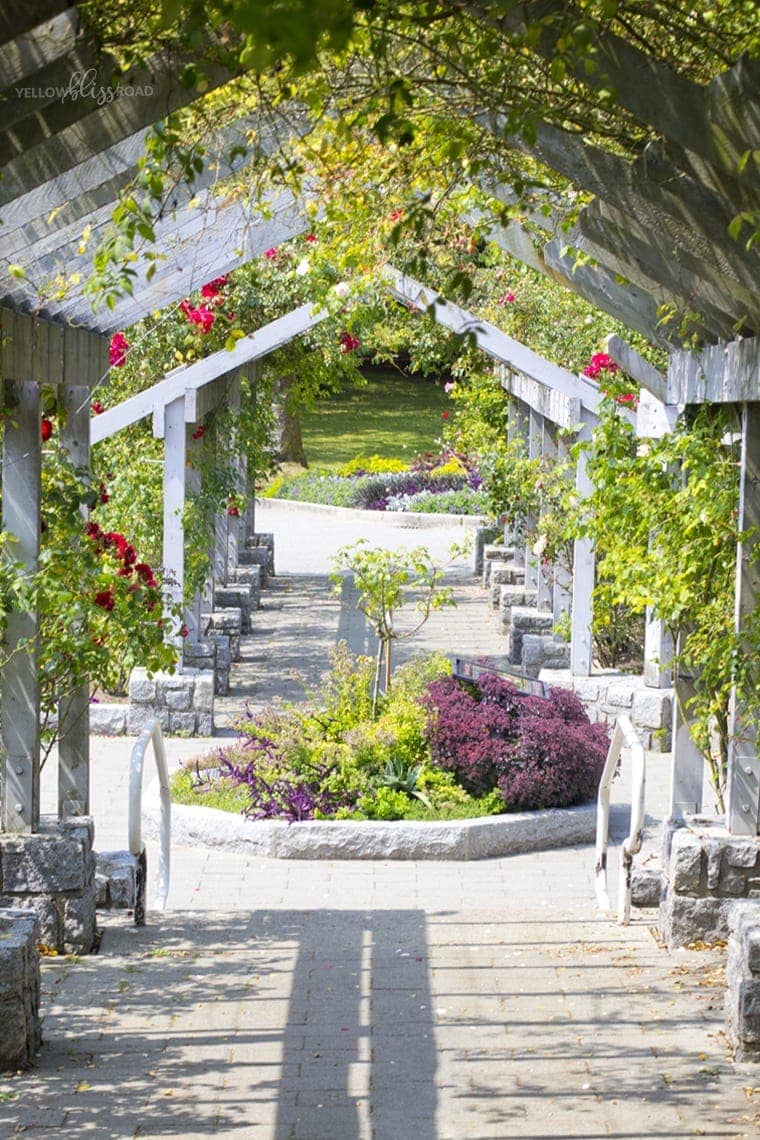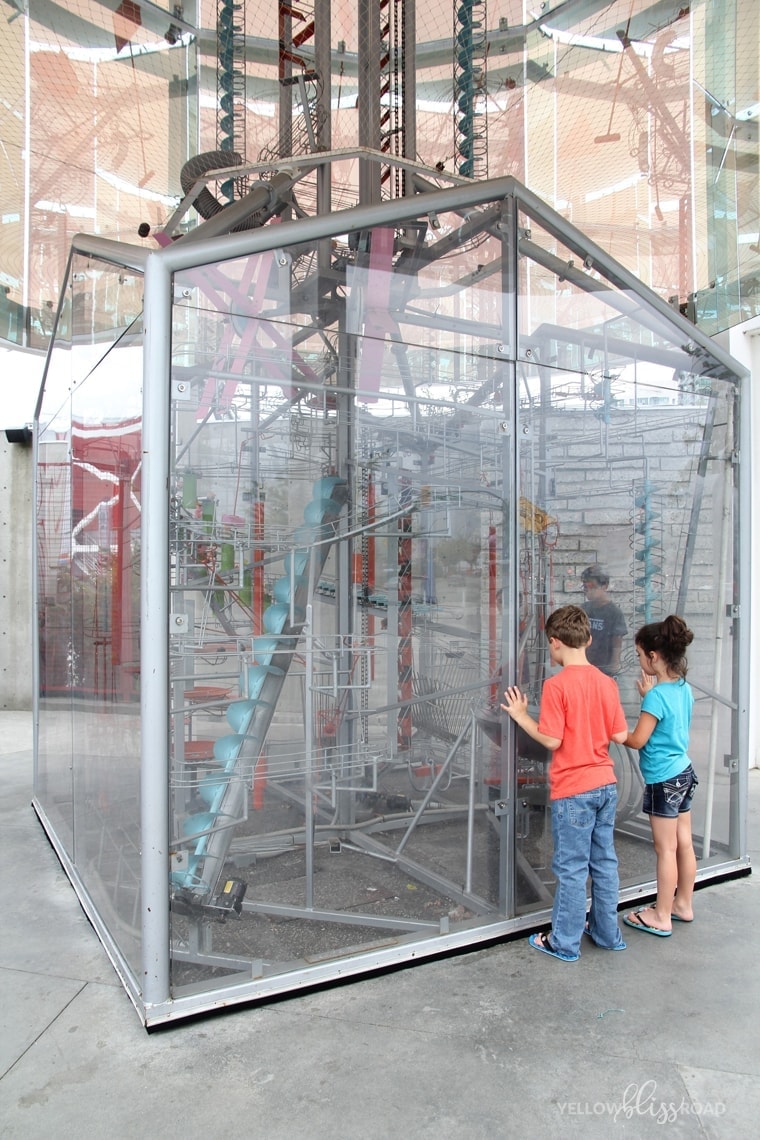 2. Book character meet and greets in advance.
There are lots of opportunities for character meet and greets aboard your cruise, and these visits are so much better than the quick pic snaps you get at the resort parks. Characters take a few moments to talk to your children, allowing you to take a bunch of photos while the cast members snap some photos as well. You can book these meet and greets as soon as you board the ship at the Guest Services counter. Plan to do this as soon as possible, as the times do fill up. Don't forget to bring your princess dresses or other character costumes. The characters definitely do a little gushing over these outfits! You can buy them on board, but picking them up at the Disney Store or even ebay can save a ton of money!
We had two separate meet and greets – one with the princesses (we saw Ariel, Rapunzel, Belle and Cinderella) and a second, separate meet with Elsa, Anna and Olaf.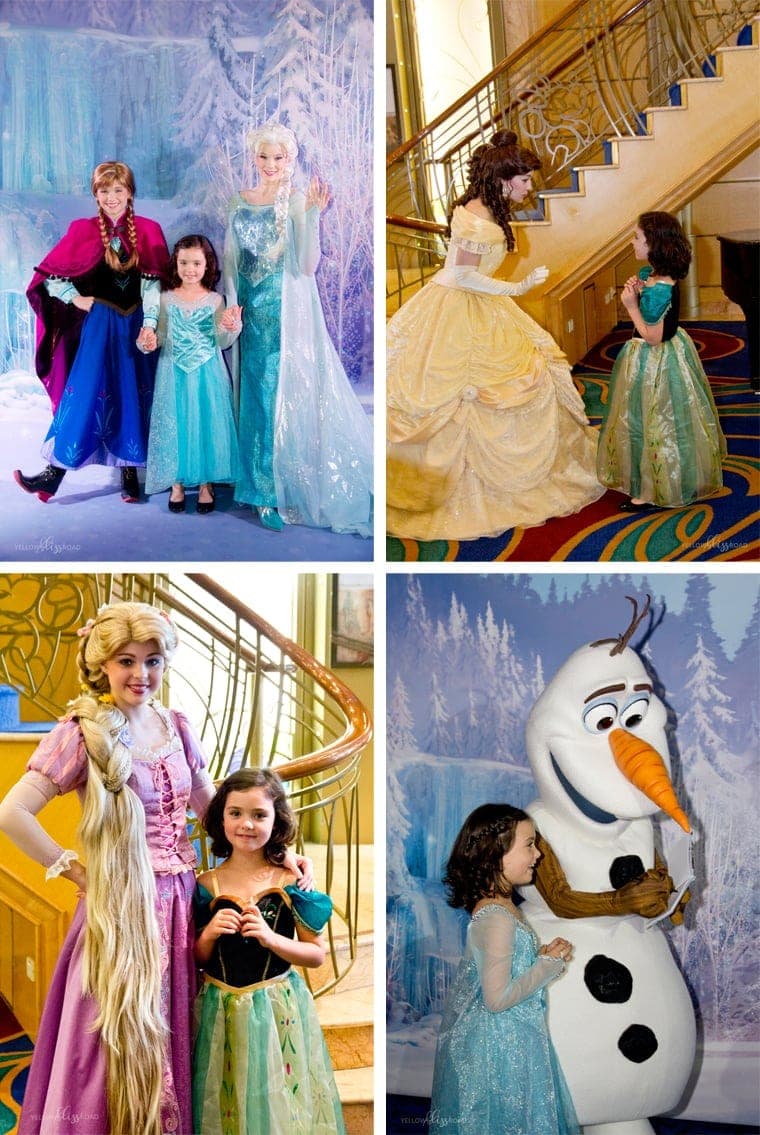 There are lots of other character meet and greets daily. You'll find them listed in the daily Personal Navigator delivered to your stateroom each night. Some require tickets (similar to a fastpass at Disneyland) and some just pop up around the ship. We were taking a break and enjoying the view one afternoon and happened upon Tinkerbell.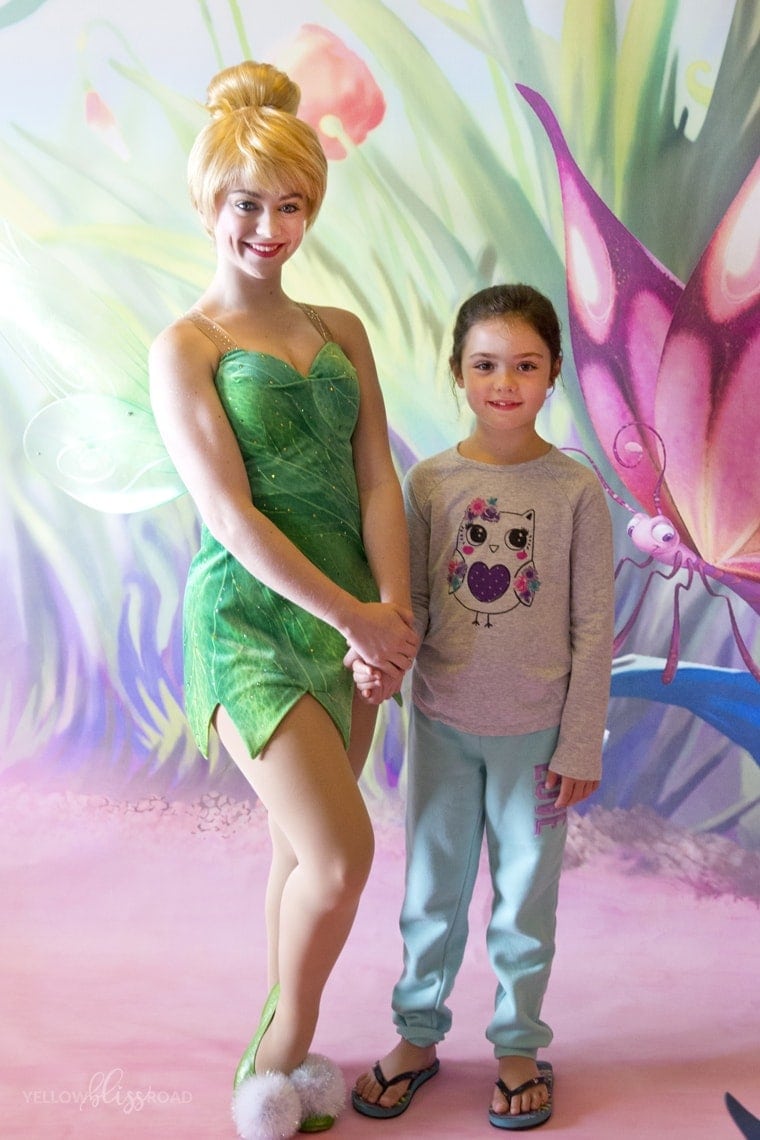 3. Plan to enjoy a character breakfast.
When anyone asks me what are the best things to do when visiting a Disney park for the first time, I always recommend a character breakfast. Character breakfasts aboard Disney Cruise Line are similar to those you can enjoy in the Disney parks. You get to enjoy a great meal (Mickey waffles anyone??), but best of all you get some quality one-on-one time with some classic Disney characters. We got to visit with Mickey, Minnie, Goofy and Pluto, and they spent a lot of time at our table playing with the kids (and the grown-ups).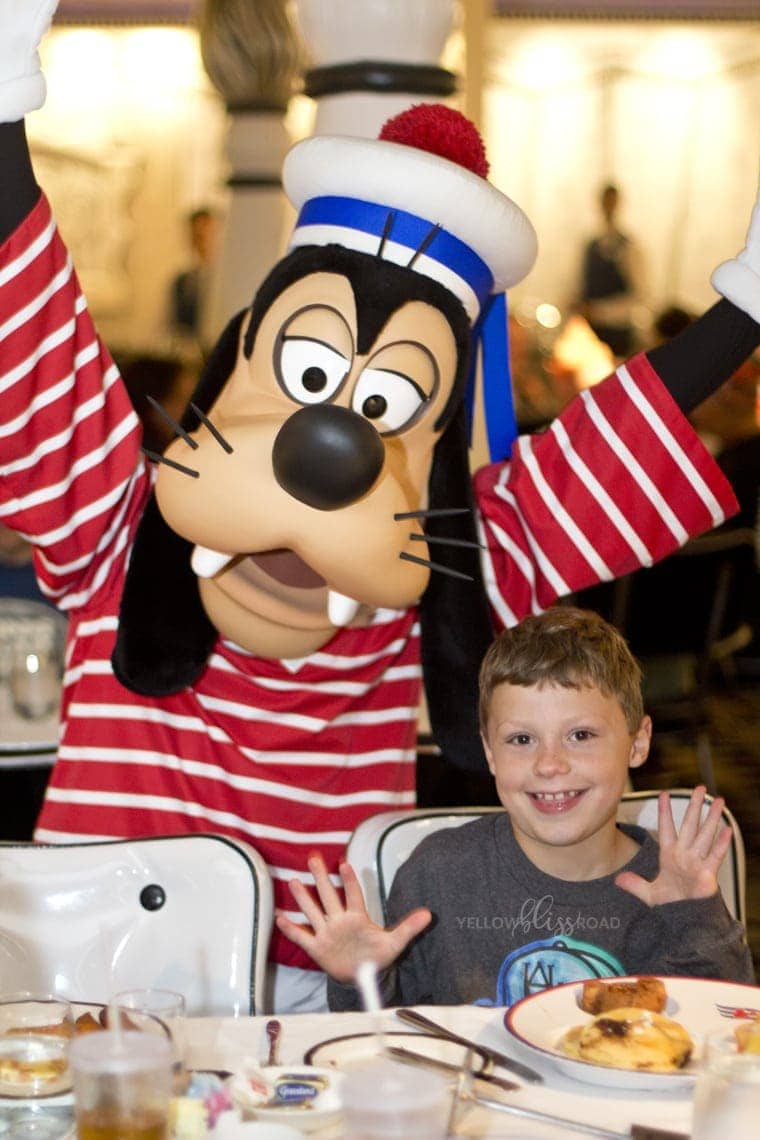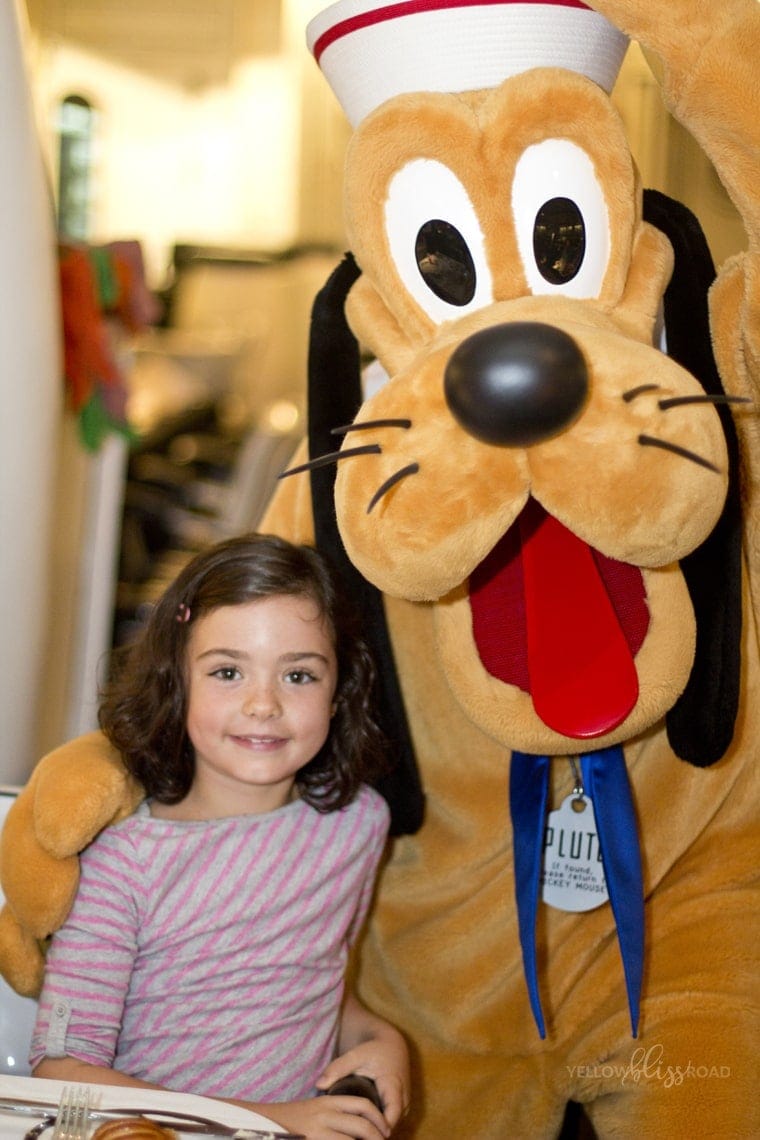 4. Plan around your children.
There is so much to do on a cruise, between the shows, the activities and the excursions, but if you know your little one has a difficult time deterring from his or her schedule, don't force it. I decided on an early dinner time because I know my son has to go to sleep by a certain time. He won't sleep past 6:30 a.m. if you pay him, regardless of when he goes to sleep. So that's what worked for us. Just be sure to think about your kids specific needs and personalities when planning your day.
5. Reserve excursions in advance.
You can book or change excursions on board the ship, space permitting, but if you have something that you really want to do, make sure to reserve it in advance. Also, don't be afraid to split up. I took my son on a rainforest and whale watching excursion and it was fun to do something that was just us.
We enjoyed each of our excursions…
Alaska Whales & Rainforest Trails and Alaska Whales & Wildlife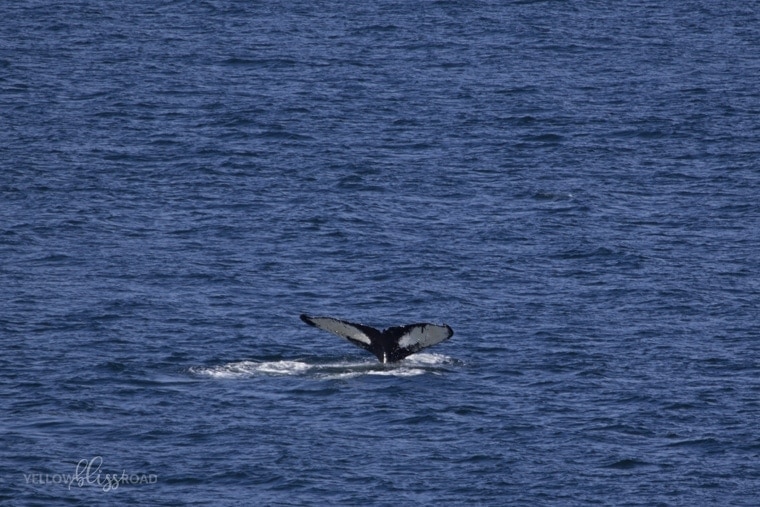 White Pass Railway & Trail Camp in Skagway, AK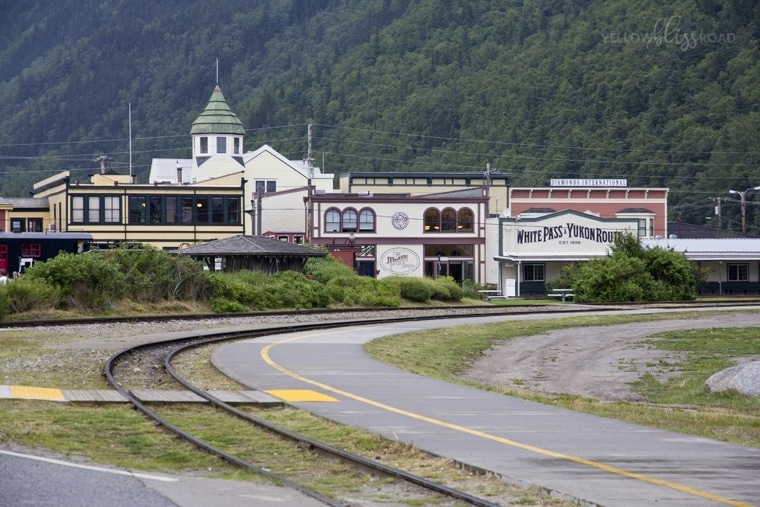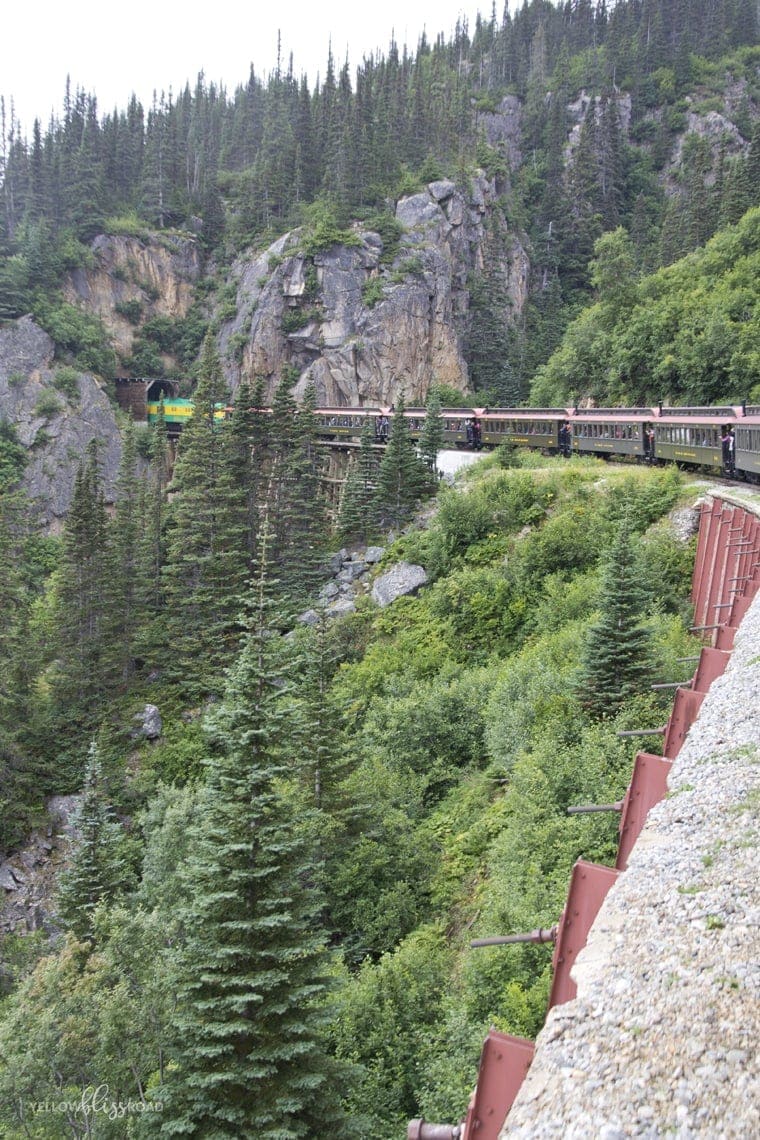 Bear Country & Wildlife Expedition in Ketchikan, AK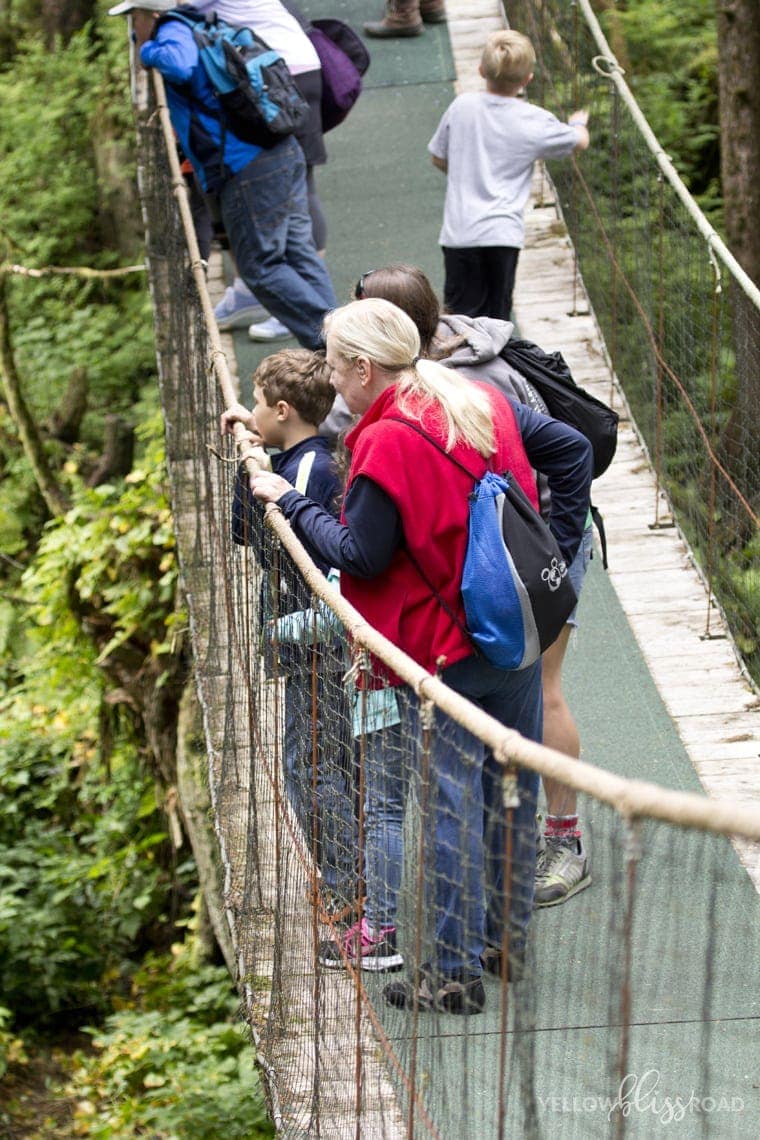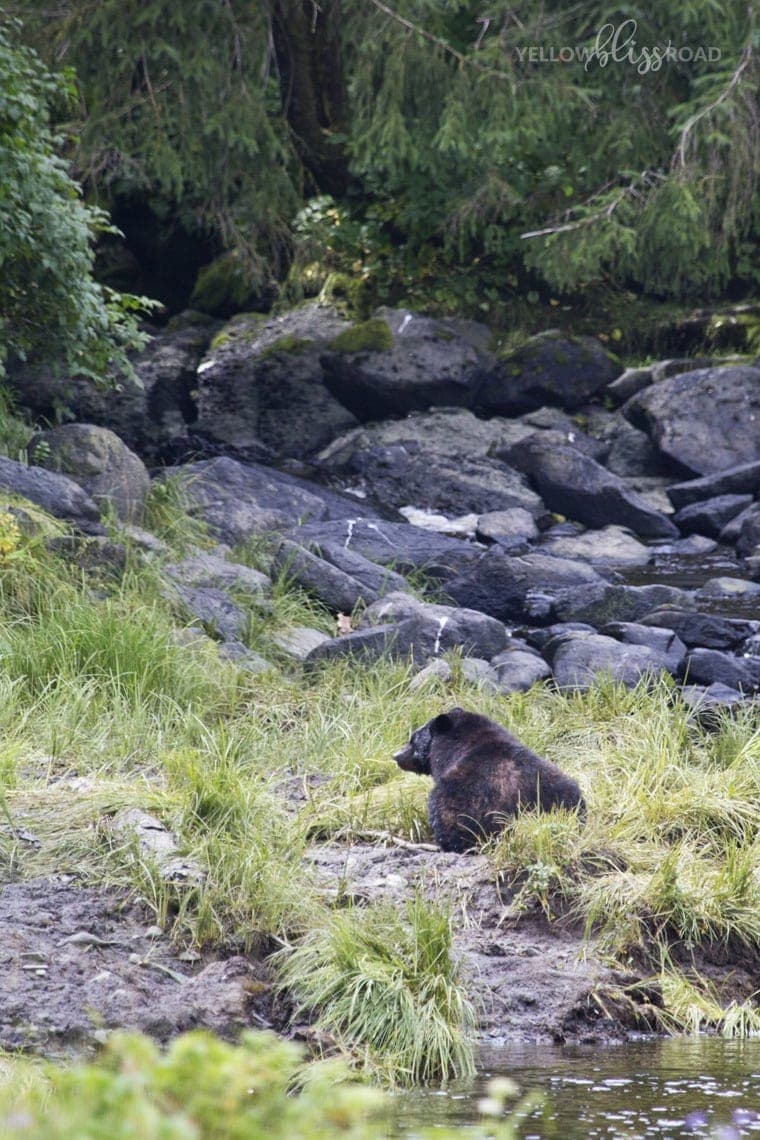 6. Take a self guided tour of the ship.
As soon as you can, take a tour of the ship. You'll want to get yourself acclemated to your surroundings, since you're going to be there a while. This is also a good time to show kids where the elevators are, and of course, the free soft-serve ice cream station! Be sure to also download the Disney Cruise Line Navigator app to your smartphone BEFORE boarding the ship. This will have maps, as well as shows, meet and greets, restaurants and daily menus.
Self Serve Ice Cream Station on the Disney Wonder. Photo from The Kitchen Magpie.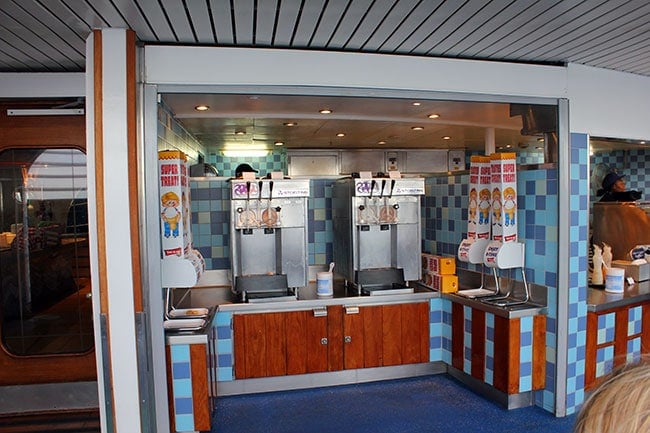 7. Try everything.
One of the best experiences on a cruise is getting to try new foods, or enjoy foods you wouldn't typically order at home. Both of my kids were adventurous, trying new things like polenta and elk, among other things. If you want to try both entrees, go for it! Want all three desserts, no problem! The dining room cast members are extremely accommodating when it comes to bringing your food just how you like it and after the first night or two they even bring it before you ask!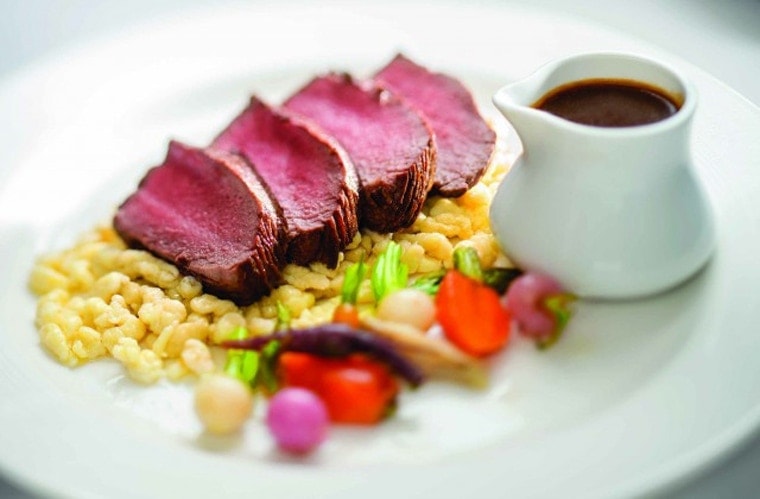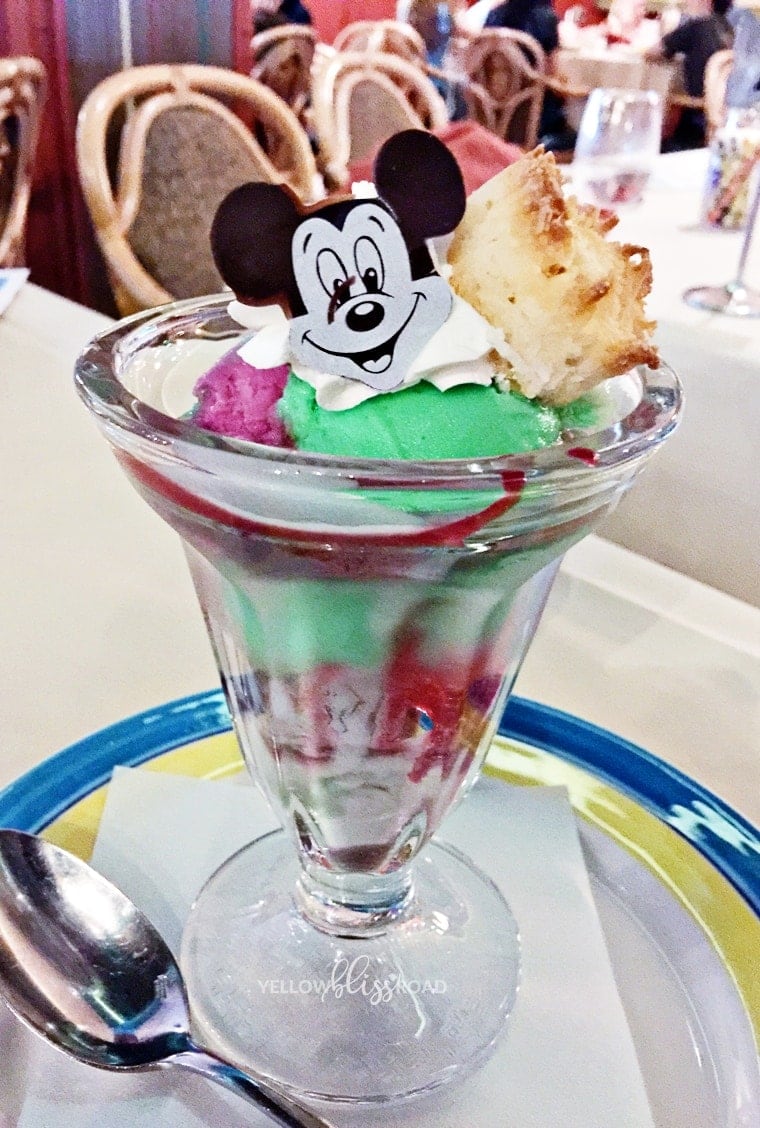 8. Decorate your door.
This is something I didn't know about until we were on the cruise, but my mom had planned for it and had cute little signs with our names on them. Some people really went all out decorating their doors with photos, birthday and anniversary signs and even dry erase boards for leaving messages. You never know who you'll get a message from!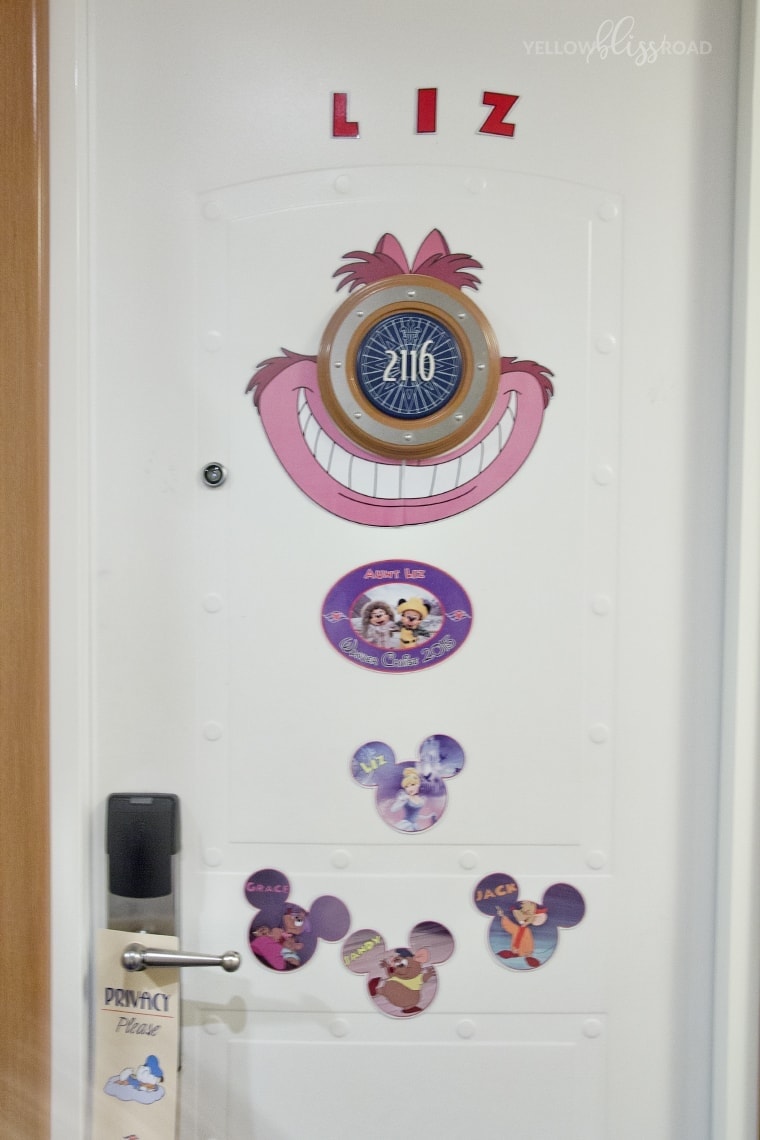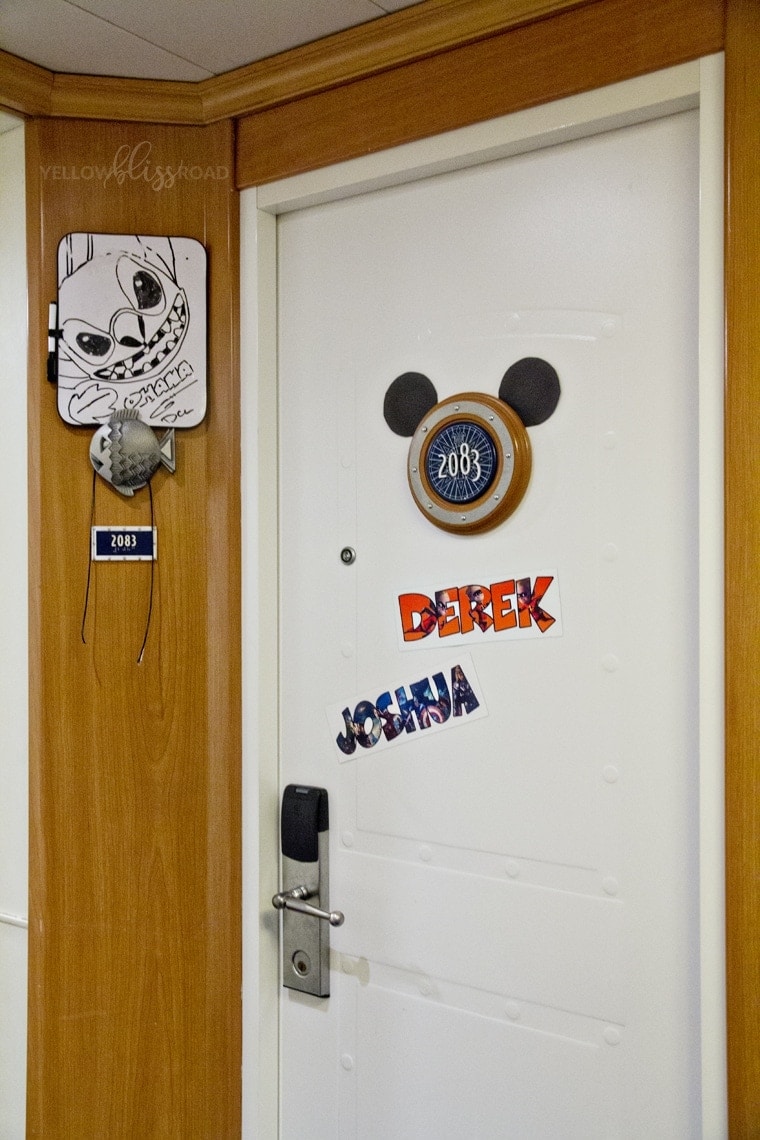 9. If you're not a DSLR camera owner, consider renting one. And if you are, consider renting a premium lens.
I knew there were going to be so many things I wanted to photograph on our cruise. I took my DSLR and two of my own lenses, but I also rented a fancy-schmancy extra zoom lens for capturing some great shots of the nature around us. It came in really handy, getting some great shots of whales and bears from our excursions. I wouldn't have been able to get the photo below of a mama bear enjoying her freshly caught lunch without it! You can look into renting at your local camera store.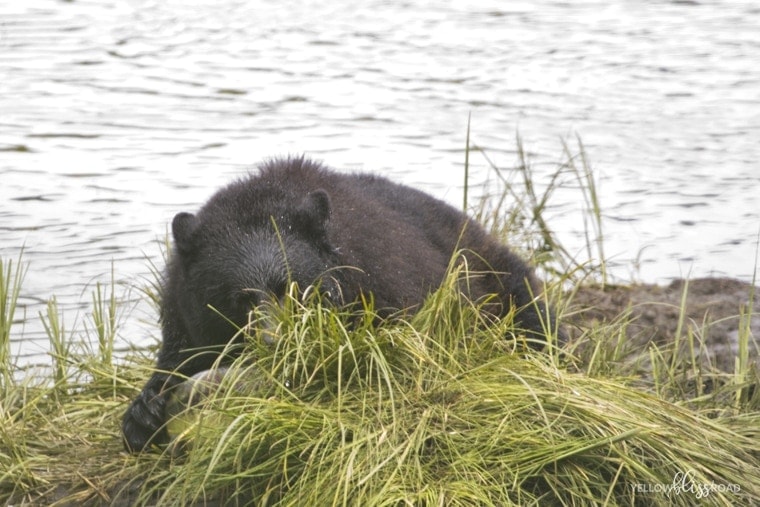 In case you're wondering, THIS is my camera, and THIS and THIS are my lenses that I brought with me. I rented THIS LENS. (affiliate links)
10. Attend the castaway party.
Each cruise line has a castaway party of sorts, but of course Disney does it best. There are characters galore, plus great music, dancing and ways for kids to get in on the fun. Try to get there early because it does fill up fast.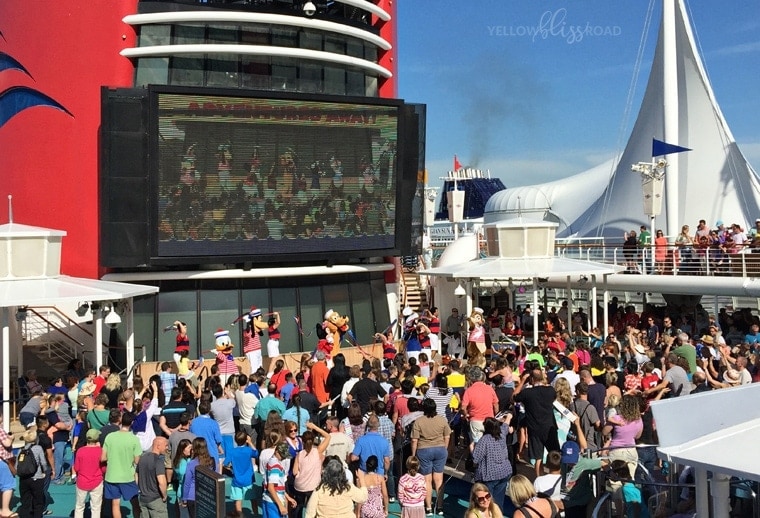 11. Bring your swimsuit.
Even us So Cal wimps enjoyed a little time in the pools and spas on board the ship. My daughter, who usually complains she's cold when it's 70 degrees, went in the pool almost every day, rain (really) or shine. The pools are heated  and are very nice and warm, and the slides are definitely worth braving the cold.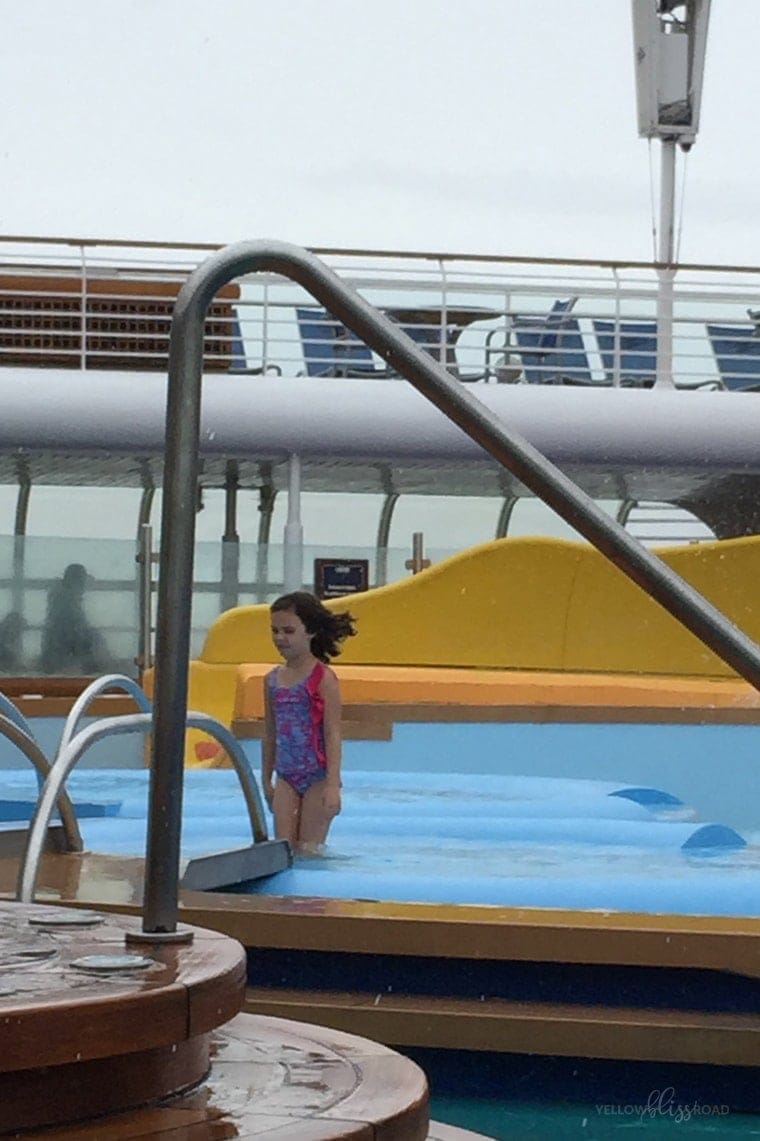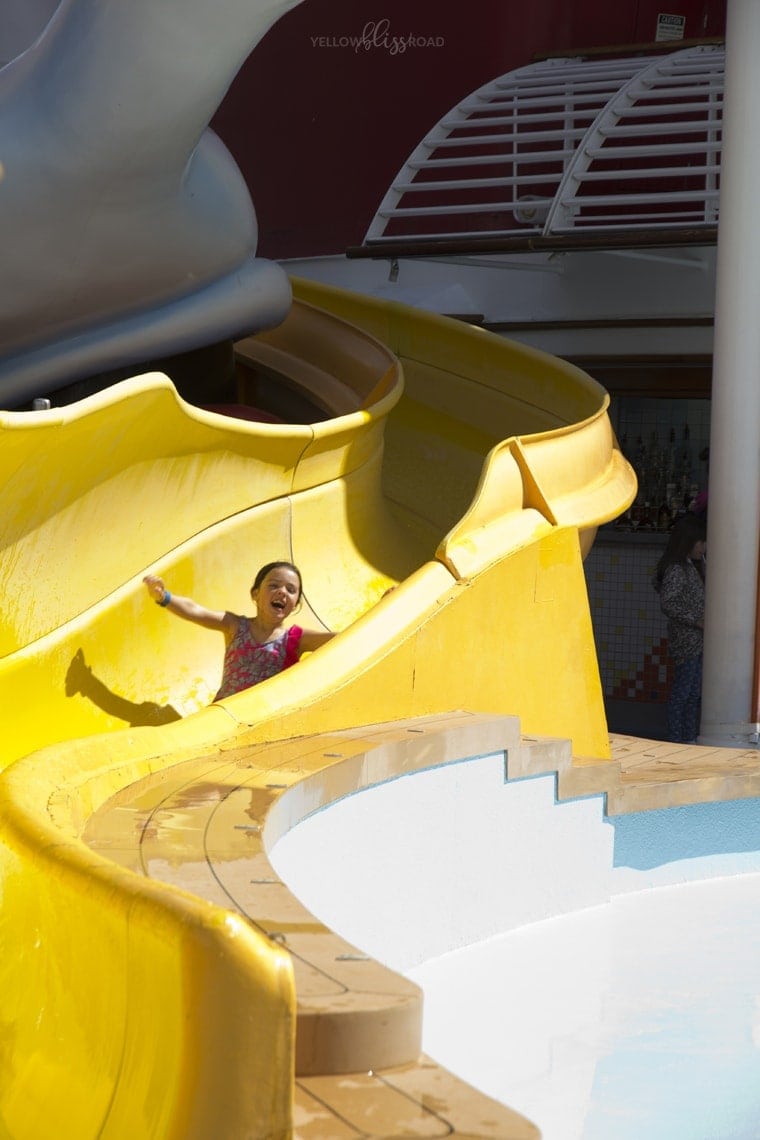 12. Check out the kid's clubs.
Children ages 3-12 have their own special place on the Disney cruise ships. The Oceaneer Club and Oceaneer Lab are included in your cruise. Operating hours vary but you'll find it listed in your Personal Navigator. The fun includes storytime, movies, character visits, computer game stations and fun-filled scheduled daily activities. If you have late dining the staff even comes to the dining room to collect kids who want to go to the Club while parents enjoy the rest of their meal. My daughter would have spent all day, every day, enjoying what was offered. (Adults and teens have their own private areas too!). It's completely secure, with only authorized adults able to pick up and drop off children, wristbands are worn by each child and there is a "secret word" that you have to use to check them out. Get more information HERE.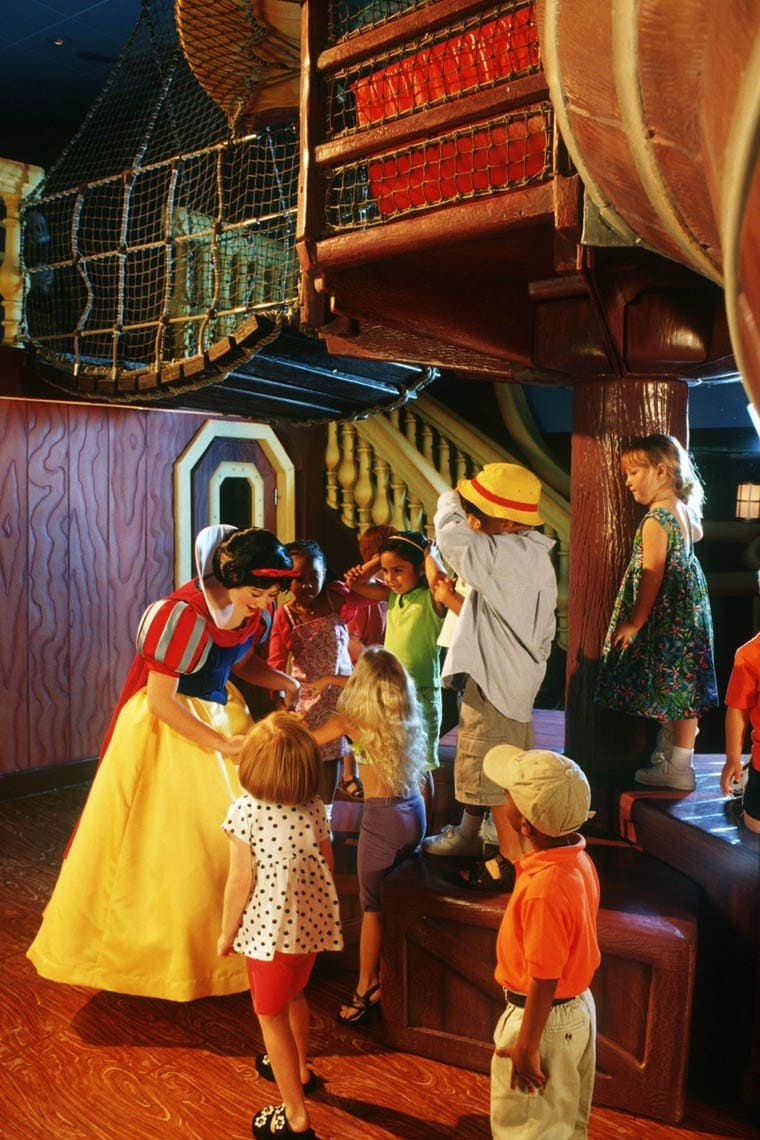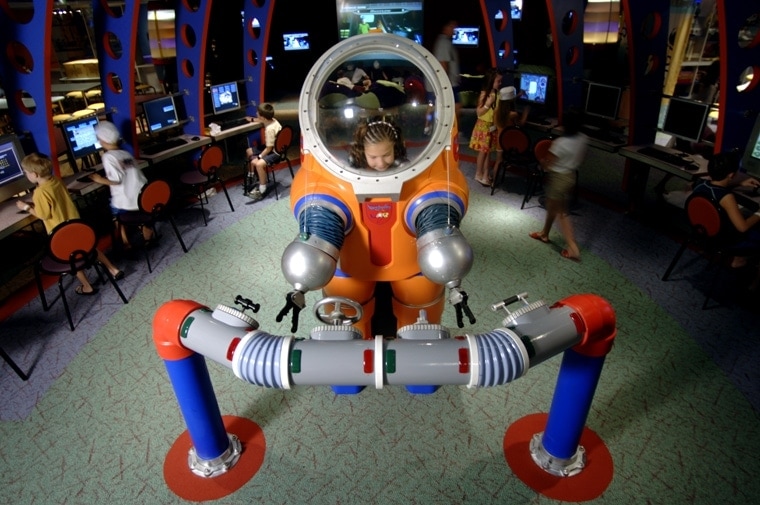 13. Any excuse to dress up.
Be sure to plan for formal and semi-formal night! My kids each got some fancy new clothes and really had a blast dressing up and eating a fancy dinner. The captain will be available for photos, and you can also get some great family photos as well. My son had a bit of a meltdown so it turned out my daughter was the only one to get photographed in her evening wear.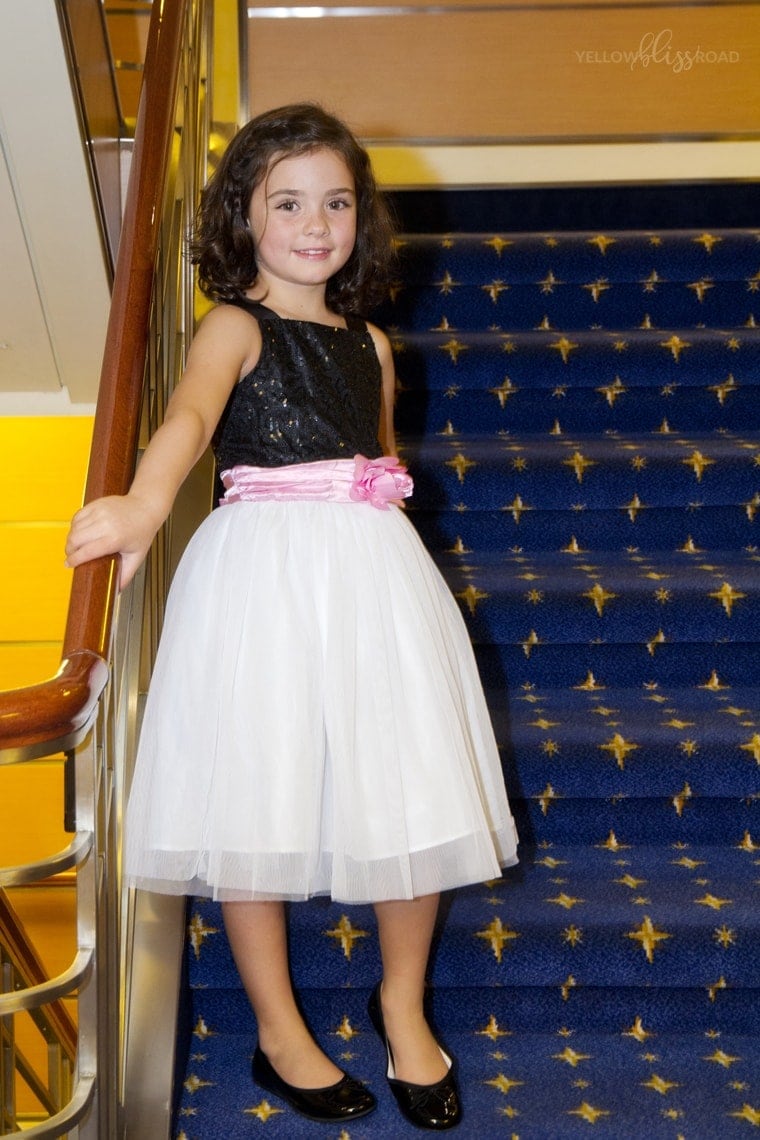 14. Tell them about allergies in advance.
Disney has always been amazing about accommodating my son's allergies at any of the table service restaurants. This was especially true on our cruise. Since breakfast and lunch are not at specific restaurants/tables all you need to do is ask to speak to the chef if you have any questions. At the nightly dinner service the wait staff was phenomenal at making sure both of my kids had what they liked waiting for them before they even sat down. They were able to bring my son special ice cream and cookies so that we could be sure they were safe for him. The only downfall was that we had to place an order for my son's dinner earlier that day, or even the night before, in order to assure that it was free of any of his allergens. Really though, that's a small price to pay to make sure his food is safe, and that he didn't have to wait a long time to receive his meal. He loved the steak and had it four out of the seven nights, complete with a baked potato with the works. The Head Server personally brought his meal to him each night to ensure that it wasn't cross-contaminated, and even cut his meat for him at the table! The service we received from the cast members all week was really great, but the dining service was exceptional.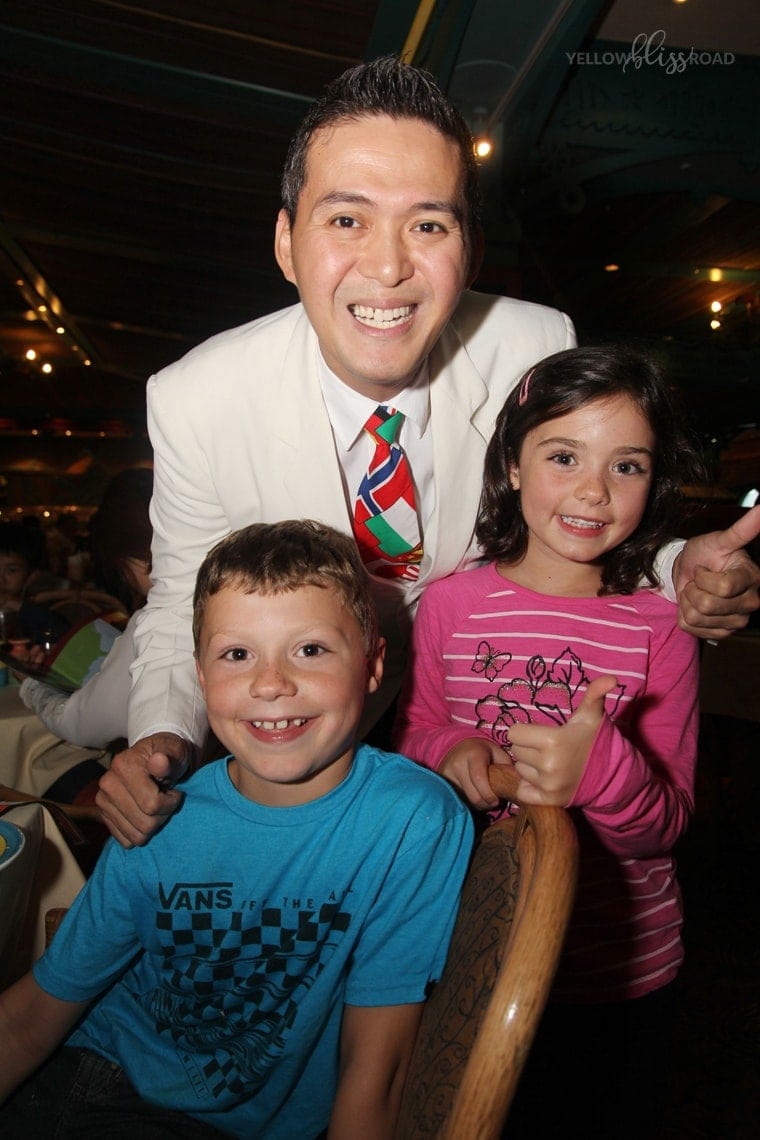 There are so many ways to enhance your cruise, but don't forget to just enjoy the sites from the ship as well. There are so many spectacular views from the ship as you sail through the Inside Passage and the Tracy Arm Fjord. You won't regret taking this cruise!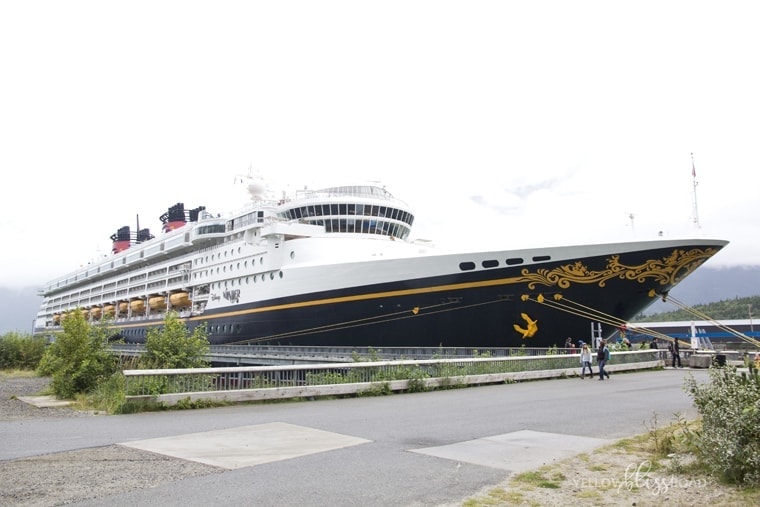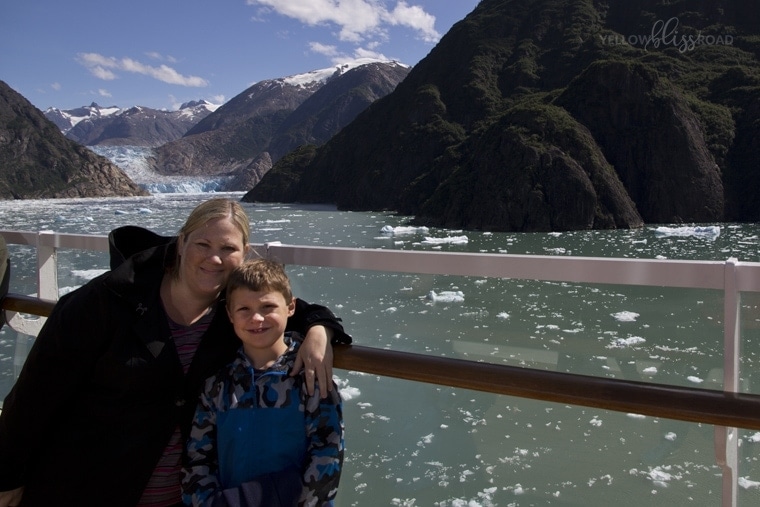 Want to know how big this glacier is? Check out the fishing boat in the bottom right corner.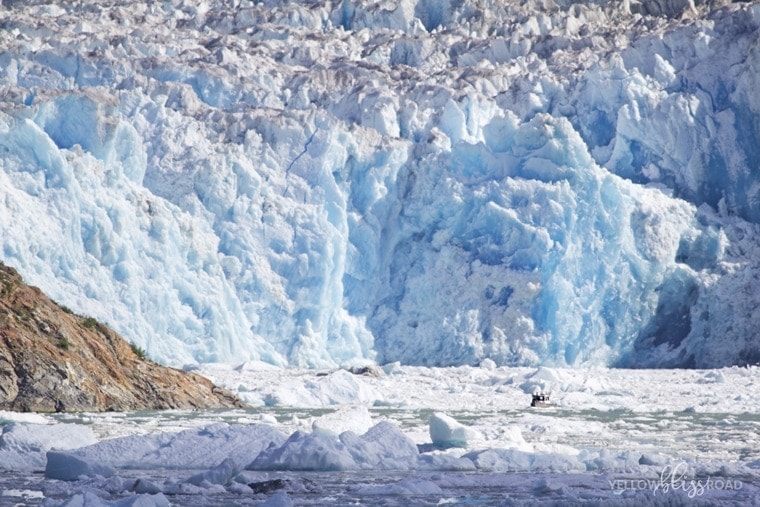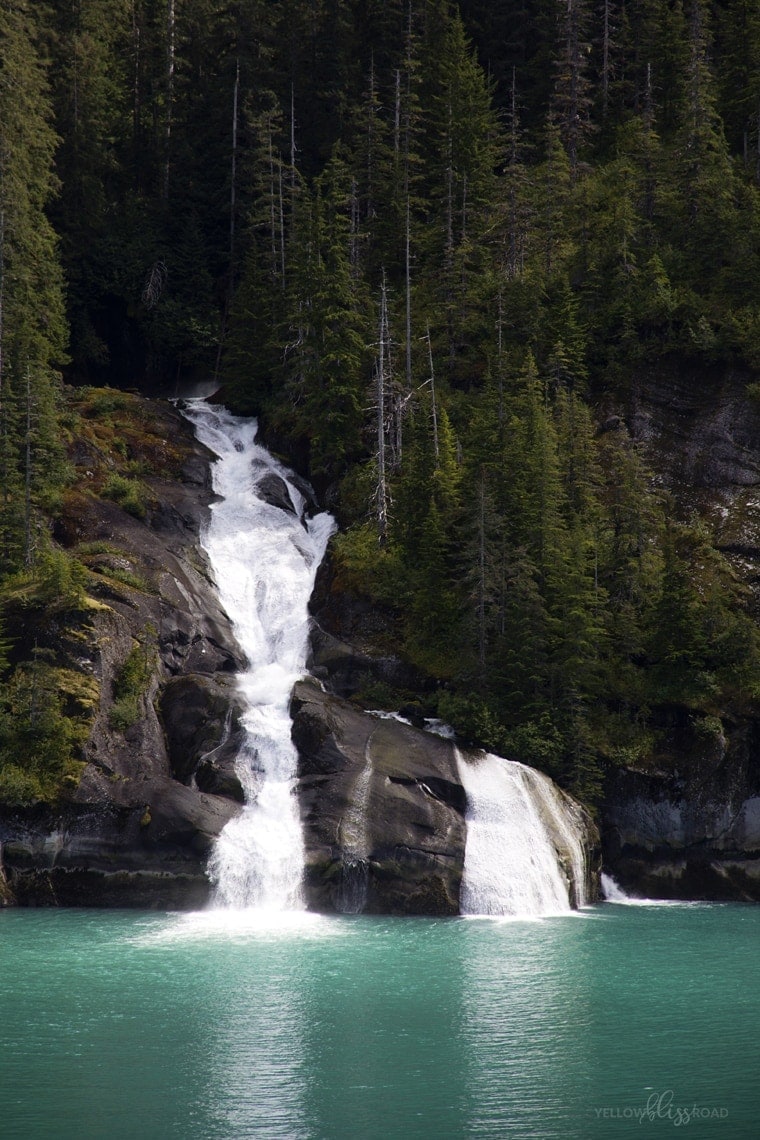 If you're just starting to plan your cruise, or if you're heading out on one soon, I hope these tips will help to make your experience even more magical. If you have any questions, or tips of your own, please leave them in the comments or feel free to email me.
Here are some more Disney Travel Tips: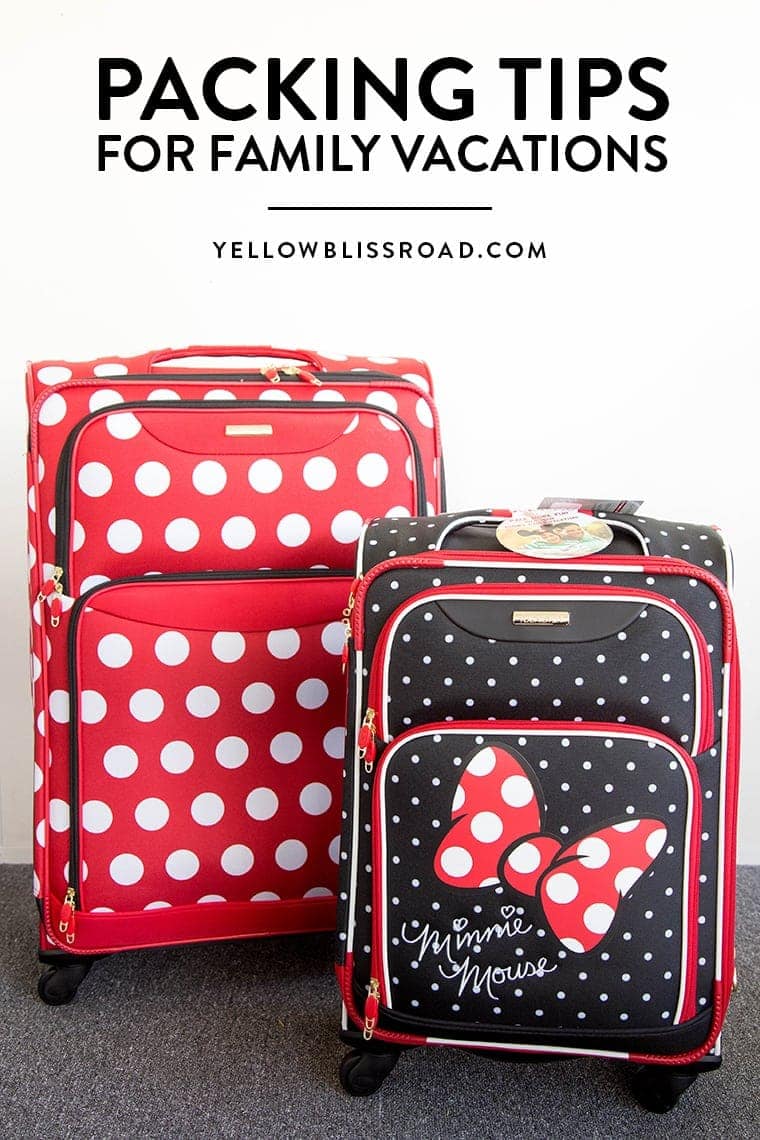 Top 7 Reasons to Stay at the Disneyland Hotel