This Disney Quotes inspired Summer Fun Bucket is perfect for kids and especially Disney Movie lovers. It's a fun game and gift idea all rolled into one!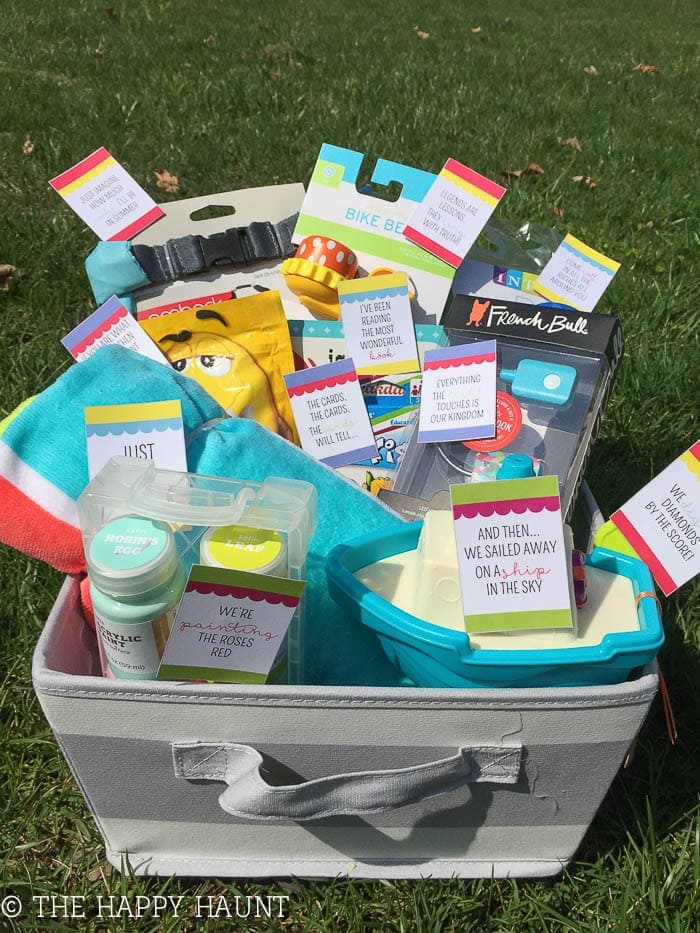 Spring is in the air! So, naturally, I am thinking ahead to summer! Please tell me I am not the only one who is! In preparation for the end of the school year and the beginning of your best summer ever I have created a printable so you can put together an awesome Disney themed summer fun bucket.
It would be so  great to have this ready for your kids on their last day of school. I have created 12 tags to use in your basket. Each tag has a Disney Movie quote. This turns your gift basket into a fun game too! See who can guess which quotes come from which movies. The one who guesses the most right wins! (Don't worry you don't need to figure them out; I have included an answer key in your free printable). So, what did I put in my bucket?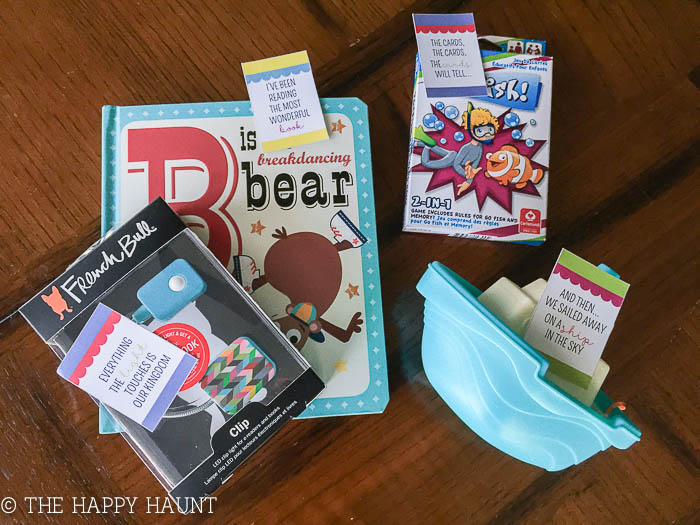 1. "I've been reading the most wonderful book" – Beauty and the Beast: A book of course! Just because school is out doesn't mean your kids don't appreciate a good read! A comic book would be great as well.
2. "Everything the light touches is our kingdom" – Lion King: A book light. You could also use a flashlight for your upcoming camping adventures.
3. "The cards, the cards, the cards will tell" – The Princess and the Frog: A pack of playing cards (Go Fish in my case.)
4. "And then… we sailed away on a ship in the sky" – Peter Pan: A boat water toy.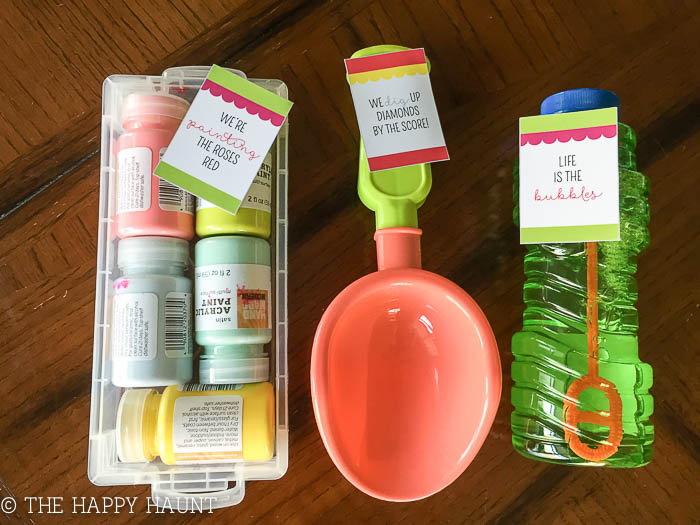 5. "We're painting the roses red" – Alice in Wonderland: Paint, watercolors.
6. "We dig up diamonds by the score" – Snow White: I included a shovel but you could also add other beach toys like a rake and a sifter.
7. "Life is the bubbles" – The Little Mermaid: Bubbles.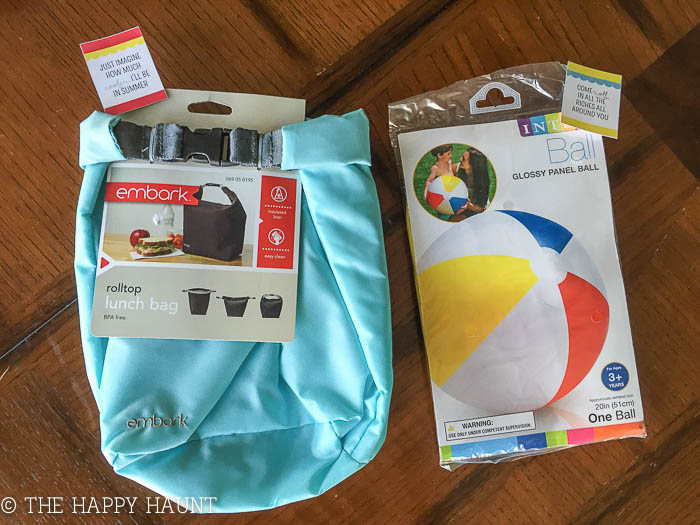 8. "Just imagine how much cooler I'll be in summer" – Frozen: This is a cute insulated lunch bag I found at Target. Other ideas: ice cream maker, freeze pops, and a spray fan.
9. "Come roll in all the riches all around you" – Pocahontas: I used a beach ball but any ball will do. Or, if you are really ambitious, a bike or a skateboard!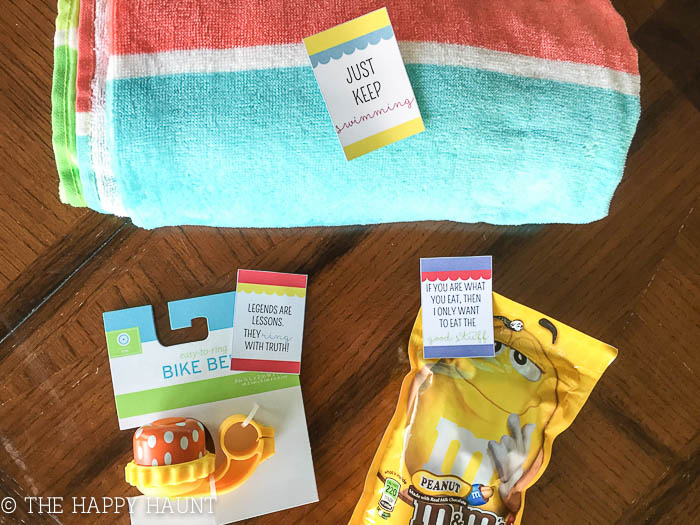 10. "Just keep swimming" – Finding Nemo: This is a beach towel but the sky is the limit on this one. How about goggles? Or a pool float? Flippers? A new swimsuit! Yeah, you get the idea.
11. "Legends are lessons. They ring with truth" – Brave: A bike bell. A ring pop could work or a new set of earrings.
12. "If you are what you eat, then I only want to eat the good stuff" – Ratatouille: I included candy but any of your kids favorite foods are fair game. Better yet, how about their first set of grilling tools or a new apron?
And there you have it! I hope you love this idea because I know your kids will! Or how about your spouse? I'll bet you creative people can come up with some great stuff for a grown up Disney basket!
Here is a peek at what the tags look like: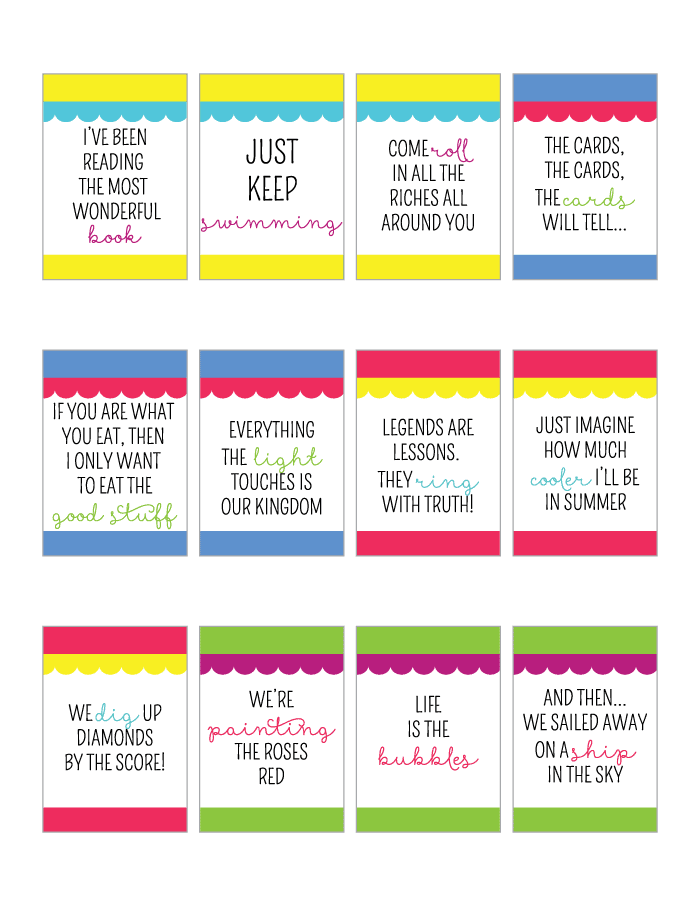 You can download the printable below and then start your summer off with a bang!
If you want to add a little more Disney magic to your summer be sure to visit my Etsy shop where Pixie dust is a priority!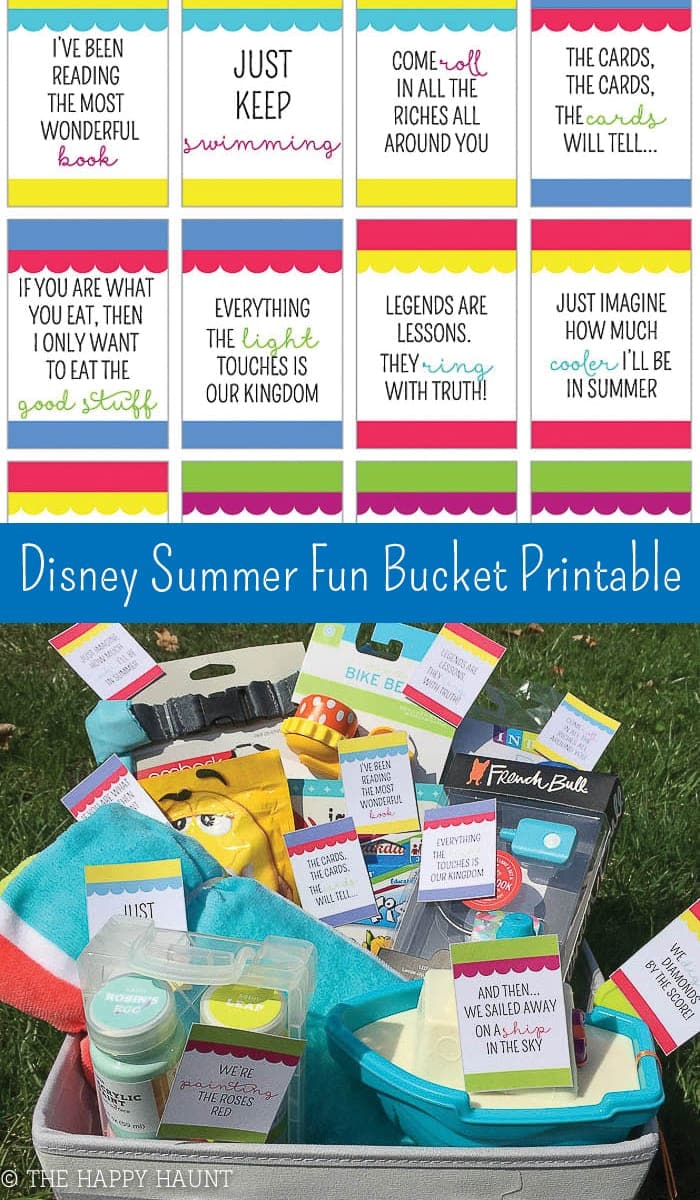 For more summer fun, be sure to check out these posts: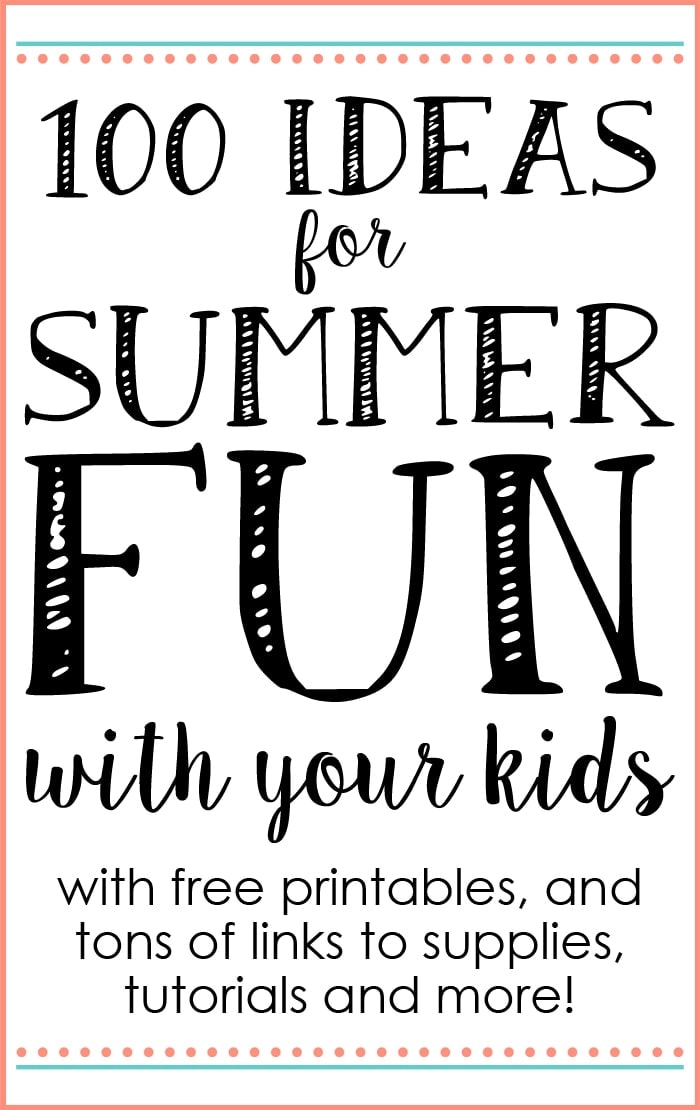 100 Ideas for Summer Fun with Kids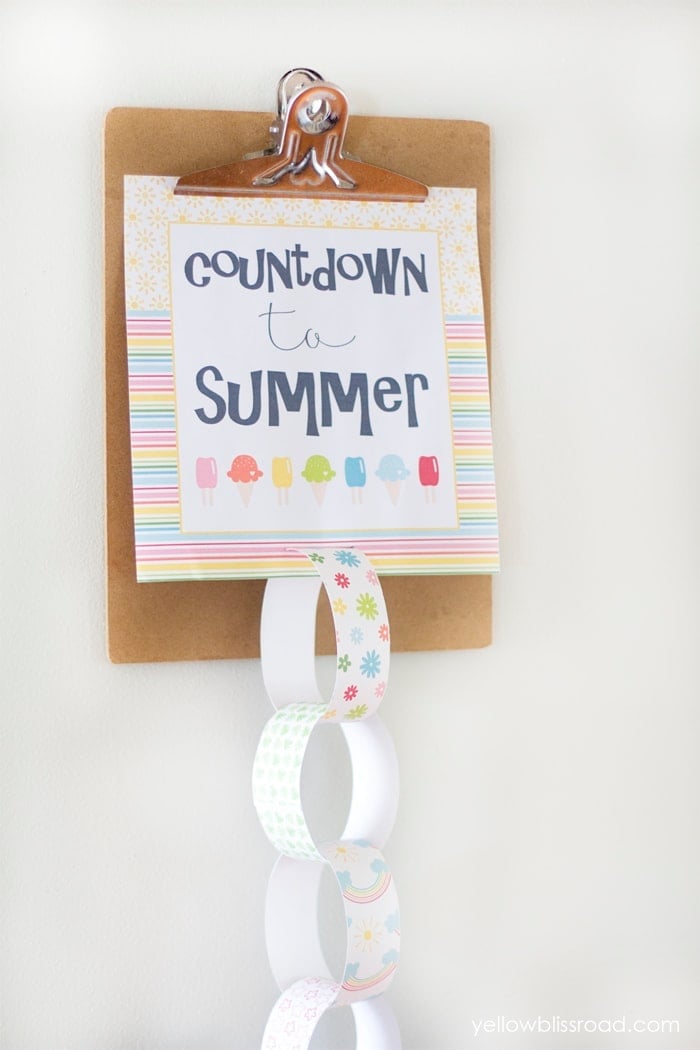 Countdown to Summer Printable Paper Chain