Hey y'all! Kirsten here, back again from Sweet Tea & Saving Grace with another DIY project! I'm working on updating my home office area and desperately needed to quell the cord chaos (say that 3 times fast!), but couldn't find anything that suited my needs and my style at the same time. Fear not! DIY to the rescue! Let me show you how I made a DIY Charging Station for less than $15!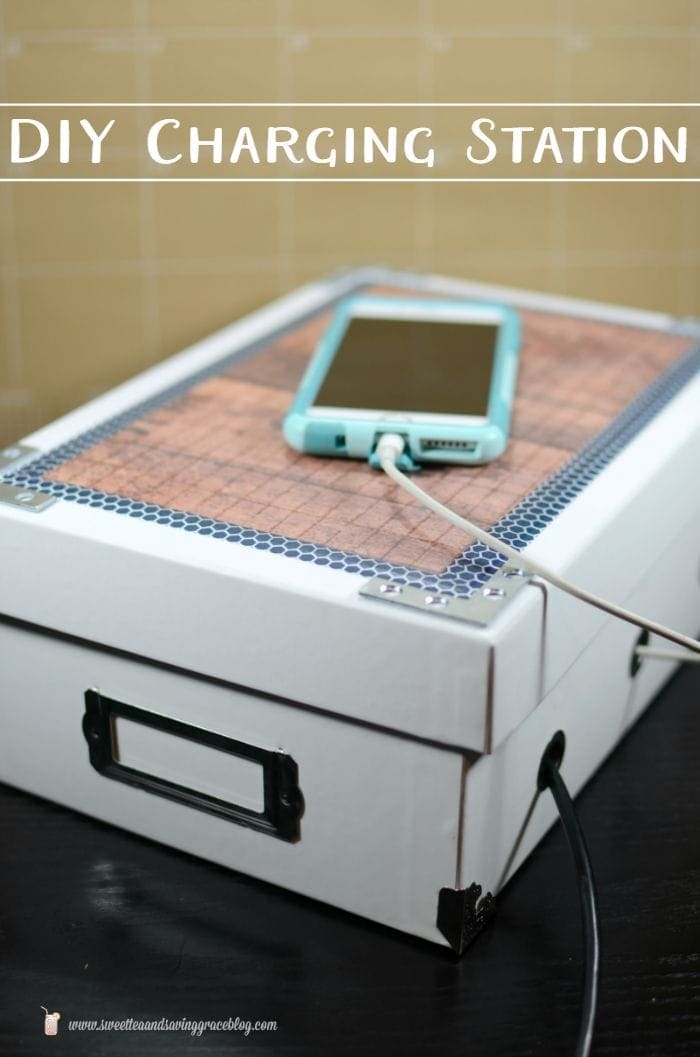 Technically, I have two office spaces in my home. I have a craft room dedicated to making messes, and that's where I house all of my supplies. But when I actually sit down to write, or check emails, I don't like to stay closed off from the family, so I've set up a small home office space right by the kitchen & living room.
I love the location, but I have to take extra steps to keep it looking neat & orderly since it's in the most highly trafficked area of our home. Between my laptop, phone, and other chargers, my cords were getting out of control!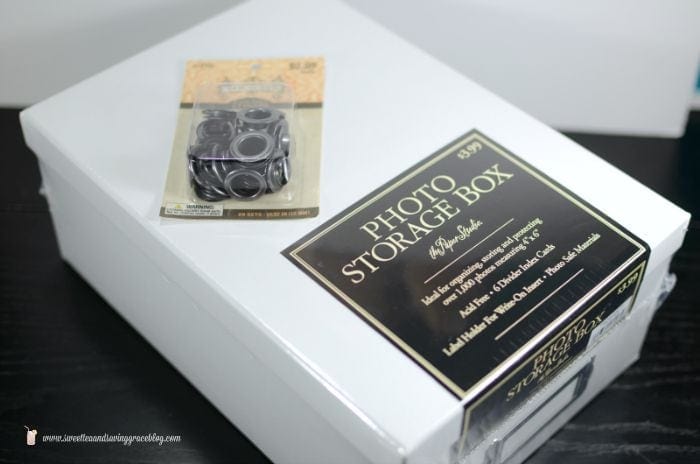 I picked up a photo storage box from Hobby Lobby (and later found them on sale at Michael's for only $2!), and some grommets like you would use for sewing projects.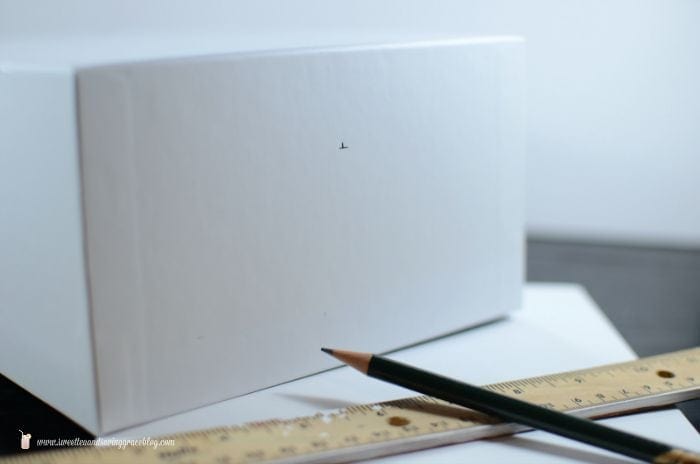 The first thing you have to do to make a charging station is remove the lid (just set it aside for now – you don't need it for a while), and mark the center of one of the short ends. It doesn't have to be super accurate, though, because you'll be making a big ugly hole here. This is where the cord for the surge protector will be coming out of the box, and nobody will see this end once you plug it in.
Just cut a rectangle hole in the center where you marked, and make sure it's large enough for the plug part of your surge protector.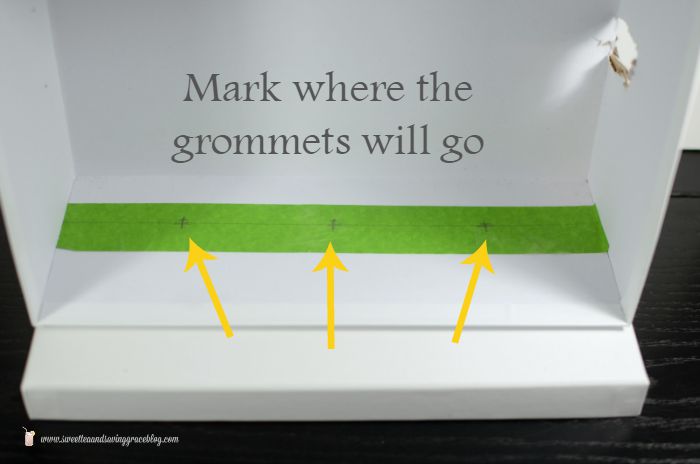 Next, you'll need to add the grommets. These are the holes where all of your cords will come through. I added a strip of Frog Tape to the inside of my box on one of the long sides and marked three evenly-spaced X's. I used a sharp knife to poke holes and make them large enough to fit the grommets.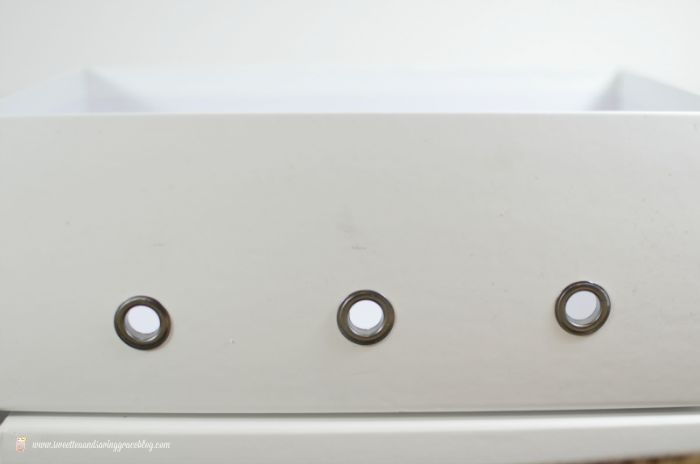 After your holes have been made, insert each grommet. There's a front & back piece to each one, kind of like a snap you see on clothing. I added a touch of glue to the inside part of the grommet just to make sure it stays in place.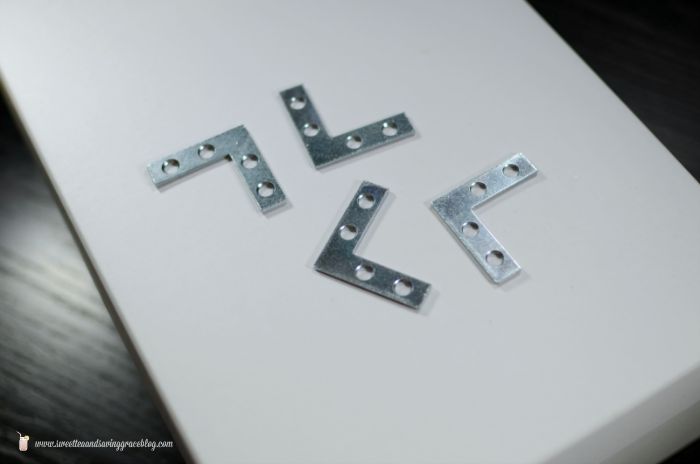 I love the rustic & industrial look and wanted this charging box to have that feel to it, especially since it will be in a visible spot and coordinates with my existing decor. I picked up a small pack of 4 L-brackets from Home Depot and glued them to the box top in each corner.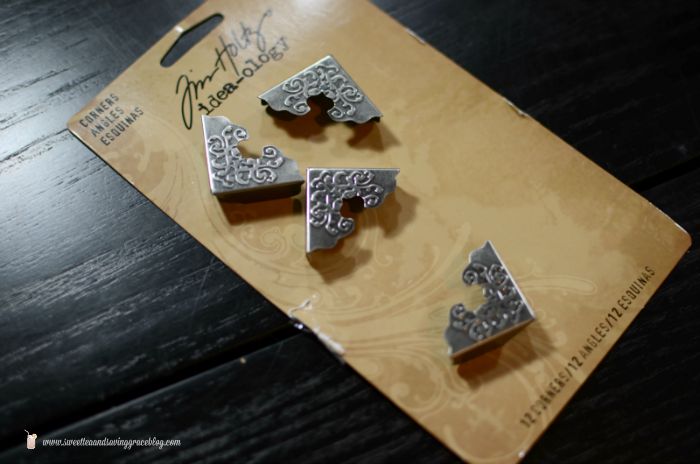 I also found these cute box corners made by Tim Holtz and thought they'd be a nice touch to the bottom corners of the box. Cute, right?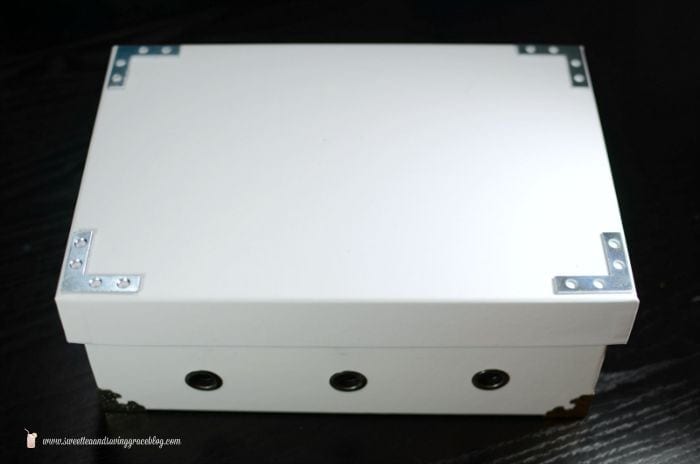 Looking good, if I do say so myself! I decided to add a piece of scrapbook paper with a wood design to the top as well. It serves as a little pad to hold my phone while it's charging. You'll see that in just a minute.
After the charging box is decorated and grommets have been added, you just pop in your surge protector and plug in your cords!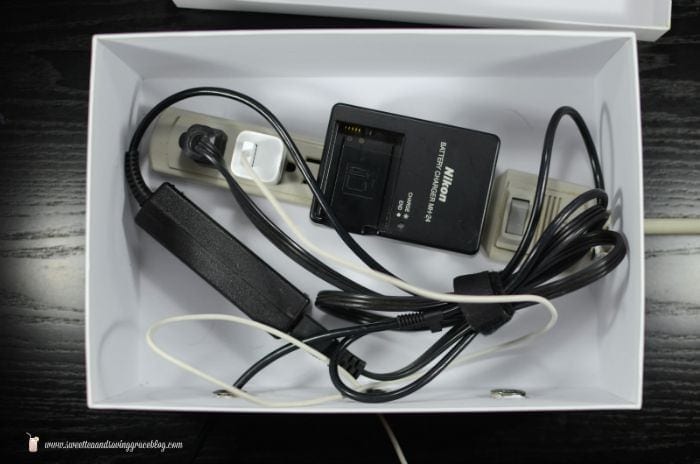 Look at that hot mess! Nobody needs to see that jumble of cords, right? They are now safely hidden inside of the charging station – my laptop, my iPhone, and my Nikon camera battery are all plugged in.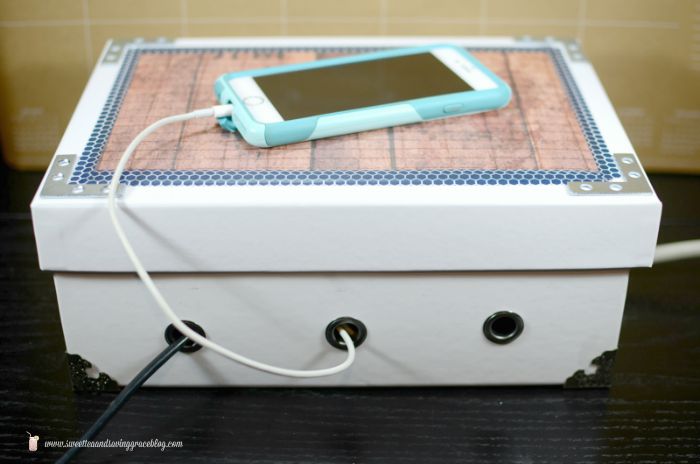 That's it! Now I can just plug in my phone and leave it laying right on top of the box – no more cords all over the place. I love it!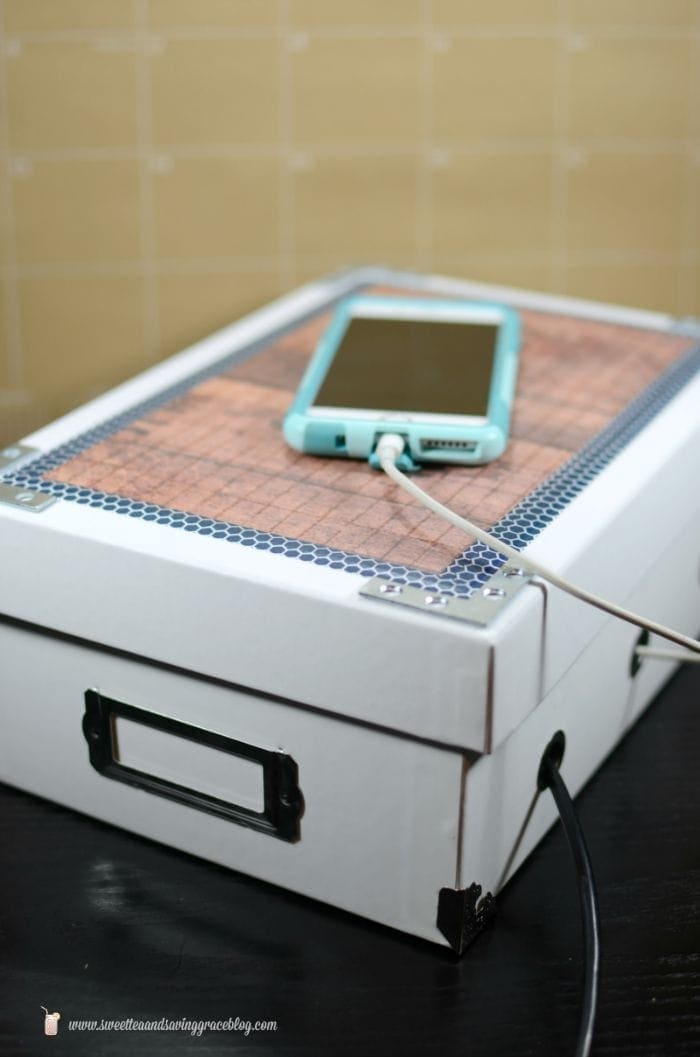 Do you need to quell the cord chaos?
For more home organization, you might also enjoy these past posts:
How to Stress Less & Set Up Systems That Work