Welcome to the Hello Holidays event at Yellow Bliss Road!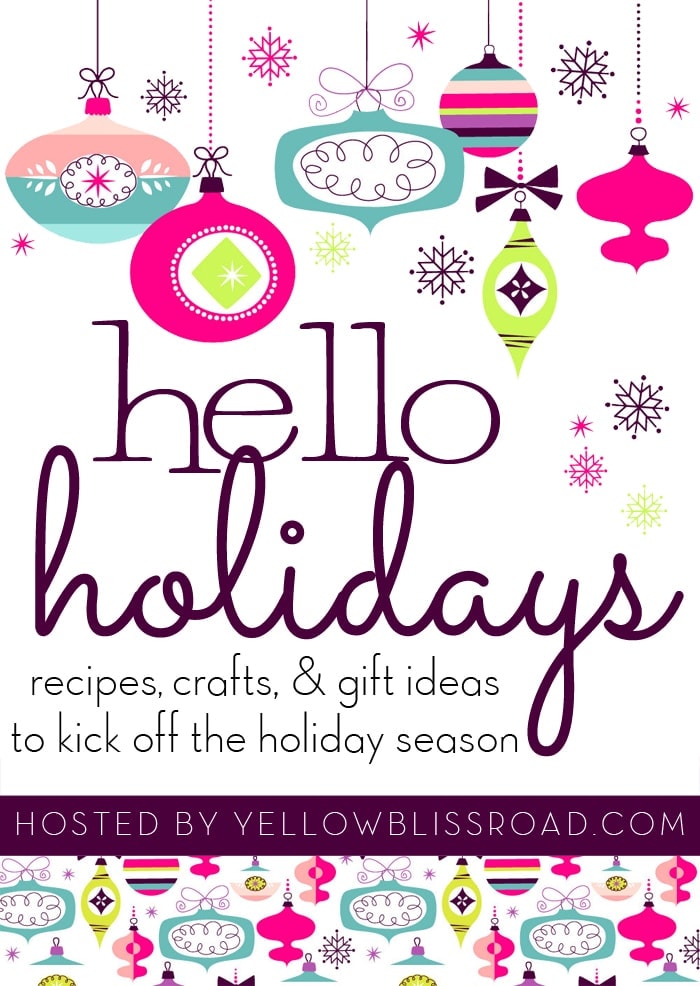 We are in major Christmas countdown mode here at the Road with tons of holiday inspiration for Christmas crafts, Christmas gift ideas, and Christmas recipes & treats. I've got lots of friends stopping by to share some of their favorite projects and I can't wait for you to see what they are sharing. Please give a big welcome to Laurie!
---
Hi, Yellow Bliss Road friends! I'm Laurie and I blog at Gallamore West, where I share cute crafts and sweet treats. I'm thrilled to be here today as part of Kristin's Hello Holidays series. I love everything about Christmas, so I'm happy to be sharing my JOY Evergreen Christmas Wreath with you today.
With a few easy supplies and a quick clip of a tree from outside, you can make your own festive JOY Evergreen Christmas Wreath too.
Here are the supplies:
– 1 wreath form (mine is straw and I re-use mine over and over. This was originally my St. Patrick's Day wreath!)
– Burlap, about 1/2 yard
– Fabric scraps, 2 pieces about 3 inches wide by 12 inches long (totally approximate, whatever you have will pretty much work here).
– Red burlap or other fabric to tie on a bow (about 3 inches wide by 24 inches long).
– 1 branch from a pretty evergreen tree outside – I clipped from my neighbor's huge pine tree. I figure since the needles pretty much all fall in my yard, it's only fair that I get to use the ocasional clipping, right?
– Small pennant banners (Mine are from Pick Your Plum, but you could also just use thick paper).
– Chalkboard markers, paint/paint brush, twine, straight pins
Wrap your wreath form in burlap and use straight pins to attach to the backside. Like I said, mine was used previously so my burlap was already on my wreath form. Then place the evergreen branch where you want it and secure it using twine. This part will be covered up, so just wrap it around as much as you need to in order to secure it.
Then use your fabric scraps to wrap over the ends of the evergreen branch. Use straight pins to secure on the backside.
Paint your small wooden pennant banners black using craft paint, or even chalkboard paint if you want to re-use the pennants and change out the letters.
Write on your letters. I use these American Craft Chalkboard Pens I found at Target. They are awesome pens and I love how my letters look when I use these pens.
String the pennant onto the wreath, then simply tie on the red burlap or ribbon to hang it and enjoy your new wreath! If you have an artificial Christmas tree like we do then you'll love the festive "Christmas tree" scent it will bring into your home.
  Thanks so much for having me here today, Kristin! I'm so excited to see all of the fabulous posts here in Yellow Bliss Road's Hello Holidays Series. xoxo
---
 Thanks you so much for sharing today Laurie! It was great to have you visit. If you'd like to see more from the Hello Holidays event, click HERE.
And be sure to enter our current giveaways! (Click on the images to go to the post).