Hello Yellow Bliss Road readers! This is Alice W. again from Thoughts from Alice. I am happy to be here with you today to share an easy DIY project to glam up your holiday table with some festive napkin rings. I love anything that is quick and easy and looks like it cost a lot without costing me a thing. I recently shared my holiday home tour, and included these napkin rings in my "boho glam" table setting. You can see more of that on my own blog, but in the meantime, I am going to show you how I made them and give you a couple of quick and cute napkin folding ideas.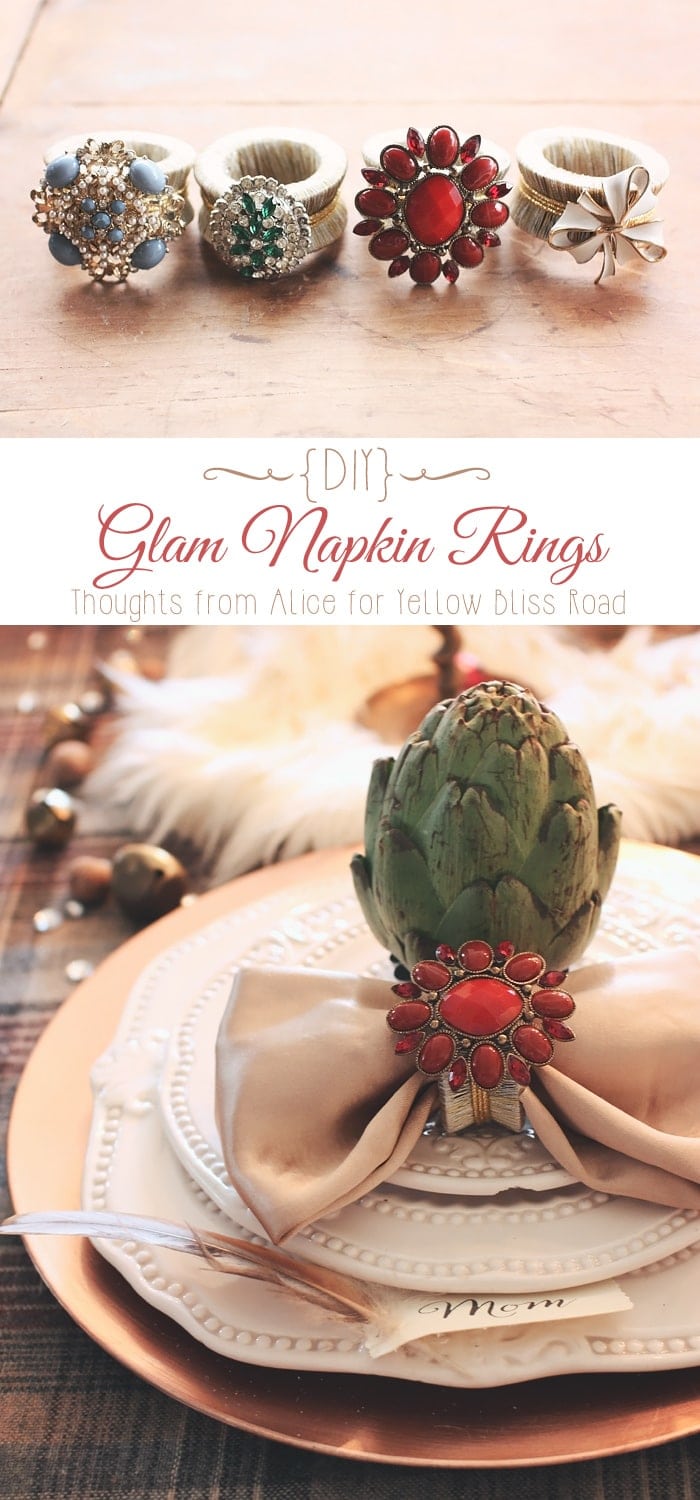 This post is bittersweet for me, because it is my last guest post as part of the Yellow Bliss Road Creative Team. With a two and three year old, life is often hectic and unpredictable, so it is time for me to step back on some blogging commitments in the new year. I hope you will still come over my way to pay me a visit and see what I am up to. And I know that Kristin will have an awesome team this coming year to inspire you!
The idea for these napkin rings came when I found some basic ones that my mom had but no longer wanted. I honestly wasn't that interested in them, but then I started looking through some of the salvage and costume jewelry pieces that I have, when the idea struck to put them together for an eclectic, glamorous mix on my holiday table. I also knew that my table setting would include plaid of some kind and feathers. I love mixing styles especially rustic, eclectic and bohemian.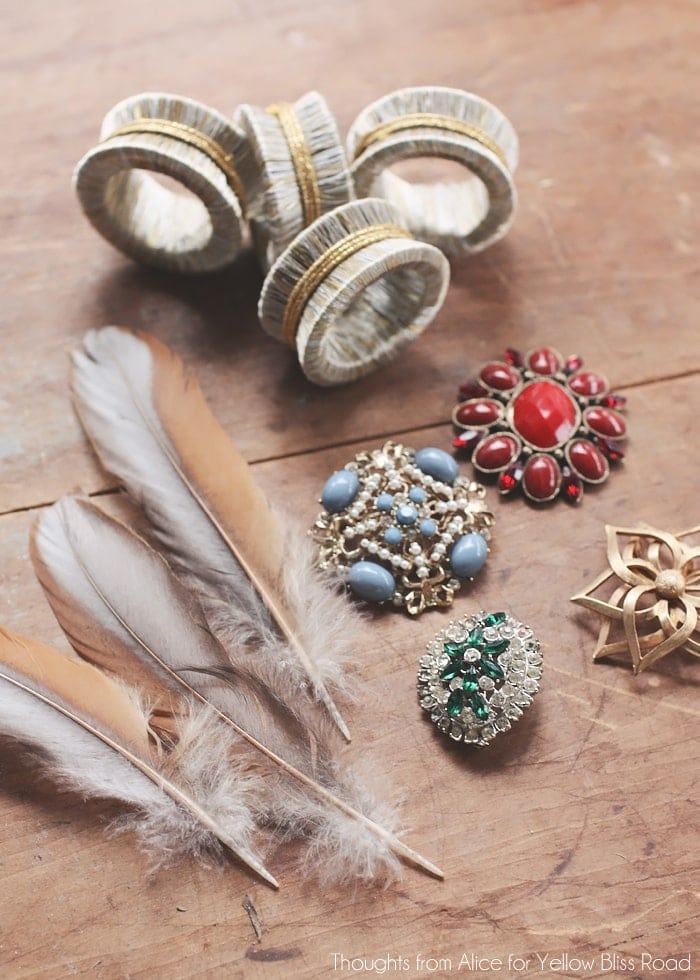 You can likely find similar, inexpensive napkin rings at department stores or thrift shops. The jewelry pieces that I used were brooches that had either already been broken, had some jewels missing or were ones I didn't plan on wearing. I removed the backing from any that still had them attached with some jewelry pliers. Similar jewelry pieces and brooches can also be found at thrift stores, antique shops, or online sites like Etsy or eBay. Just do a search for salvage or costume jewelry lots (or if you are like me…find some in a hoarded stash you have!).
Once the backings had all been removed, I simply used a glue gun to attach them to the napkin rings. I was pressed for time when I made these and the hot glue worked fine, but given more time, I likely would have used an epoxy glue like E6000 to make sure they adhered very securely.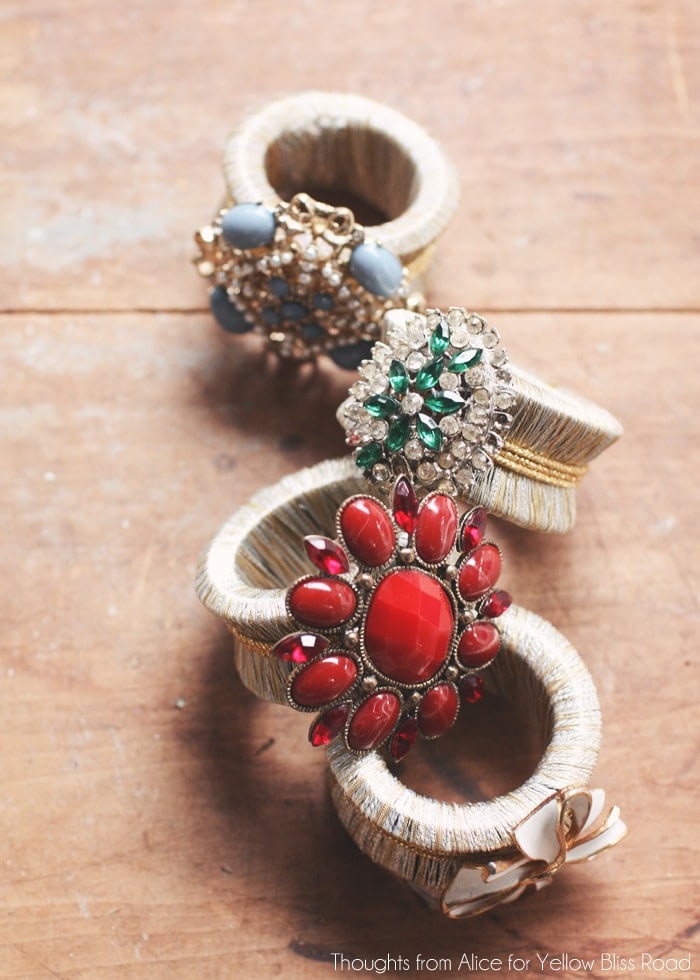 I really love the mix I ended up with, and even though they are all quite different, they worked perfectly for the style that I had in mind.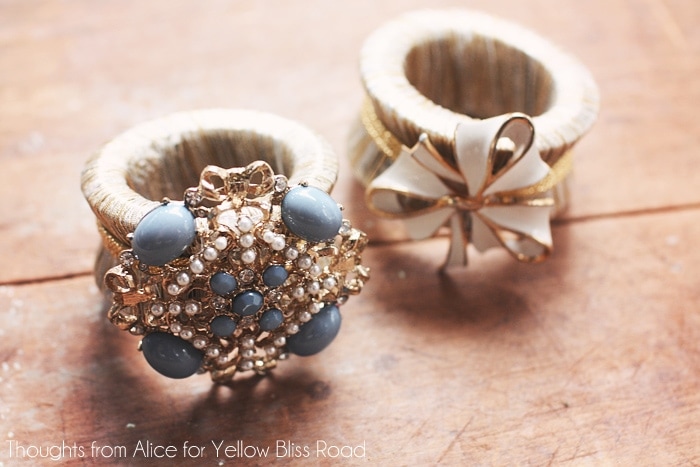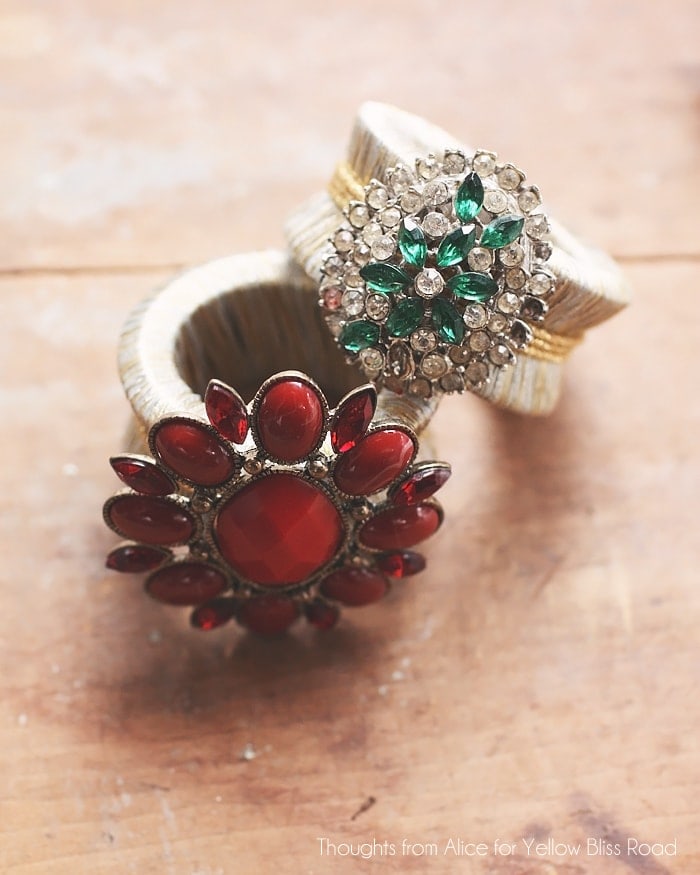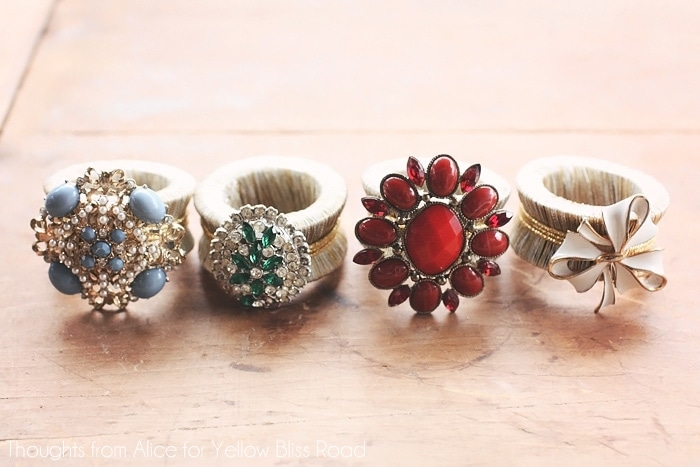 They took all of about ten minutes to whip together and then it was time to decide on napkins for my festive table. At first, I thought I would go with plaid napkins, so I cut four squares from a fabric I had on hand. I left the edges unhemmed just to keep things easy. My little family of four were the only ones who were going to be using them, and I don't mind a little bit of a tattered, rustic look.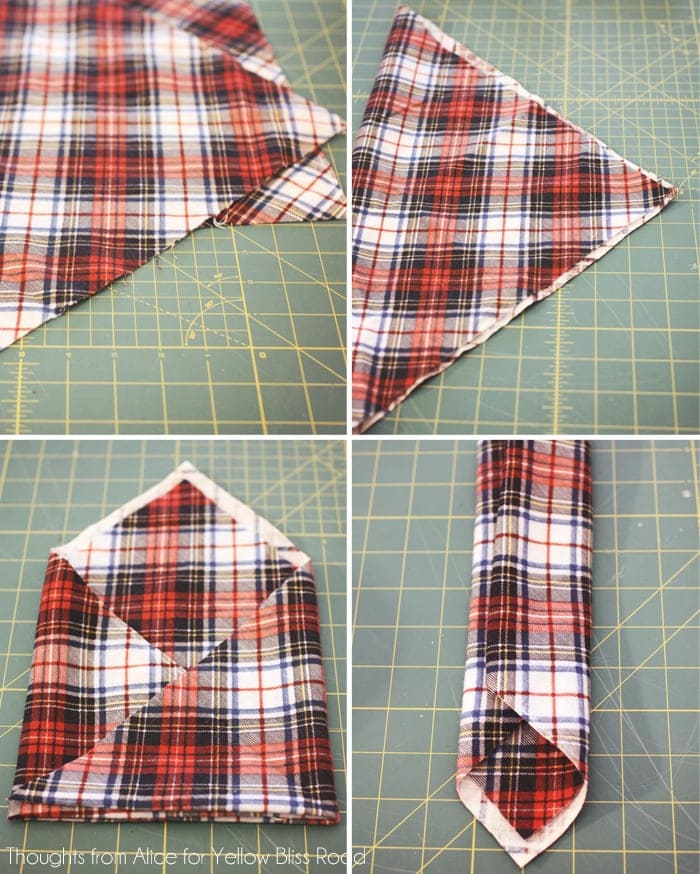 Once the squares were cut, I folded them over into a large triangle, and then folded the left and right sides inward overlapping, and then folded them inward again. When I slipped them through the napkin rings, they had a subtle look of a necktie. I added some feathers for a bohemian touch.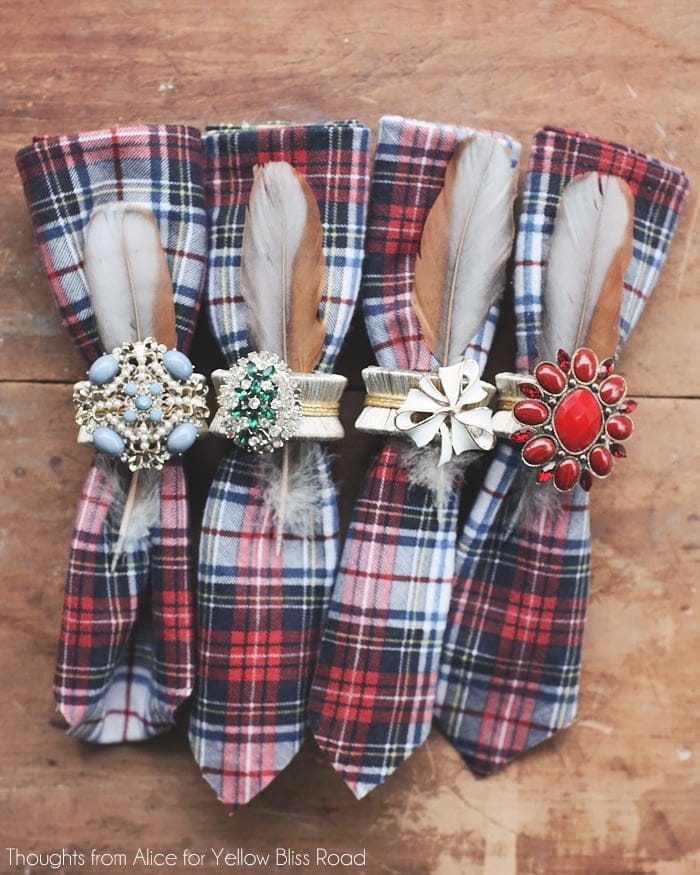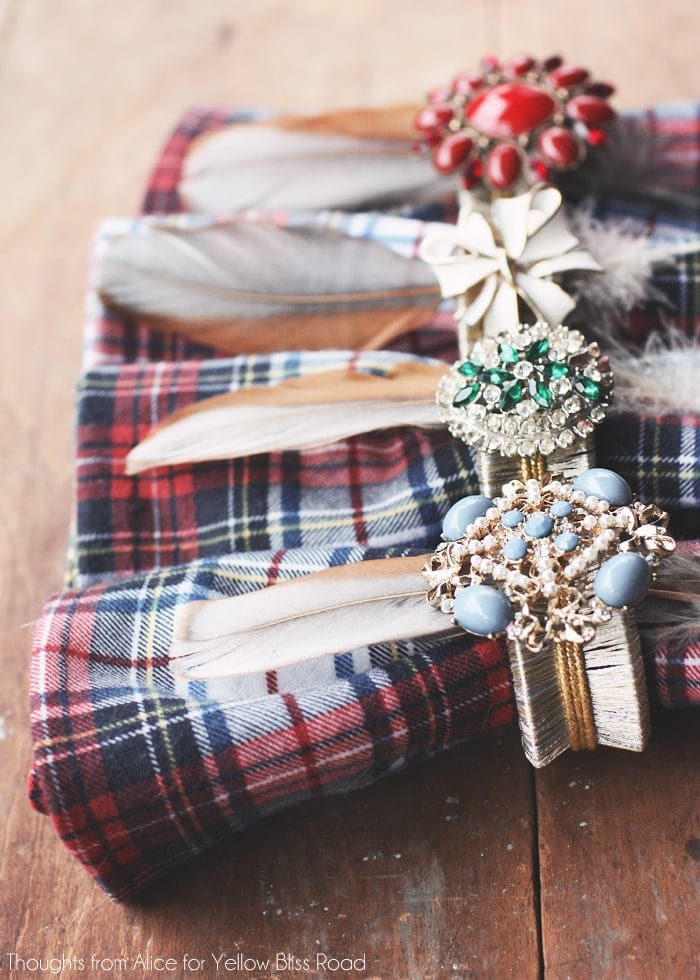 Had I kept the table simple and rustic these would have worked well. But I ended up covering the table with another wool plaid that I had and added a faux fur table runner. The plaid on plaid ended up being too busy, so I went in another direction for our holiday table. And instead of neckties, went with bow ties!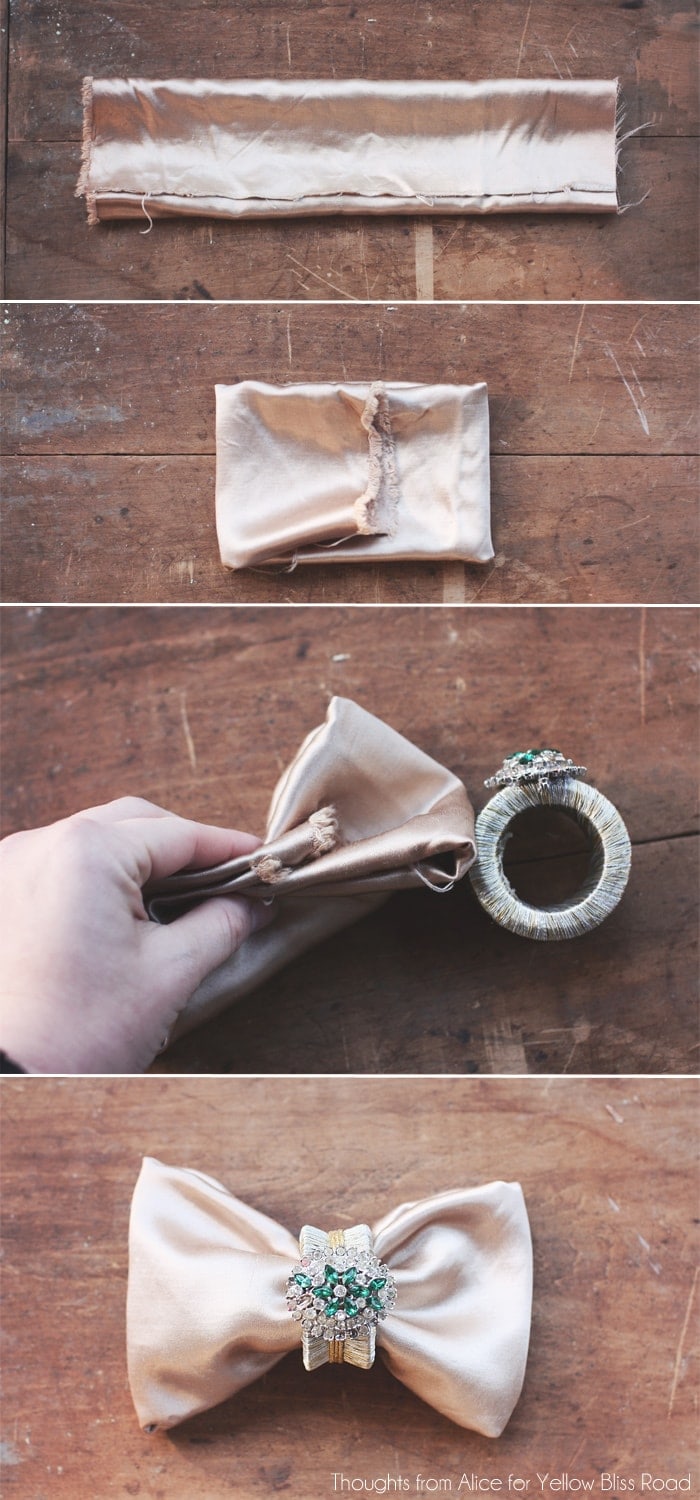 For these I simply folded the fabric over towards the center from the top and bottom (to make a rectangular shape), and then folded the left and right sides inward with one slightly overlapping the other. Slipped them through the napkin rings and straightened out the bow tie. They were the perfect addition to the table!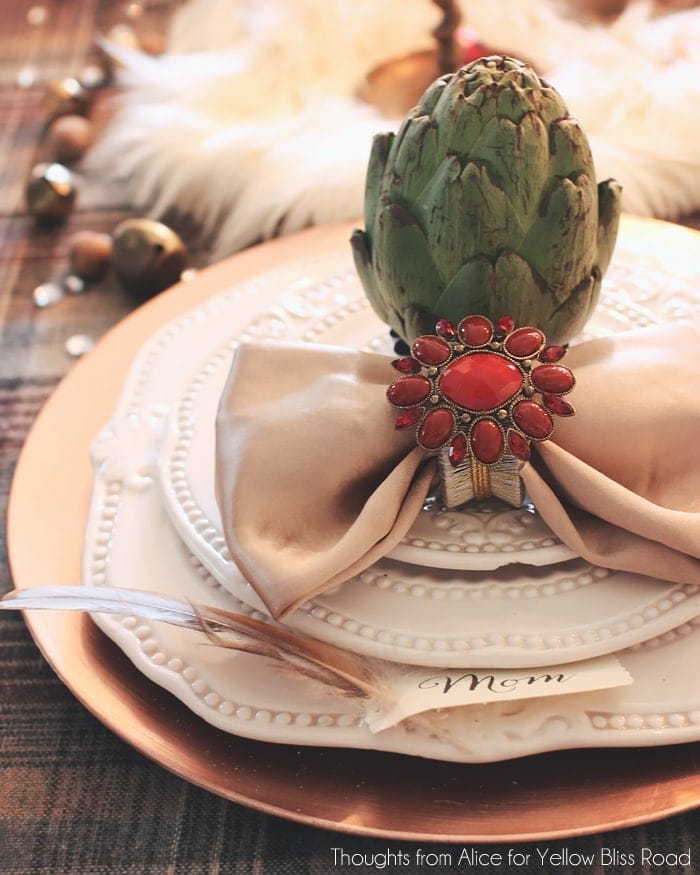 I hope you enjoyed this last post from me as part of Kristin's creative team! I have been so blessed to share my posts over here with all of you for the last several months. Please come and visit me on my own blog and follow along on Pinterest, Facebook or Instagram!
I wish you all a very Merry Christmas and Happy New Year!
~Alice W.
Here are some other posts of mine that you might enjoy:
I invite you take my full Holiday Home Tour for 2014!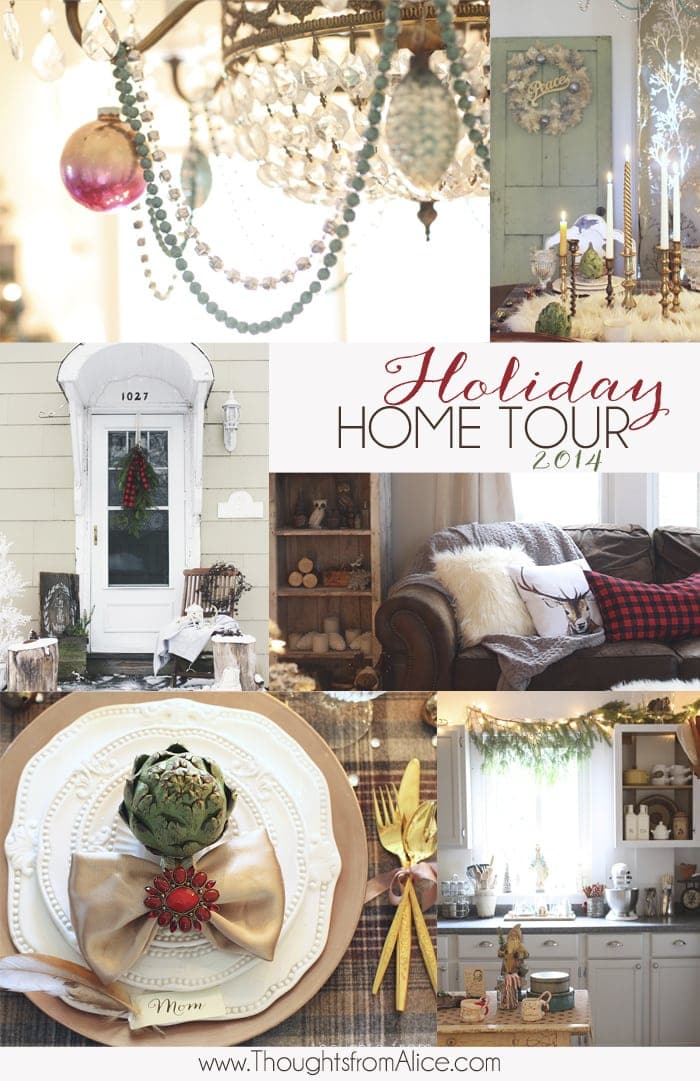 And check out my Free Printable DIY Christmas Village!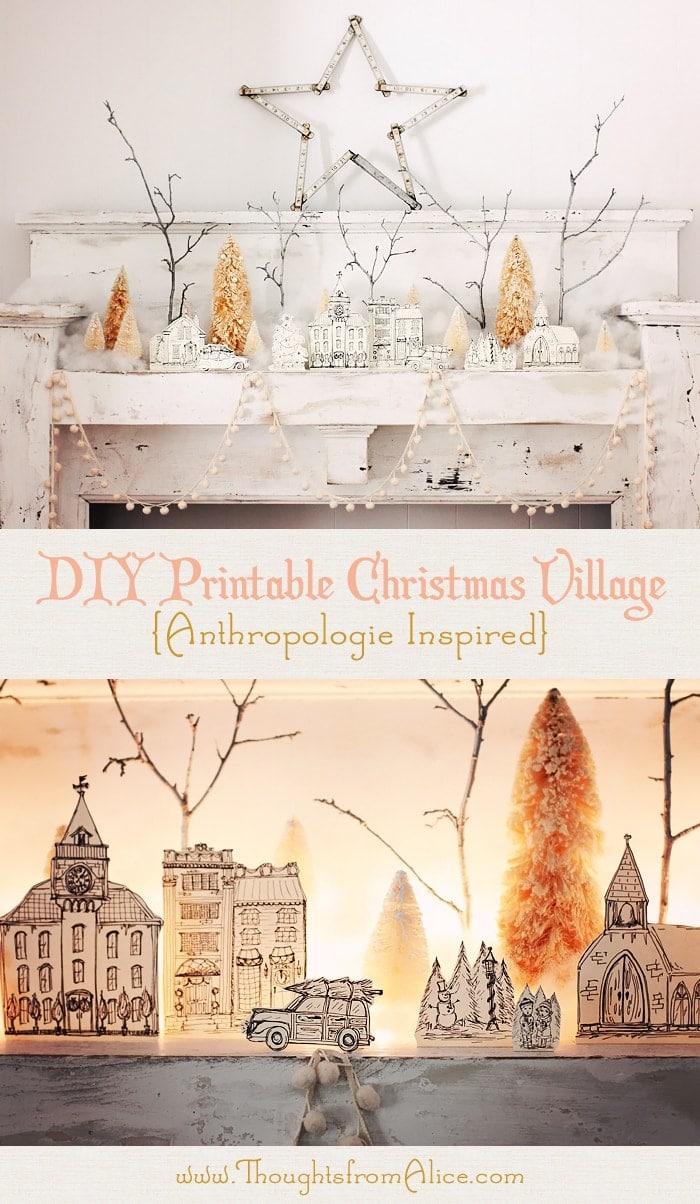 For all things Christmas, go HERE.