DIY Hanging Deck Flower Pots
These sweet galvanized hanging flower pots are a super easy DIY project to help ready your yard for spring – and it would work pretty much anywhere!
Happy Spring friends! I am thrilled that the weather has warmed up and I'm able to plant flowers and enjoy the outdoors on my deck again! Last summer, my husband completed his labor of love, our huge backyard deck, and I've been coming up with ways to add pops of color to it ever since. Flowers are a great way to do just that, so today I want to show you how to make your own DIY Hanging Deck Flower Pots.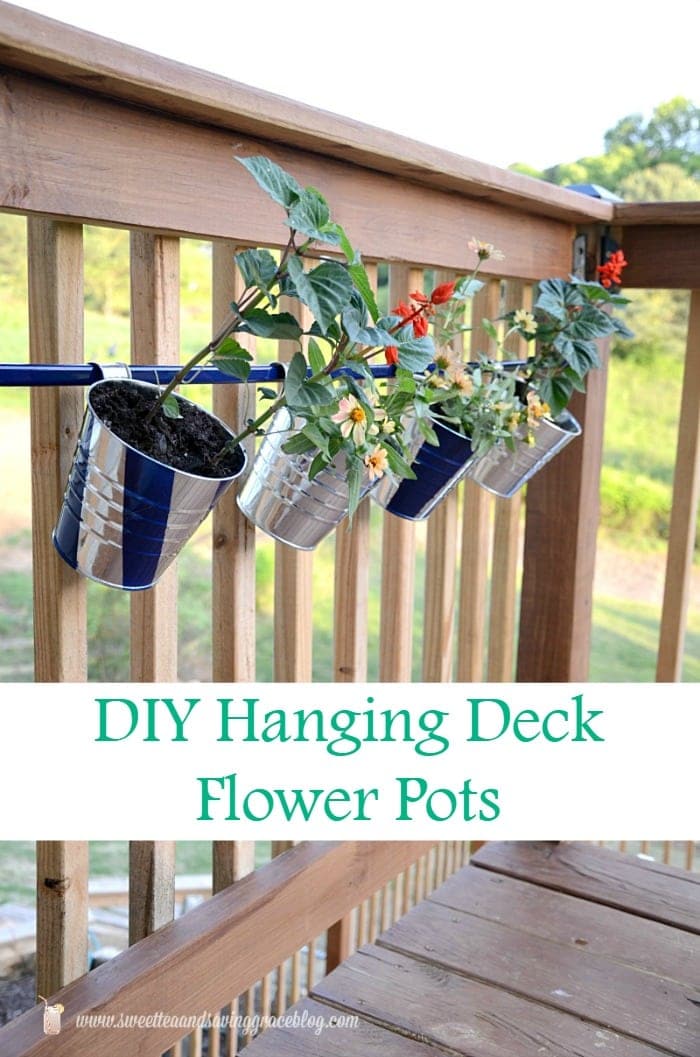 Now, I'll be the first to admit that I don't have a very green thumb. My mom and my daughter do, so I'm hoping between the two of them, they'll help a girl out!
My daughter wanted to buy some flowers to do her own planting, so while we were picking up a few flowers, I found a few to add to the deck. I wanted a clever way to display them, so as I let my mind wander, we stopped in Target and the dollar bin section had my answer!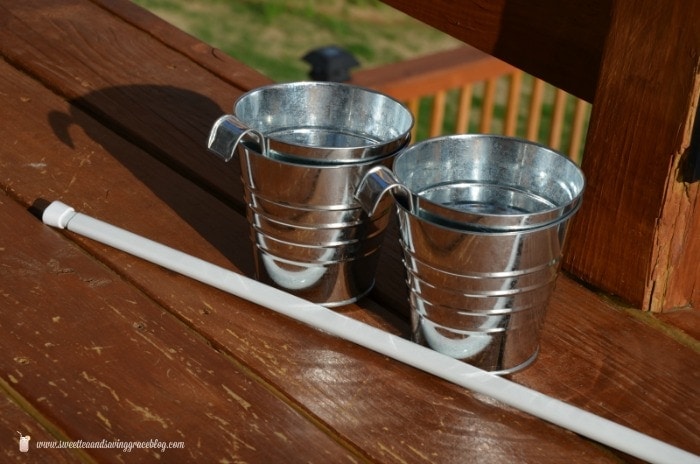 Can you believe it?! I found these cute galvanized buckets in the Target dollar bin, and they already have a hook on them – score! I picked up four of them, and a tension curtain rod, too.
I grabbed my navy blue spray paint and gave the tension rod and two of the buckets a good covering, then set them aside to dry while I worked on the other two buckets and my flowers.
Before adding my flowers to the buckets, I prepped them so the soil would have room to breathe. I used my drill to pop a few small holes in the bottom of each bucket.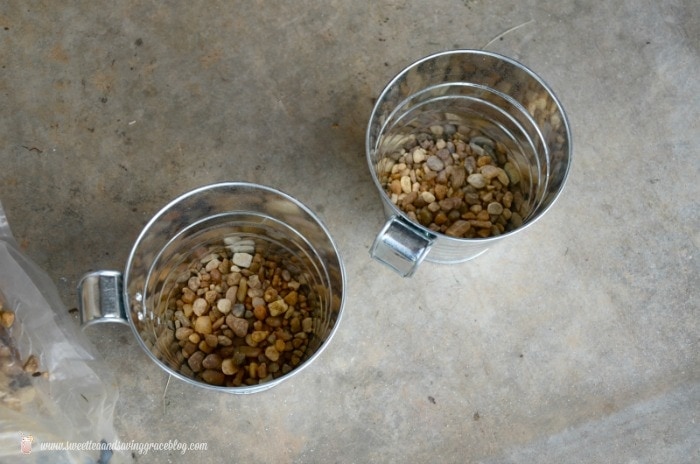 I then added a small layer of pebbles to the base of my buckets before topping with soil and adding my flowers.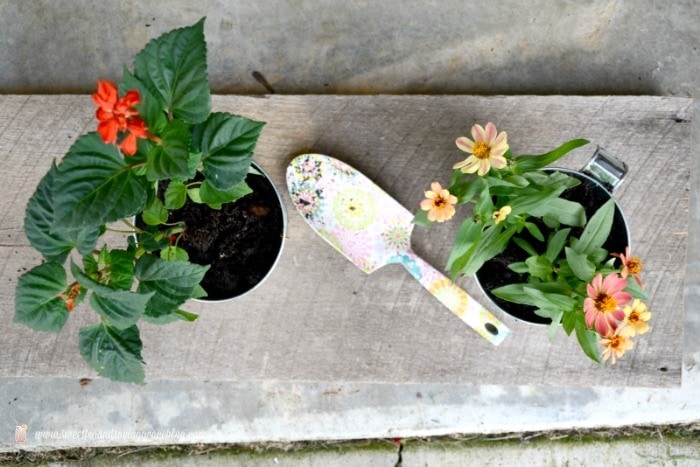 Looking good so far! Now that the paint was dry, I could do the same thing for the other two buckets.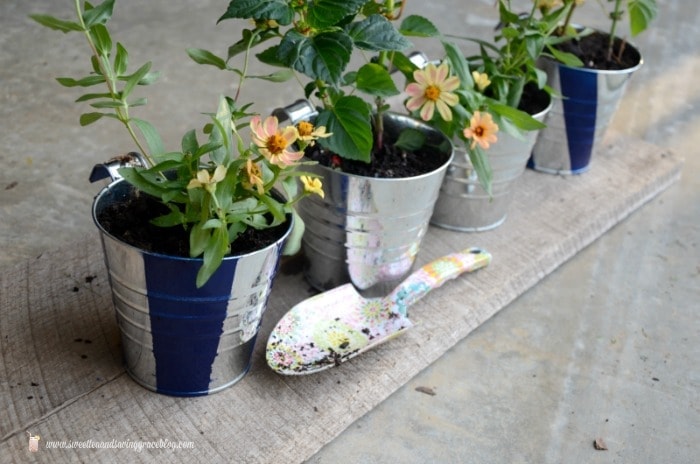 All of my flowers were potted and ready to hang!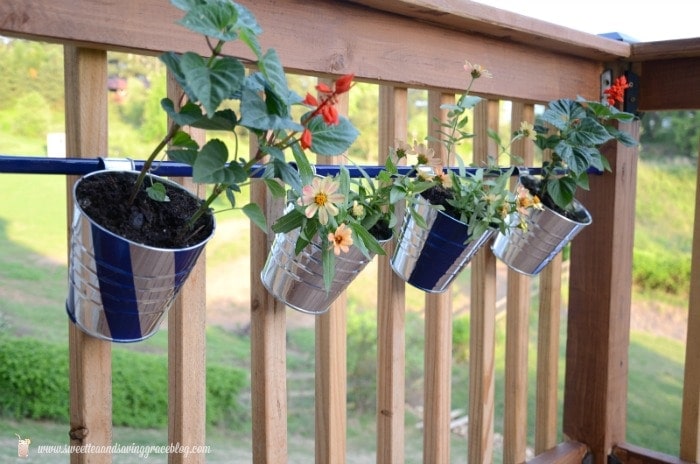 I set up my tension rod between two railings on our deck and made sure it was good and tight, then added my hanging flower buckets. I love them! And when the flowers start to outgrow the buckets, I can replant them in the yard and start more flowers on my banister!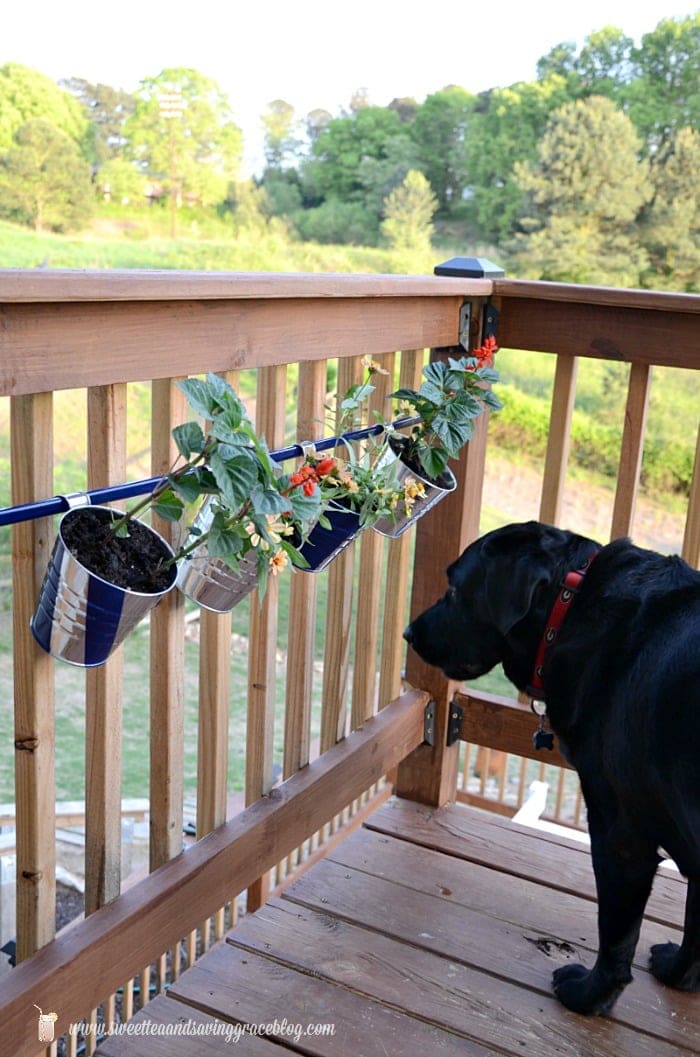 Savannah seemed to like the flowers, too! I love having them on the deck railing because it's pretty, but it also keeps the bunnies from eating my flowers! Those crazy bunnies are all over our yard right now. (My dogs are too lazy to chase them, so they're safe.)
So what are you planting this spring?
To see more of our deck, visit me at Sweet Tea & Saving Grace!
For more DIY projects to add to your to-do list, be sure to check these out: