Easy Patriotic Burlap Wreath
Hey there, I'm Kristen from Down Home Inspiration and I am overjoyed to be here as part of Kristin's Yellow Bliss Road Creative Team! Let's be BFFs and do some awesome crafts together while I post here each month, sound good? Yay, then let's get started…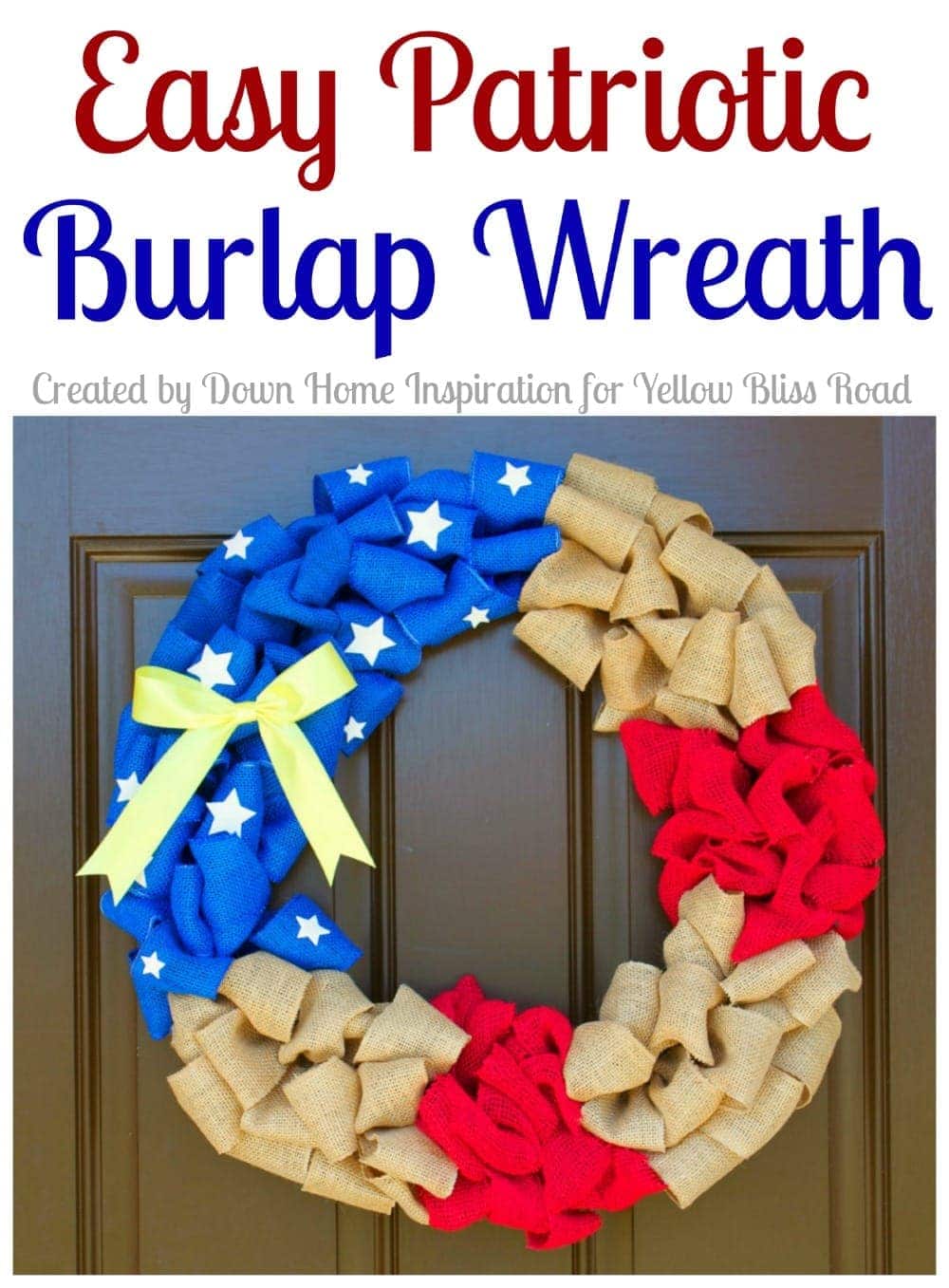 Being a military wife, we are an incredibly patriotic family. We may have an overabundance of the good ole' red, white and blue in my home, but this is the time of year that most people start looking to add a bit to theirs. And since I have more than enough to share, I'd love to show you how I created this easy Patriotic Burlap Wreath. To tell you the truth, I had always been a bit intimidated by burlap wreaths. Trying to hold onto yards and yards of ribbon while fancifully shoving it through the wreath seemed like an extra three glasses of wine night for me. But I just love the look of the burlap and knew that it was time to conquer my fear. Breaking the wreath into sections, I found a much easier, hassle free way to construct my burlap wreath.
Supplies Needed:
18 inch floral wreath
floral wire or pipe cleaners
wire edged burlap ribbon (I used 72 feet in total)
white stars and yellow ribbon (optional)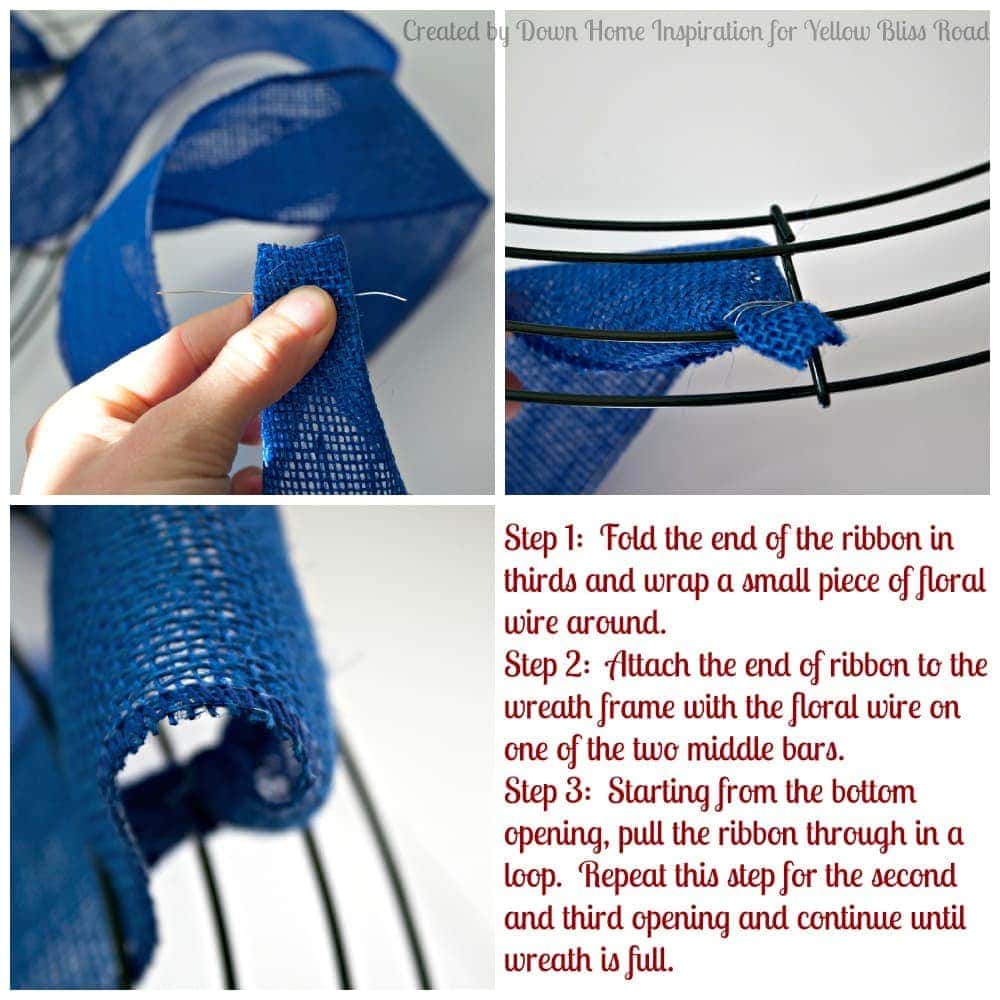 Looking at the wreath you can see nine distinct sections that are separated by crossbars. Please note that there are three openings per section, being bottom, middle and top.
To make the assembly easier, I chose to work in one of the nine sections at a time. I used eight feet of ribbon per section, so I was able to cut only that eight feet at a time instead of trying to work with the entire 72 feet. After cutting the eight foot piece of ribbon, fold each end in thirds and secure with floral wire or pipe cleaner.
Attach one end of the ribbon to one of the two middle bars in the section that you are working on. From there, make a loop from the back of the wreath and pull it up through the bottom opening. Now repeat, by making a loop and pulling through the middle opening, then the top.
At the back of the top section, simply twist the ribbon once over and move once again to the bottom opening next to your previous loops. Continue on until you have reached the end of your ribbon which you will attach with floral wire. Be sure to push the loops to the side so that you can add more. The more loops you have the fuller the wreath will look. Don't worry too much about fluffing the loops until the wreath is complete. To do this, just use your fingers to create the shape of loop and placement that you prefer.
Since this is rather hard to explain, I made a quick video showing the process. Please ignore my husband's finger, which he seems to have no notice of. Haha!
I found foam stars at my local craft store that I attached to my wreath with hot glue. I also tied a yellow ribbon on mine, but any color ribbon, an initial or even a 3-D star would look great!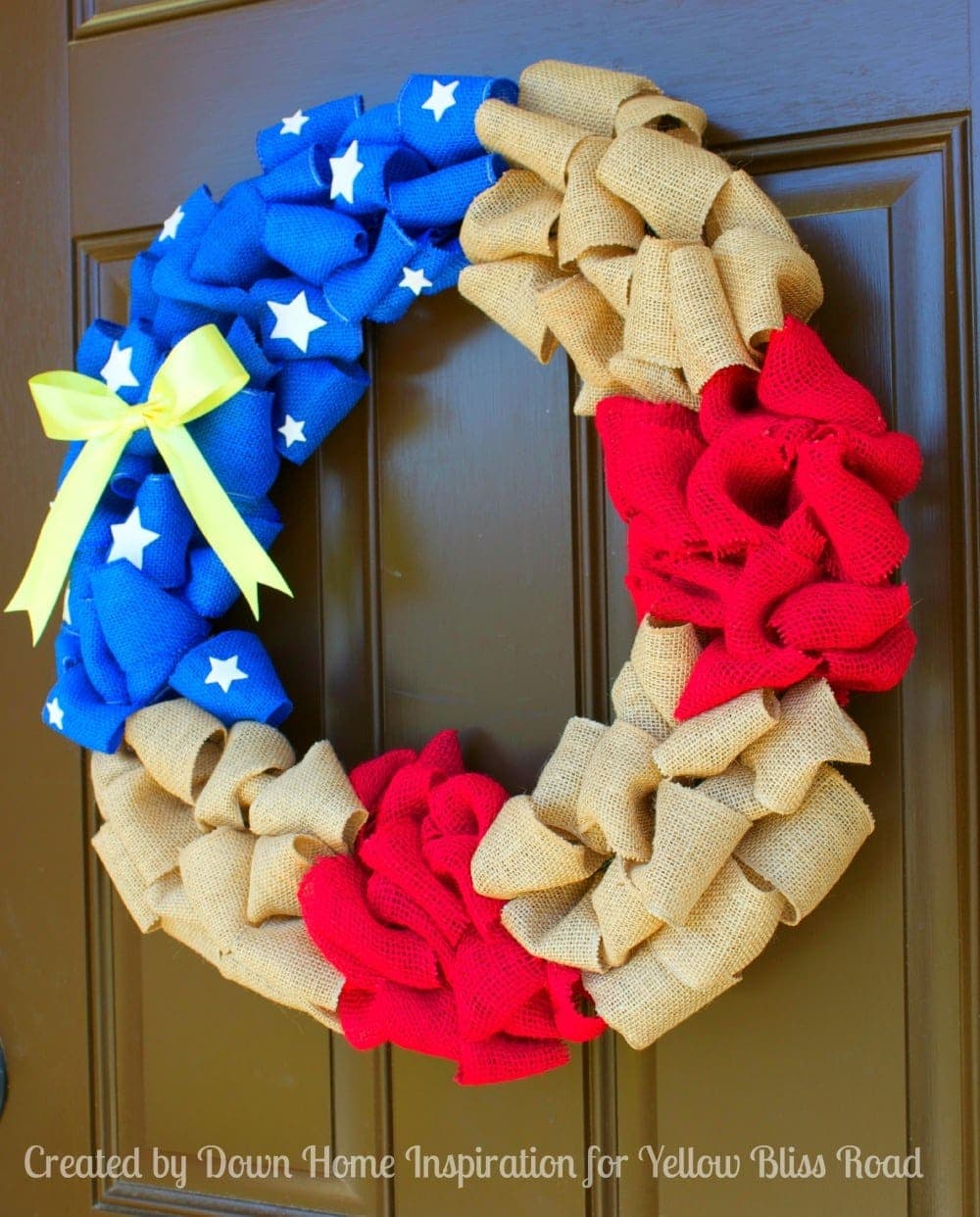 I have to admit that I am very excited to display this wreath for upcoming Memorial Day as well as through the summer. And even more excited for the possibilities opened up to me now that I am no longer afraid to create a burlap wreath.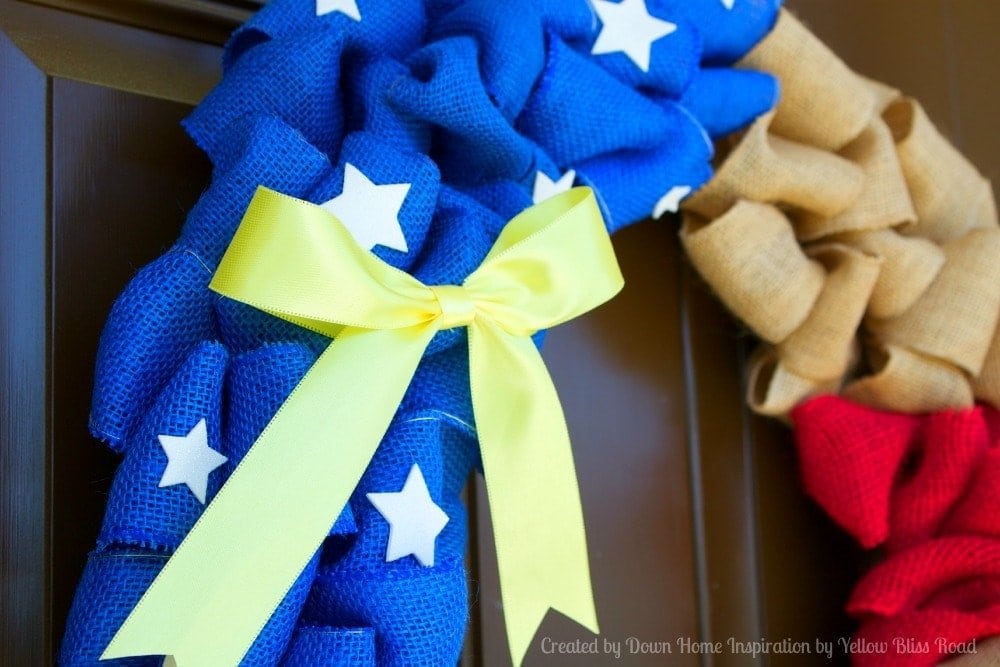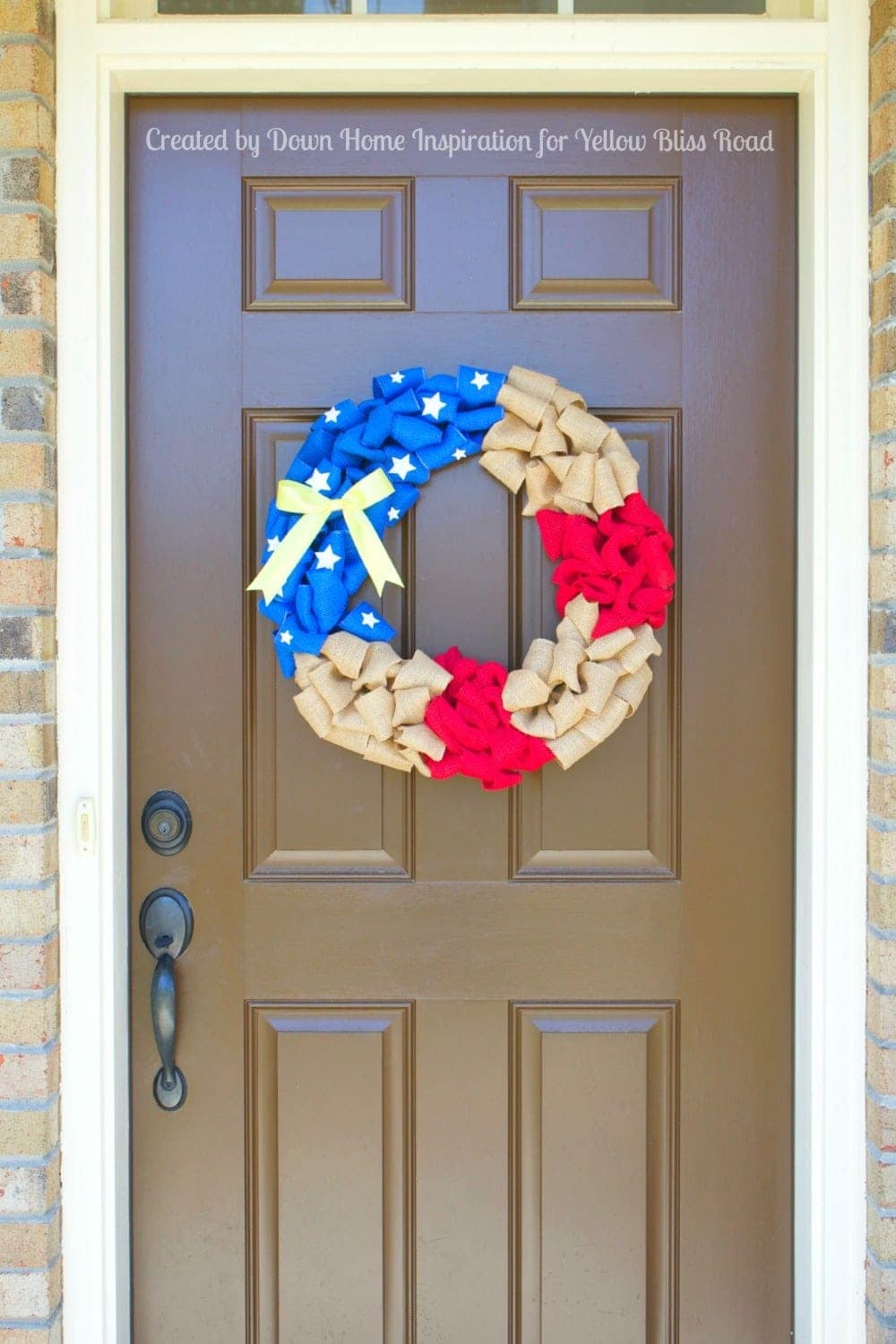 I hope that you enjoyed this patriotic burlap wreath tutorial, and I can't wait to bring some more fun projects next month. See you then!
____________________
Kristen, I love this wreath!! Thank you so much for sharing this fabulous tutorial!!
For more Patriotic ideas, check these out:

For all holiday and seasonal inspiration, go here.
For all crafts and diy projects on the site, go here.