Etched Glass Summer Glassware Set
Hey y'all! Summer is in full swing here in Georgia and it is H-O-T!! We've already had multiple days that have topped 100°, and that doesn't usually happen until mid-late July! Ugh. I have been drinking sweet tea like it's going out of style to keep myself cool. What better way to drink that sweet tea than in some super cute Etched Glass Summer Glassware, am I right?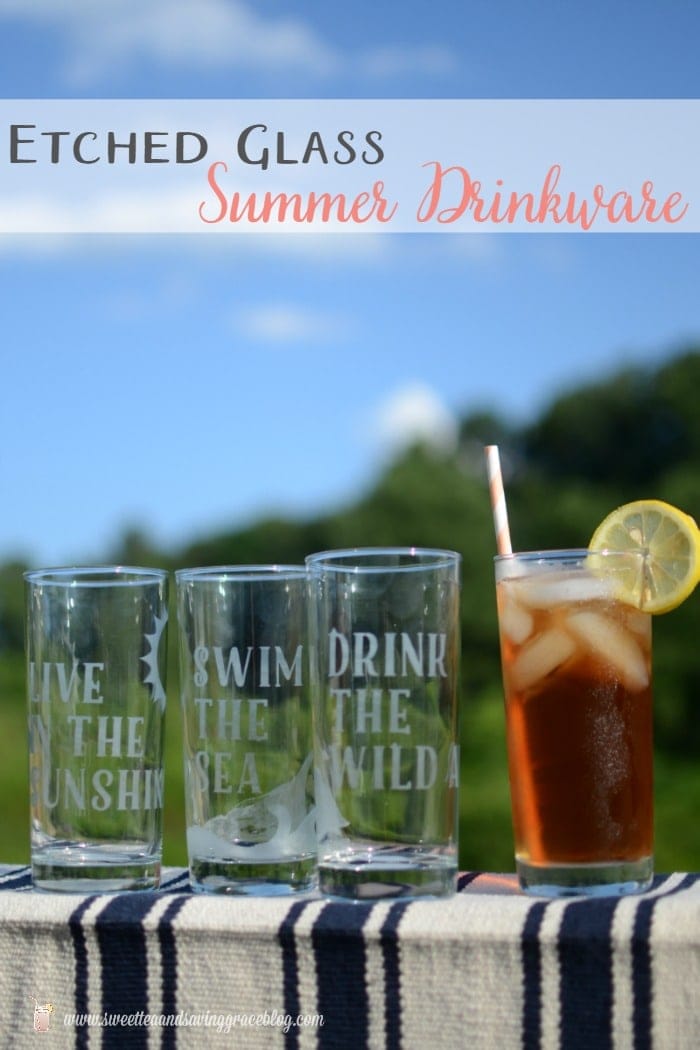 Glass etching is kind of my new favorite thing. I made some cute etched glass bowls for my friend who loves to bake – they said things like "Mix," "Stir," "Pinch" and "Dash." It's just a fun and super easy way to add character to plain glass.
Now, I normally drink my sweet tea out of a mason jar (for real y'all), but I wanted to make these cute glasses for our summer get-togethers on the deck with friends.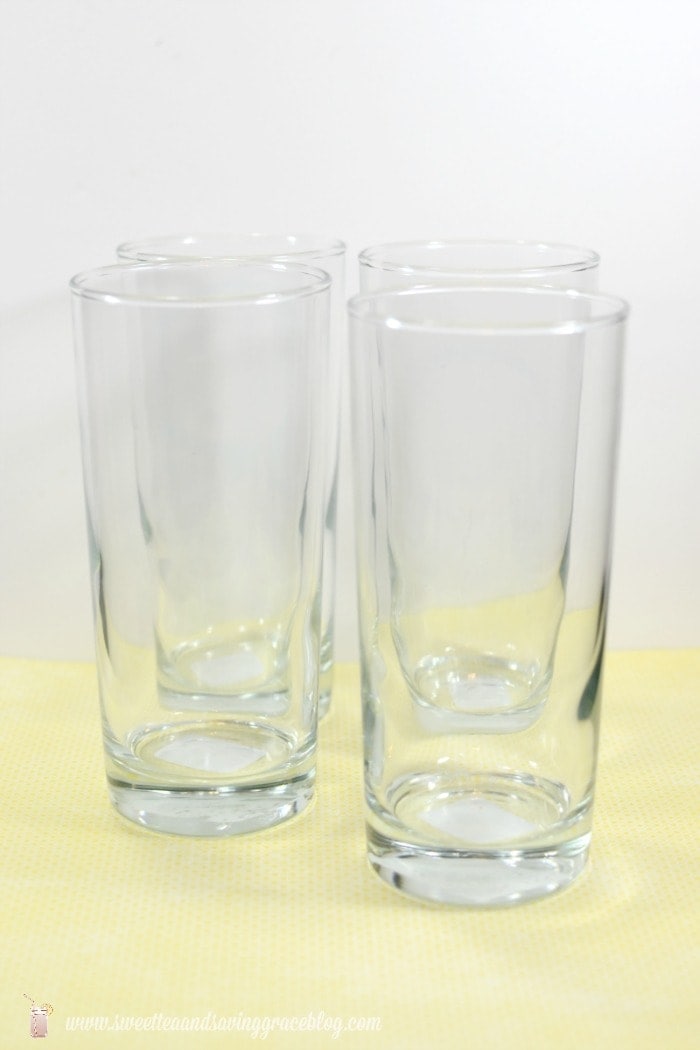 I started with a set of glasses I picked up at Target. These had a nice shape to them and I knew they'd be easy to etch since they don't have any curves.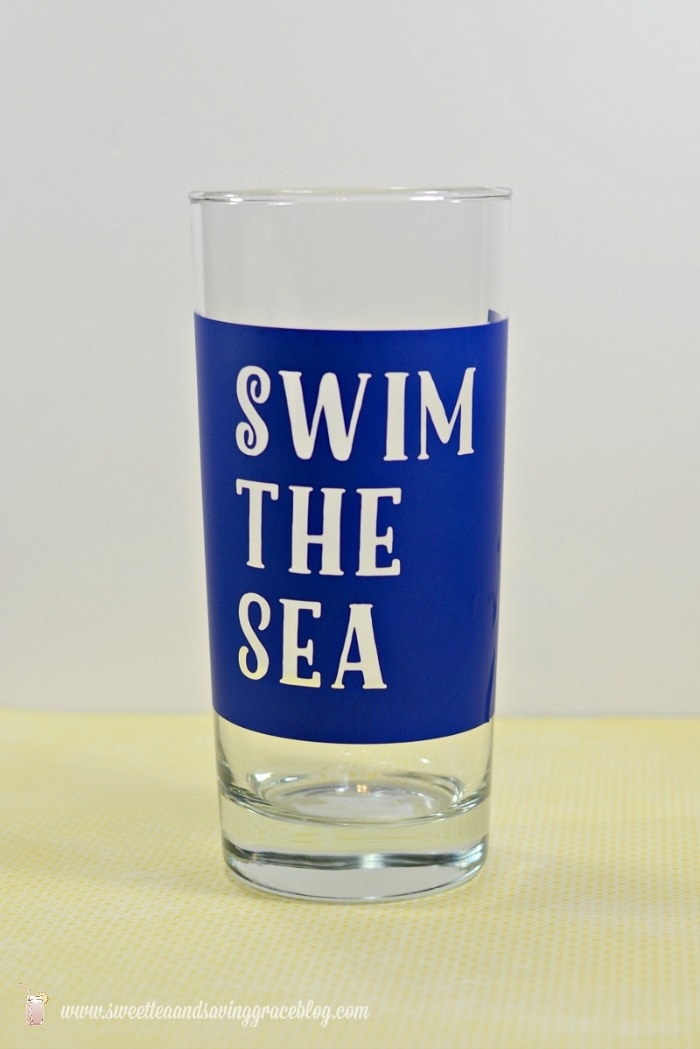 I created stencils in vinyl using my Silhouette machine. After removing the lettering from the vinyl, I placed the vinyl onto the glass and smoothed out any air bubbles.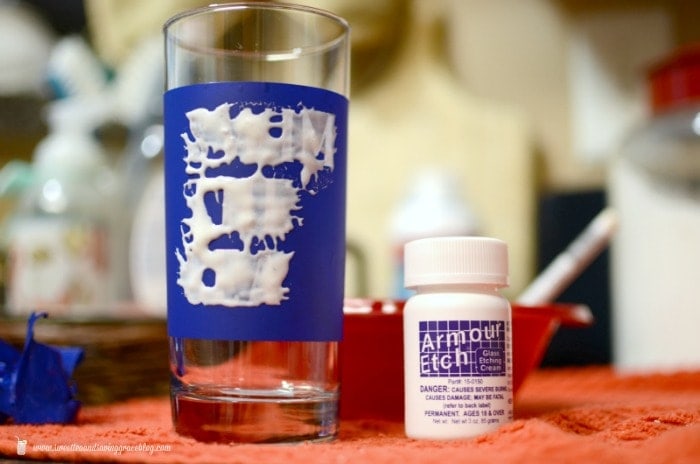 I always do the next step in the kitchen next to the sink. To etch the glass, you simply dab some Armour Etch cream onto the glass using a foam brush. Make sure to cover the lettered area completely, then let it sit for 5 minutes before rinsing well with water. It's seriously that easy!
*TIP:  Be careful not to let it drip on any part of the glass you don't want etched. This stuff works fast and can mess up your design if you aren't super careful.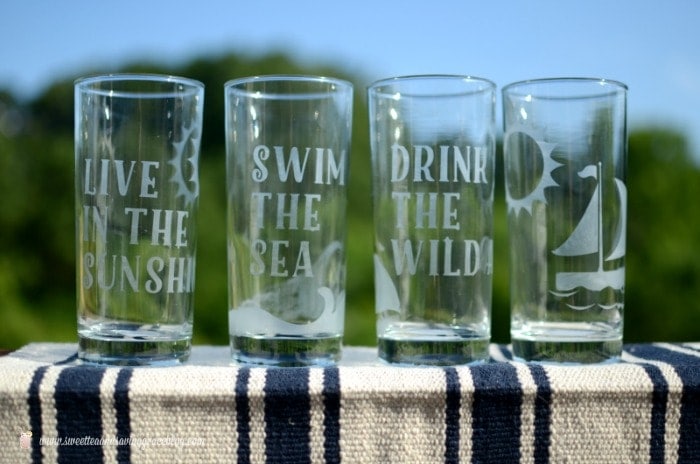 I used a quote from Ralph Waldo Emerson as my inspiration for this set:  "Live in the Sunshine, Swim in the Sea, Drink the Wild Air"
Each glass has part of the quote on it, as well as a little something extra, like a sunshine, a wave, and a sailboat. For the fourth glass, I added a sailboat and sunshine scene. I seriously love how tis turned out!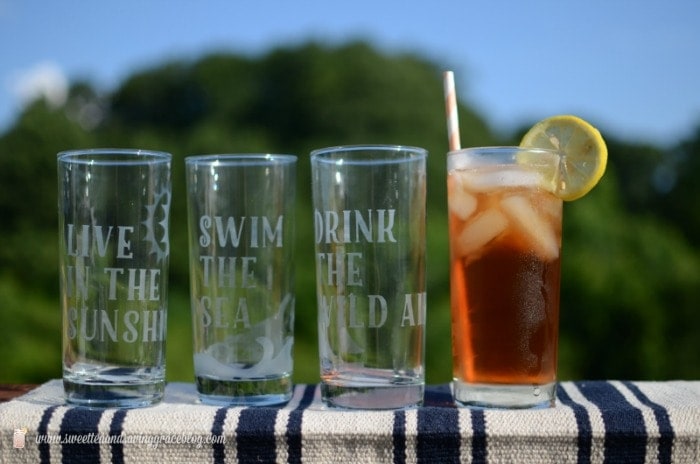 Wouldn't this make a sweet summer wedding or birthday gift? Now, hand me that tall glass of sweet tea will ya? It's hot over here!
You might also like these simple craft projects: