Fall Dining Room and Tablescape
Today is the first day of October.
At the moment it's 100 degrees. On October 1. In Southern California.
I think I need to move to Canada.
At any rate, it has been a challenge to decorate for fall this year with these record breaking heat waves we've been having, so I decided to go with simple.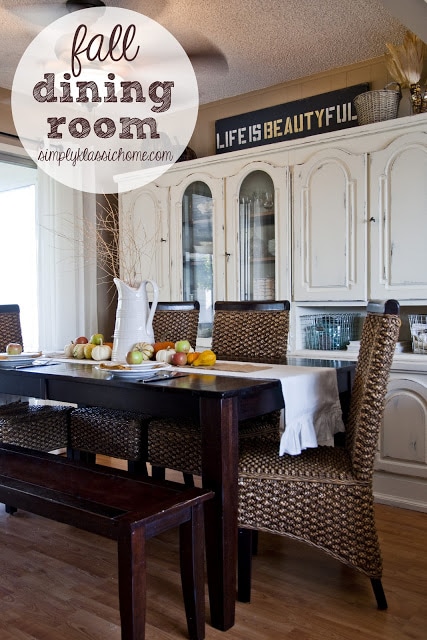 I took my kids apple picking at a local orchard last weekend (pictures to come in a later post), and while we were there I picked up a few pumpkins and other gourds, which I used to decorate the table.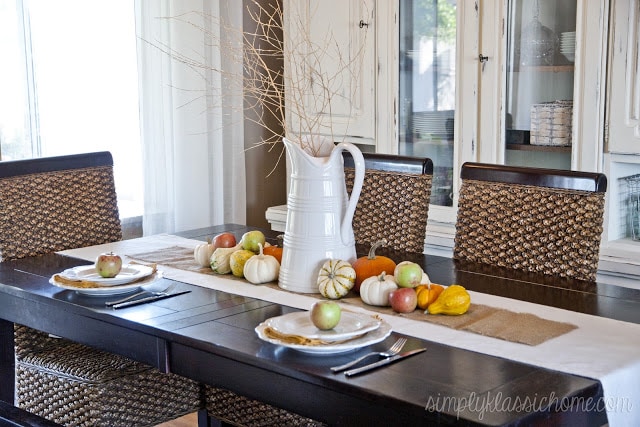 That branch in the pitcher? Funny story about that…This one's for
Kate
~
After leaving the apple orchard, I was driving along just minding my own business when I spotted a beautiful (and quite large) branch on the side of the road. I thought about it for a split second and then turned around and went back to get it. Luckily there was no one behind me!
However, a few people did drive by as I was photographing this huge thing in my trunk. I'm sure they were  thinking, "GOOD LORD!"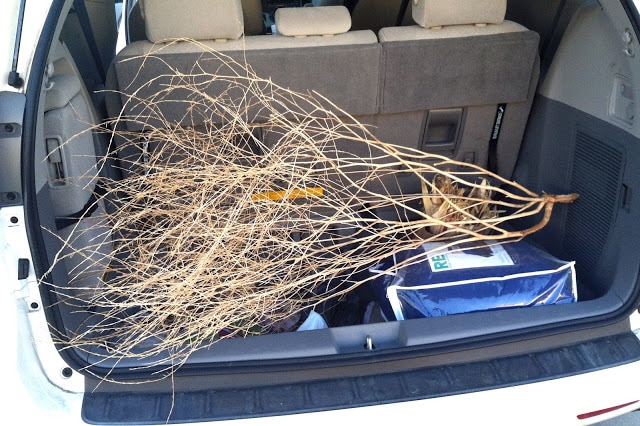 I broke it into a few pieces, and used some for my table. The rest of it is elsewhere in the house, but you'll have to wait to see that!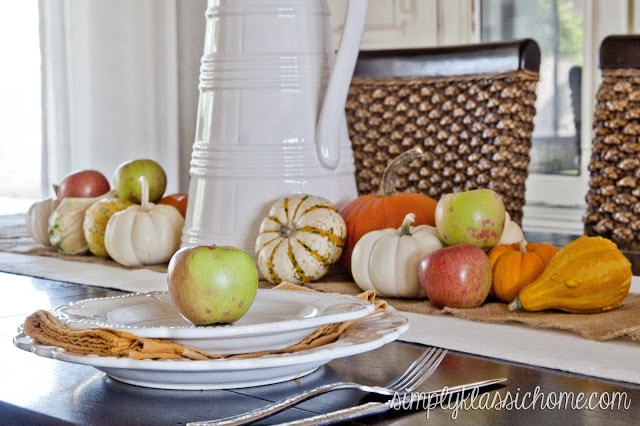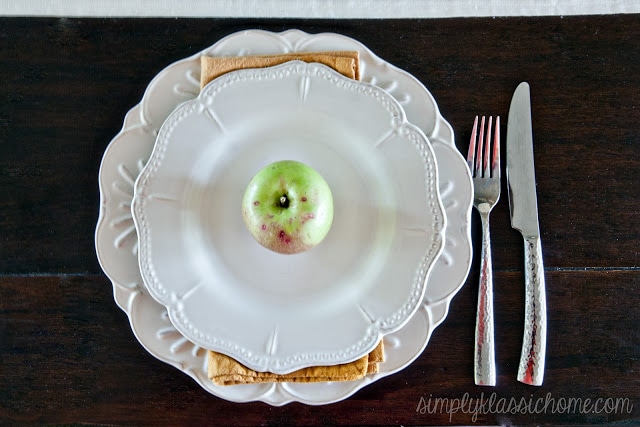 Since the day I picked up this pitcher at TJMaxx, it has always reminded me of
Debbiedoos
. I set it atop a couple of books in my hutch. The locker baskets hold some creamy white linens and some of my favorite mason jars.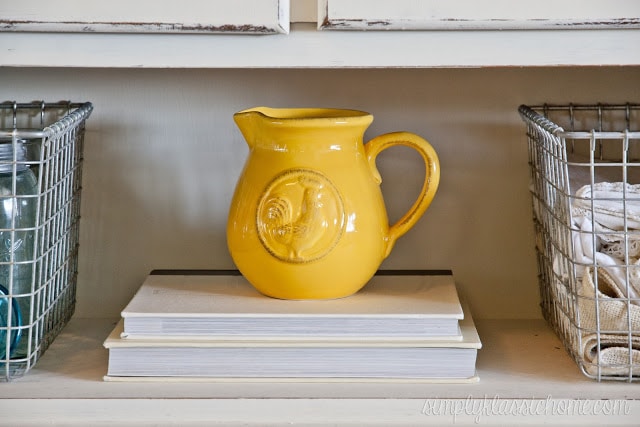 I puchased several bunches of Indian corn at the orchards as well. Unfortunately when I got home I realized they were all moldy inside the husks. Ew. Lesson learned.
So I picked up three ears at my local grocery store, for about the same price as the dozen I'd gotten at the farm!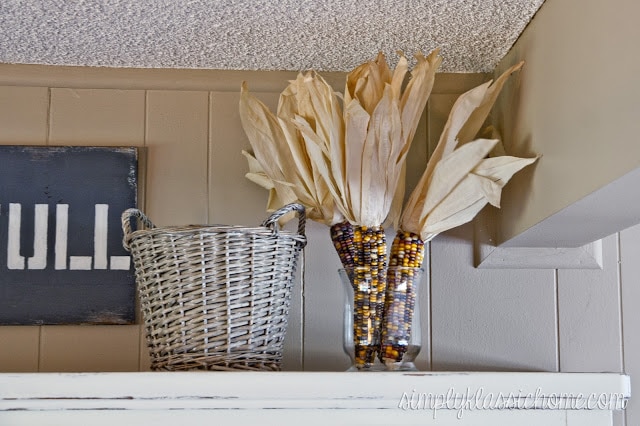 I've had this cute white pumpkin for about five years, and I still love her.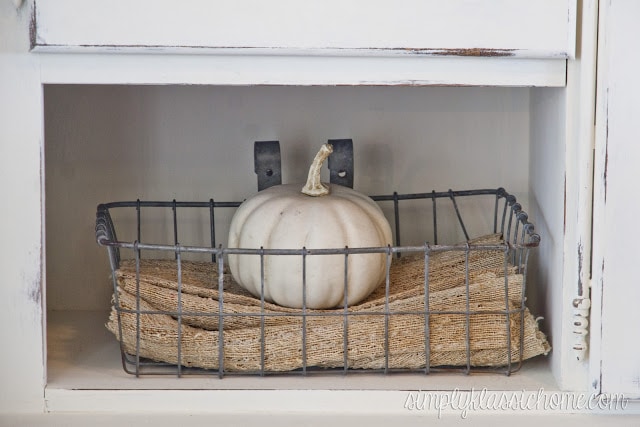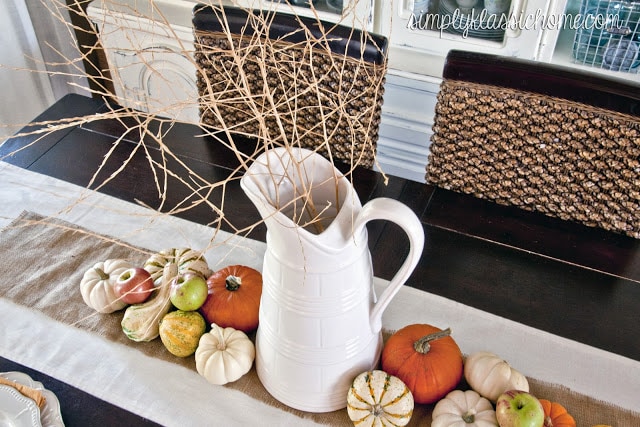 The ruffled white linen runner was a gift from Carolyn of
Sweet Tea & Linen
for my birthday. The fringed burlap runner was the brainchild of Kristen of Ella Claire. She shares the easy tutorial
here
.
My kids were a bit confused as to why I set the table like this, seeing as how they are only allowed to use plastic plates.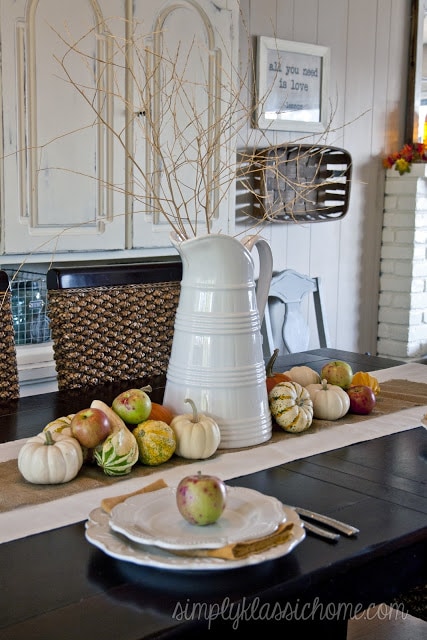 The apples are from the orchard and for the life of me I can't remember what kind they are. 
But they look really pretty.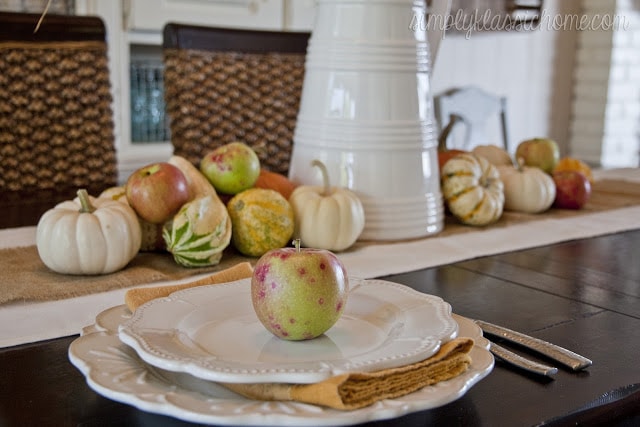 How many angles can I photograph this table at?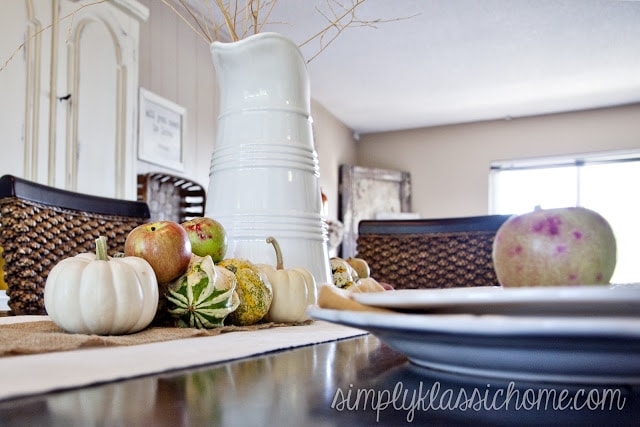 There you go, simple fall table decor.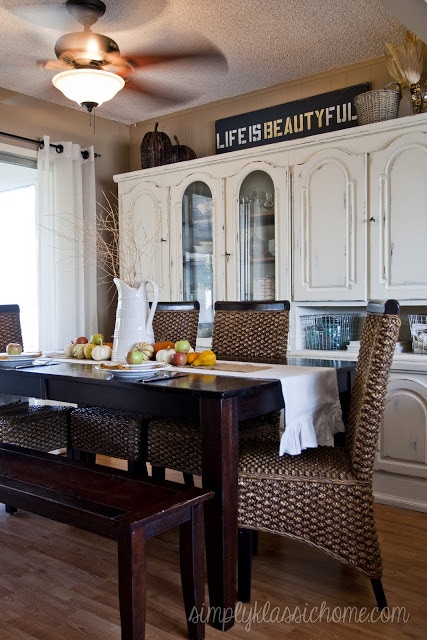 Yes, the ceiling fan is on. It's 100 degrees, remember?