Favorite Font Combos: Handwritten Fonts
It's a well established fact that I'm a font hoarder. Not a day goes by that I'm not searching for a fun font to play around with. People always ask me how I choose fonts to pair together, so I thought I would start sharing some great font combinations with you. With Pinterest being the number one way for traffic to make it's way to our blogs these days, it's more and more important to have 1) excellent photos, and 2) beautiful graphics. The best way to create eye-catching text on your photos is to choose the right fonts.
To start, I picked a bunch of my favorite handwritten fonts. I also asked some of my friend's what their favorite fonts were, and I put together a list of ten awesome handwritten font combos.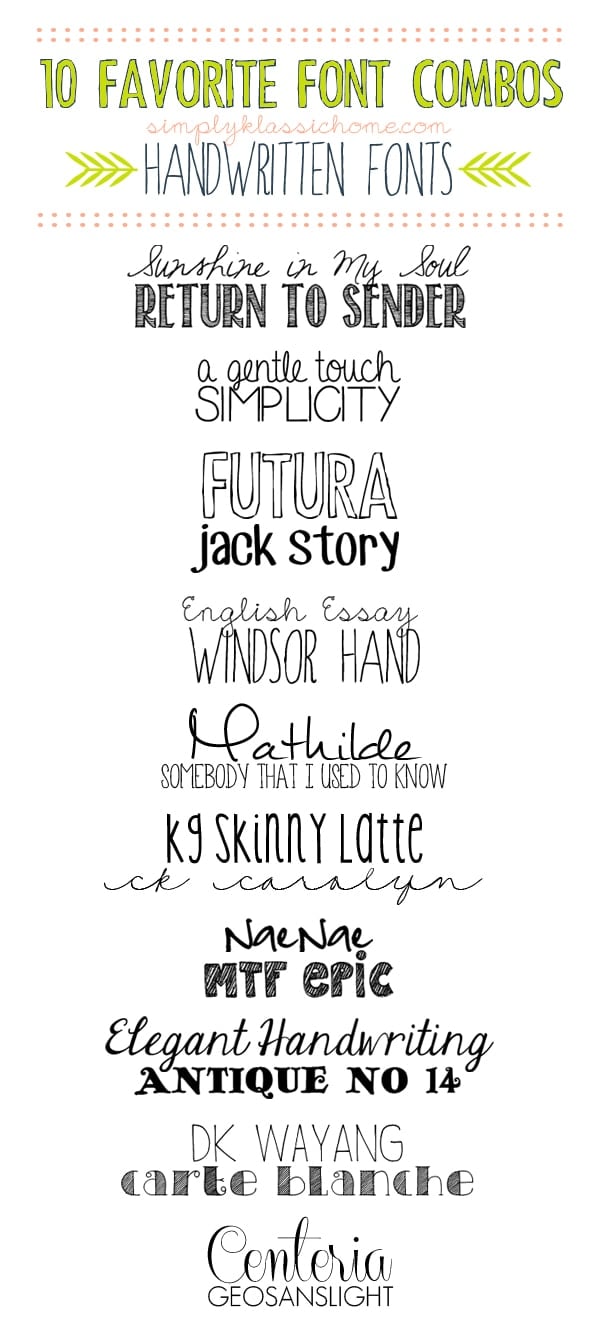 The best way to match fonts, is to pick your favorites and just play with them. Always remember the rule of opposites attract. If you look through my list, you'll see that none of the fonts look like their partners. Bold and delicate, thick and fine, cursive and straight, all caps, and lower case.
Remember though, just because the fonts look good together in the list here, it's not a guarantee that they will go with your text or your photo/graphic. You have to test them out and see if you like your text in that font. Dafont.com is great because you can enter your text and then search fonts to see which have the best lettering for those words.
Since I'm always looking to try out new fonts, tell me yours!
You might also like these font related posts: