Before getting into the project I have to share with you, I need to give you all a big thank you for your sweet and supportive comments on my living room inspiration post. You really inspired me to get busy right away with the first project!
Those of you who have been following for a while know that I've been
struggling with the thought of painting my fireplace for several years now.
Part fear of commitment, and part…well, just plain fear.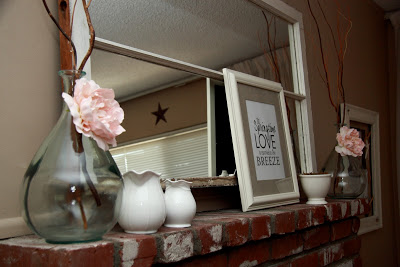 I've "liked" the brick, but didn't "love" it. I always found it difficult to work with, color wise, to make it fit my style, and I never liked the wall color next to the brick.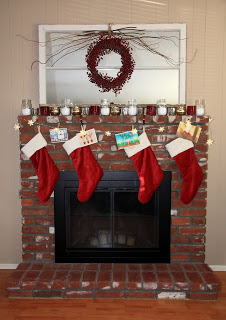 After some urging from a friend (she promised we'd learn how to sandblast if I didn't like it), I woke up Saturday morning and decided today was the day I was finally going to do it.
I bit the bullet and after four years, I FINALLY painted the fireplace.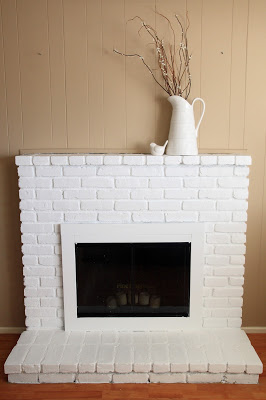 There's still a little bit of touch up to be done, but overall it's pretty much finished.
About halfway through I started having an anxiety attack about the finality of it all, but that subsided and I powered through. My kids were astoundingly good while I worked on this project that took me about three times longer than I thought it would.
Yes, I'm the crazy person who decided to paint on a Saturday when my kids were home all day.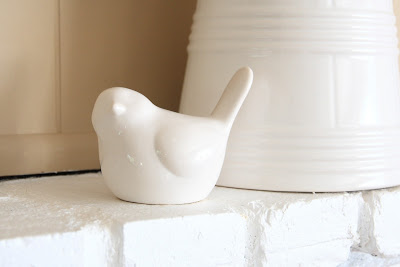 (Isn't this little white birdie adorable? $2.99 at Target, with the Valentine's Day decor!)
There are tons of tutorials out there. Trust me, I read them all. I eventually found this one over at Young House Love that made it sound the easiest!
I'm not going to give a hugely detailed step-by-step, but this is basically how I did it.
Supplies: wire brush, damp cloth, 1″ paintbrush, 1/2″ roller brush, Behr masonry paint in pure white.
Prep: First, I vacuumed the brick to remove cobwebs, dust, etc. I took a wire brush to the brick to remove any loose mortar and remove the texture treatment, then vacuumed again. Finally, I wiped the brick down with a lightly damp cloth, and vacuumed again.
Paint: I went over surface areas with a 1/2″ roller brush, then using a 1″ brush, I painted in all of the grooves. This is what really took the time. Brick is porous so it soaks up paint, but the mortar is also very uneven and difficult to get good coverage. I really had to swish my brush back and forth to get it covered, and I had to go over it three times. I probably spent a total of four hours painting, if not more. I also painted the fireplace cover (just the frame, not the doors).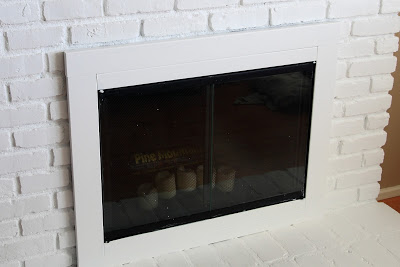 (The log and the candles were placed there by my grandmother. Haven't had the heart yet to remove them)
A lot of the tutorials out there say how easy it is to paint a fireplace, and I guess in theory it is, but it does take quite a bit of time and effort. However, that being said, I'm thrilled with the results!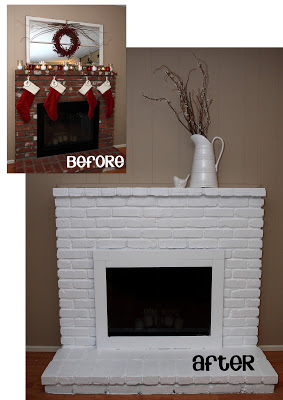 I still haven't decided if I want to lighten up the walls, and I'm not sure if I'll be putting the mirror back up, or if I want to get something smaller. What do you think?
Next project…window treatments…