I love road trips. I love the adventure, the excitement, the snacks…err, the togetherness… My kids love them too, although they easily get bored if I don't prepare properly. I've learned several great tips over the years on how to survive road trips with kids, and just traveling with them in general. (This post is sponsored by Fisher Nut Exactly. All opinions are my own.)

I bought my dream car this year – a Toyota Tundra Crew Cab. I have been dreaming about this truck for years and finally took the leap to trading in my old minivan and bringing this big red beauty home. Trouble is, there isn't as much room as in a minivan, and I can't sequester a child in the back row when they aren't getting along. So as much as I'm looking forward to our annual summer road trip to Northern California, I'm also a little nervous about how my two little angels will act having to spend so much time right next to each other. Luckily, I've got a few tricks up my sleeve that I've learned over the years, and I'm going sharing them with you!
Here are my favorite tips for Road Trips with Kids!
Photo from Frugal Fanatic
1. Bring new "stuff"
Sure you'll want to bring along the favorite stuffed animal or video game, but keeping kids entertained with things they've played with 100 times before is a fool's errand. Stop at the dollar spot at Target and grab some inexpensive little treats and goodies. They don't need to last longer than your trip, so don't worry too much about the quality. This is strictly to keep them busy!
A tip I learned when my son was a toddler was to individually wrap everything. Use wrapping paper, newspaper or whatever you happen to have on hand. It adds to the excitement of the new "prize" and keeps them busy unwrapping it.
For our road trip that's coming up in a couple of weeks I grabbed little lunch boxes to hold individual snacks, pens, crayons, coloring books, small games and notepads. There's nothing like a fresh coloring book and a brand new box of crayons to keep my kids entertained for a while.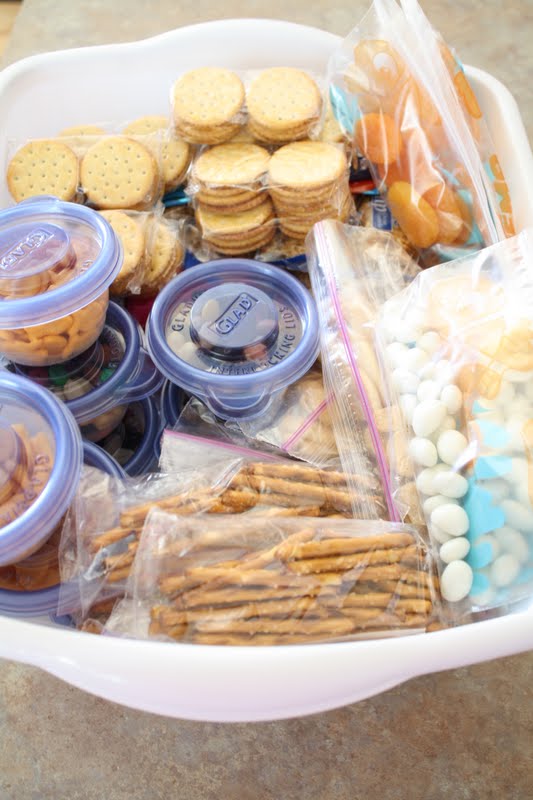 Photo from Cupcakes, Kisses and Crumbs
2. Bring lots of snacks in individual packages.
Trust me, portioning out the snacks will keep the fighting to a minimum…at least over who gets the last cracker. Buy prepackaged snacks like goldfish, fruit snacks or sliced apples, or package your own using snack sized ziploc bags or mini snack containers like these, also from the dollar bin.
Give each child a water bottle at the start of the trip, and keep juice boxes on hand as well.
3. Plan your stops ahead of time, but be flexible.
Doing your research ahead of time and find some touristy spots or parks to stop at along the way can help with the monotony of the drive. It also gives little ones (and grown-ups) a chance to stretch their legs and get some fresh air. Sitting in a car for a long period of time is enough to drive anyone batty, but kids especially need some time to let off steam every couple hours or so, even if it's just at a rest stop. Find a grassy area where they can run a bit.
Photo from ID Mommy
4. Remember to bring goodies for the ride HOME.
Packing a suitcase can be stressful enough but having to remember to bring activities for the trip home? Trust me, this little trick can save you cries of "I'm bored" when that new coloring book from the trip's beginning is completely filled in.
Photo from Two Kids and a Map
5. Pack a First Aid Kit.
Check and stock your first aid kit before you leave. Be sure to include band-aids and antiseptic as well as over the counter medications like Tylenol, Tums, and motion sickness medications. I always pack Ginger Ale and crackers too, just in case.
Photo from The Good Stuff Guide
6. Pack a Clean-up Kit. 
Nothing's worse than a child saying "I don't feel so good" during a long car ride right before they lose their lunch. Be sure to pack a couple rolls of paper towels, toilet paper, baby wipes, plastic grocery bags and regular towels, just in case. Plastic bags are also good to have on hand to corral  trash.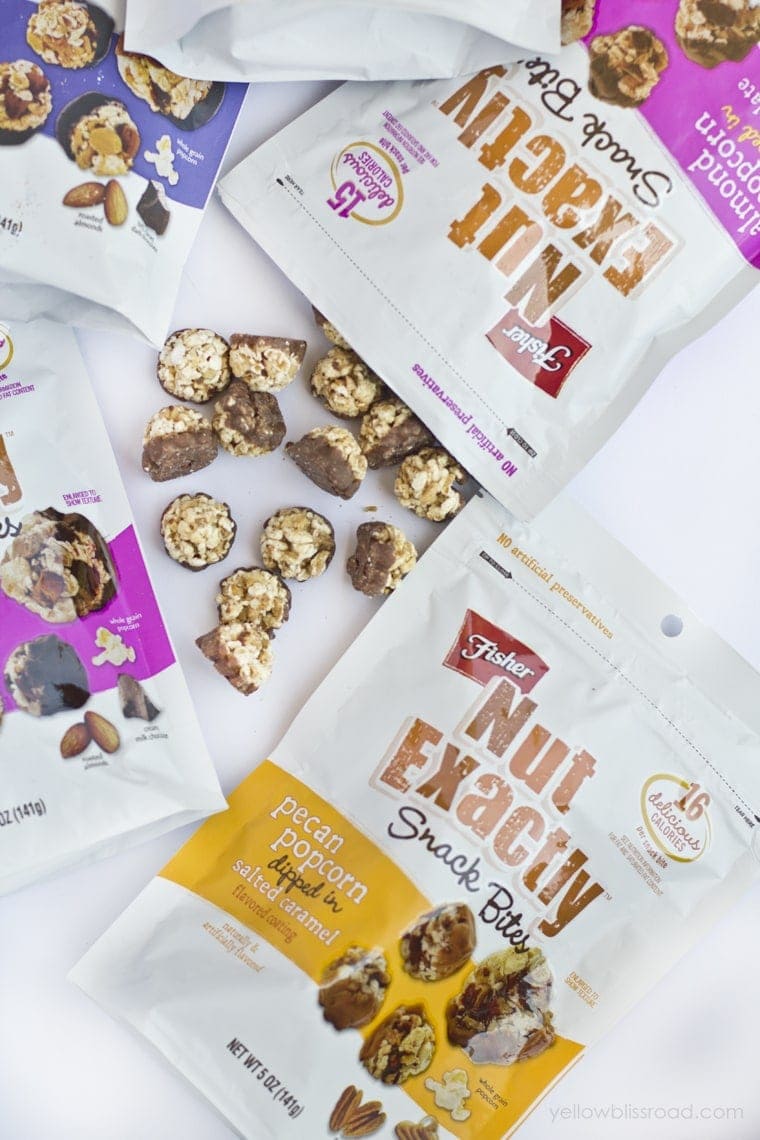 7. Don't forget snacks for the grown-ups!
Make sure to pack enough snacks for yourself too. I know I'm excited to throw these Fisher Nut Exactly snack in my bag! After the first bite I was hooked, and I know they will be the perfect treat to keep me from pulling my hair out on our 6 hour drive.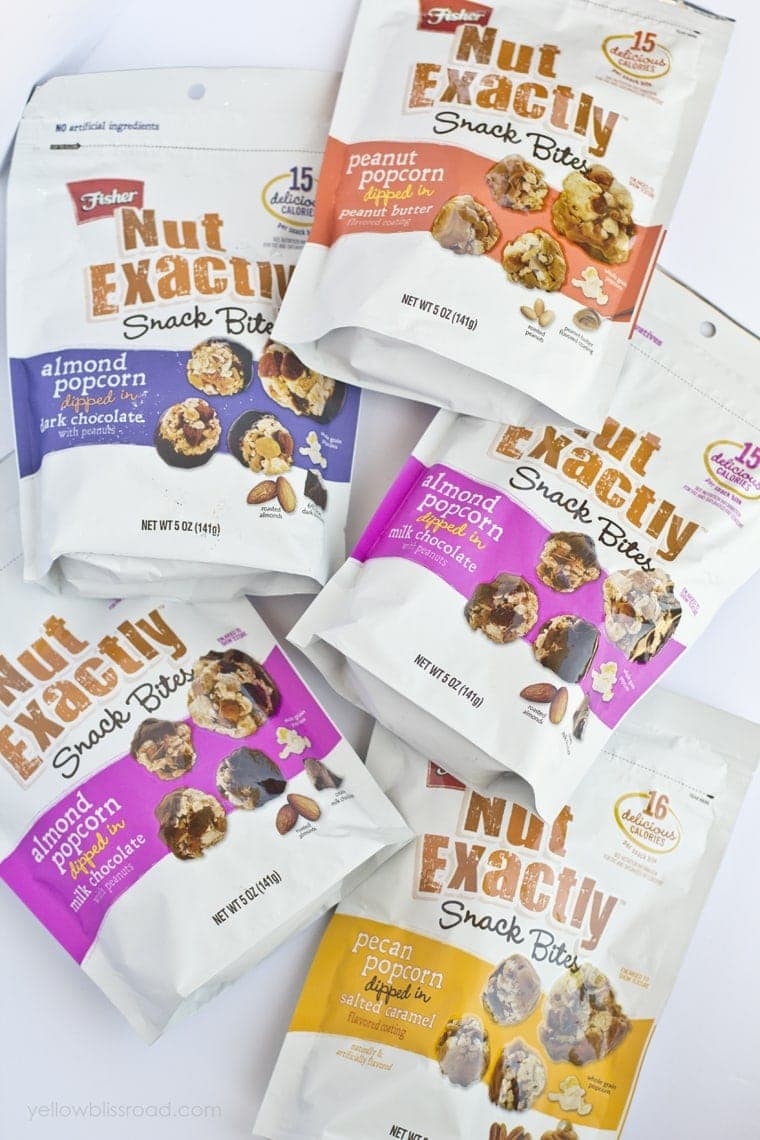 Are you planning a road trip this summer? Be sure to enter my giveaway so you can try Fisher Nut Exactly snacks on your own road trip! Plus, there's a $50 Visa gift card up for grabs.
Fisher® nuts has announced the national launch of its newest innovative snack product, Fisher Nut Exactly™ snack bites. The first snack of its kind, Fisher Nut Exactly is a combination of roasted nuts and whole grain popcorn, rolled into a bite sized snack that's dipped in milk chocolate, dark chocolate, peanut butter or salted caramel. This uniquely sweet & savory snack is both scrumptious, smart and gluten free, and just 15 to 16 calories per snack bite!
Beginning this June, Fisher Nut Exactly will be available in convenient, resealable bags at retailers nationwide in the following varieties:
Almond Popcorn Dipped in Milk Chocolate
Almond Popcorn Dipped in Dark Chocolate
Pecan Popcorn Dipped in Salted Caramel
Peanut Popcorn Dipped in Peanut Butter (my personal favorite)
For more information about where to buy Fisher Nut Exactly, visit www.FisherNutExactly.com.
Fisher Nut Exactly Snack Bites are now available at Walmart retailers nationwide:
Fisher Nut Exactly Snack Bites are available at a Walmart retailer near you! Check out Coupons.com for a special deal on Fisher Nut Exactly snack bites at Walmart in your area: http://www.coupons.com/?&cid=18814384. (You must be logged in to your coupons.com account to see the deal).