Glitter Fringed Burlap Banner & An All Things Burlap Blog Hop!
Happy Monday everyone! This is an extra special Monday around here, because we are celebrating ALL THINGS BURLAP!! Ten bloggers, ten fabulous burlap projects! I am sooo excited to be kicking off this party with my simple little project.
My project is a simple one, but I absolutely love the impact it has on my mantel. It's would be perfect year round, but burlap is such a rich and rustic fabric, that is just SCREAMS "Fall!"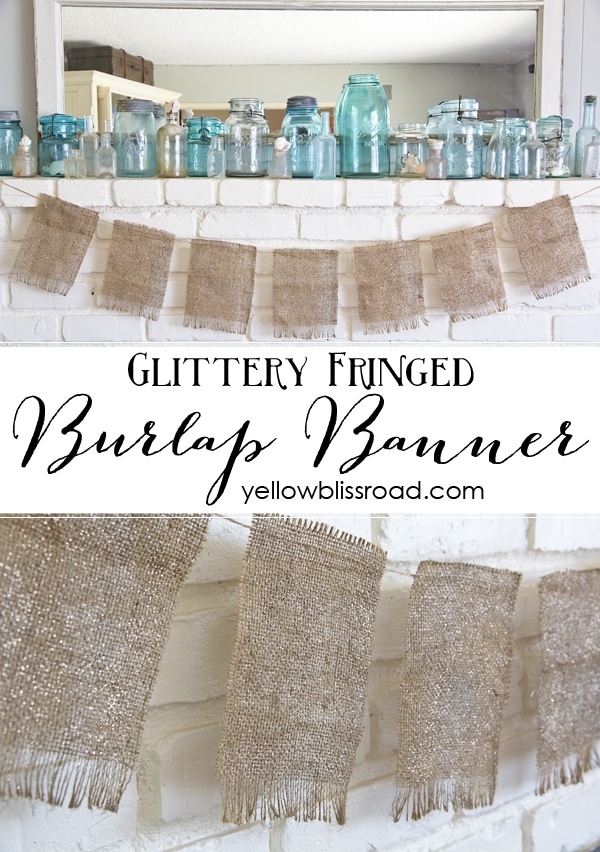 It was so easy to make, it's the perfect naptime project.
Here's what you need to make your own:
Burlap
Twine
Gold Metallic spray paint
Glitter Paint
Yup, that's pretty much it.
Fist I cut the burlap into rectangles and carefully pulled layers of string off of one end.
*Be sure not to accidentally grasp the sides as well, or your banner will get skinnier as you go along!
I pulled strings until I was happy with the length.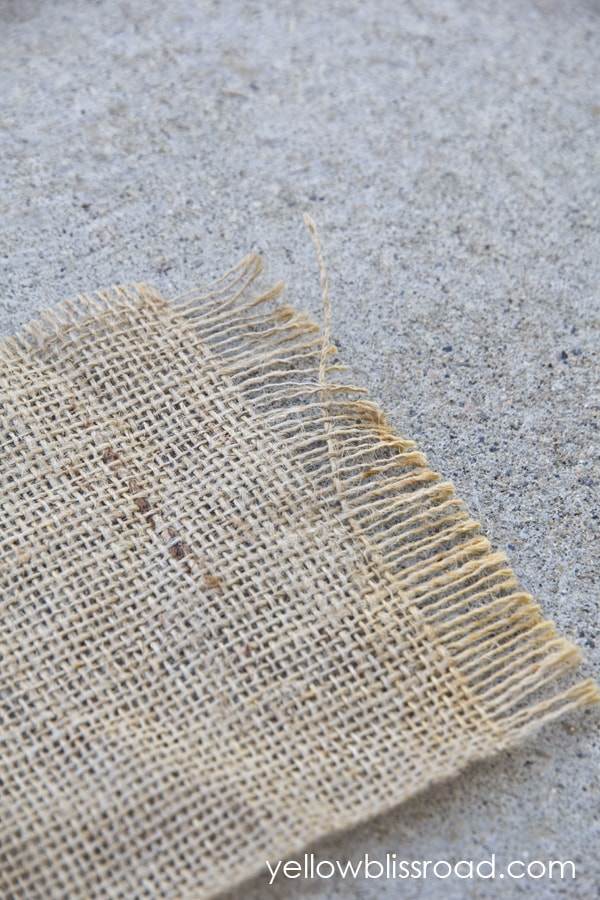 Once they were finished, I laid them out on a dropcloth and sprayed them with Rustoleum Metallic Champagne Mist. Burlap soaks up paint like nobody's business, so I had to do three coats, and it was still hard to make out a real difference. I do think this helped the next step go smoother though.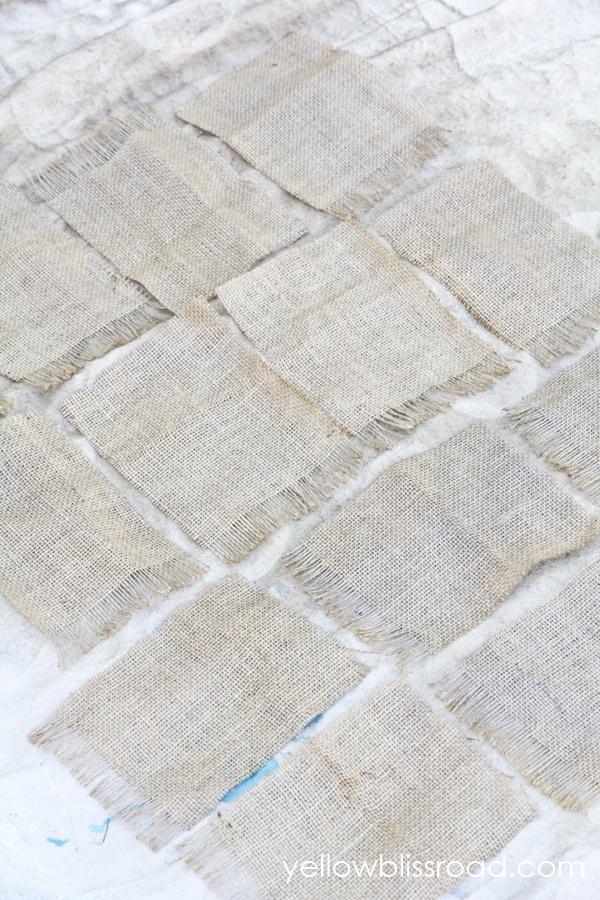 Next I painted each piece, using a foam brush, with Folk Art Extreme Glitter Paint in Champagne. (No pics of this step – it was too dark – but I'm sure you can use your imagination.
I only did one coat of the glitter paint, although I probably could have done a second coat. I didn't want it too glittery, just a subtle bit of sparkle.
The final step was to hot glue twine to the back. I spaced the pieces out on the table. You could also use a large needle to sew the twine in, but I wanted the pieces to stay put and not slide around one I hung it up.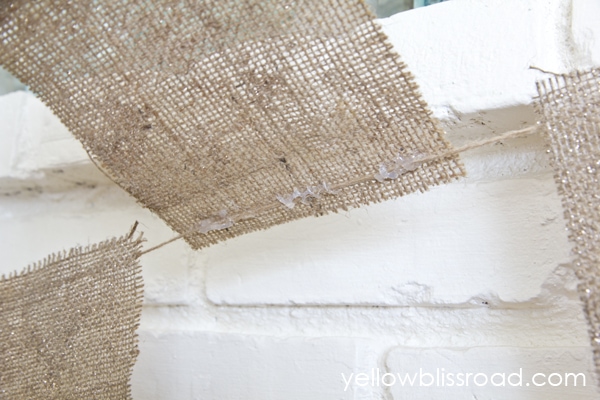 It was a pretty easy project with just a few steps.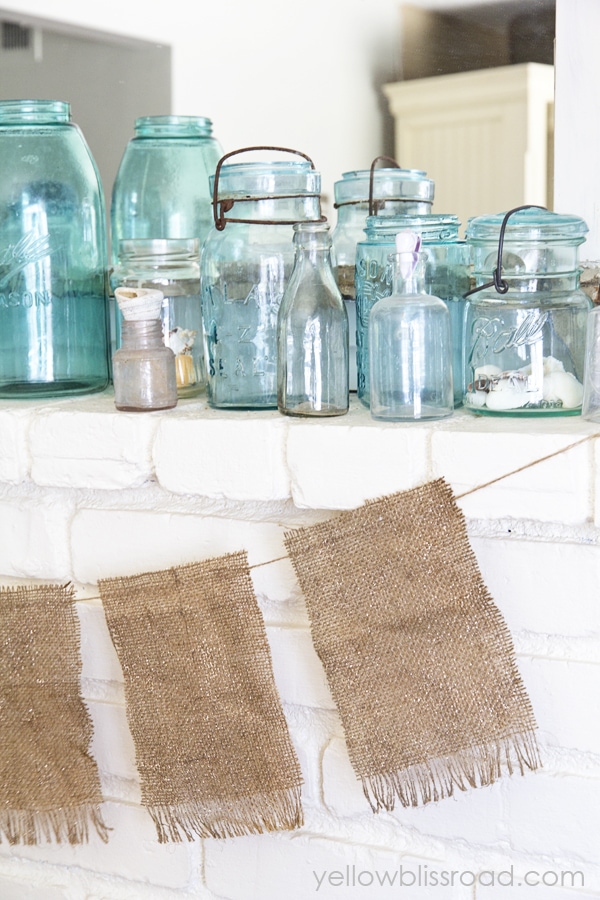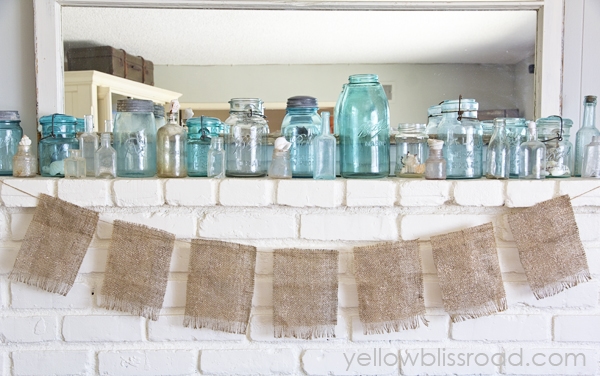 I just love how it looks on my mantel and it goes perfectly with my antique Ball jar collection.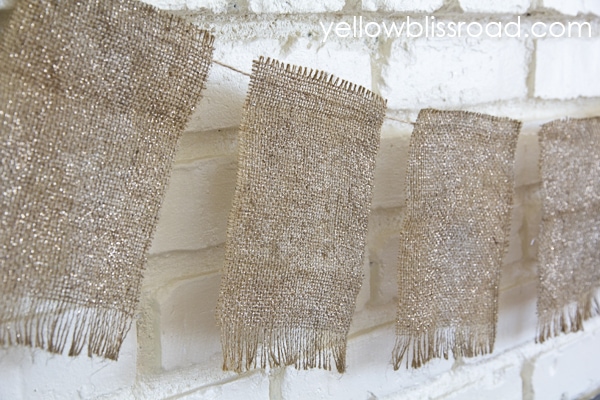 I'm excited to be the first stop on this little Burlap Lover's tour, and I hope that you will take the time to check back in with all of the other fabulous projects that will be shared this week: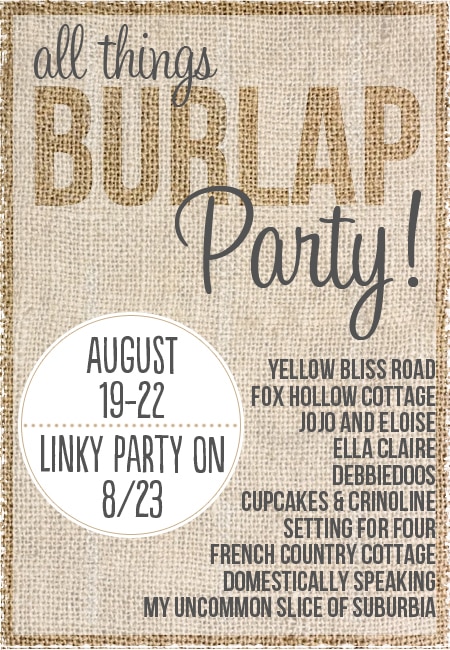 (I will be updating the links as the week goes on, so check back often!
Monday, Aug. 19
Burlap Roller Shades
  from Domestically Speaking (teaser pic below)
See? Talent I tell ya! And I've seen their projects and let me tell ya, mine pales in comparison, so you won't want to miss the recap post on Friday. As a bonus, there will be a fun linky party for you to share all of your own burlap projects too!