Hey y'all! I'm Kirsten from Sweet Tea & Saving Grace, and I'm excited to be part of Kristin's Hello Holidays series to show you how to make these cute (and simple) Glass Etched Sugar Hand Scrub Gifts! I love to share craft and home decor projects with my blog readers, as well as organization ideas, and the occasional blog tutorial, so stop by and say "hi"!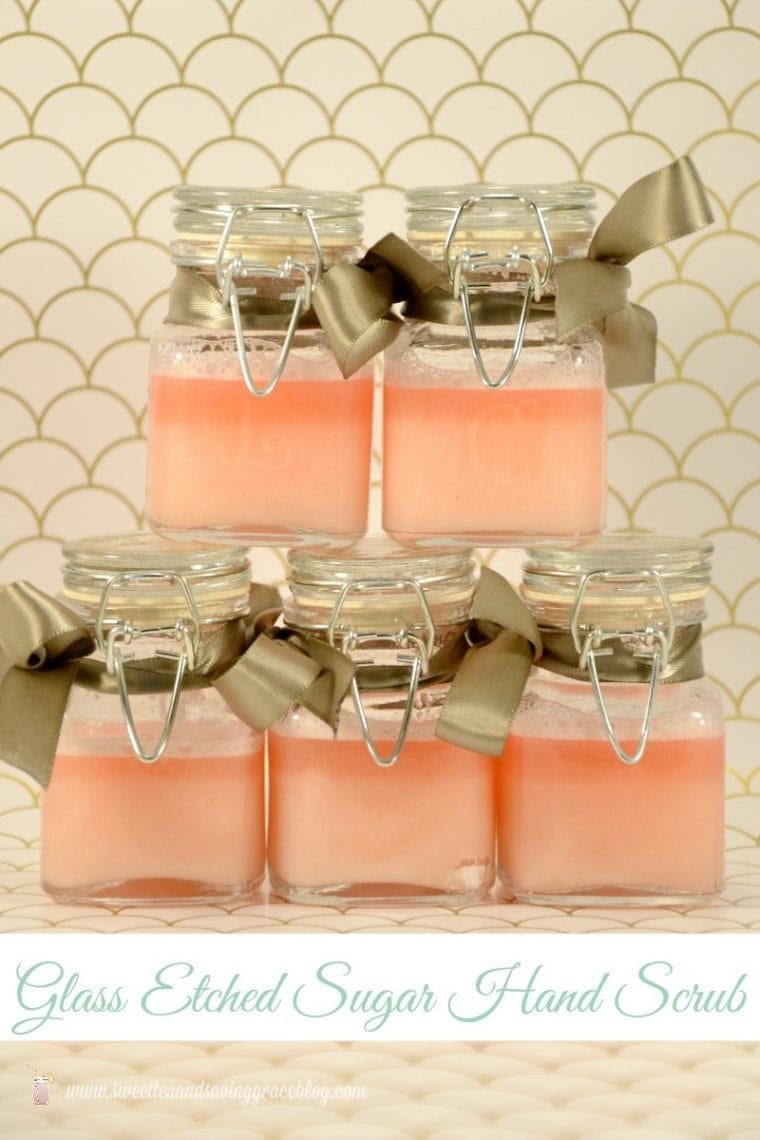 I'm kind of a fan of gifts in jars, like this Mod Podge Holiday gift with a cookie mix in a jar! Now let me show you how to create your own glass etched sugar hand scrub gift.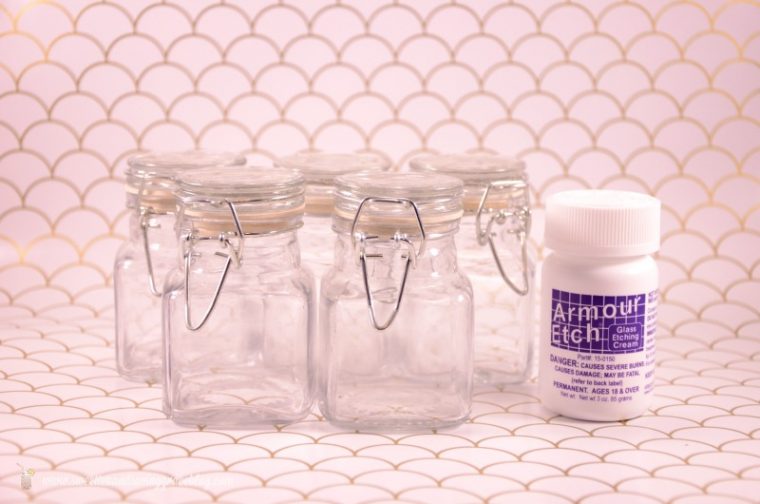 I found these cute jars for only $1.00 each at Michael's. You could use containers as large or small as you want. Pick up some Armour Etch for this project, too – just the little bottle will work. You won't use much at all. (affiliate)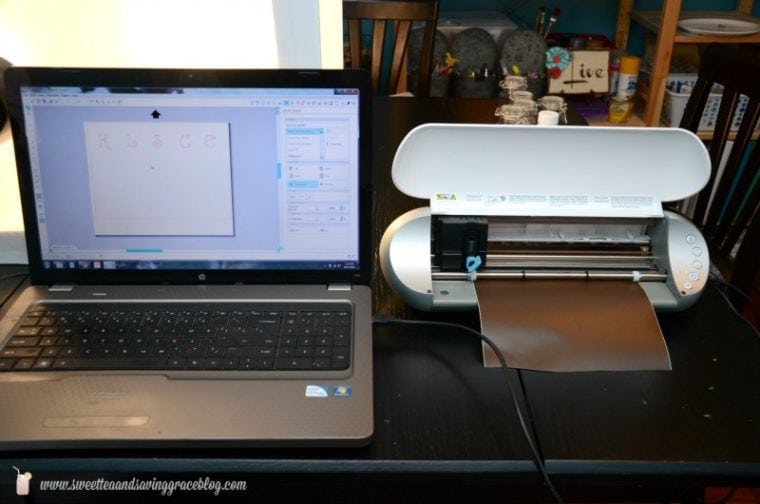 I used my Silhouette machine to create my letters, but you don't have to have a die-cut machine to make these. You can use vinyl lettering just as easily – it's up to you. If you are creating your own lettering, I chose the Harrington font, and typed out the first letter for each of the ladies in my office.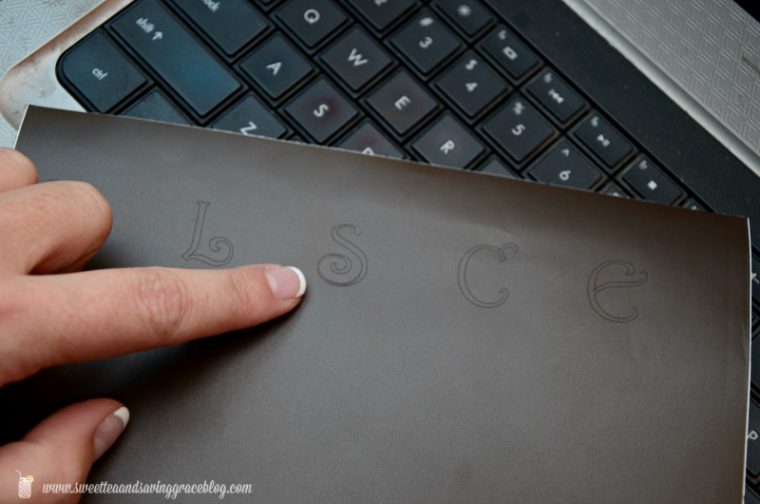 I love the curls on the Harrington font – so pretty! Each letter is about 1.15″ tall so it will fit nicely on my jars.
Before you etch the glass, be sure to wash your jars and dry them completely. I removed the lids to make it easier to work on my jars.
I opted to etch only the letters, rather than the entire jar with the exception of the letters, so I carefully placed each vinyl sheet onto each jar and pressed down to seal the vinyl. Be sure you get out all the air bubbles, and smooth it out to prevent the etching cream from seeping under the vinyl.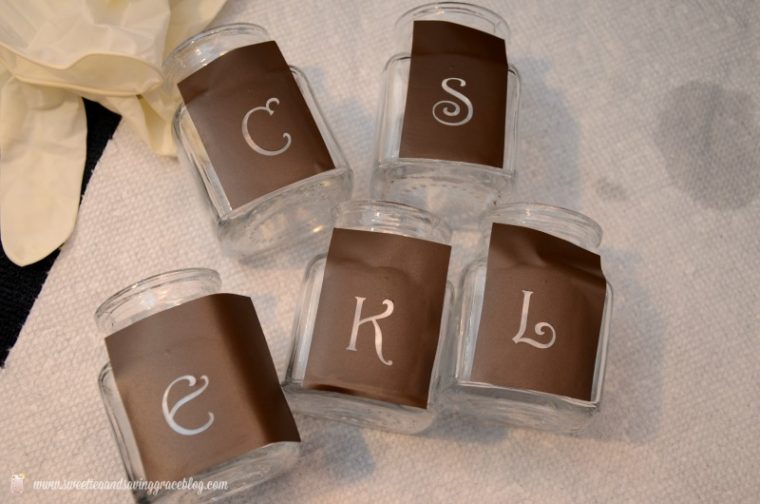 Put on some latex gloves – you don't want etching cream on your skin. Grab a wooden skewer or popsicle stick to spread the cream onto your jar.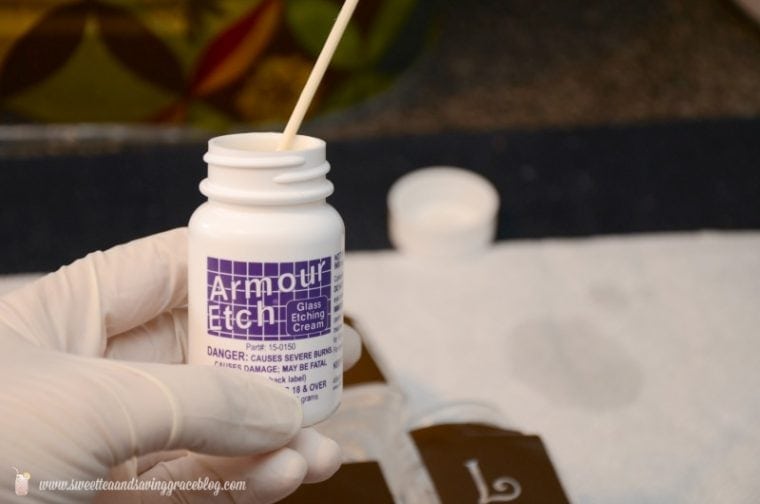 Be sure to apply a liberal amount of etching cream, completely covering the area you want to etch. Once applied, leave the etching cream on for 5 minutes, then wash off with warm water, and remove the vinyl.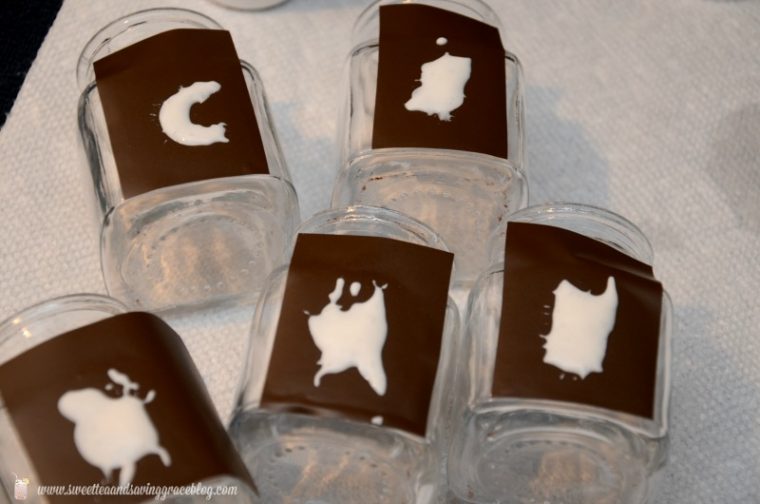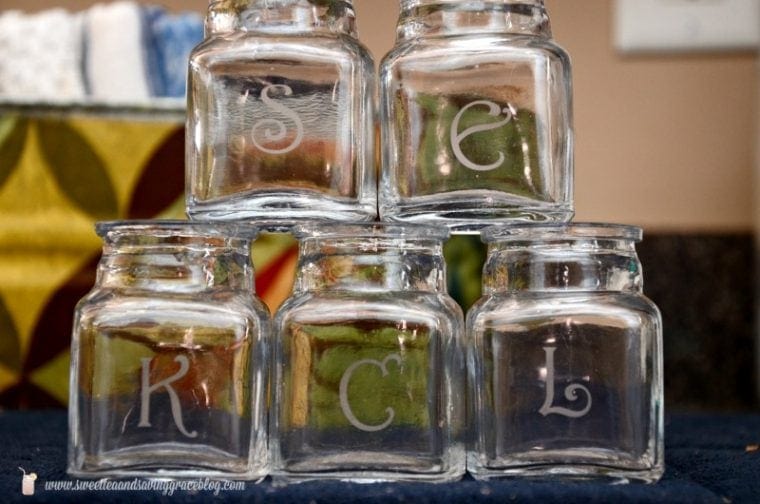 Next, it's time to make the scrub.
This is the easiest sugar hand scrub ever! And it makes your hands feel silky and smooth! Grab some Dawn Hand Renewal and sugar, and mix about 2/3 sugar to 1/3 Dawn.
Let it sit for a few minutes to soak into the sugar, then slowly mix it up to combine. Don't mix it too quickly, though, or you'll get some crazy bubbles!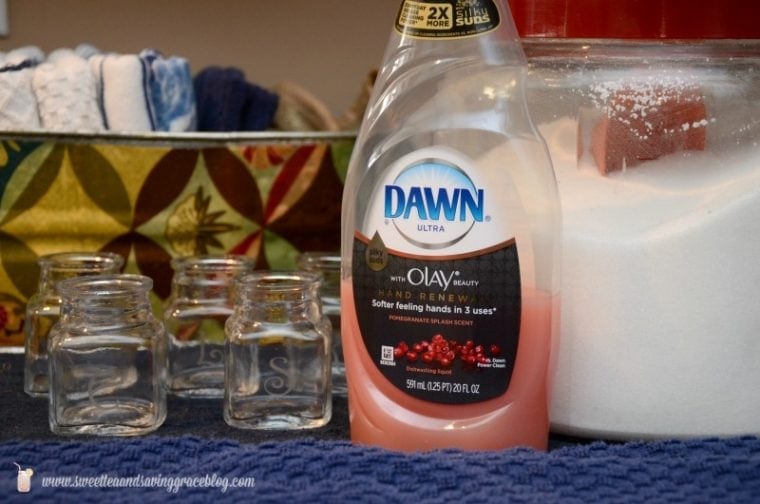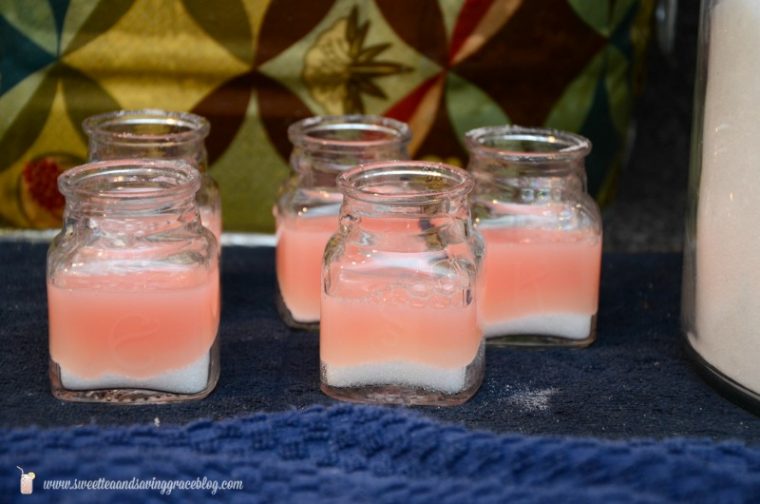 Put your jars back together, tie up with a pretty bow, and you're all set!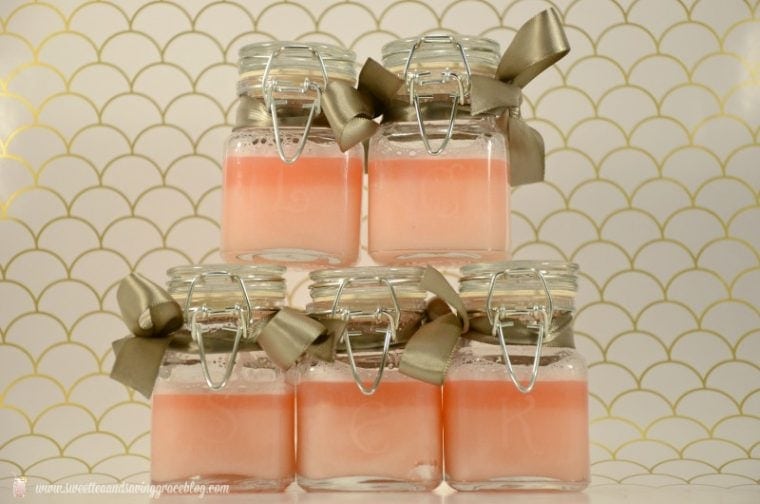 And my Christmas gifts for the office girls are DONE! Want another fun gift idea? Why not gift a Christmas Ornament Craft Kit!
Thanks for having me, y'all! Merry Christmas from Sweet Tea & Saving Grace! Be sure to visit me on the blog and Facebook, too!
---
  Thanks you so much for sharing today Kirsten! It was great to have you visit. If you'd like to see more from the Hello Holidays event, click HERE.