How I Turned My Blog Into a Full Time Job, Part 4: Q & A with 17 Pro Bloggers
How to Take Your Blog to Full Time: Tips and Tricks from Full Time, Professional Bloggers. This is the final post in a four part series on how to turn your blog into a full time job.
You can find the first posts in this series, "How to Start a Blog" HERE, and "How I Turned My Blog Into a Full Time Job" HERE, and "How I Manage my Blog Business as a Work at Home Mom" HERE. This post contains affiliate links.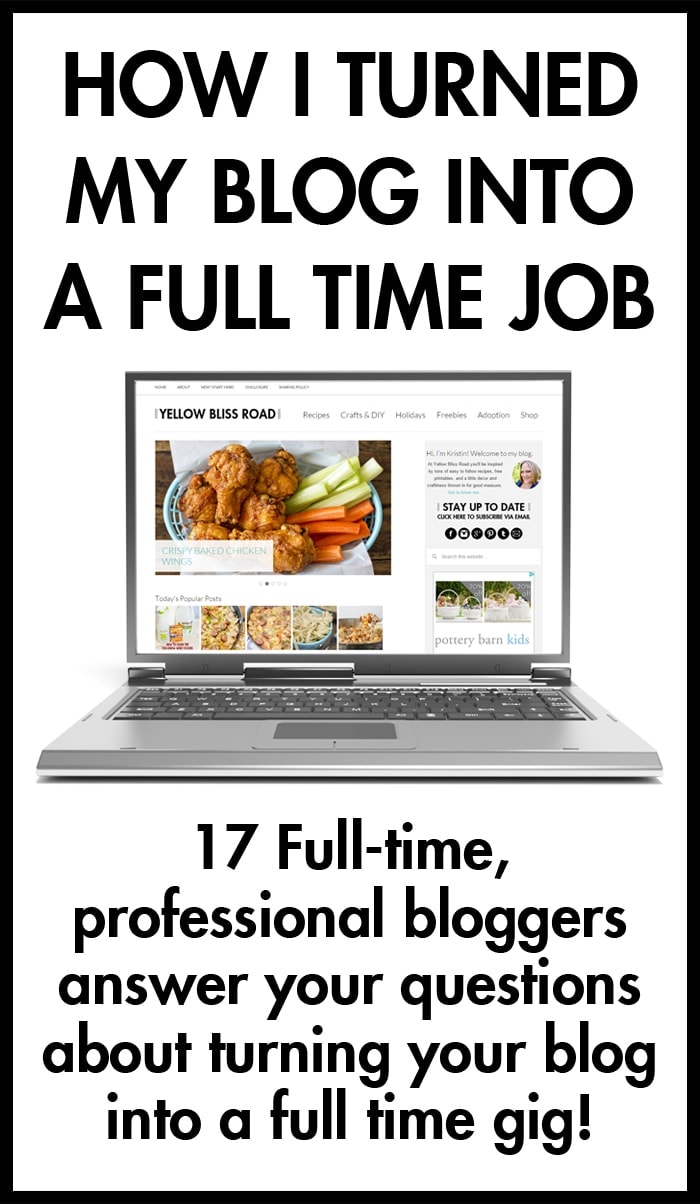 I am so excited about this post! I've been sharing in the last three posts about what worked for me when I decided to be a full time blogger, and offered advice and tips based on my experience. Today I've asked some of my friends to share their best tips as well! I've taken some of the most asked questions and fifteen of my favorite professional bloggers are sharing their answers.
I asked my friends some of the questions that I am always asked, and that I had always wondered before I reached the full time point, and here are some of their answers. I wanted to keep as much of their advice as possible, so this post is pretty lengthy, so grab your cup of coffee or tea or Diet Coke and get comfy!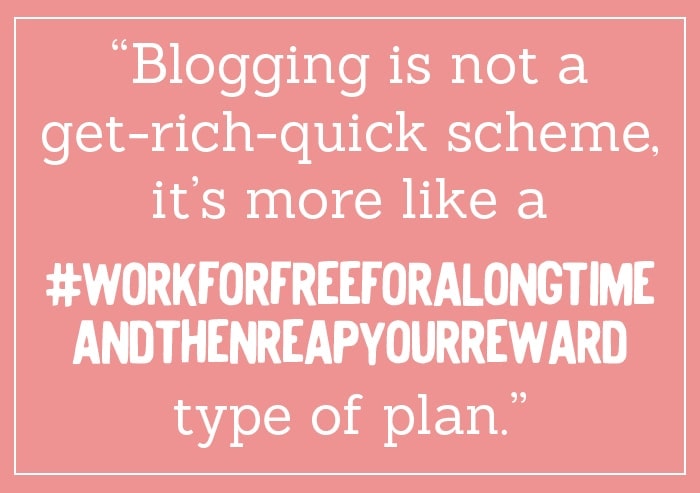 1. How long did it take you to make a full time income from your blog?
I started my blog in 2007. In the beginning I featured other people's ideas but I switched my focus in about 2011 to do my own ideas. I started earning full time income just last year. – Mique Provost/Thirty Handmade Days
Four years – Amy Anderson/Mod Podge Rocks
I started blogging in August 2008 – no one was really making money blogging then; it was probably 2010 before I added Google Adsense and started making just a little money for sponsored posts. Two years later I was making a full time income. – Cheryl Sousan/Tidy Mom
It was about a year and a half after I started my blog before I quit my full-time job. – Jill Nystul/One Good Thing by Jillee
By year three I was making a full-time income, but I also didn't get more serious until year two.- Kristyn Merkley/Lil' Luna
It took me about three years to start making a full time income blogging. The first year I literally made pennies, the second year I put everything I did make back into my business and the third year is when I was able to start making a decent income. – Jamielyn Nye/I Heart Nap Time
I started in April 2011 and in 2013 I made a full time income. – Dinah Wulf/DIY Inspired
I started eight years ago and blogged for free for two years. The third year I did make money but not full time so I would say four years. – Beckie Farrant/Infarrantly Creative
I started my blog in March of 2012. In less than two years I was making full time income. – Amber Price/Crazy Little Projects
Four years – Angie Holden/The Country Chic Cottage
I blogged about three years before I got seriously about blogging and really dug in and figured it out. From that point it took a little over a year before I earned enough money to blog full time. – Julie Evink/Julie's Eats and Treats
Two years – Melissa Riker/The Happier Homemaker
It took me about two years before I started making substantial income. – Christine/First Home Love Life
A year and a half – Jessica Keilman/Mom for Real
It took me about three years to earn what I would consider a full time income. – Ashley/Domestic Imperfection
I have really only reached what I would be comfortable calling a full-time income in the last year. So, I had three and a half to four years where I was making part-time salary or less. – Jessica/Mad in Crafts
It took me about four years. Four long years of putting in at least 80 hours a week, creating original content, crafting projects, and learning how to use my camera. I have to say that the first two years I didn't earn enough to even buy a Happy Meal. I did this while also working a full time job in a large corporation in Atlanta which involved a hour commute each way. My goal was to reach a point where my website could support us so that we could retire from our jobs and travel permanently. We are now there. We have the house on the market and are packing the RV, with plans to head for Maine the first week in April. – Suzy Myers/Suzy's Artsy Craftsy Sitcom
2. How do you stay organized?
Google calendar for a schedule, Fresh Books for invoicing and a private Pinterest board and a notebook on my desk for ideas. – Cheryl Sousan/Tidy Mom
It wasn't always this way, but NOW I live and die by my editorial calendar and my personal calendar. As I always say now, "if it's not on the calendar, it's not happening." 🙂 An editorial calendar is essential, especially once you start using contributors. Plus, it really helps to alleviate a lot of anxiety. – Jill Nystul/One Good Thing by Jillee
I have lots of helpers, I make lots of lists and I use Google Tools (spreadsheets, analytics, docs, calendar) to really help me. – Kristyn Merkley/Lil' Luna
I love love love Google docs and Google calendar. I sync it with my phone and can keep track of everything on the go. I also have a daily planner that I like to write down my daily tasks and goals for the week. Keeping organized has and always will be a struggle for me, but I find if I set time aside at the beginning of each week to get organized it really helps. – Jamielyn Nye/I Heart Nap Time
My entire blog life is on an excel spreadsheet! I keep very detailed track of income, goals, statistics, and so on. It's updated a minimum of once a month. This way I stay on track. – Dinah Wulf/DIY Inspired
I use my blog planner that I created on my blog to help my workflow. – Beckie Farrant/Infarrantly Creative
I use Google Calendar to plan out my blog posts for the month ahead. If things come up and I need to shift things around then I do, but this gives me a rough plan for the month so that I can work ahead on posts, grab supplies at the store for all of the upcoming posts instead of going back a million times, and can have a big picture goal in my mind for what I want on my blog. – Amber Price/Crazy Little Projects
I plan, plan, plan and plan some more. I also have a full time job outside of blogging so I try to be about a month ahead at all times in case "life" happens and I can't get to recipe development. I use an editorial calendar to put my recipes in and recipe ideas so I know what I'm thinking at all times. Sometimes I put things on months ahead if I have a great idea I don't want to forget. I also have tons of spreadsheets for different sharing groups etc. – Julie Evink/Julie's Eats and Treats
Google Calendar, spreadsheets, categorized email tabs, and lots of lists!– Jessica Keilman/Mom for Real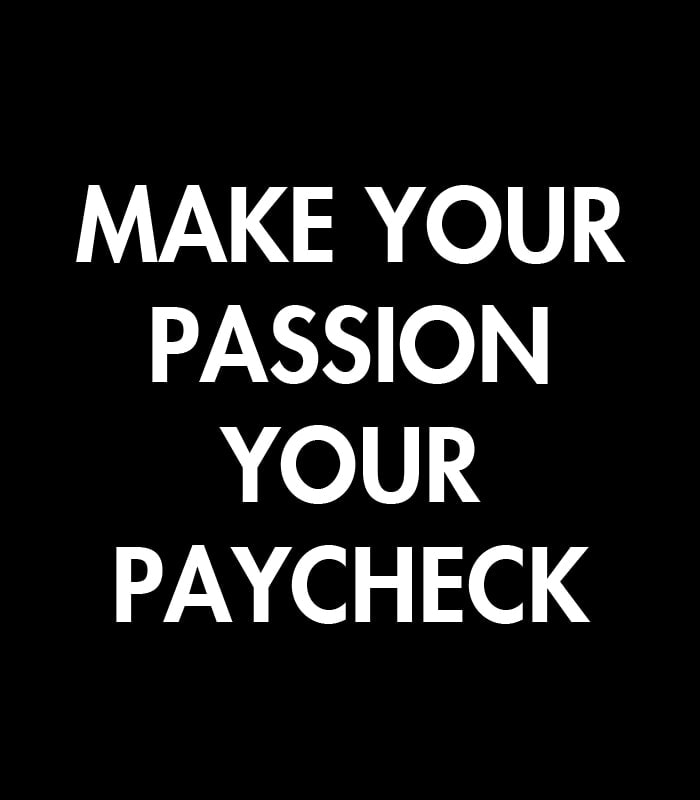 3. How do you spend your work days (like a schedule of how you do your blogwork)?
In the morning I check all emails and respond back. I also do most of my editing and blogging/writing in the morning. Then I work on projects in the afternoon. I try and post on social media three times a day and usually that is scheduled. I also have a couple of assistants to help with writing and social media. – Beckie Farrant/Infarrantly Creative
Each week day I wake up and immediately schedule my new blog post to Pinterest. Then I get ready for work. I head to work and on breaks and lunch you can often find me doing more blog work. After work I spend time with my family and then after my girls are in bed I am back at the computer doing some more blog work. The weekends I usually make 2-4 recipes and edit photos! – Julie Evink/Julie's Eats and Treats
4. What has been the most consistent avenue of revenue for you in the past, and how does that compare to what you expect in the future with ad revenues changing?
Display networks and sponsored posts have been awesome, but I see that changing (especially since I'm reducing the amount of sponsored posts I'm doing!). Display advertising CPMS are DEFINITELY dropping. I'm trying to rely more on consulting and freelance writing instead. I was a marketing professional before I was a full time blogger so I'm trying to leverage my career expertise and MBA to replace income. – Amy Anderson/Mod Podge Rocks
Sponsored content has always been my biggest source of revenue. I would like to do some ebooks for a more passive source of revenue. Ad networks are my second source, but they are also the one thing that I know the least about, so I use Ad Thrive to handle my ads for me. – Cheryl Sousan/Tidy Mom
The most consistent revenue stream has been and continues to be display ads on my website. I haven't seen any huge change in that (although it is down a bit.) Sponsored posts, and posts with affiliate links are my other most profitable revenue streams, but my main goal continues to be producing quality content that drives traffic, that drives ad revenue. – Jill Nystul/One Good Thing by Jillee
Ads, Sponsorships, and Freelance work have been very consistent for me (thank goodness!). In 2013, Ads were 43% of my income. Last year however, even though I had blog growth ads were only 22%. My sponsorship income offset my ad income because I was able to charge more for posts. – Dinah Wulf/DIY Inspired
Ad networks for sure. However, they are slowly decreasing because of the competition among networks. I foresee a lot of companies hiring bloggers to write for their blogs in the future. – Beckie Farrant/Infarrantly Creative
Know your worth. You have to be ok with saying "no" with confidence to brands. I am assuming that if you want to make it a full time job you already have experience blogging. I had a conversation about fees and charging with a large blogger that I followed and respected that conversation changed everything. She challenged me to double my sponsored post fee. She said, "Just remember, whatever it is you are charging, someone else is doing the exact same post for more than double." What??? It was so uncomfortable but I did it… and it worked. I never looked back. – Dinah Wulf/DIY Inspired
Kill themselves with trying to publish a lot of content, like posting every day. Quality is king. You do need to be consistent with posting, but if you jump in full speed you are going to burn out quickly. Find a comfortable posting schedule for you and TRY to stick with it, but don't beat yourself up either. Also, when taking on sponsored content, stay true to you and your brand. Before you say yes, make sure it's a good fit for your readers and can you make it work without sounding like a commercial. I always think about a large blogger group I'm in where another blogger asked for help with a post she had to write about wine, and she doesn't drink wine. That's a red flag!! You don't have to accept every offer that comes your way, if it's not something that excites you and that you want to share with your readers, then don't take it. – Cheryl Sousan/Tidy Mom
7. What are your favorite ad networks or pr companies/brands to work with that are great for smaller blogs?
I have worked a lot with Tap Influence and have had great experiences with them. I have my ads set up with AdThrive and love that it's managed for me. For the most part I focus on creating the content and they worry about the running the ads most efficiently. – Mique Provost/Thirty Handmade Days
I think BlogHer is a great place to start for smaller blogs. Also I'd recommend signing up with blogging networks to get your sponsored posts when you are first starting out. BUT if there is a brand that you REALLY love, it's worth it to start courting them early. Just make sure you really love them – don't do it for the money (only). – Amy Anderson/Mod Podge Rocks
Google Ads is what I started with and still use. I also like other ad networks like SheKnows, Martha's Circle and Price Grabber. Lijit is also a great ad company for smaller blogs. I also have found so many great sponsored content opportunities through SocialSpark and TapInfluence. – Kristyn Merkley/Lil' Luna
My favorite ad company is really my ad managers, Ad Thrive! I highly recommend them when you are big enough to look into someone to manage your DFP. As far as trying to work with brands I think working with Clever Girls, Tap Influence etc is a great way to get your feet wet and try out sponsored work. It's overwhelming to try and pitch brands at first and this helps you get a grip on working with brands. – Julie Evink/Julie's Eats and Treats
Collective Bias, Pollinate Media, and Tapinfluence are all great media companies that offer smaller blogs opportunities – Melissa Riker/The Happier Homemaker
I love ad networks, and think you should get in with as many quality networks as possible (I currently run nine different networks on my site). – Ashley/Domestic Imperfection
8. Is there anything else you'd like to add?
There are some amazing opportunities that come from blogging. It has blessed by life in so many ways. I'm lucky to work from home, earn an income and do something that I love. But with that comes the inability to turn it off. There's always more that can be done. I could work 24 hours a day and still not be 100% satisfied. There are also peaks and valleys – sometimes I feel like I have tons of ideas and that things are going great. Other times I feel tapped out and need a break. It can be hard to not compare yourself to what other people are doing too. Know that it's part of blogging – everyone I talk to feels the same way. Surround yourself with people you trust but "you do you." And know that it's normal to go through ups and downs. – Mique Provost/Thirty Handmade Days
You need to know that the more money you make, the less you have time for actual blogging and project creation. But for me, I love running my own business. So the trade off is worth it! – Amy Anderson/Mod Podge Rocks
When I first started blogging I felt like I lived and breathed the blog. It was ALL I thought about and I soon realized I couldn't let it take over my life. Set aside time each day to work on the blog and have times of the days when you completely unplug yourself. Also allow yourself to take the weekends off! I usually take Friday, Saturday and Sunday's off and it is allows me to be a better wife and Mom. I love this quote from Zig Ziglar "I believe that being successful means having a balance of success stories across the many areas of your life. You can't truly be considered successful in your business life if your home life is in shambles." – Jamielyn Nye/I Heart Nap Time
Make yourself stand out! Be you – don't follow what you see everyone else doing all the time. Just because everyone is stuffing cookies inside cupcakes or painting their kitchen white, doesn't mean that's what you have to do to be successful. Oh, and good pictures! If there is one thing you want to spend extra time on, it's learning how to get nice pictures – from lighting to a little styling – nice pictures can make a HUGE difference in blogging success. If your pictures looks nice, other's are more apt to share your posts. – Cheryl Sousan/Tidy Mom
The best way to find success in the blogging world is to be unique and to create great content. – Kristyn Merkley/Lil' Luna
You have to be passionate about blogging in order to be successful but still approach it as a job/business. I was very nervous when my blog moved from hobby money to income our family counts on in our budget each month-it was scary to take that leap and there were growing pains as I've grown (taxes were a wake up call!!) but it's worth it in the end to have a career that I love so much that also allows me to stay home caring for and homeschooling my children! – Melissa Riker/The Happier Homemaker
Don't give up! Nobody said it would be easy doing this, but it will be worth it! – Christine/First Home Love Life
Take a photography class or two. Great photos are key! – Jessica Keilman/Mom for Real
Creating, writing and maintaining a website in order to earn full time income is a difficult job. You have to really love what you do or burnout will certainly occur. Stay true to yourself and your job will always be challenging and interesting. And be sure to take a little time for yourself each day. It is so easy to get caught up on the internet and allow the world to go by without you. – Suzy Myers/Suzy's Artsy Craftsy Sitcom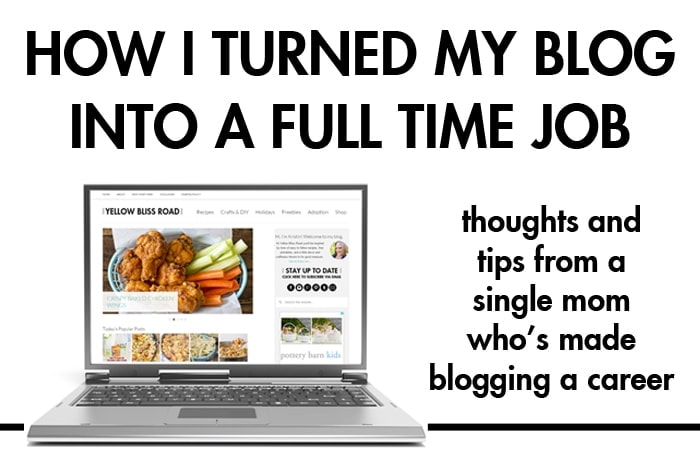 I truly hope that you enjoyed this series as much as I did writing it. Please take a moment to thank these wonderful ladies who took a few moments from their busy days to share some of their wisdom with you.
Thank you for reading, and please feel free to always email with questions, or leave them in the comments. I'm happy to answer whatever I can!