I'm super excited to have my friend Pamela here today as our BBC mentor! I started reading Pamela's blog when she was brand new last year and I've thoroughly enjoyed it. Her little boy is just adorable and so is his mom!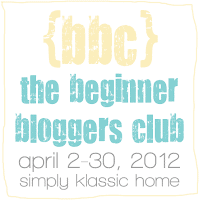 Hi everyone! My name is Pamela, and I'm the author of
PB&Jstories
and I'm so excited to be here today with my good friend Kristin for this awesome series she's doing that is so helpful for new bloggers (even veteran bloggers I'm sure will be able to learn a thing or two!)
I'm here today to talk about why you should buy your own domain from blogger for only $10/year and how to do it step-by-step.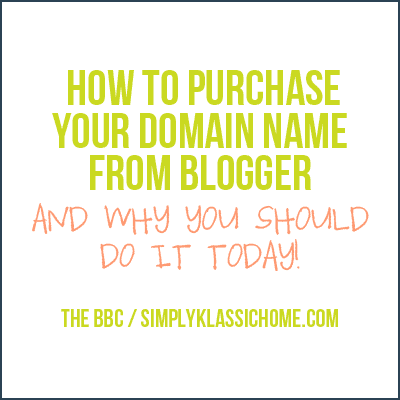 If you're already confused, let me break it down. Blogger is such a great host for blogs, it's free, it's easy to understand and design your layouts, and it's hosted by Google so you have access to many great features. When you create a new blog hosted by Blogger you create your blog name and share your domain with blogger. For example when I first started blogging my domain was "www.pbjstories.blogspot.com," you share your domain with blogger since they're hosting it for free for you.
The number one reason I highly suggest purchasing your domain from blogger is for the future of your blog. Even if you are unsure of where your blog will be in a year, how many followers you will have, if you'll create a business from your blog or any possible outcomes you have from creating your blog, there is a good chance your blog will become something that you hold dear to you and you'll want your own name on it. By purchasing your domain from blogger early on, you are claiming your domain so no one else can purchase it first. In under a year I created my own business under the PB&J name, I have my blog which is PB&Jstories, and my Etsy shop which is PB&Jcreations. Let's say I waited until my one year mark to purchase my domain from blogger, and I was ready to take the leap from
www.pbjstories.blogspot.com
to
www.pbjstories.com
and I go to make that purchase, but within that year, someone else purchased that domain via a different host then pbjstories.com would no longer be available to me. Sad Day. That's why I
always
suggest to new bloggers to make the switch and pay the $10/year for your domain from blogger.
The other great reason is for networking purposes. It's a lot easier when I'm meeting someone new and they ask what my blog address is for them to remember PBJstories.com rather than PBJstories.blogspot.com. It's concise, it's professional, it's so easy!
Here's the step by step process of how to buy your domain from Blogger with the new layout design. A big thanks to Kristen for taking the jump to purchase her own domain, and taking pictures for me to share with you for each step!
Buying Your Domain from Blogger



1. Under the Settings Menu, click on Basic and you'll see this home screen.
Under publishing you'll see your blog address.
2. Click on "+ Add a custom domain Point your own registered domain to your blog."  
This is where you'll enter the domain of your choice, without the .blogspot.com.
3. Step 1 (of this process) is choosing your domain name and google will verify if your domain is available or not, fingers crossed it still is!


4. Step 2 (of this process) is filling out your personal information to register your domain, and agreeing to the terms and conditions. Once completed click on "I accept. Proceed to Google Checkout"
5. Sign in to your Google account that your blog is registered with to proceed to the Checkout step.


6. Enter your payment information to pay for the $10 annual registration fee, and click on "Place your order now – $10"


7. You're redirected to the last step of checking out and Congratulations! Your domain is finally yours!


IMPORTANT LAST STEPS: 
8.  Now you'll be redirected back to your blogger dashboard where you need to do a few last final steps to help redirect your readers and anyone that follows your blog to your new domain.
Click on Advanced Settings and "redirect traffic" ensuring that your domain has been properly registered by checking your settings.


9. Once you've redirected your old domain to your new one you're settings dashboard will look like this and have both domains listed, but your old one will have redirected after it.


10. All done! Congratulations!!! 
Hope this answers any of your questions of how to purchase your own domain from blogger, and why you should make the switch now.
If you're interested in moving beyond Blogspot or WordPress and truly owning your own domain, here's a great
article by the SITS girls
and why it's smart to buy your own domain.
Thank you to Kristin for having me for allowing me to be a part of this informative series!

Thanks so much Pamela! I was happy to take the leap and purchase my domain to help with this post – I've been meaning to do it for a while and this was just the push I needed. 
Be sure to check out Pamela's blog later this week, when I'll be guest posting and sharing a sneak peek of my master bedroom makeover. What? You didn't know that I'm in the middle of not one, not two, but THREE makeovers??? Yes, I have design ADD. So glad you love me anyway!