My living room "makeover" is kicking my butt. I am so over it at this point I don't even know if I want to continue. I just feel like it's not "working" and I'm not sure what it is about it that's not working.
I think I may need to paint.
I really don't want to paint. Like really, REALLY don't want to paint.
But I'm beginning to feel like that's the "thing" that's not working for me.
So I guess I know what I'll be doing this weekend.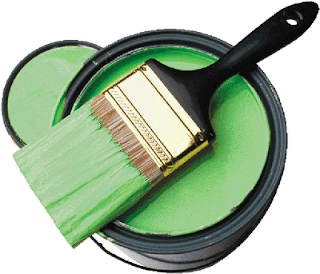 Here's hoping I pick the right color! What do you think of that green?
Kidding.
What about you? Have you ever reached that point in a project where something's just not working and you can't quite put your finger on what? Tell me I'm not alone!!
It's getting late and I gotta run, the police are paying another visit to our house tonight. (The police officer's uncle is a friend of mine, and they stop by to pay my "I wanna be a Police when I grow up" son a surprise visit every once in a while).
I need to pick up my laundry that happens to be all over my sofa and coffee table. I'm thinking they don't need/want to see my bras and underwear!
Have a great weekend everyone!