Ice Cream Sandwich Bar & Free Printables
With summer on it's way, why not keep cool with a fun ice cream sandwich bar? A great idea for last day of school celebrations, birthday parties, and backyard BBQs!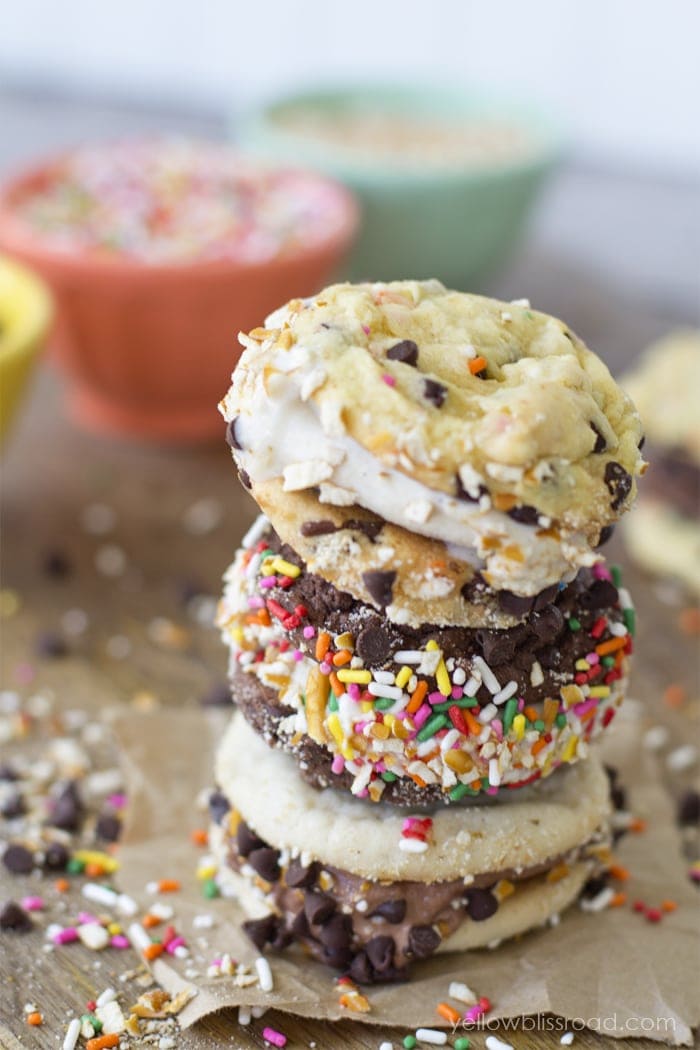 A Make Your Own Ice Cream Sandwich Bar is so much fun for your family or your guests. Here are some of my best tips for setting one up for your next get together.
1. ICE CREAM
Scoop the ice cream into bowls, and then place the bowls in the freezer until you're ready to serve. This just makes it easier than the cardboard ice cream containers that tend to bend. The printable tags are included in the free set below, and there are also blank tags for you to label any other flavors you may choose to use.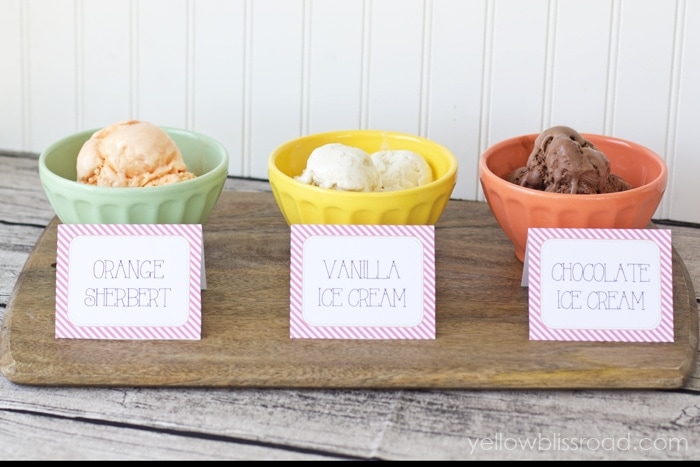 Of course the basic flavors – chocolate and vanilla – are must haves, but why not mix it up with a little orange sherbet or cookie dough?
2. COOKIES
Having a variety of cookies on hand is essential to creating an amazing ice cream sandwich bar.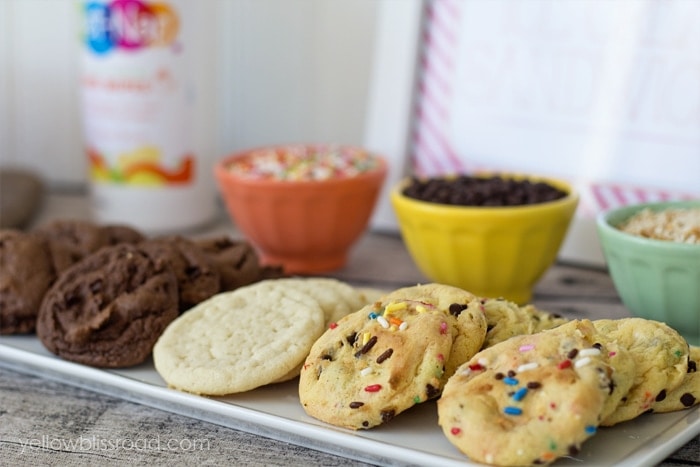 Guests can choose to have both sides the same or mix it up with two different flavors. Try my Chocolate Cake Mix Cookies (pictured left), Ice Cream Sundae Cookies (pictured right), or even Caramel Stuffed Snickerdoodle Cookies!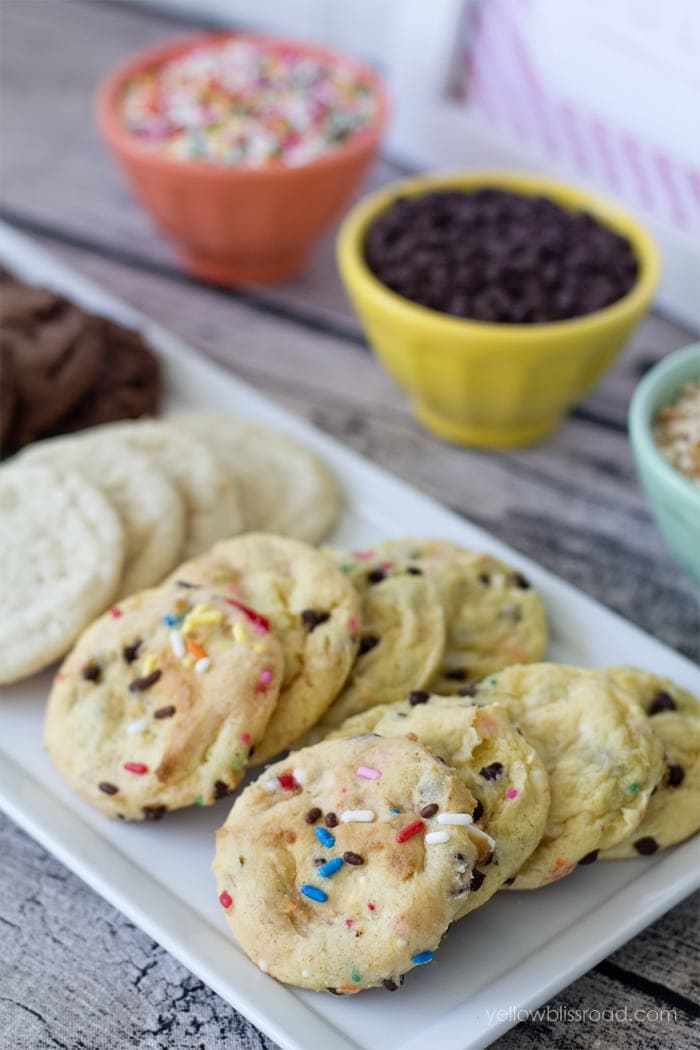 Make sure to freeze cookies until just before serving. This helps to keep them from breaking as guests make their sandwiches.
3. TOPPINGS
Sprinkles/Jimmies, mini chocolate chips, and crushed pretzels all make great toppings for rolling your ice cream sandwiches in. Be sure to provide a workspace to spread the toppings out on so the sandwiches can be rolled in them.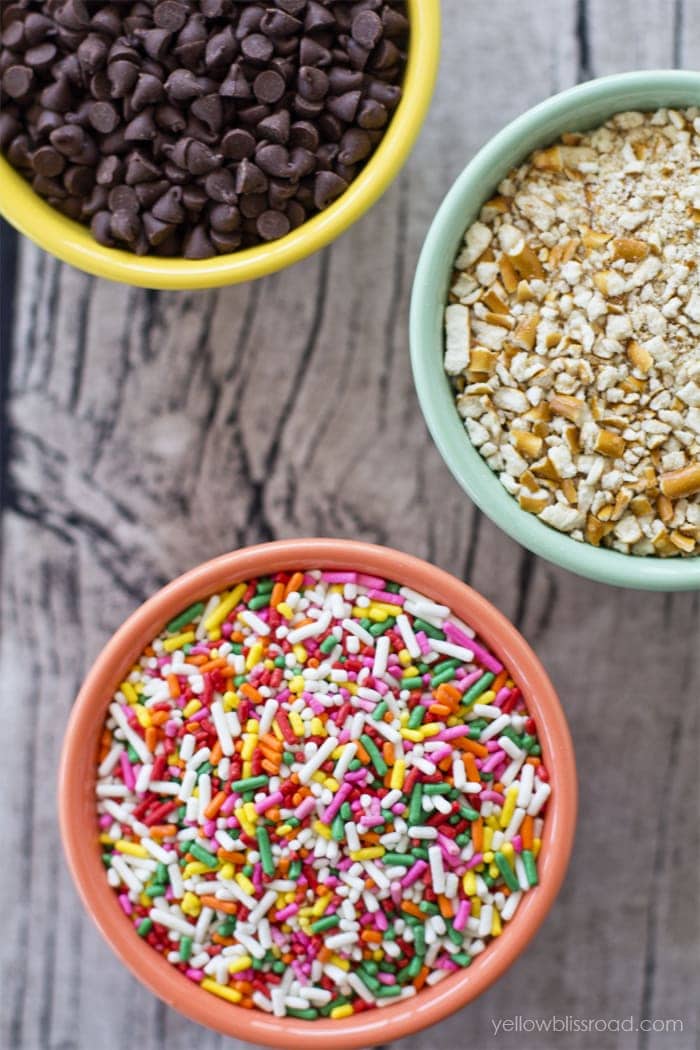 Some other ideas for toppings include: brownies, Oreos, nuts, candy canes, marshmallow bits, or red hots.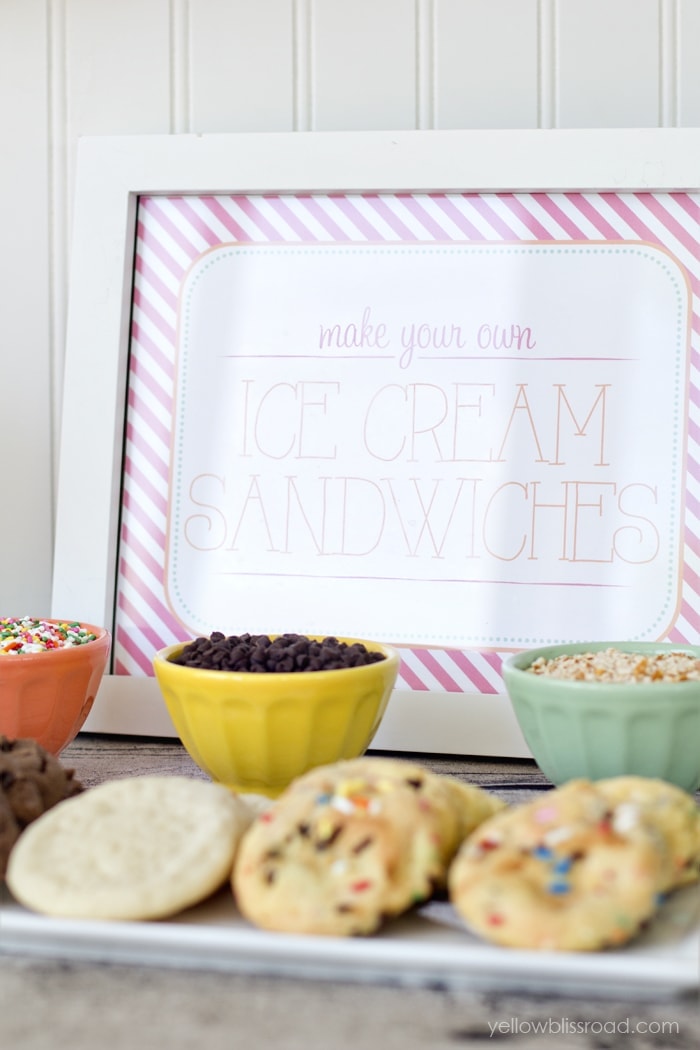 4. LABELS & DECORATIONS
Labeling your ice cream flavors, cookies and toppings helps your guests to easily identify what each item is. This is especially helpful if there are any allergies.
Adding a colorful garland creates a little festive atmosphere.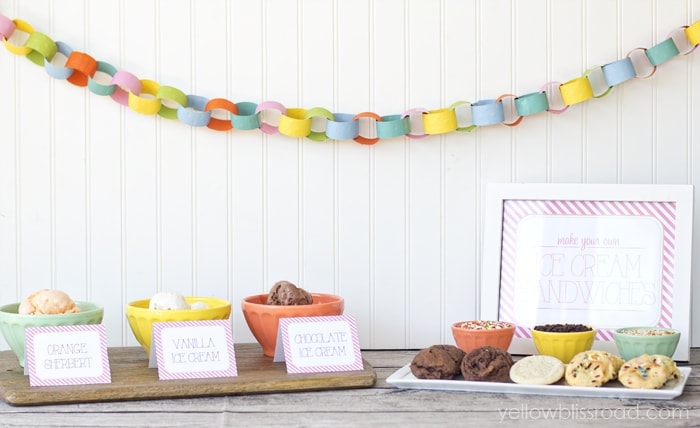 The labels you've seen throughout the photos are available for free download at the end of this post. There is a "Make Your Own Ice Cream Sandwiches" 8″x10″ sign, as well as labels for your supplies. The ice cream flavors are provided, but there are also blanks so you can fill in your own. They are available in pdf and jpeg versions, so you can add the text in Photoshop if you like.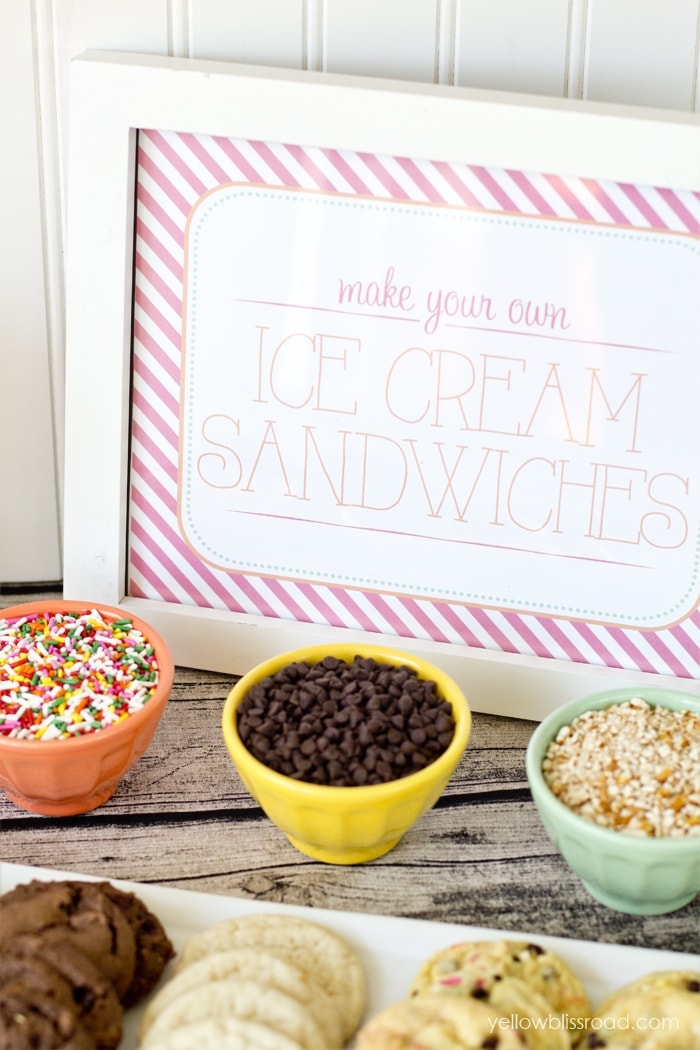 5. CLEAN UP
Although it's always a huge hit with kids and grown-ups alike, a make your own ice cream sandwich bar can get pretty messy. Make sure you head to your local Walmart and pick up plenty of Wet-Naps to have on hand for cleaning those sticky faces and fingers!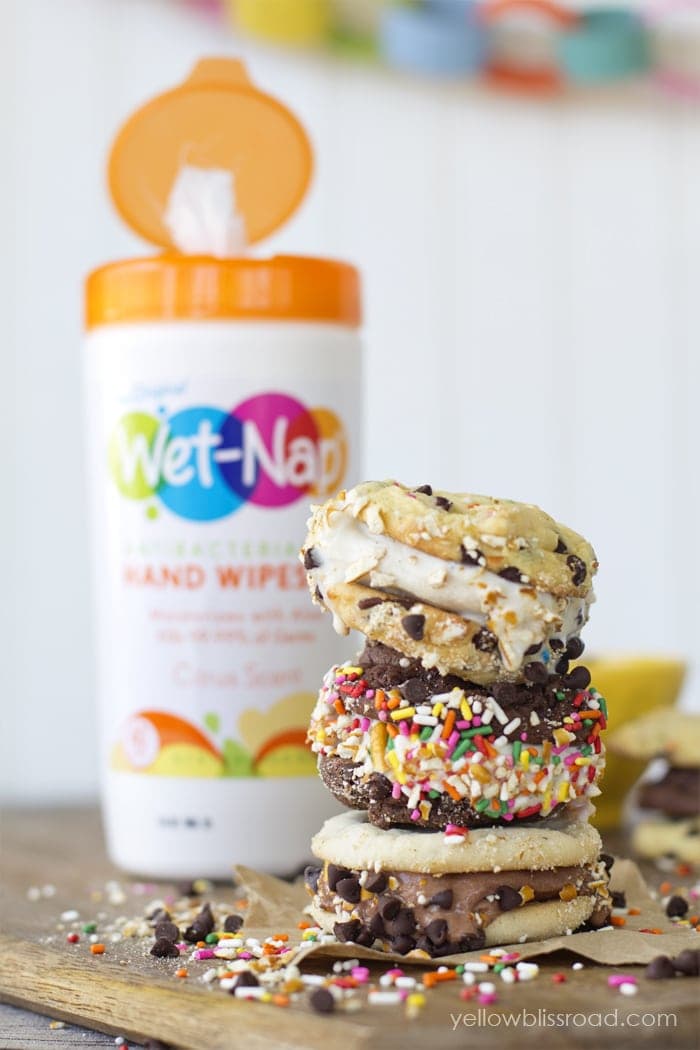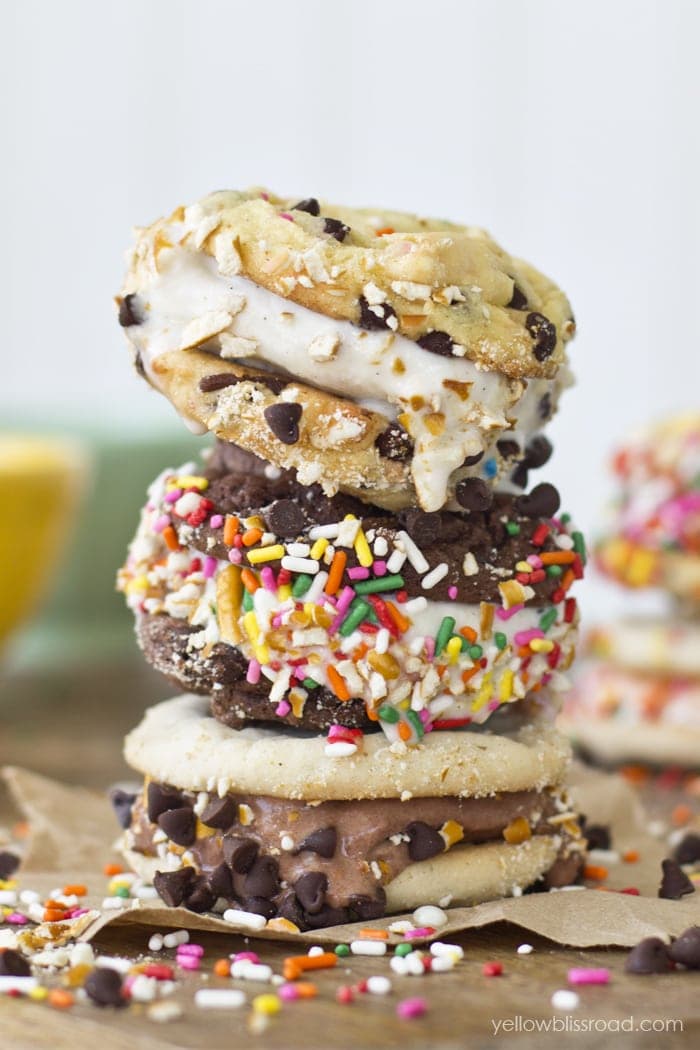 I hope these tips were helpful when thinking about creating an Ice Cream Sandwich Bar for YOUR next party! Wouldn't this be a fun way to welcome summer for the kids last day of school? Or for your Memorial Day or Fourth of July Party? Or just indulge your family with a little Friday night fun! Whatever the reason, an ice cream sandwich bar is sure to be a huge hit with all ages!
*** You can download the printables by clicking the links below ***
FREE PRINTABLE ICE CREAM BAR SIGN AND LABELS

For more fun party ideas, try these: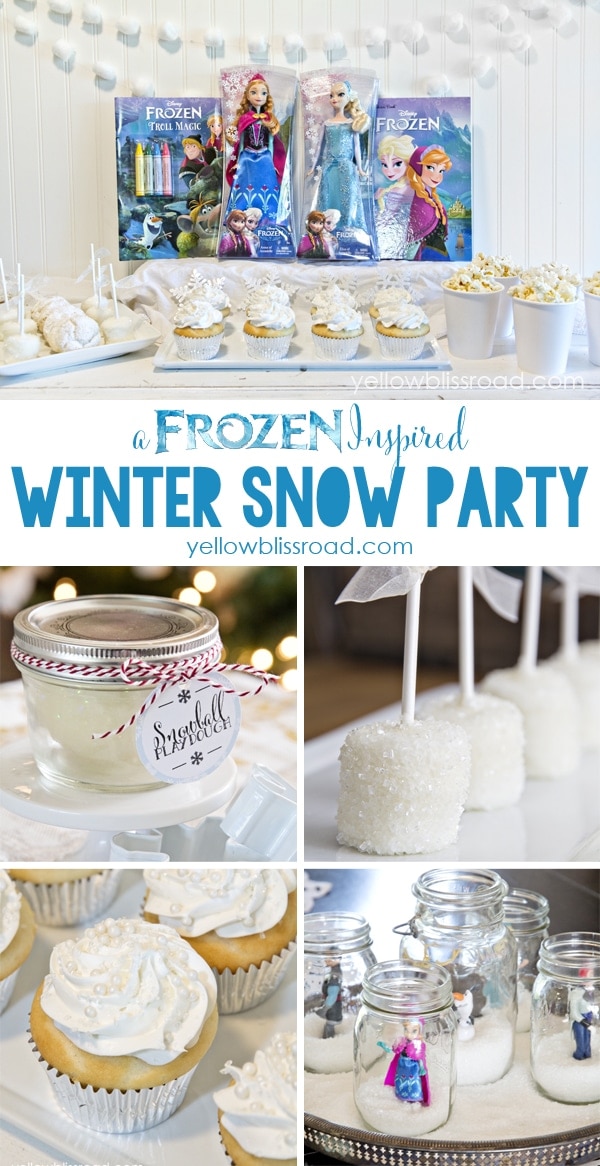 Disney's Frozen Inspired Party