It has been said that imitation is the highest form of flattery. That's true, unless you're a blogger.
I have heard tales from lots of ladies who have found their craft projects, recipes, photography, and even their blog names, copied. I mean, posts copied WORD for WORD. I recently found myself in the same boat, and let me tell you, it sucks!
When I started blogging, the blog world was very small to me. I knew of a few blogs, certainly wasn't an avid reader of them, and never thought I had anything to share that would be interesting enough for other people to want to read it too.
But now, nearly four years later, I love blogging. Truly love it. But this upset me to the point of not wanting to continue. Lame? Maybe a little. 
One of my printables was used as "inspiration" for a design that was sold by an independent online store. It was a dead-ringer for something original I had designed and had clearly stated was not to be sold in any form, and what I had given away for free, she was selling for $8 a pop. I contacted the designer, and after much discussion, she took down the item.
Shortly afterward, a friend had her original image copied from her blog put up on someone's Facebook page with the caption "These tables now for sale in our store!" Despite the fact that she claimed when contacted that she was merely stating that she made tables "just like that" it was definitely not her work, her photo, or her table, and she in turn would be making money off of my friend's photo. Not cool. 
So when is it ok? What's the difference?
Well, that's the tough part. I'm always flattered when I've inspired someone to create something, whether it's a replica, or their interpretation of my original creation. Whether it was a recipe or printable or craft, I am honored when another blogger or reader imitates something I designed. But when they claim it's their own design, that's a completely different issue.
Let's play a little game. (This is merely an example)
ROUND ONE:
I created this in Photoshop today to go with this post.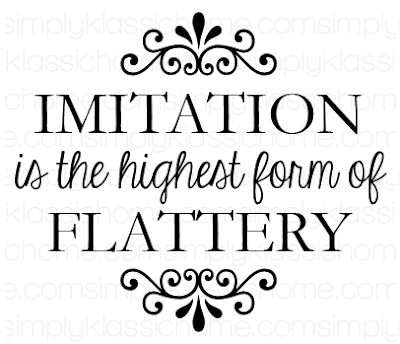 Cute right? And perfect to go along with the topic.
ROUND TWO:
I was searching for inspiration for this post today and I came across this print from Open Heart Creations on Etsy.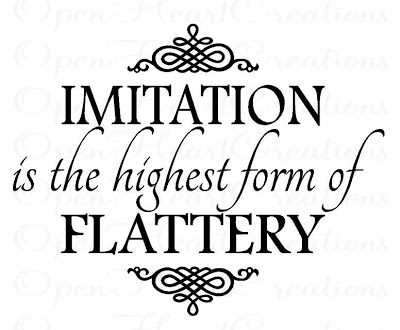 I thought to myself, "I'm good at Photoshop! I can make that!" So I created my own.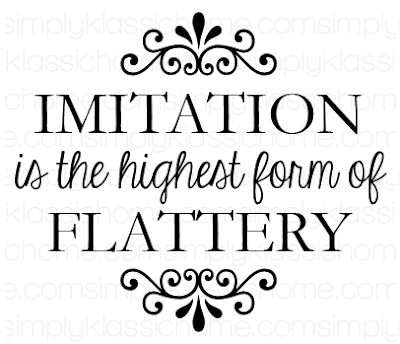 It's obviously a knock-off of the original, with a slightly different font.
But since I changed the font, would it be ok for me to sell it, or to even claim it as my own?
What if I change the words?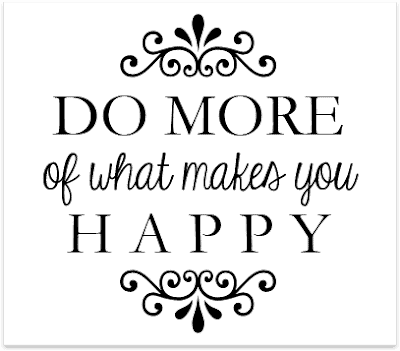 Is it still imitation, or is it inspiration? Or can it be considered my own original work?
With so much inspiration out there, is there really such a thing as an original idea?
So here's my opinion (and this is only MY personal opinion):
Imitation is flattering, but when that imitation is sold for profit without permission, that is wrong. 
Just because you are able to recreate something, doesn't mean you should. But if and when you do, you should always give credit. Because I guarantee you, if the shoe is ever on the other foot, it won't feel good. 
If you post your project, whether inspired or imitated, on your blog, always site the source. Make sure to take note of the original inspiration's blog policies. For example, many bloggers require that you get permission before using their photos or content. Some will allow you to freely use one photo as long as there is a link back. Others still, have no policy, so you will have to use common sense and good judgement, follow your heart, and follow the golden rule:
At a reader's request, feel free to grab the above image and use it on your blog! 🙂
This has been a pretty hot topic lately in some of the groups I belong to…what's your feeling on the subject?
* Disclaimer: This is a vent, that kind of turned into a rant. The thoughts stated here are my own opinions. I do not have any legal background in the matter of copyrights. I was just kinda ticked off.