The Makeover bug, that is! Two rooms down, and I'm itching to get started on the next big room makeover.
Since moving my daughter out of the bedroom she shared with her brother, his room was left a bit of a disaster. So this weekend we worked on it (yes, I made him work!). All we really did was rearrange furniture and give it a good cleaning, but then we talked about what kind of room he wanted.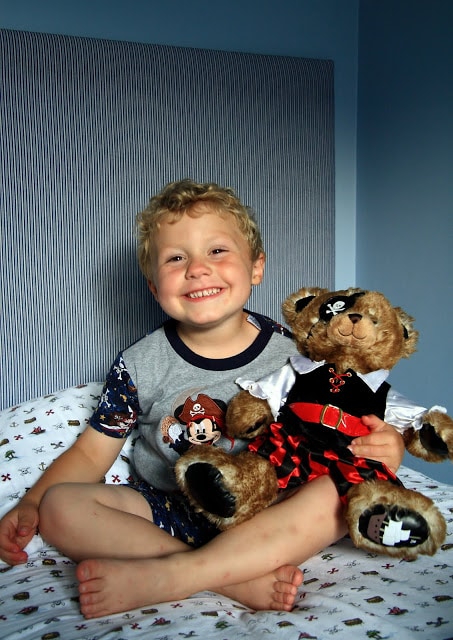 Can you guess what one of his favorite things is right now?? Yup, PIRATES!
Lucky for me I just found his new Pirate sheets at Marshalls the same time I bought the Princess' new sheets. So here he is with his new pirate sheets, his new pirate bear (from Build a Bear) and his favorite pirate pjs.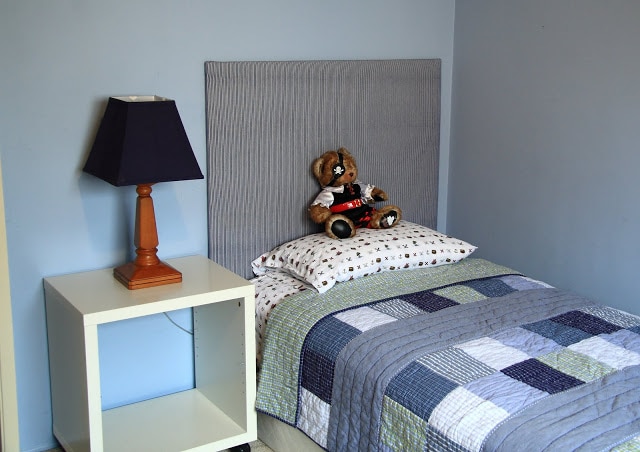 Looks awfully plain to me, but he was pretty excited when I put the new sheets on his bed. He said, "Thank you, Mama, for my new bed!" Ha! I suppose he wouldn't care if I just left it like this, but I've got bigger plans!
I'm not too keen on the paint color (it matched his baby bedding) but I'm thinking I may leave it. I'm not sure what to do about the quilt – what do you think? Will it work?? I guess I'm concerned about the green.
The nightstand was just something I pulled out of the garage and will need to be replaced. I have something in mind, but we'll see if I can pull it off!
The dresser will most likely get a treatment of some kind…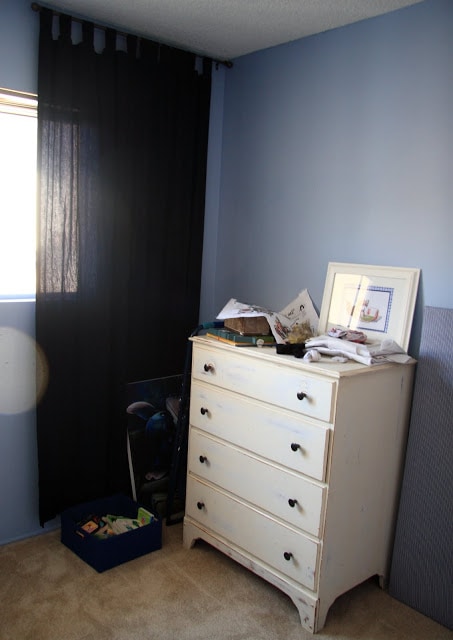 Yes, this is what the corner of the room looked like after shoving all of the extra crap stuff out of the way and taking down the art.
The curtains will be reused but will actually cover the windows instead of acting as a backdrop for the beds. Here's the before: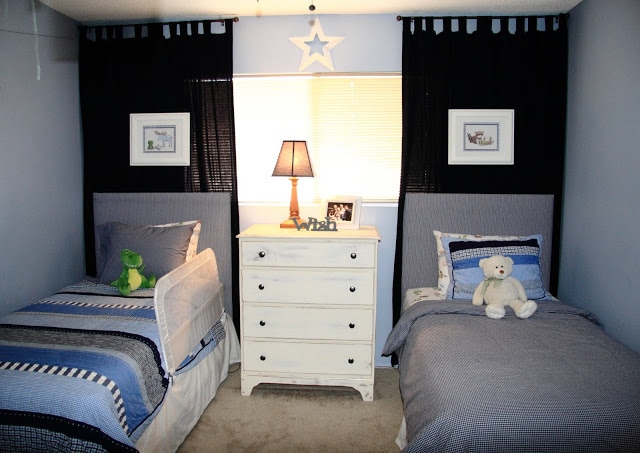 I'm not going to play up the "pirate" theme too much…it will more on the "nautical" side.
Here's my inspiration:
I saw this inspiration board and it gave me a lot of great ideas.
I've already ordered a couple items featured above. They are dirt cheap, big impact pieces and can't wait till they arrive!! I'll be sure to share my progress as I go…