Jalapeno Popper Pizza – Spicy, Cheesy, Creamy and oh so delicious! Perfect as an appetizer or an easy dinner.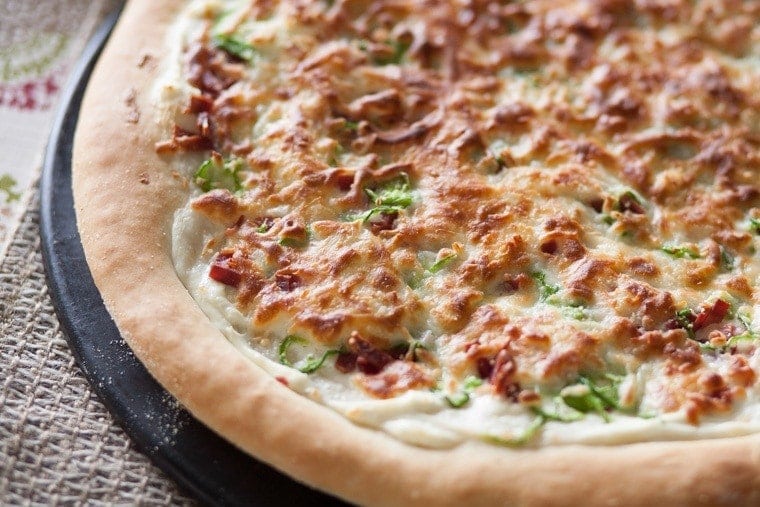 By now, everybody has had them. Those delicious jalapeños stuffed with cream cheese and wrapped with bacon. They are pure heaven.
Now we're going to take that up a notch and change the form. Yes, we're going to make pizza with all the same ingredients as the famed jalapeño poppers.
This pizza starts with an amazing crust made from scratch. This crust recipe is super simple and turns out perfect every time.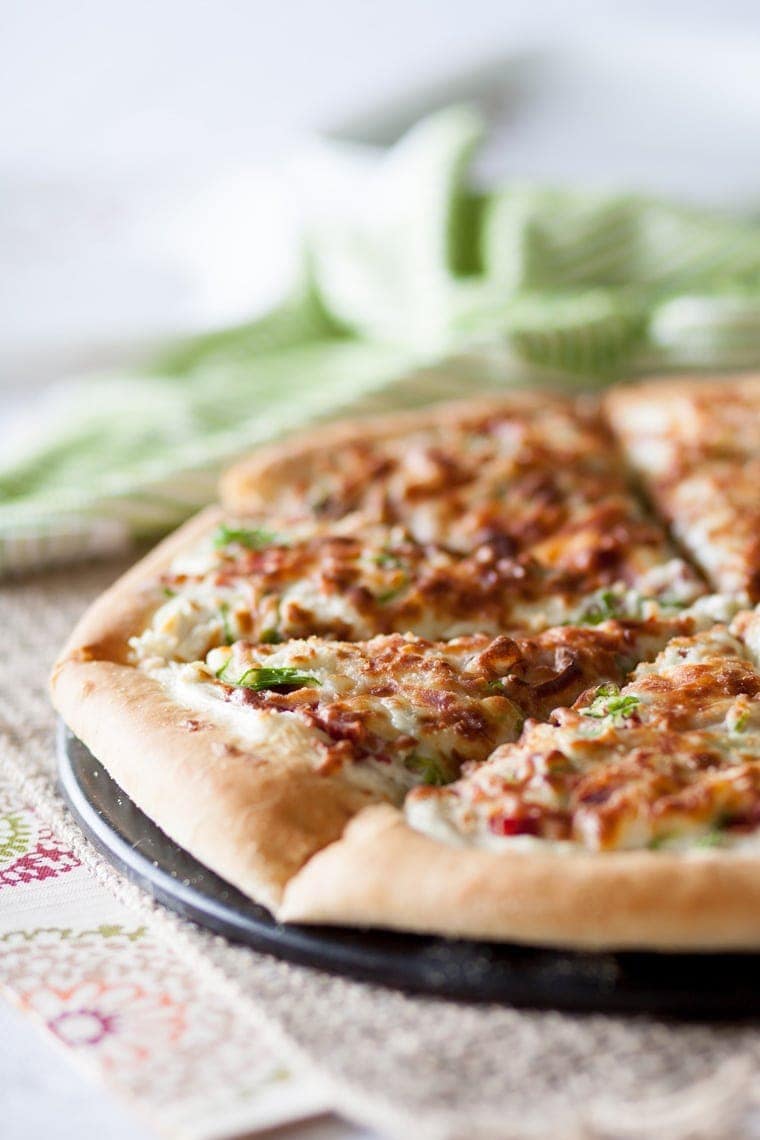 Then all you do is spread some softened cream cheese over the top, sprinkle with cooked bacon,  add some thinly sliced jalapeños, and finish it off with mozzarella cheese. Bake in a 450-degree oven, and you have a pizza everyone will rave about.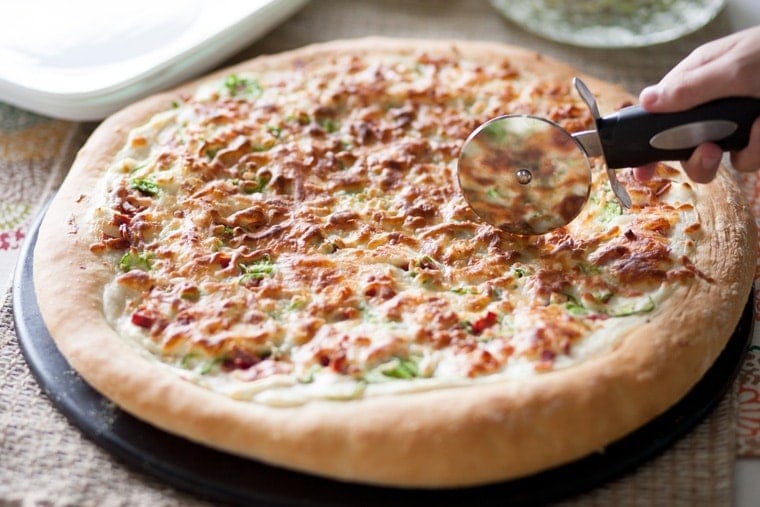 There are a couple of tips that will really help you as you prepare this pizza.
Use a mandoline slicer to cut your jalapeños. This will give you really thin slices which will distribute the heat more evenly on your pizza. If you cut the jalapeños with a knife, be sure to wear gloves. And be sure not to touch your eyes or your nose, or they will be burning for hours! When I used the mandoline, I took some precautions and put a plastic sandwich bag over my hand. I just gripped the jalapeño through the bag. When most of the jalapeño had been cut and the bag started getting in the way, I just held onto the stem of the jalapeño through the bag.
Use a pizza stone for your pizza. If you don't have one, you can also use a rectangular pan and roll your dough into a rectangle or square. Just don't make the bottom too thin.
To keep your pizza stone from moving around on the counter while rolling out the dough, put a kitchen hand towel under it.
Make sure your cream cheese is really soft. It should be the consistency of cream cheese frosting.
Watch your pizza carefully! Don't just go by the suggested cooking time. The cheese can turn brown very quickly!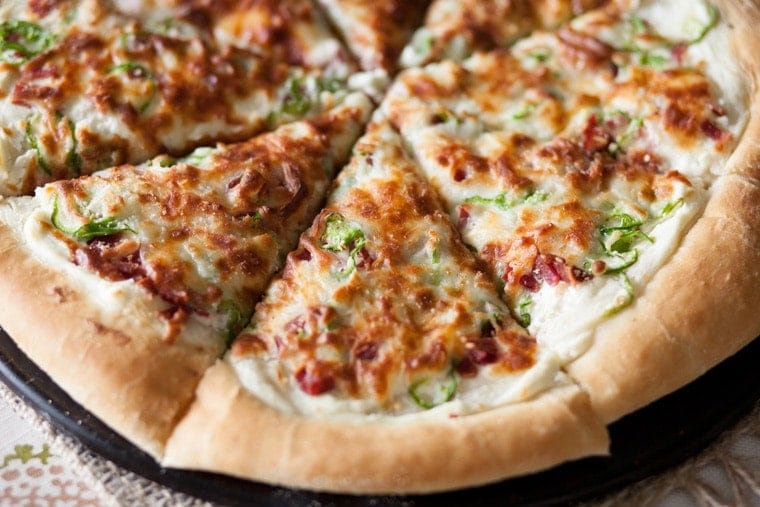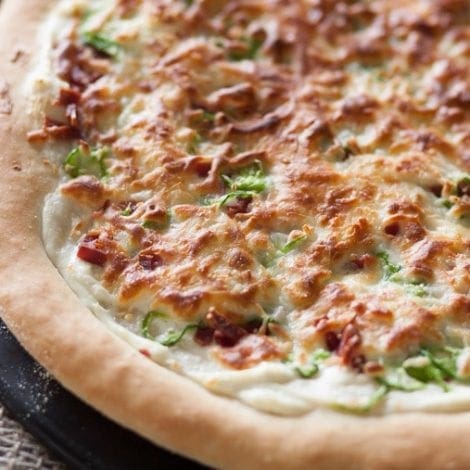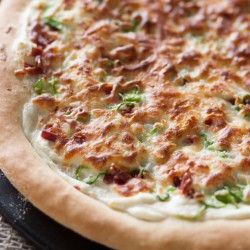 Jalapeno Popper Pizza
Ingredients
For the Crust
1 cup very warm not hot water
2 tsp. yeast
1 tsp. sugar
2 Tbsp. olive oil
1 1/2 tsp. salt
3 cups flour
Extra olive oil for greasing the pizza stone or pan
Cornmeal for dusting the stone or pan
For the Toppings
4 slices cooked bacon crumbled or sliced (turkey bacon works well)
2 jalapenos thinly sliced
6 oz. cream cheese softened
1 1/2 cups or more mozzarella cheese
Instructions
For the Crust
Add the sugar and yeast to the warm water and let proof for 5-10 minutes. It should look frothy.

Add the olive oil and the salt.

Add 2 cups of the flour and mix well.

Add 1/2 cup more of the flour and mix well.

Put the other 1/2 cup of flour on a large cutting board and knead into the dough. (You can also make the dough in a stand mixer, making sure to switch to the dough hook after mixing in the first two cups of flour)

Cover and let rise in a bowl until doubled, about 45 minutes. If you are in a pinch for time, you can also just roll it out and use it right away.

Once dough is risen, punch down.

Lightly cover your pizza stone or pan with olive oil and then sprinkle corn flour over it. This will help the dough not to stick.

Put all of the dough on the pizza stone and roll to the edges. If you roll it slightly over the edges, you can take the overlapping dough and lift it back onto the pan, making a higher crust edge.
For the Toppings
Spread your softened cream cheese on your dough, leaving a little space at the edges.

Sprinkle with the bacon and jalapenos.

Top with the mozzarella cheese.

Bake in a 450-degree oven for about 15 minutes until crust is golden and cheese is melted and bubbly. Watch pizza carefully. Pay more attention to the appearance of the pizza than to the timer.
For the perfect complements to this meal, try these great recipes!
Chocolate Brownie Chunk Ice Cream
For all appetizers go HERE, for all dinners go HERE and for the recipe index go HERE.