It is finally finished!
Ok, I say "finally" like I've been working on it forever even though it's only been two weeks since I decided it was going to happen. Although technically, this has been a year in the making!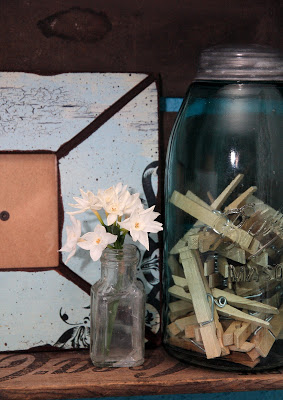 I thought it would take me at least a month, but then I remember that I'm pretty impatient, so here we are just two weeks later!
You're gonna realize how awesome that is when you see the before:
Just before the demo last year, when the entire enclosed patio was rebuilt and divider wall was added: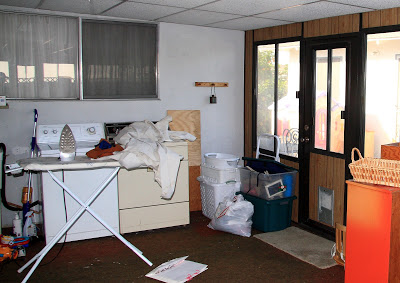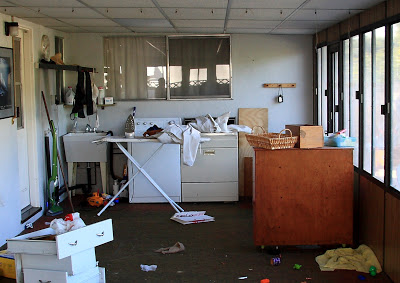 Never really "decorated" or did anything with it, and it quickly turned into this: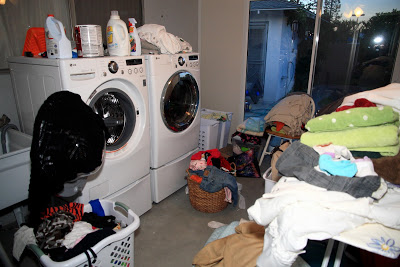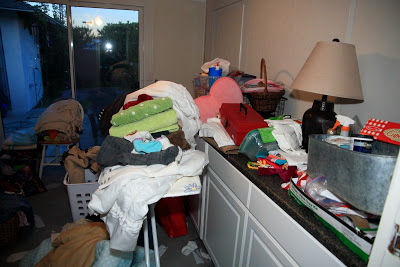 Not sure which was worse.
It was the catch-all room. This is where things landed on their way out to storage in our back house. It was the place the clean laundry stayed because I really didn't want to put it away. And it was the placed that housed clothing items I'd forgotten I even had.
But no more.
I introduce you to my new and improved laundry room! As my three year old daughter would say, "Ta-Da!!"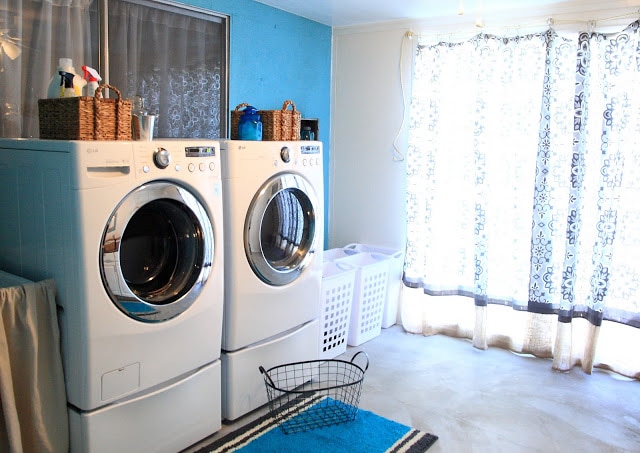 I decided to stick with the concrete floor in here. I actually really like the look of it. Plus I don't have to worry about damage if the sink overflows because I forgot to take the washcloth out of it (not that I've ever done that, of course).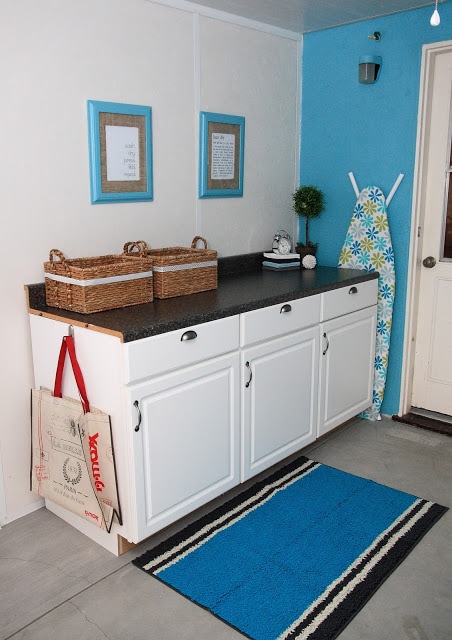 I am in love. I'm actually thinking of having meals in here from now on.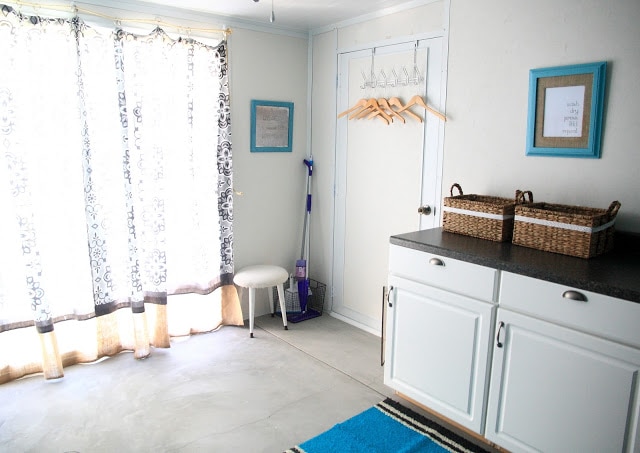 Ok, the details ~
I really didn't know what I wanted to do in this room. I saw lots of photos online that I loved, but wasn't really sure what would work. Then I saw this rug at Kohls: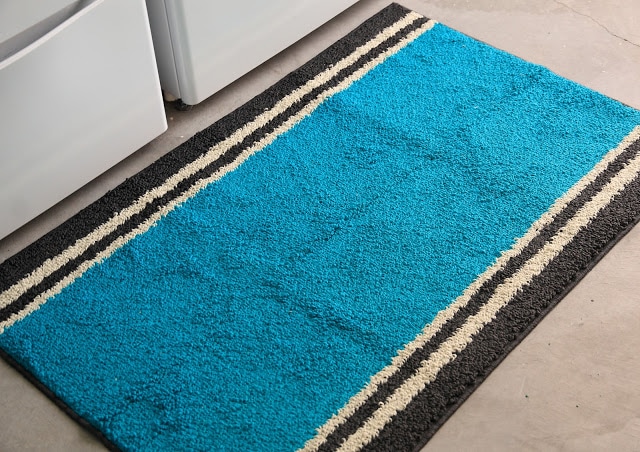 And a color scheme was born! I already had half a can of pretty turquoise paint from the playroom and I didn't want the room to be quite as bright so I toned it down a bit with some very light gray. I only painted the two stucco walls.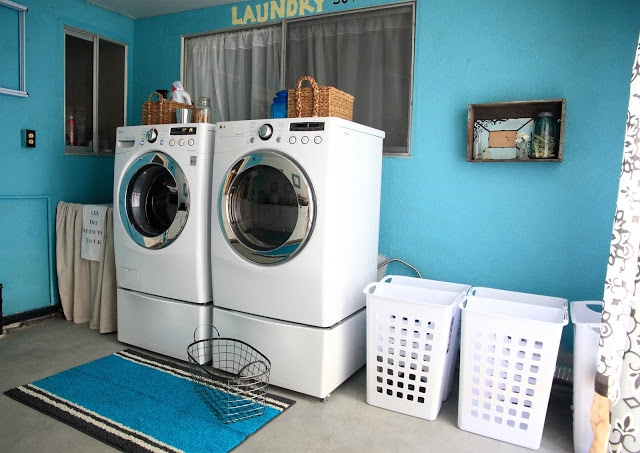 I found several beachcomber baskets at Homegoods and placed two on top of the W & D to hold the detergent, stain remover, cleaner, fabric softener, etc.
The bucket is used to collect hair clips, loose change or anything else that might be found in little pockets. Filled an old Ball jar with clothespins.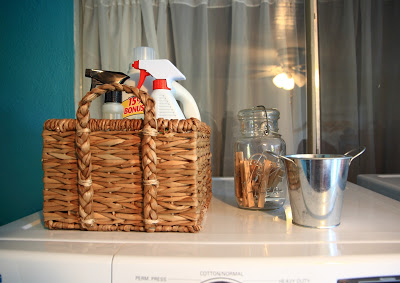 This little blue jar was my grandmothers. She kept it in the bathroom filled with cotton balls, but I thought it would be perfect to hold used dryer sheets.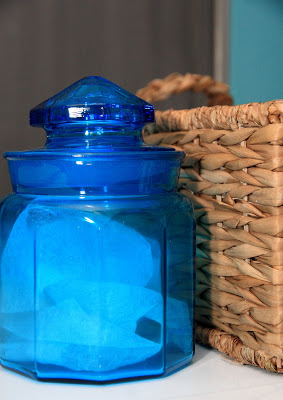 My mom was going to sew a sink skirt, but her sewing machine is broken, and did I mention I'm impatient? So I fashioned one myself.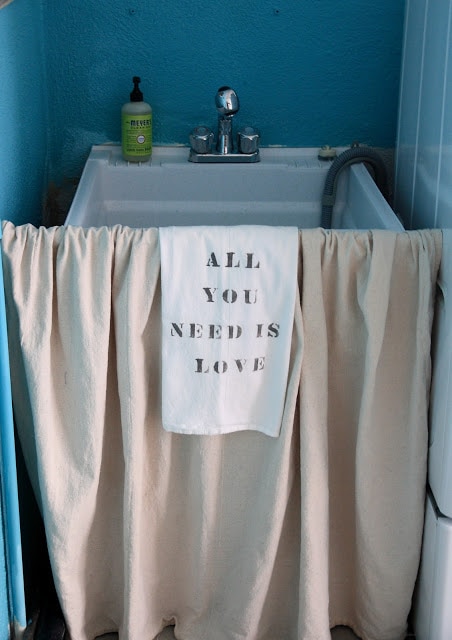 I hung a tension rod from the washer to the wall (love this washer – it doesn't shake), and just draped a dropcloth over it. I cut the dropcloth much wider than the rod so I could bunch it up and give the illusion of a more tailored look.
Since two of the walls are stucco, and two are pre-fab, I couldn't just hammer a nail or drill into any of them. This made hanging artwork a challenge.
On this wall, there were already two screws so I just used them to hang this old soda crate display.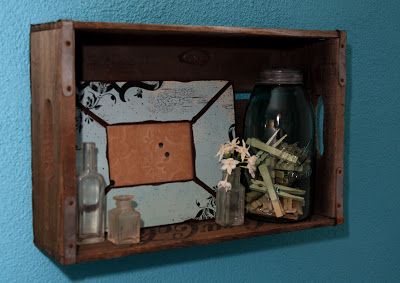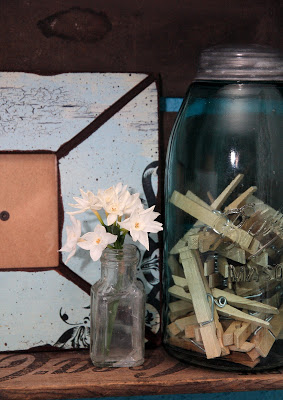 Another old Ball jar with clothespins, a frame that needs a photo, and some old bottles.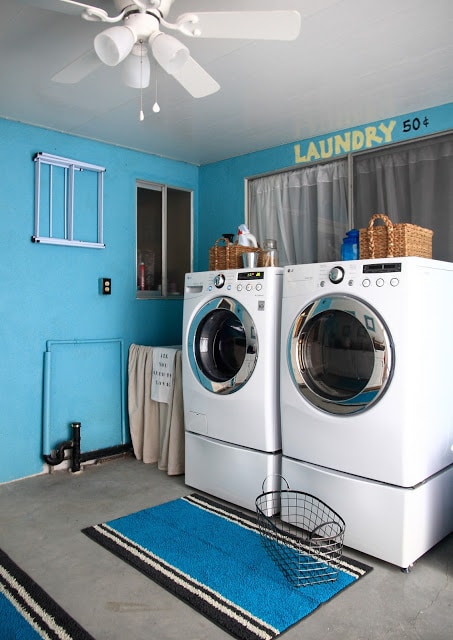 I keep that metal basket to catch the things that fall out of the dryer as I'm pulling them out. I hate it when clean clothes fall on the floor.
I handpainted the LAUNDRY sign above the machines. The yellow paint came from a stash of testers I got at Home Depot for fifty cents each.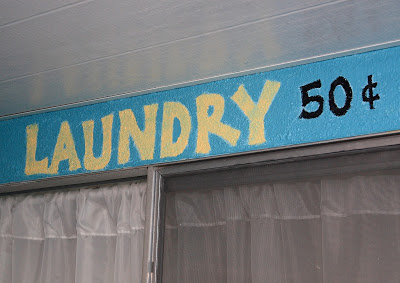 Here's the other side of the room.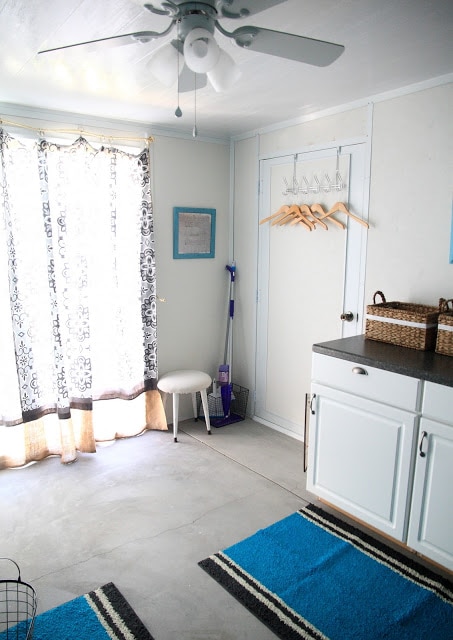 Like I mentioned, hanging anything on the walls is a challenge, so I found some over the door hooks to use for hanging up clothes. Mop, broom and dustpan are contained in another basket. The stool is something that my Grandpa made probably 35 years ago. I just recovered it with dropcloth and painted the legs white a while back (can't find the before). The stool is perfect for watching the laundry go around in the washer.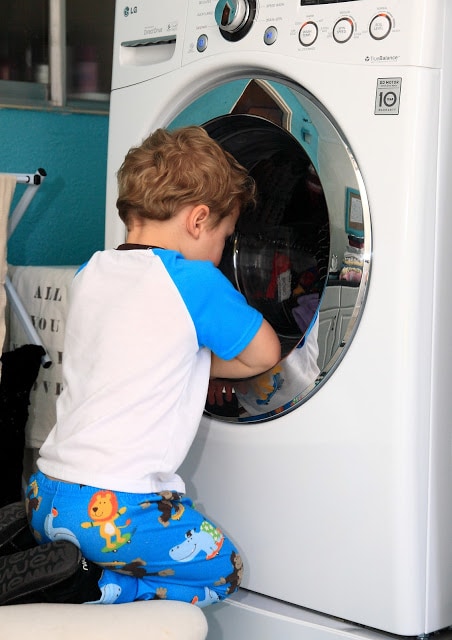 I had this artwork in my kitchen for the longest time, but took it down a few months ago. The frame was a distressed black, so I dry brushed it with the same color as the two walls – this corner needed a little blue!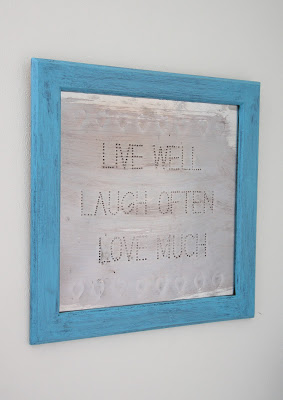 Finally, the cabinets.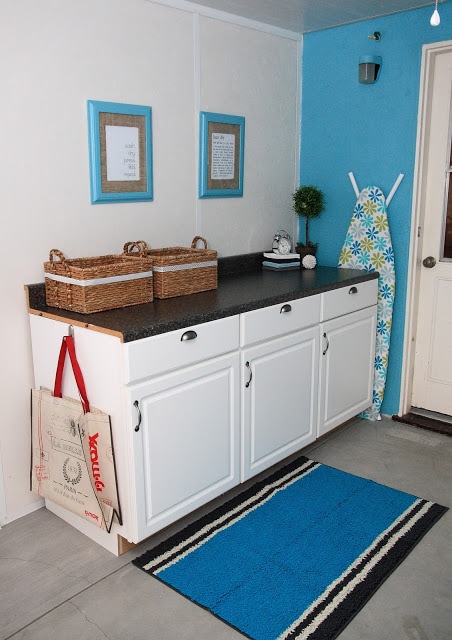 Since I knew I wanted lots of counter space, and I wouldn't be able to hang cabinets on the walls, I opted for kitchen cabinets since they were deeper (and already put together!). The counter is just a piece of laminate laid on top. Still need to add the end piece.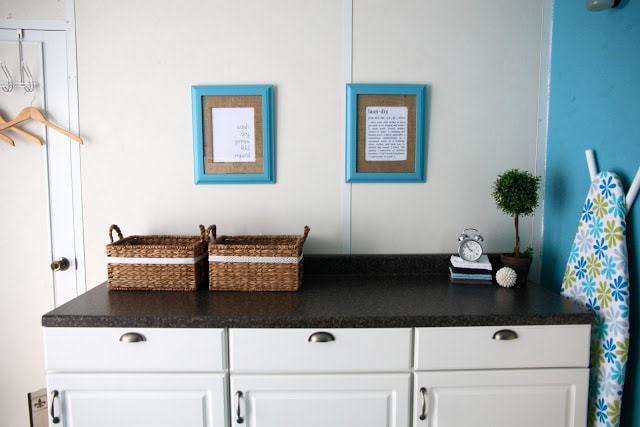 Two more beachcomber baskets are each wrapped with a different colored ribbon for each of the kids and will hold socks and undergarments that are waiting to be folded and put away.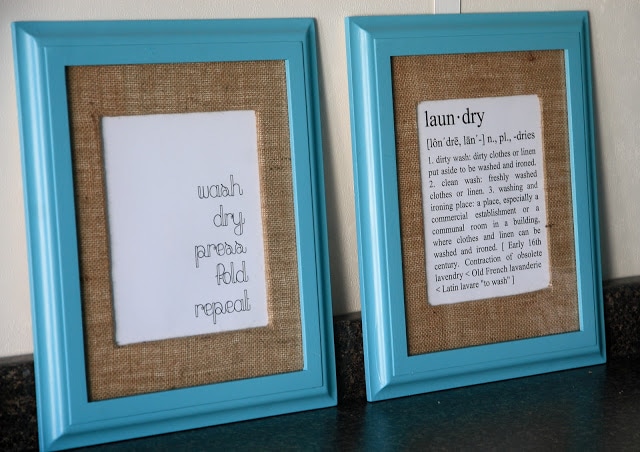 Of course the artwork can be found here.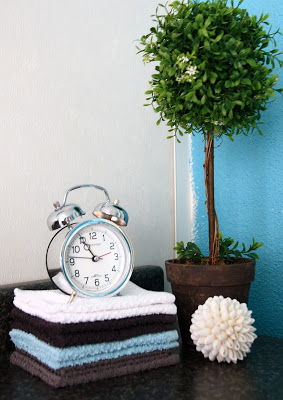 Clock from Target, washcloths from TJMaxx and topiary from Marshalls.
Did you see the adorable bag hanging on the side of the cabinets?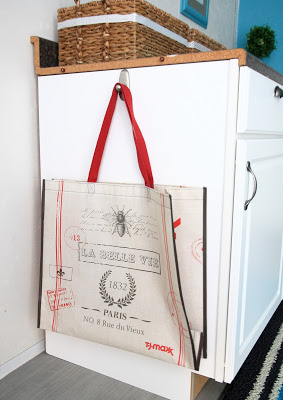 Only 99 cents at TJMaxx! I wish I'd bought more!
The other thing I seriously scored at TJMaxx was the curtains. I'll show you how I made these later this week.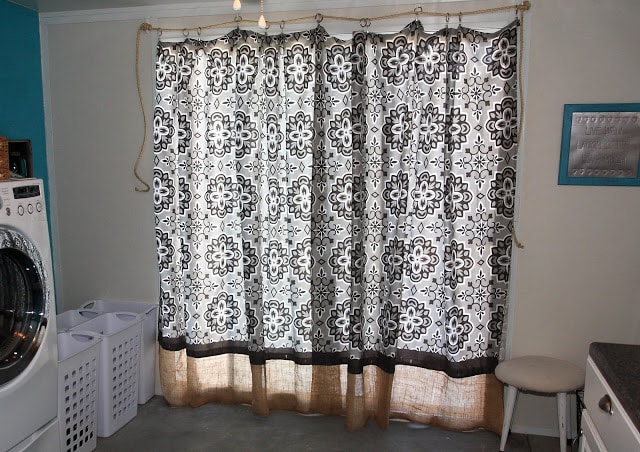 Well there you have it – The only clean room in my house. I'm so pleased that I didn't spend a lot of money on this room (well, I suppose that's relative – the actual room build, new washer & dryer and cabinets were done nearly a year ago, so they don't count!).
Gotta run – the dryer just chimed and there's laundry to be folded!