This post is part of a social shopper marketing insight campaign with Pollinate Media Group® and Land of Nod, but all my opinions are my own. #PMedia #NODinCA http://cmp.ly/3/8vNxcO.
My daughter just started taking dance class. She's four and a half, and I'm sure you're thinking, "she just started??" I'm so NOT a dance mom. I seriously started frantically emailing friends asking all kinds of questions and I'm sure they just thought I had gone crazy. But we have our first class tomorrow, and she (and I) couldn't be more excited!
You see, Miss Riley has always loved to dance (as the adorable video below will show). She has great rhythm too. So, dance classes are a no-brainer, and so is a ballerina inspired bedroom.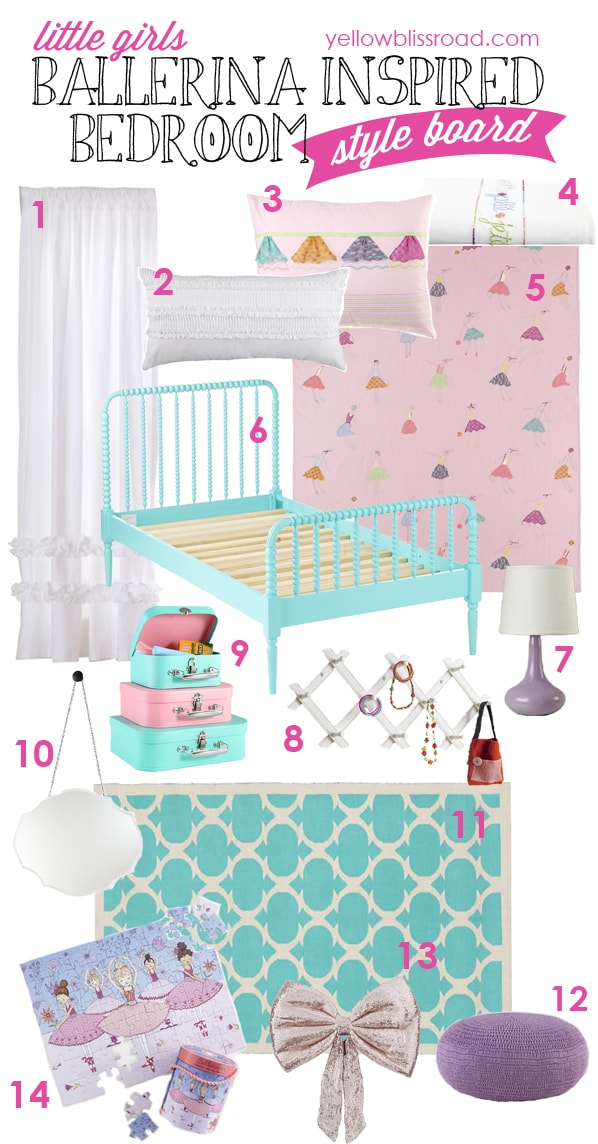 1. Ruffle Curtain Panels  2. White Ruffle Throw Pillow  3. Tulle and Gang Sham  4. Dancers Flat Sheet  5. Tulle and Gang Duvet  6. Jenny Lind Bed (Azure)  7. Eden Table Lamp  8. Accordion Peg Rack  9. Bon Voyage Suitcase Set  10. Scallop Mirror  11. Magic Carpet Rug  12. Pull Up a Pouf  13. Giant Sequin Bow  14. Ballerina Puzzle
She's been asking me for new bedding forever, and when I learned that Land of Nod was coming to a mall near me, I was so excited and decided that now would be the time for a little room makeover for my new little ballerina. I already knew Land of Nod had beautiful bedding, but did you know they had all this other stuff too??
This is the inspiration board I put together for Riley's bedroom. She loves it and we are going to get to work on her bedroom very soon.
The Land of Nod is opening a store at South Coast Plaza (above Crate & Barrel on the Crystal Court side). I can't wait to see all of this beautiful decor in person. If you are in Southern California, you don't want to miss the Grand Opening on May 31, 2013! There will be giveaways happening in store throughout the opening day, and free goodies for those who arrive early to shop.
Here's a little video of my girl gettin' down on Mother's Day at the Big Thunder Ranch Ho-Down at Disneyland: