Wow!! I am so humbled at the amazing feedback on my master bedroom makeover. I'm thrilled that you all love it as much as I do, and I'm grateful for each and every one of you!!!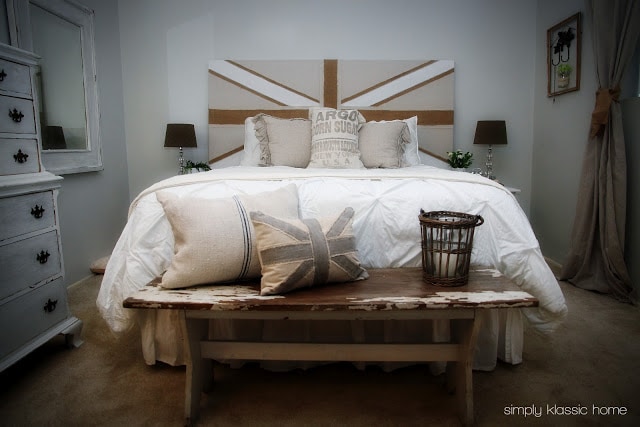 As promised, I'm here today to share a few details…
The only true DIY project in the room is the Union Jack Headboard.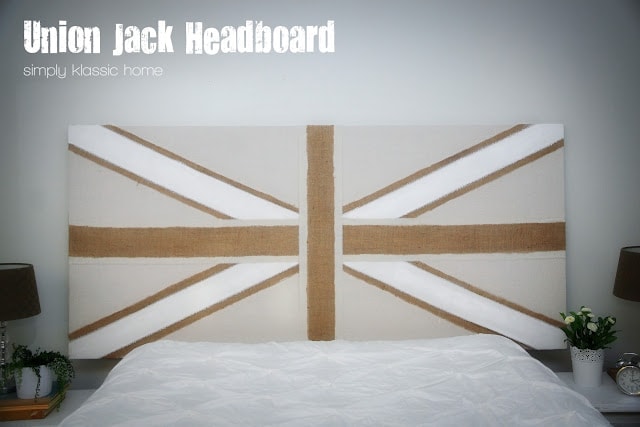 I had removed our hollow core closet doors a few years ago and always thought it would be the perfect size for a headboard.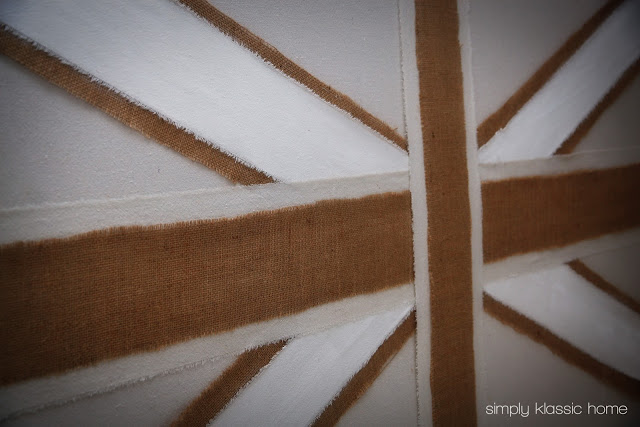 I found the inspiration for this project from Vintage Bliss where she created a piece of art for her mantel, using two of my favorite mediums – burlap and dropcloth canvas! Real simply, I just measured the strips of fabric and stapled everything to the door. All I did differently was to paint the cross strips of canvas white to help them pop. The best part is I had everything on hand, so it didn't cost me a dime.
I must say I absolutely LOVE it. I mean seriously, I can't stop looking at it!!!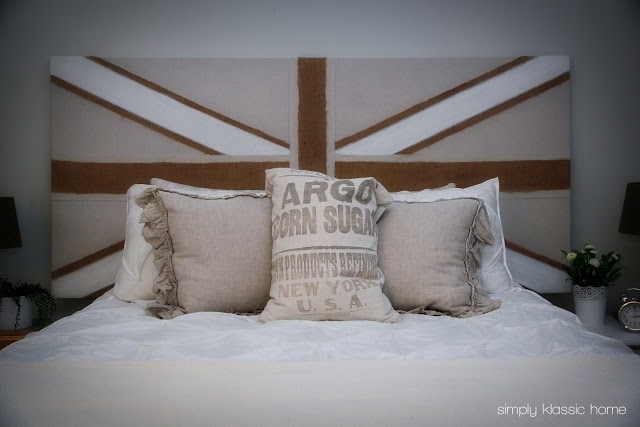 The mirror was also a DIY (sort of).
It started out like this: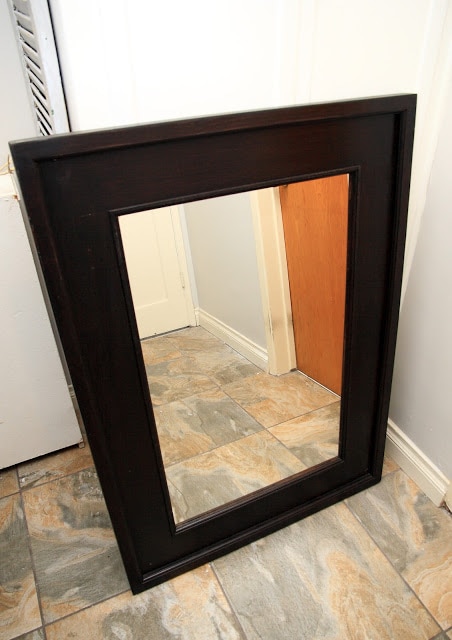 I painted it – first a coat of white primer/paint, then dry brushed several coats of light and darker grays and white until I got the effect I was after.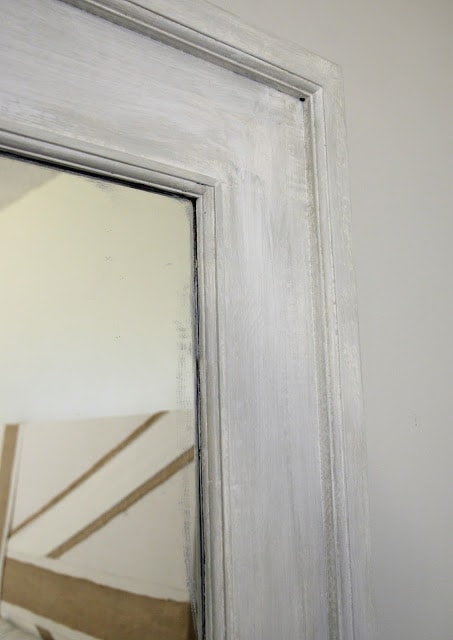 I left it just like that at first, but then decided to distress it.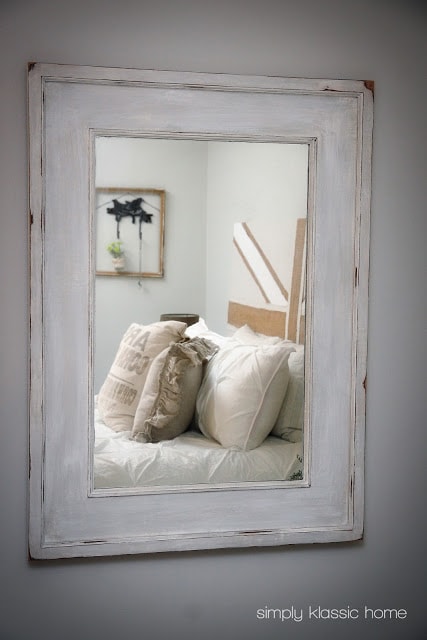 Much better.
Most everything else was purchased "new" or already in the room: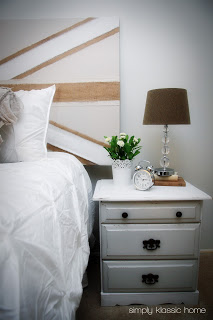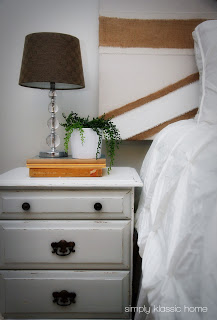 Crystal ball lamps: Target (last year);
Lampshades: Target (new)
Alarm clock: Target, taken from the Laundry Room (confession, I only put this in for the photoshoot!)
Plants and pots: IKEA (they have the most realistic fake plants, and the pots are cute and cheap!)
Nightstands: painted last year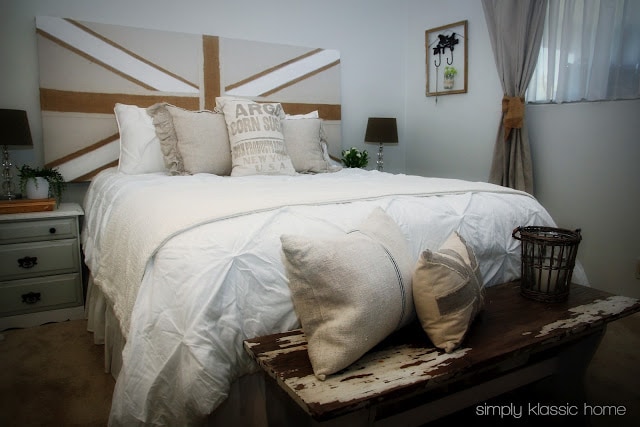 Bedding: Target Home Collection (comforter and shams for under $100), skirt is Simply Shabby Chic from Target.
Ruffled linen pillows: Full Bloom Cottage (purchased last year)
Vintage Sugar Bag pillow: Alabaster Rose (via Country Roads)
Grain sack pillow: flea market
Union Jack pillow: Sweet Tea and Linen
Bench: Country Roads
Wicker basket candle holder: Marshall's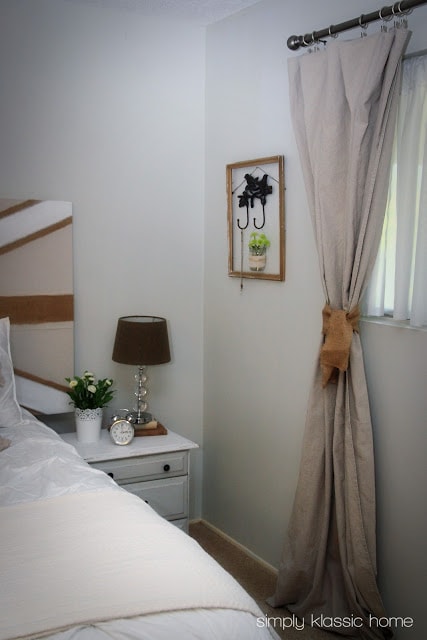 Curtains: painter's canvas dropcloth, tied with strips of leftover burlap.
Sheer curtains are old and I simply cut them to fit in the window, quite literally – I hung them up on a shower curtain rod, then took a pair of scissors to them and left it – frayed edges and all!)
Frame and wire bird hooks: Salvage Dior (via Country Roads)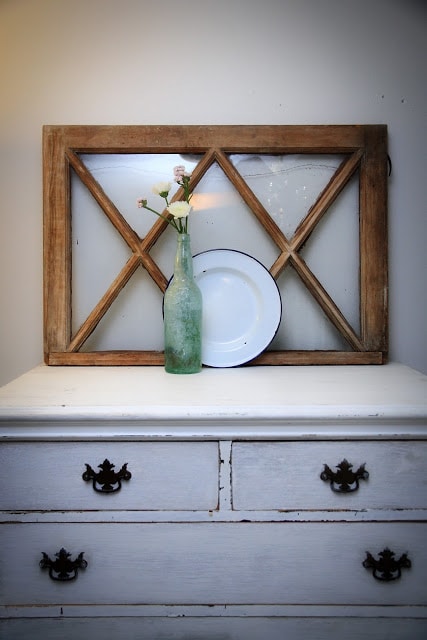 Everything in this photo came from Country Roads (I told you, it's a sickness!). Dresser was purchased last year from Salvage Dior.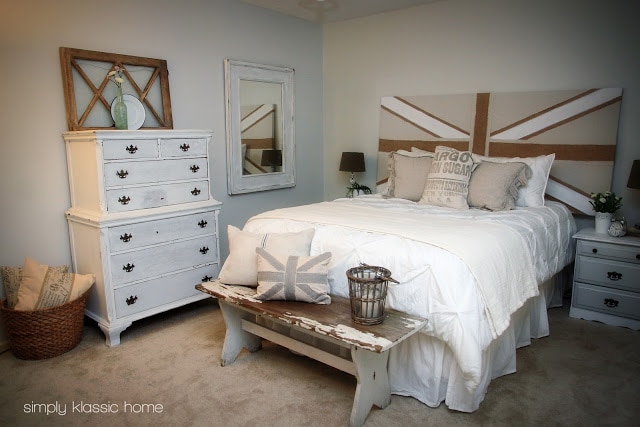 That's it! It was so fun to pull this room together and I'm so pleased with it! If you have any questions about anything you see, please feel free to email me.
Next up, the office – I promise!!