I had one of those magical moments at TJMaxx the other day. I was just browsing, reveling in the sheer awesomeness that is this store, when I came upon the clearance aisle.
I was looking through the packages of shower curtains when I came upon these beauties, on clearance for $7 a piece (marked down from $20).
I knew they would be perfect for something, I just didn't know what yet (do you ever buy awesome things because they're cheap, knowing you'll use them someday???).
Well, someday was two hours later, when I realized they would be perfect as curtains in my laundry room. Not too heavy, not too thick, but also, not too long. As in, not long enough! So I thought on it for a while and realized I had a large piece of burlap from my son's birthday party.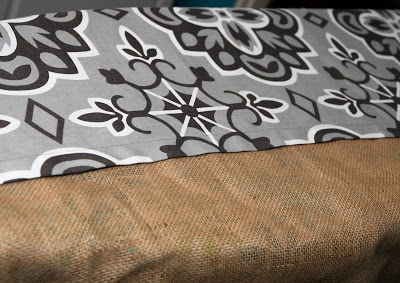 I laid the burlap out with the curtain, but didn't really like how it looked. Too busy, I thought. I figured I'd have to scrap the idea, but then I got the notion to turn the shower curtain upside down. The stripe of dark gray helped to break up the pattern and we were back in business!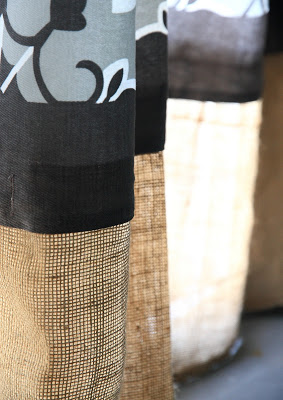 Since I don't sew, I simply hot glued the burlap to the shower curtain. Worked like a charm! I added a strip of hot glue to the edge to help prevent fraying.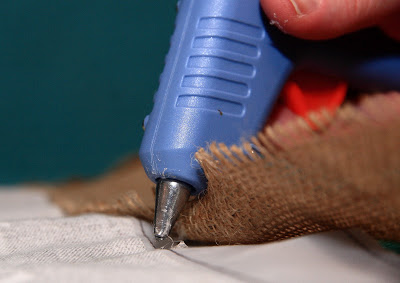 I mentioned in my laundry room post that I had to be creative with how I hung things up in this room, as I can't just hammer into the walls. I put up several command hooks and strung the curtains up by a rope leftover from my son's bedroom makeover. I knotted the ends and held it as tight as I could. I'm planning to put up a bar when I can, but for now, this works just fine (and it was free!).
That was it – I made it sound a lot easier than it was (because, let's be real, things are never as easy as you think they're going to be). I had to take the burlap off one panel and reposition it since it was uneven. Since it was just hot glue, that wasn't too hard. Hanging them, however, was a pain in the you-know-what. I'm a perfectionist, and getting them straight on the bottom was not an easy task, given the way they were hung.
But I was finally exhausted happy enough with how they looked.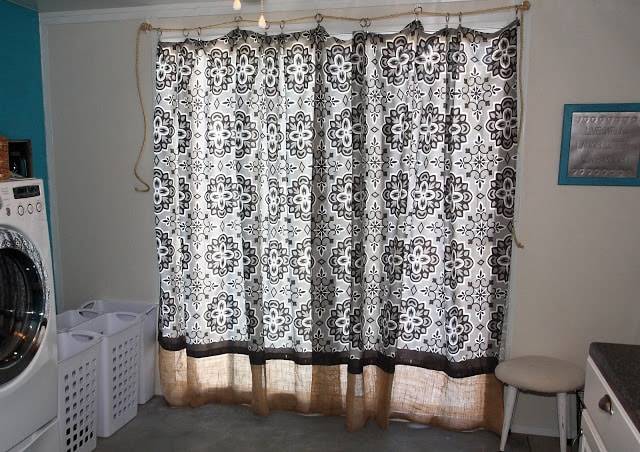 They let just enough light in, but also keep some privacy, which is what I wanted. After all, show of hands – we've all had moments when we've run into the laundry room, wrapped in a towel to grab that favorite pair of jeans out of the dryer. (That just conjured up an image you really didn't need, didn't it?).
Linking up:
DIY By Design
House of Hepworths 
Feathered Nest Friday 
My Uncommon Slice of Suburbia